This is a special edition of the Palmerton Press to announce that the final arrangements have been made for the Memorial Service for George Robert (Bob) Elliston, who passed away in his sleep on the morning of January 3, 2005.

The Memorial Service will be held at the Campton Funeral Home, 525 Delaware Avenue, Palmerton, Penna., 18071 on Saturday, May 7, 2005 at 2:00PM.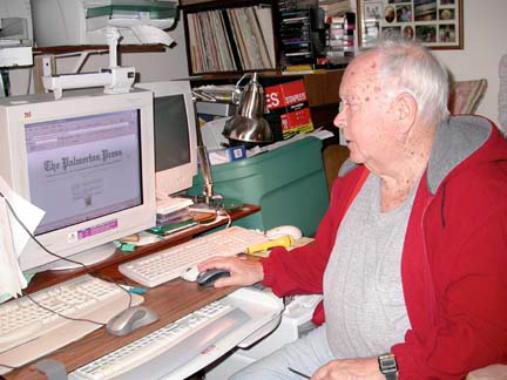 Bob Elliston, "Editor-in-Chief"
George R. Elliston
George R. "Bob" Elliston, 78, of Palmerton, died early Monday morning in the Blue Mountain Health System's Palmerton Campus. He was the husband of Ruth G. (Greenawalt) Elliston. They observed their 22nd wedding anniversary last Feb. 20.
He owned and operated the former Elliston Radio and TV Service, Palmerton, for many years until retiring in 1980, and also wrote and edited the Palmerton Press Web newspaper from 2003 to 2005.
Born in Palmerton, he was a son of the late George R. and Belva A. (Ashelman) Elliston. He was pre-deceased by a brother, Richard A.(Dick) Elliston, and two sisters, Mary C.(Mame) Elliston, and Dorothy E. (Dot) Guyer.
He was a member of St. John Episcopal Church, Palmerton.
Elliston was a former board member of the Palmerton Memorial Park Association and a member of the HAM Amateur Radio Association.
He was a 1944 graduate of Palmerton High School.
Surviving in addition to his widow are two daughters, Belva, wife of Henry Williams of Shermans Dale, Perry County, and Mary, wife of James Hill of Malvern; a son, George R. II, and his wife, Kathy, of Wilmington, Del.; five grandchildren and two great-grandchildren.
He was also preceded in death by a son, John E., who died in 2001.
The Campton Funeral Home, 525 Delaware Ave., Palmerton, is in charge of the arrangements.


The Elliston family wishes to thank all of our readers for their outpouring of thoughts, phone calls, notes, flowers, food, memorial donations in Bob's name and support on the death of Bob. They have all been a source of great comfort to us in this time of our loss. We all miss him and his weekly issues of the Palmerton Press. Friday's just don't seem the same!
In the words of our beloved Editor-in-Chief "Well, it is time to close this for this week. Please love one another".
"No coin of the realm can possibly substitute for family!
Never, never, be afraid to tell someone you love that you love them

.
It means a whole lot!!
IT IS LATER THAN YOU THINK!!
" (Bob Elliston -12/15/2004)