Dear Folks,
It has been a long time since this masthead has appeared. The paper was discontinued Thursday. Feb 1, 1951.
What you are seeing for the first time represents a radical departure from my letters in the past. It is my hope to post these letters every week here on this site. That will enable everyone to not only view the letter properly but in addition, to view pictures that often serve to further illustrate my stories.
They will be able to easily viewed by all. The opened site should be printable and easily worked with on your part.
It is my intention to send to all of you the same Vallen Email with a hyperlink every week on it, which will instruct you how to open this page of this weeks letters for your perusal. Then too anything I deem important concerning this site will be mentioned.
This is possible through the help and work of son, George, grandsons, Jason, and Andy Elliston who worked out all the details of actually making this thing work. This stuff is way above this old geezer's head. Queen and I are very proud of them and their many accomplishments. I will be most anxious to see your reactions.
***********************************************************
Friday, November 21, 2003 7:16 AM 34 Deg at LVA and 32.1 in the bus stop
Dear Folks,
Golly, another week is upon us. This morning my blood glucose was 120 and my weight 208.
It was very enjoyable sitting this morning on the park bench on the glider, drinking my 8 o'clock coffee watching the beginning of a new day. I went up there about 7:35. The sun does not arrive over the mountain until almost 7:50. In the interim, one can watch the jetliners flying west, the sun glistening on their fuselages and contrails. Indeed, it is a lovely sight. About this time, early bird kids are on their way to school.
I am delighted! This morning I opened my e-mail on my Incredimail site to see what had arrived. It was over 30 messages. Then, I opened it in Outlook Express with the new Spam filter in place. The same 39 massages were there but only 15 good ones were displayed. I could view all the junk in my deleted box. I am impressed.
We went downtown this morning. Queen had to go to Keystone Bank and from there we walked down Delaware Ave, stopping back at IGA and our friends at the Times News for a quick visit.
For supper, Queen made "turketti." It was spaghetti made with ground turkey. Golly but it was good!
Saturday, November 22, 2003 7:19 AM 36 Deg at LVA and 35 Deg in the bus stop
This morning the weight was still 208 but the blood glucose was 117. <Sigh>
It looks like a beautiful day on hand. I am heading out with my coffee. It was chilly but nice out there on the park bench. As I sat there, the Medivac helicopter went over on its way to land at the High School. Shortly after, an ambulance went past the house with the Medivac crew to pick up a patient. Some poor soul had problems.
As Queen called for breakfast, she pointed out Geese flying. I looked and they were heading north. Ah! if only!!
We went for our walk this morning on this gorgeous day. It is going to be a wonderful time to be outside.
Today is brother in-law Walter Guyer's birthday. So, this morning we called to sang Happy Birthday to him. Daughter in law Leslie and two of his grandsons are with him this weekend. That is good. He, too, has a very caring family. He, as are we, are very fortunate in that regard.
In reading Pattie's column in Saturday's Times-News she speaks of how grateful she is for her wonderful daughters and friends during this very hard time in her life. If one hasn't gone through it one really doesn't quite understand the possibility of feeling gratitude, while at the same time feeling such real pain. She is not going to let it beat her.
Many of their columnists write a Thanksgiving column every year. Some of them are written in a lighthearted manner, but the message is always there.
Golly, so far I am very pleased with the performance of the new anti-spam program I put onto outlook express. I think I may buy it. I still have quite awhile to go until the trial program ends. Every day I take my Eudora program, which I do not like, and dump all of the messages that have come in and then download the day's mail. It is amazing the stuff that it has found and I never see anymore. It looks good. I shall continue to try it.
This morning Queen noticed that some of the new bulbs we planted are sprouting with shoots above ground. At her instigation, I put some more ground over them. I hope that they are hardy and will suffer no damage.
I have been enjoying the "park bench" today. It was great to be able to sit out there comfortably.
After lunch, we went to Redner's in Northampton for some oysters. They have them at a very reasonable price of well under $4 a dozen. We got several. Tonight, I will make oyster stew. The rest are frozen.
Queen is busy in the kitchen making a birthday pumpkin pie for Tommy. Tomorrow is his birthday.
I just got an e-mail from George and they will be arriving here in town early this afternoon. He is bringing a Butterball 19 lb turkey. It sounds good to me. I will try to remember to turn up the heat there tomorrow morning.
My oyster stew tonight was very good. It was the first of the year. I got it just about right. However, the veggies slightly al dente, but good.
Tommy was over tonight for his pie and birthday card. It was the usual very complementary card! The poor wretch will be 59, Geez, and still alive. Ha!! At least with him, there is someone younger than I that I can bitch about my various age related infirmities. Queen and Walter just laugh at me. Golly! Like Rodney Dangerfield, "I don't get no respect"
He and Tommy Wentz were rabbit hunting today. Apparently, the rabbit hunting is very poor on warm days such as we have been having. We realize that he loves the outdoors, but once hunting season ends and we get into the teeth of old man winter, he has no love for winter. He too, says winter sucks. He is not alone on that.
I notice also that Bob Pastier has his motor home outside. I presume he is getting ready for bear season that starts this coming Monday. Deer season is the week after that. Hey, we are getting to the end of another year.
Sunday, November 23, 2003 7:58 AM 37 Deg at LVA and 34.5 in the bus stop
This morning the weight was 206 and the blood glucose 117. That sounds better. I went down to Lafayette Avenue turned up the heat and turned on the Fridge in preparation for the folk's arrival this afternoon.
We have had breakfast and soon will be going for our walk. Then we will go to Lehighton to Mallard's market. They are the successor to the Lehighton branch of Palmerton's Golden Key market. Dick Nothstein sold it a few years ago. They have some stuff Queen thinks are good buys this week.
We got a couple of roasts, some flour, and a frozen Sara Lee pumpkin pie. We were both impressed with the other one we had for the first time a while ago. So, if we get caught short this Thanksgiving in the pie department, this would make a passable substitute for a homemade one. No one should prefer to eat the box. Ha!!
I really don't know how to write this, but I got the most wonderful but humbling, e-mail this morning from one of our extended family.
In last week's letter I wrote wistfully of my pipe dream. That was my desire to put up my old Lionel electric trains. I got an offer that completely flabbergasted me. Pattie, Sharon, and her husband, Brian, offered to bring it all downstairs and help set it up. Golly, what an opportunity to be a little kid again!! Oh, I know I could sweet-talk my Queen into my doing it, but unfortunately reality sets in.
As much as I would like to do it as you can see it takes up a lot of room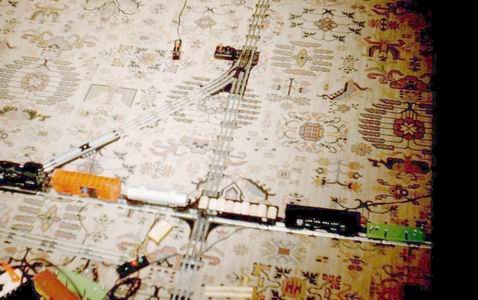 When Mom let me do this many years ago, the problem was very much simpler. Mom just pushed the dining room table either to one side of the room, or she put it between the front room and the now family room. Then I had the whole floor of either room for my trains. The few chairs that were there were put into the other room. Believe me, I am sure that it was a real pain for her. However, like my Queen, she was very adaptable letting me have that room for a whole week.
These days it is another matter. Now we have a TV, a separate stereo system, many chairs and all my computer equipment in the entire western end of the family room. The front room is full of it's own stuff including furniture from two families, especially Queen's beautiful cherry table and china closet. Then too, there is my Mom's china closet, three chairs, and a Grandfather's clock
Now, I am talking about the sheer size of it, a simple circle of track measuring 72" in diameter is simply impossible to place in the space currently available. This doesn't allow for any expansion as would be needed for three sets of switches, a crossover, numerous sidings for car storage, plus signaling and block systems, crossing gates, semaphore signals and much more. My system was always in a state of flux. Being on the floor, nothing was fastened down and I was constantly changing it. Now there is the attendant problem of moving about on the floor on my hands and knees. I am afraid that that is now too formidable a task for the old geezer. < DOUBLE SIGH>
Nevertheless, I certainly do appreciate the offer and am very grateful for such caring friends. What immediately comes to mind is this Mark Twain Quotation,
"Praise is well, compliment is well, but affection--that is the last and final and most precious reward that any man can win, whether by character or achievement."
We are truly blessed. I think this is one of the nicest Christmas presents anyone could offer to give. Thanks very much to all.
I got e-mail from Tommy extolling the virtues of his birthday present. The pumpkin pie was all gone the same day, except for a piece for tomorrow. Queen was appalled at his gluttony. It didn't surprise me a bit! Tommy is an opportunist. Who knows, a comet or meteorite could hit his house tomorrow. Har har!!
Monday, November 24, 2003 7:21 AM 46Deg at LVIA and 45.5 in the bus stop
This morning my weight was 205 and the blood glucose 118. That is better. It is a dreary looking morning so far with rain predicted as the day wears on.
Today is the dreaded sheet day. Bobby jumped the gun and changed his bed yesterday after his nap. Ha!
Queen is busy getting the wash started, and then we shall go for a walk.
<Later>We went downtown to walk. We got some napkins, and stopped in on those nice folks at the Times news. It was a very gratifying visit with them. We certainly do appreciate their offer for help with the train stuff.
We went on to the Post Office, and then on to K-Mart. Queen had something in mind that she wanted to see. She didn't get it anyway.
Once again, I was fascinated by some of the Christmas sights that I saw at that store. It is surprising what one can see if they bother to look. One of the most intriguing things was a Christmas tree for sale. It was a fully decorated Christmas tree but only about 3 or 4 feet tall. All over the tree were what appeared to be tiny miniature lights twinkling and changing color. Seen as well were larger lights that did not change color nor blink. All this is due to fiber optic technology. Not too many years ago, this was impossible. In the base was a rotating disc shining a light from a single source into what must have been minute fiber optic cables that go up into the tree. At the end of each cable glowed displaying the colors from below in the base. It was beautiful. The price was what I consider within reach, but I have better places for $40. I still want a real tree. But Sheez!!
Tonight we dined in God's restaurant. We had Queen's homemade spaghetti. Wonderful. It really is comfort food of the highest order. The world may be going to Hel* in a hand basket, but it always looks better after a pasta meal.
8:33 PM It is raining now. The day in fact turned into a decent day after all. As I put the car away this evening, we drove by George's house. He was finishing up one of his projects. He just finished installing a new screen-storm door on the front door of the house. It has one of those tempered glass full-length glass panel doors.. Since the door opening was non-standard, he had to do some finagling to make everything work. It really looks nice.
Tuesday, November 25, 2003 7:19 AM 30 Deg at LVIA and 30.2 in the bus stop
The weight this morning was 205 and the blood glucose was 122.It looks like a clear but cold day on hand this morning. I was up on the park bench with my 8 o'clock coffee and the sun had not come over the mountain yet at 7:48. There was ice in the rain puddles from overnight so it is cold out side. I pulled back the tarp on the park bench and it formed a canopy that shielded me from the worst of the elements. I know I am nuts, but I love to sit out there in the early morning and peacefully commune with the world.
We got back from our walk about 10 AM. We saw several cars parked that were snow covered. It didn't happen here, but it must have been quite close to us.
As we approached home, we noticed the Doc Cyr must have finished the step repair at the Historical Society's "white Church." So, we walked over to inspect his job. He really did a first class job.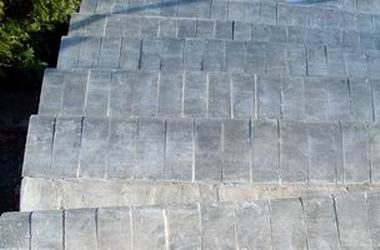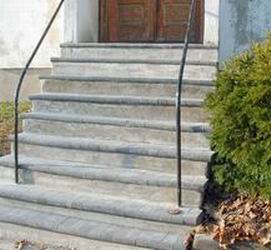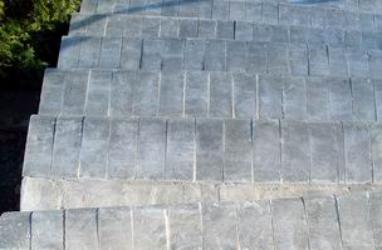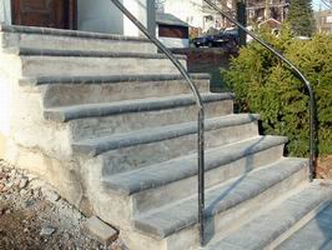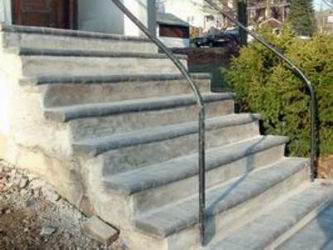 The steps were crumbling badly. He reconfigured the entire step structure in the process adding a step, repairing the broken ones, and facing the top of them all with a beautiful overlay of a pre cast product that looks like two tone gray brick.
Please notice how he made the steps conform with the church proper at the top of the picture.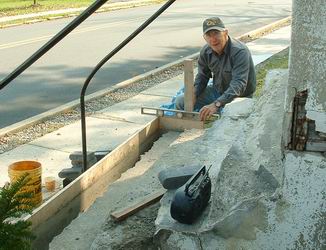 He did a wonderful job. A professional paving and masonry contractor would have charged them thousands of dollars for that job and have been worth every cent. He seems to love to do it. Queen often told me that there are two kinds of people in this world, givers, and takers. Howard is very much a giver.
Then I took the last of the coffee, reheated it and went up to the park bench once again. It was warm and wonderful in the sunshine.
As I sat there, I thought about the phone call Queen got this morning from a nearby neighbor. She had fallen and broken two bones in her foot. I would not be surprised if she also has osteoporosis. She is probably 20 years younger than Queen and is in far worse shape than Queen or I. Her husband, also, has problems. Queen and I suspect she never did much physically even when it was possible to do it. Even simple short walks would have helped. It is free and of tremendous value to ones bones and the ability to get around. She sure has problems now.
As I have often said, any good health that we have is no accident. Our morning walk of up to 1st street across and down to 5th street and back would be the equivalent of walking from the hospital at 1st street out to 10th street if there was a 10th street. That would put us in about in the middle of the creek on the west side of Aquashicola. That has to be well over a mile. That is not too shabby a walk for a woman of 86 with congestive heart failure and a geezer of 77. Many a morning I would be willing to say the Hel* with it. Usually she is the prime mover. We both know it is important to do, and we do it whenever the weather makes it possible. I suspect that it is mostly a matter of motivation.
This afternoon after our nap, we took Butternut for a walk, He seemed to enjoy it very much. Tonight for supper we will be having pizza and beer. It is easy and good.
Wednesday, November 26, 2003 7:17 AM 28 Deg at LVIA and 28.3 in the bus stop
My blood sugar this morning was 122 and my weight 206. It looks and feels cold this morning. As soon as the coffee is ready, I shall be going outside. Our walk was to be after breakfast; however, we had to prepare tonight's supper first. It will consist of a crock-pot dinner made by two crackpots. Jason and Andy will be here for supper tonight as well.
We did get our walk though. We went downtown for some milk and celery, so we walked from IGA back to the car, then down to the ballpark, and back to the car. While we were in IGA, we met Queen's old swimming friend, Helen Wisocky. We had a good talk. It is always nice to meet old friends. Delaware avenue walks are usually much more productive in meeting old friends. Once it gets cold, our circle of friends and acquaintances change. It was almost 1 pm by the time we got back home. As we ate lunch, we saw Joan and Doc Nicholson on one of their walks.
The folks were here tonight for the crock-pot supper. Needless to say, there isn't much of anything left except a bit of juice. Queen had made a chocolate cake with chocolate peanut butter icing. That, with a good cup of 8 o'clock coffee, finished an outstanding meal
Tonight after supper, all three of my experts were helping to set up an entirely new web site and format for my letters. I think everyone will be surprised when it is ready. It seems to me to be a very big improvement and I hope will result in a more professional appearance. I do have some pride in my stuff!!!
Thursday, November 27, 2003 7:28 AM 30 Deg at LVA and 30.8 in the bus stop
THANKSGIVING morning, and we have a whole lot to be thankful for on this wonderful day. It will be a very busy one I do know that.
This morning my blood sugar was 122 and my weight an unbelievable 203 ½. That scale must be broken. Queen said her weight was down, also.
Now at 10:28 AM, we will be going for a walk.
It is now 10:00 PM and it has been one whale of a day. Now things have quieted down and we are relaxing here this evening.
All the children arrived, in addition to Kathy, George, Jason and Andy, there were Belva and Fritz Williams, daughter Mary, and Lillian Rau, [Mary's former Mother in law], and Jim Hill. We had eleven people here at the table. It was cozy but there was no problem.
George was up several times this afternoon with the filling to be cooked in our oven. He was busy generally getting things ready. We got the table prepared with all the extra leaves put in into it, and a large tablecloth upon it. Queen and I set it for the guests.
George informed us of a medical emergency at their house. Jason was playing with their dog Oscar, who is 12 or 13 years old and deaf as a post.
Apparently Jason got down on the floor with Oscar and was unseen by the dog. His sudden appearance startled the dog and he turned around and bit Jason on the nose, taking off a piece of it in the process. Kathy took him to the hospital emergency room and on a Thanksgiving Day you know the kind of wait that entailed. Apparently, the Doctor patched him as best he could. Jason will probably have to see a plastic surgeon when he gets home. Sheez, it never rains but it pours.
In spite of all that, we had an absolutely wonderful meal. We had turkey, stuffing, carrots, and a string bean onion casserole Jim made. Mary made traditional cranberry sauce just as well as my Mom ever made. Then for dessert, George made two pumpkin pies, and Belva made a cranberry apple dish. We all had coffee or tea. Now, we are all stuffed. I hate to think about the blood sugar and the scales tomorrow. George washed the dishes while Mary dried them. Hey, a delicious meal catered in our own home and the guests clean everything up afterward. One can't beat that.
This was followed by an evening of great conversation with folks we all love who really can only get together to do this once a year. The love and good fellowship was wonderful and everyone enjoyed it immensely.
Friday, November 28, 2003 7:17 AM 46 Deg at LVIA and 46.6 in the bus stop
This morning the blood glucose was 129 and the weight 206. It is not as bad as I feared. Golly but that was a wonderful day yesterday. Queen and I certainly enjoyed it very much.
It is raining and a walk is in doubt right now. I had to sit under the portico of the bus stop in a plastic chair due to the rain.
This day was a total loss as far as getting out side today. We didn't leave the house all. We didn't even get a walk. Sheez!!
However, tonight George and family took us to Terrace restaurant for dinner this evening. It poured the entire trip. Man, it came down in buckets.
Queen had a veal platter and I had tuna steak. I never had it before and it was delicious. The food was plentiful as well as excellent. We are very grateful for such a wonderful family.
After we got home the Experts got this letter on my new web site. I hope every one enjoys it. It offers much greater potential.
Well I had best bring this to an end. May God bless you all. Please love one another Mom and Bob [Queen and Bobby]
The following are two of my very favorite Quotations. They say a lot, about what is important in this life. Bob
"Not everything that can be counted counts, and not everything that
counts can be counted."
Albert Einstein (1879-1955), sign hanging in Albert Einstein's office at Princeton
"Praise is well, compliment is well, but affection--that is the last and final and most precious reward that any man can win, whether by character or achievement."
Mark Twain 1835 1910 - Affection speech, 1907


Powered By