Our Butternut
Book 1 Volume 2
Founded December 17,1912 Ceased Publication Thursday February 1, 1951
This is a restored version of the original sent in 2003


Saturday, November 29, 2003 7:37 AM 37 Deg at LVIA and 37 Deg in the bus stop
Dear Folks,
Well, it is almost December. It is really beginning to feel like it. This morning my blood glucose was 125 and my weight an amazing 203+. So far, so good.
We went for our walk this morning. We missed one entirely yesterday. Then after breakfast, we went down to the bank, Rite-Aid, and then up to Aldi, Wal-Mart, K Mart, and finally home about noon.
I really want to dispel any one's idea that this is in any way an attempt to be anything remotely resembling a newspaper. It is really only Bobby's letters in a different format. I had in my possession the masthead of the old Palmerton Press and I thought it might make a good entryway for these letters, nothing more. It is all an integral part of our "family" over many years. Potential advertisers need not get in line. Instead, call the Times News Ha!!!
However, I do want to set the record straight on the paper. I scanned portions of the last copy of the paper and wish to display some of them here.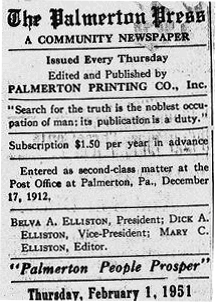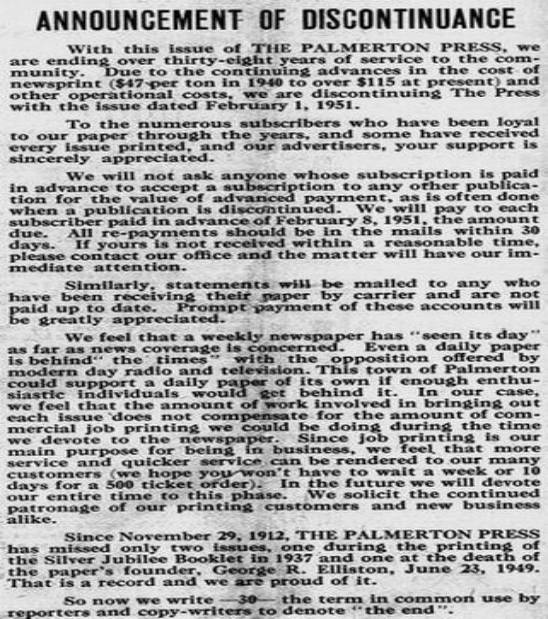 `



There are many memories in the notices seen above. Some bad, but mostly good thoughts about what we did and how we did it. Technology has changed a lot, but it still all entails hard work. That hasn't changed.




************************************************************************************




This afternoon about 2 pm, George and Andy took me to the train show in Bowmanstown. What was done to that building was quite a major accomplishment. They have transformed that old church by turning it into a nice display and work area for their Model Railroad Hobby. A whole lot of work has gone into that project. I took some pictures that I will share. I enjoyed the trip very much.


Son, George, and grandson Andy any had their train hats on as did may others there. You can always tell the true believers. It really was fun. There were a lot of little kids there, the only thing was most of them were adults. It was great! They have the beginnings of quite a layout with multiple trains running simultaneously.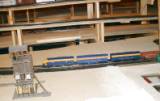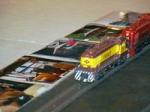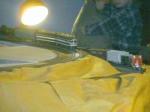 Some scenes from the Bowmanstown Train show
This was a very interesting display. It brings to mind some of the stuff from my past. It was very different display from those of my youth. I know I wrote about this some time back, but things like this at the Christmas season hold such wonderful memories that I like to share and rehash those memories; besides I am an incurable romantic, so bear with me.
In those days, there were no malls. Thus, the Allentown department stores were the big guns in displaying Christmas merchandise.
We did all of our "big shopping " in Allentown mostly at Hess's, Leh's, or Zollinger-Harned stores. A Saturday trip to Allentown was always a thrilling event for a little kid. However, Christmas was extra special.
My Mom drove the 7 passenger Packard and then later the 1938 Buick. We all went along with Mom's sister, our Aunt Guga, [Gulia} sometimes with my sisters, Mary, and Dorothy, but occasionally it was just the three of us. Hey, my sisters were over ten years older than this little kid and they often had different interests.
Mom usually parked in Leh's parking lot. Then we walked wherever we were going. The parking lot attendant knew her on sight and by name. "Joe" always found a spot for her if possible. If there was nothing, she then parked at the Motor ramp down in the next block a bit off Hamilton Street.
When we walked up to Hess's, I remember the police officer in the little steel tower in Center Square controlling traffic.
In my earlier days, for any "pee relief", I was taken into the ladies room, but center square had an underground men's and woman's facilities. The first time I was permitted to use it was a big deal for a little kid, but taken for granted as I got older. I wonder if Mom thought they would never see me again, Ah growing up!
Usually it was a trip scheduled for school clothes, but always, if possible, a side trip for Bobby to visit the toy department this was made a part of the agenda. However, Christmas was always extra special. We kids loved those trips,
Early on, we discovered that crying and generally carrying on was completely counterproductive, so we kids all used other approaches. They must have been reasonably effective because we always came home with stuff of some kind. Usually it was nothing big. Money was tight in those days during the depression. Mom ran things with a firm hand. She wasn't a one-room schoolteacher before she married my Dad, for nothing. Nonetheless, Aunt Guga, being an unmarried woman was a softie. Bless her heart, Aunt Guga was the softest of soft touches. We kids really would plague her until she relented and we kids usually always came home with something out of her the kindness of her heart. The trick was to get her alone away from Mom. What a wonderful person she was! Mom always admonished her not to get too much for us. Usually it was not big stuff. It usually was clothing of some kind. But the Christmas trips were memorable. All of the department stores had extensive Lionel displays in their toy departments. The heck with Santa Claus! It was the trains I wanted to see! Some of them were surprisingly complex with good attention to many details.
I remember watching the Lionel display at Hess's and seeing the stainless steel "Flying Yankee streamliner come down the track with a Milwaukee lines stream engine going by in the opposite direction. Golly!!! Lionel had just brought out the whistle. It was very realistic and impressive. The engines were all zinc die cast. I bet NJZ was a prime supplier of them. In fact, there was a model of Lionel's Berkshire Steam engine and tender on display in a glass case, outside of the NJZ Superintendent's office on the third floor of the central lab building for years
There were lesser displays of AC Gilbert's American Flier trains also. The gauges were compatible, but the cars could not couple with Lionel equipment. AC Gilbert's big item was their erector sets. One could make a whole lot of stuff out of them. As with Lego's today, it brought out the creative genius in kids. An electric motor operated what ever you built. I built many things with my erector set. The good thing was that additional stuff could be added to it also. It came in a green steel hinged case that held everything.
I remember one year they got me an AC Gilbert chemistry set. I burned a hole in the dog's food dish attempting to ignite some potassium nitrate. Oh I did but then it was decided that I was not cut out to be a chemist. < Sheez! Honest to God>
I remember Aunt Guga getting me a set of Daniel Boone logs. One could build all kinds of structures with it. It was neat.
Christmas was a happy time in our lives in spite of the hard times. Being just a small kid, I was unaware of any my Dad's business problems. He never made a big thing about them to us, but things were hard in those days. Running a printing business and a newspaper, paying his skilled men was a real problem at times during the depression. Oh, there were occasional quiet conversations between Mom and Dad that quickly stopped when we kids came into the room. Little pitchers??
Now I realize that many of my views and political inclinations are all tempered by what I experienced as a child with my Dad's business along with my experiences as I entered the business world myself. We are all products of our early lives, like it or not.
One of the things that I cherish very much is my Mother's statement to me in her later years she was never sorry that I came along. Hey, she was in her 40s when I was born. However, there a lot of love in our home and there is now. I would like to think that were my departed loved ones able to sit up on the plate rail and see our Thanksgiving meal, they would be very happy with what they saw.
I am very grateful for it. Both Queen and I came from good, stable, homes. Moreover, we were all loved and we knew it. Oh, occasionally there was the iron hand, but it was not often needed.
That certainly seems not to be universally true today, oh, but good folks still abound. They are just harder to find!
I have often thought how wonderful it would be now, at 77 years, of age to be able just to sit down and talk with Dad and Mom. I may not be any smarter, but I am a lot wiser and I can see that much of what they said has indeed, come to pass. Mom's statement of " one day you will understand" rings very true. Everyone has to learn these things the hard way; we don't believe it when they first tell us.
For that matter, I wish right now that I could pick up the phone and talk with my sister, Dot, as has Queen often wished she could talk with her sisters. I do miss Dot's wise council.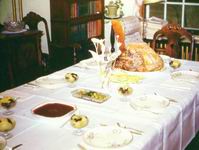 This is a picture of one of my Mom's Thanksgiving Day dinners many years ago
Sunday, November 30, 2003 7:33 AM 36Deg at LVIA and 33.8 in the bus stop
Gee, I was surprised at the medical report this morning. The blood glucose was 124 and the weight 205 after that pig out yesterday at the Elliston's. We had a turkey meat pie as we have done for the last few years. Man, it was delicious. If this is becoming a tradition, I am all for it.
I was up on the park bench this morning enjoying the day. It is cloudy and it is cold, but I was very comfortable there with my coffee.
Since I have been working in this new medium of a web page, I must concern myself with details that previously were not necessary for me to know. I am trying to learn how to properly get a web page in a proper format and how to set up the web page and maintain it. The really technical stuff like writing code in HTML is out of the question. This is enough of a strain on this old dog.
However, I have instituted some changes. Since this is no longer an e-mail letter, I increased the font size one point and am adding more pictures. It sure would help if I knew what I was doing.
In addition, I am trying to learn about a program that I was bundled along with my digital camera. It is Adobe PhotoShop elements. It is a very powerful image program that I saw at Wal-Mart for almost $100. I watched Jason use it and think I had best learn a bit about it. I have a very steep learning curve and age has not helped improve it one bit. Ha!! Along with my ACDSee, photo program, a lot can and must be done with pictures. Then too should help to see how big the letter is and how many pixels I using in the photographs. The overall size of the whole letter I now must keep in mind. The text is a very small part of the letter. I don't even bother to number pages any more. As I write this now the overall size of this letter with pictures is now 1.15 MB. An ordinary letter ran about 57 KB..
A whole lot less. The HTML stuff adds up quickly. The pictures are all HTML. It is a real space hog and in that regard, I must be careful that I don't exceed the amount of space that Prolog provides free. I went to Prolog's site to see what my usage was and couldn't get it to display any figures. I e-mailed Prolog questioning them, and they replied that they know about it and it is being looked at. I just cleaned out my e-mail and checked with Prolog and my monthly average disk use is 1.14 Megabytes so I have plenty for now Gee wiz!!
All this high tech stuff is pulling Bobby kicking and screaming into the modern age. It is a very difficult experience. Watching Jason typing all that HTML code into the computer in preparation of this web site just blew me away. As with all this stuff, it is simple when you know how to do it. Well now??! I am in no way any kind of an expert. For me, this is a Quantum leap from a model T to a supercharged Indy racecar! <Sigh>needed. If Fritz's admonition that an active mind is a healthy mind, then mine must be doing push ups Geez!!
I got this from Bob Green,another Ham Radio operator it puts a new and very interesting light on a man much admired for his other life as an entertainer.
I am glad that Bob is willing to send the stuff and allows me to freely plagiarize it.
"The following message was forwarded from the Frankford Radio Club reflector:
Chandler Doug FFRDC-Mitre ESC/JS wrote:
"Saturday afternoon I was listening in the 3-meter band to WUMB UMass Boston
radio, 91.9 MHz, when they had on an old interview with the late Johnny
Cash. He was asked how he got started in his career, and a great CW story
emerged.
Cash was born on a small cotton farm in NE Arkansas. They were very poor,
and the whole family worked the fields together. Their only enjoyment was
they did have a radio. When they came in from the fields, they could listen
to Earnest Tubb, the Carter Family, Gene Autry and so on. Johnny had a great
singing voice, but the family was too poor to afford a guitar so he just
sang. His ambition for life was to sing on the radio.
In 1950, he enlisted in the Air Force. Aptitude tests showed he had a great
capability for Morse Code, probably due to his musical mind set he thinks.
He went to the usual AF places like Lackland and Keesler, graduating first
in his class in CW. Then they selected him for high speed intercept operator
and he aced that class. Then they sent him to learn Russian language and
Russian code. He was doing 35 WPM in Russian. On graduation first in his
class, he was offered either Adak Island Alaska or Germany. Cash didn't know
anything about Adak except that it was 100s of miles from nowhere, but he
had heard that Germany was a good place, so he went there.
Asked if he ever intercepted anything interesting he had two stories.
Sitting there with headset and typewriter, one day he was copying the TASS
news service bulletins to the outlying SSRs, when he copied the first TASS
bulletin on the death of Stalin. This went right up the chain to Washington
of course, as the first news they heard of it.
Another time, he was tuning around when he picked up an in-flight position
report from a Russian bomber flying from Moscow to Smolensk. It was a real
weak signal at 45 WPM, almost lost in QRM and QRN, but he copied the code
and ran it over to the crypto shop. The departure time and ETA were way too
short for that route (either 1/3 the usual time or 1/3 off the usual time, I
forget). From this, Intel deduced that the Russians had got their jet
powered bomber flying at last. This news flashed to WDC, and Cash got an Air
Force Commendation Medal for that intercept.
After a few years, he made rank and became chief of the station. Meanwhile,
in his off time, he finally had enough money to buy himself a git-tar, which
he instantly learned to play. The Air Force offered him good assignments and
bennies to re-up, but he always just wanted to sing on the radio. The rest
is history.
73 N1ATQ Doug"
This morning after the boys left for Delaware, we went to K-Mart for a fiber optic tree. However I still want a real tree.
This came in this evening.
Hi Bob,
I really like the new format for your newsletter, especially the addition of
photos. Please keep them coming. They're a link to my Palmerton roots.
Please pass along my best regards to those who might remember my parents,
Bill and Anne Danneberg.
Bill Danneberg Jr.
Rock Hall, MD
The pictures below were taken back in the 1950s at Bellwood, New Jersey on The Lehigh Valley Railroad,
where an old friend, Bill DeHaven the tower operator, invited Dick and me to spend the day with him. This tower was very important in the Lehigh Valley Railroad system. Only about a mile or two above a crossover with the Baltimore and Ohio Railway. We spent the day there. When things happened, they happened fast.
Unfortunately I can't find two of my most prized photos that I took. One was looking into the
mouth of the tunnel framing the inside of the tunnel with a train coming. It was neat. The other was a
picture standing inside the tunnel looking out. One constantly heard the drip, drip of water inside the
tunnel. It was kind of spooky in there. I didn't venture too far before claustrophobia took over.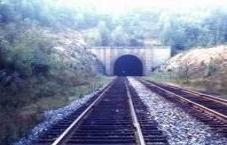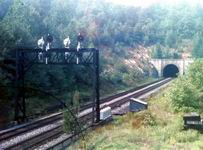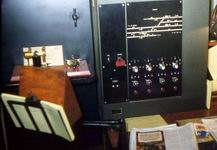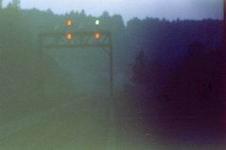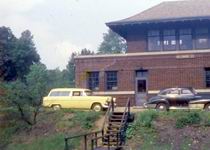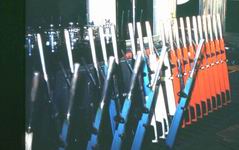 Monday, December 01, 2003 7:10 AM 37 Deg at LVIA and 35.2 in the bus stop
December the first. It is the first day of buck season. It appears as though the hunters will be having good weather for their big day.
The weight was 205 and the blood glucose was 120. I guess last night's turkey soup didn't cause too much of a problem.
We went for our walk this morning and then Queen began her wash. About 10:30 we went to Service Team and got our Christmas tree. They were selling them, any size tree, for $15. We brought it home and I cut the lower limbs off, a slice off the bottom of the trunk, and then placed it in a pail of water. It is a Douglass fir. It seems fresh to us. Of course, I took some pictures of the entire operation.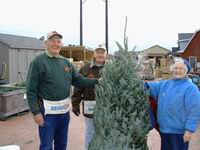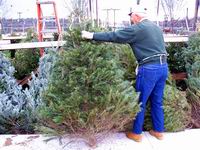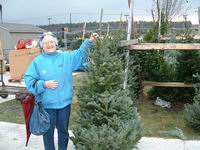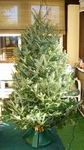 The men at Service team helping Queen pick out our tree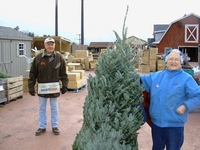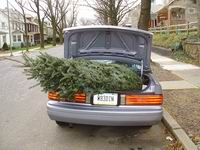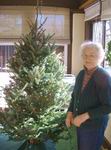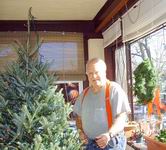 Queen and Bobby working on tree
It was getting colder and very windy while we were there. The wind was very strong and cold on that tree lot.

Later this afternoon, we went to Super-Fresh for some salmon and then on to K Mart where Queen was looking for some snug warm undies for the cold weather. Then we stopped back at the Post Office, the bank, the Telephone Company, and finally the First National Bank to pay the water bill for the last time as the Palmer Water Company. Next time it will be a borough entity.
Tonight we spoke with brother-in-law Walter and he is able to open this web page as is his son, Dick. Both of them have that miserable server, AOL. If they can open it then anyone with AOL should be able to do it. If not then something needs attention at their end of the line. Hopefully AOL's help service should be contacted.
Tuesday, December 02, 2003 7:14 AM 28 Deg at LVIA and 28.8 in the bus stop
Brrr, it is cold outside this morning. As soon as the coffee is ready Butternut and I will be heading out.
This morning my blood glucose was 131 and my weight 205. Last night we dined in God's restaurant with Queen's spaghetti. It is always a favorite in this house.
Now as I sit here at the computer the fiberoptic Christmas tree is turned on. When I went out on the front porch to get the newspaper it sure smelled like fresh evergreens. The new tree is out there in a bucket of water awaiting further work. In addition last evening one of our wonderful early Christmas presents arrived. UPS delivered a balsam Christmas wreath from daughter Mary. Today I must put it up.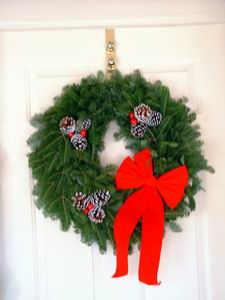 This is the wreath Mary and Jim gave us for Christmas



Golly it must have snowed a bit last night. I was sitting up on the old wood bench this morning and noticed that everything had a dusting of white on it. This is a very good place to get one's head on straight first thing in the morning. I was thinking how inexorably our lives intertwine with one another. As I sat there I was thinking about some of the technical aspects of keeping track of the size of this letter so that I don't exceed my web page quota of space with Prolog. It suddenly occurred to me that this is no longer simply an e-mail that I send to over 90 poor souls, anybody in the world, with an Internet connection can open it and read it. Some body in England, Africa, China, Moscow, Afghanistan, anyplace can if they are unlucky enough to have accidentally stumbled upon the URL for this is now able to read this. That is an overwhelming thought with vast implications for me. We truly live in a worldwide communications era, now. I am still naive enough not to take this for granted as kids do today. I recall this was an utterly impossible dream when I was a kid. I recall trying to see a television picture from my bother's spinning pinwheel disk that was modulated with a radio signal. Anything that was there was 95% imagination, but there was something there.




I will bet my Dad and my brother Dick would love computers and this entire medium of communication. I know that I certainly do.




This morning we went downtown and went for our walk there. It was pretty darn cold so it wasn't as extensive as it might have been. We stopped in at Country Harvest and Queen got a hug from our friend, Pearl, who works in the butcher's department. We got some things at the deli. Then it was on over to Rite Aid where Queen picked up a prescription that was ready for her. On the way back to the car, we had to visit our friends at the Times News office. Earlier it was snowing like all get out. Of course, I blamed it completely on Sharon.She doesn't have her decorated abominable snow shoveler up and running yet. Had she done so, we probability have had a foot of the stuff by now! <Grin>




It was good to hear that apparently, Pattie had a house full for Thanksgiving dinner. That was good. Friends and family are true blessings. It is a lot of work, but it is worth it. It pleased Queen and I to hear that she has declared herself a member of the Elliston clan, Cousin Pattie. Hey we can always use another kook in this bunch of folks.




Tonight for supper I re-treaded the turkey soup. The problem was that I tried to make something out of nothing. Bobby cooked up the Thanksgiving bones and removed all the fat and other foreign objects. Then the problem was that I should have discarded much of the water in which I cooked it. Well, now it finally is pretty good. I suppose I should call it my silk purse soup. I sure had to make a silk purse out of a sow's ear tonight. It really tastes pretty darn good. It doesn't taste much like turkey but it is passable.





Wednesday, December 03, 2003 7:11 AM 21 Deg at LVIA and 19.1 in the bus stop




This morning my l blood glucose was 130 and my weight 207. <Sigh>


Gee whiz but it is damn cold outside this morning. As soon as the coffee is ready I will be heading out doors.
<Later> It is mighty cold but there is no wind. I thought I caught a fleeting glance of Lee Bollinger on his constitutional the morning.


I sat there completing my agenda for today. Last evening Queen admonished me that I had best get the snow blower prepared for action. Indeed, the weatherman warns of a possible accumulating snow on Friday into Saturday. That means the I shall have to drain the last of the gasoline out of the lawnmower, run it dry, put it toward the back of the garage basement and get out the snow blower, gas it up, run it a bit, place it at the front of the garage basement. Then, I will be prepared to gnash my teeth for the rest of the winter. <Bah Humbug>




Well I drained the gas out of the mower ran it dry fueled the snow blower and now I am prepared for winter. <Grind>




We went for our usual walk this morning. It wasn't too bad cold wise but we did keep moving. I am finishing the coffee as I write this and then I am going out on the front porch while we have sunshine and start on the Christmas tree.




As one can see from the pictures above we got the tree in it's stand, water in it and later on in the afternoon while it was in the shade, we are in the process of putting the lights on the tree and trying to place them for the best effect. We suspect we will need another string of lights.





Thursday, December 04, 2003 7:09 AM 18 Deg at LVIA and 17.1 in the bus stop




Burr. It is cold this morning. As soon as the coffee is ready I shall go out to see for myself. Sheez, it was cold out there. Fortunately there was no wind.




This morning we plan to do our shopping. That will take a while. The computer is full of winter weather warnings this morning. Snow is on the way. < Sigh>




I talked with Tommy Davies last night and he got his deer on Monday. It was a doe. Apparently he used his flintlock muzzle loader. I asked him if he shot it or bludgeoned it to death.




We did our shopping this morning about 10AM and got back about 1PM. We are tired. The stores were crowded with shoppers who also must have heard the weather report.




After unloading the car I took the newspapers up to the church on Fireline Road the collecting place then I put the car in the garage and that is it for today.




I think I shall post this now. One of the main reasons for utilizing this format is my desire to use some of the pictures I have digitized over the years. I hope everyone will enjoy them. This is a nice little town and we are proud of it.




Once again, I will close with the usual, Please love one another

,


Mom and Bob [Queen and Bobby]






The following are two of my very favorite Quotations. They say a lot, about what is important in this life. Bob





"Not everything that can be counted counts, and not everything that counts can be counted."




Albert Einstein (1879-1955), sign hanging in Albert Einstein's office at Princeton







"Praise is well, compliment is well, but affection--that is the last and final and most precious reward that any man can win, whether by character or achievement."




Mark Twain 1835 1910