He was almost finished when it started to snow.
This just came from ProLog. It sounds great to me.
"Dear Valued ProLog Express Customer:
We are pleased to announce that we have more than tripled the download speeds to our ProLog Express residential high-speed Internet customers from up to 800 kilobits per second* (kbps) to up to 3 megabits per second* (Mbps)! Upload speeds are now up to 256 kbps*. The monthly price for the high-speed Internet service remains unchanged.
The new download speed is up to two times faster than a comparably priced DSL connection, allowing you to get the most from your Internet connection. You can download files, watch video and receive large photo files faster then ever before! "It just checked now at 5:16 PM at 1835 Kbps. That is not too shabby!!!
Tonight for supper, we finished neighbor Jean's lasagna. She is our next-door superb Italian cook. That with a small salad was excellent. We were both too full for dessert.

Tuesday January 13, 2004 7:25 AM 36 deg at LVIA and 33 deg in the bus stop
Ah, this morning my weight was 206 and the blood sugar was 148. Apparently, the lasagna was not without peril but it sure was good. <Sigh>
The dog has been out and I will follow shortly. <8:01 AM> The day is cloudy and gray looking but it was a wonderful day and very comfortable to be able to sit up there and contemplate the world in general, and my small world in particular.
I took a few pictures of the area without the big pine tree. It certainly changes the landscape but it should be for the good overall. Sam said that the other large pine tree, right next to the house, is now a much safer tree since he topped it over a year ago. I really don't want to remove it. Its root system appears to be sound. This is how that area looked this morning about 7:30 AM.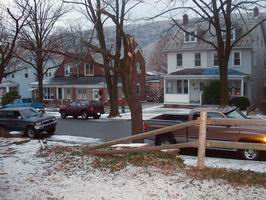 As I sat there, I contemplated the vindication of some of my many my pet vices. Now, coffee is good for you, as are nuts, wine is now heart medicine and even dark chocolate is now held in high esteem! Of course, oatmeal has been a standard here for years. We now incorporate all of them into our diet, in "moderation".
This morning we decided to do our shopping. Before we left, we went to Rite-Aid for my prescription for my glucose test strips. Queen called it in yesterday. It wasn't ready. From there we walked down to the Time News and chatted a bit with the staff. Everyone was busy; Pattie was tied up on the phone so we really didn't get to talk with her. Then from there we left for our Lehighton trip. I had to stop at the Post Office to mail both my IRS and State estimated tax payments, and then we continued on from there.
We left about 10:15 and got back about 12: 30PM. The stores seemed well stocked. As we left Aldi, I saw a Mercury Grand Marquee with the license number of K3BTU, so Willie Gersbach must have been in Aldi also. I didn't see him though. Then, we moved on to Wal-Mart, Giant, and home. In Wal-Mart we met Marie Dieter. She is always a good kid and fun to meet and talk with on any occasion.
It was an uneventful trip but we are glad it is done. It is supposed to get really cold tonight and into the next few days with possible snow in the forecast. At least that is what the weather gal on WPIX said this morning. If I am awake in time, I often watch Linda Church's weather on the WPIX New York's early morning news channel. Every time I watch any New York City news, I am everlastingly glad that I am a smalltime "hick from the sticks". Man, the city life, you can keep. Sheez!!
Tonight once again, we dined in God's restaurant. We had Queen's finest spaghetti. It was perfect. Oh yes, we got the free dinner coupons that she won at the Health Fair today. One of these days!!!

Wednesday January 14, 2004 7:31 AM 10 deg at LVIA and 8.8 in the bus stop
This morning my weight was 207 and the blood glucose 128. It was very cold up there on the park bench. I was prepared by using my warm L. L. Bean super insulated jacket. I can only wear it when it is bitter cold outside because it gets too warm for me in a building makes me sweat like crazy. So these are the days to use it.
I downloaded the newest version of IncrediMail. Among other improvements, it permits me to readily insert pictures in my e-mail very easily without using attachments. I think that they also have beefed up the spam controls. It will block images in messages with the option to view them. In addition, not only will it enable me to remove old e mail directly from my server, but I can "bounce" an e mail back to an undesirable sender. Eventually I may be taken off their list of suckers. I like it a lot.
That is a nice feature. It keeps things looking better in the e mail department.
In fact, it now has quite a few new features that I will never use.
This morning we went downtown for a few items at Country Harvest. Then we went over to Rite-Aid and I was able to get my prescription. We first stopped in at The TN office for a moment.
Then I took Queen home and went to on to the "Iron Works" for a short session on the equipment. I believe that I am beginning to feel better in just this short time. I am not at all sore and I think my flexibility has improved. I hope so. It will take time. If I can increase my exercise level and reduce the food intake, it should help a lot. Well, we haven't had this for a while. Ha!!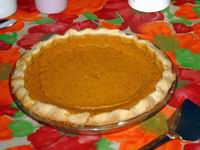 Now at 4:02 PM WQXR is predicting three to five inches of snow for the New York area.
Tonight for supper Queen had the rest of the turkey and stuffing meal that was out in the bus stop. With it she had cauliflower, cooked baby carrots, cottage cheese, and applesauce as a side dish. It was just as good as the day we had it originally. We eat damn well here.
Queen is here at her computer perusing her e mail and familiarizing herself with the whole works. She is doing very well.

Thursday January 15, 2004 7:19 AM 9deg at LVIA and 9.9 in the bus stop
This morning my blood sugar is 129 and the weight 206. It has finished snowing or so it seems. I shall have to go out and do something about it before it really gets cold. <8:07 AM> I am back inside after my cleaning chore.
If we had to have snow, this was as good a snow as I could expect. It was very light and fluffy. Queen just purchased a new snow-shoveling device for me from QVC. It is configured like a truck's snow plow and one is supposed to be able to simply push it and it will move the snow all to one side, as you move it along. I could not keep it in a straight line. Ah, Queen read the instructions and it said it was for snows up to 4 inches. This one was more like 6 inches. It looks as though it should be fine in a lesser amount. The snow blower really did a number on it. It threw it for tremendous distances. We must have had about 5 or 6 inches of the white stuff.
As I said, I did get out the gas snow blower and it went just fine. I cleared some of the stuff along Mike's place then of course, I cleaned a place out at our park bench and afterwards I got my tush cushion, broom, coffee and camera and sat up there with a cup of 8 o'clock coffee, Yes, I am nuts, but it was beautiful. I took a few pictures and I must say I enjoyed sitting there in the glistening snow. Now I am ready for the Lord to take it away. Ha!! Since they want bitter cold weather for awhile that won't be anytime soon. Here are some of the pictures. It would have looked better had I waited for the sun to arrive over the mountain. However, now it is a beautiful sunny bright day but damn cold!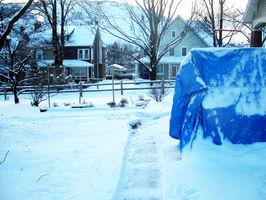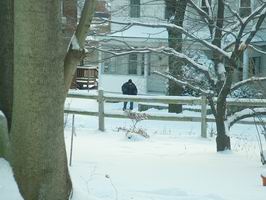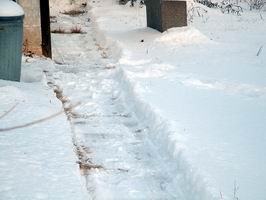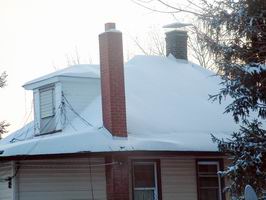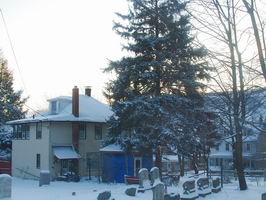 I recently downloaded a new browser that I am trying. My old standard has been MSN's explorer browser, This one is
http://www.netcaptor.com/
, It leaves any site you have open in a small box at the bottom of the browser and it will recall them whenever you wish to refer back to that site, instantly. It is nice and it seems just as fast as or faster than Explorer. I shall try it. It has many different features. I have long since given up on Netscape. That used to be excellent, but with their close ties with AOL, they are a real mess and I won't touch them anymore.
I also use a version of
http://www.Excite.com
which I personalized as my start page. It is very easy to personalize and I use the same one on all my machines. It has most of my favorite sites that open quickly. All the weather data I use, just a whole myriad of things that I often refer to in my letters.
I came upon a site for those of you who are crossword puzzle fans. It looks as though one has many choices.
http://www.refdesk.com/crosswrd.html
Tonight for supper, we had salmon, a baked potato each, peas, Queen's coleslaw, and a tomato cottage cheese and dessert. Then we finished with an ice-cream bar each. It was an excellent meal. I got the salmon just right. The fresh mushrooms sliced on it with lemon, and dill was delicious.

Friday, January 16, 20047:32 AM 3 Deg at LVIA and.4 deg in the bus stop
Geez, it is cold this morning! I had to take a second look at the temperature in the bus stop. It was 4/10 of a degree above zero. Butternut was out and is happy to return to the warm house.
Geez, last night I saw the weather on Mt. Washington, NH. It was:
-41°F

Fog

Feels Like
-91°F
| | |
| --- | --- |
| UV Index: | 0 Minimal |
| Dew Point: | -41°F |
| Humidity: | 100% |
| Visibility: | 0.1 miles |
| Pressure: | N/A and N/A |
| Wind: | From the West Northwest at 81 gusting to 93 mph |
Now that is cold.
For anyone also with diabetes I was sent the following from the maker of my blood glucose meter.
A spoonful of cinnamon helps treat diabetes for what it is worth, Queen has been adding it to my oatmeal for the last two days. If one looks, my readings for those days have been quite low. I like it because it tastes good. It certainly seems to be worth a try. The article appears to be authentic.


A Spoonful of Cinnamon Helps Treat Diabetes
By Alison McCook
Last Updated: 2003-12-11 15:35:10 -0400 (Reuters Health)
NEW YORK (Reuters Health) - People with diabetes can help keep their bodies healthy by simply adding a dash of spice to their diet, new research reports.
In a study, diabetics who incorporated one gram -- equivalent to less than one-quarter teaspoon -- of cinnamon per day for 40 days into their normal diets experienced a decrease in levels of blood sugar, cholesterol and blood fats.
And for people with diabetes, the less of those substances in the body, the better.
Type 2 diabetes arises when the body loses sensitivity to insulin, a hormone that shuttles the sugars from food into body cells to be used for energy. As a result, the amount of sugar, or glucose, in the blood remains high, leading to fatigue and blurred vision. Over the long term, excess blood glucose can increase the risk of heart disease, kidney failure and blindness.
The current findings suggest that a small amount of cinnamon can help protect diabetics from these and other potential complications of their condition, study author Dr. Richard A. Anderson of the Beltsville Human Nutrition Research Center in Maryland told Reuters Health.
Diabetics could add a dash of cinnamon to their morning servings of coffee, orange juice or cereal, Anderson noted. "You can also make a cinnamon tea by simply boiling water with stick cinnamon," he suggested.
Anderson noted that cinnamon may also help stave off the onset of Type 2 diabetes in people at risk of the condition.
He added that cinnamon contains some substances that can be toxic in high amounts, so people should be sure not to get too much of a good thing. "Certainly, a gram per day is not a high amount," he reassured.
During the study, Anderson and his colleagues asked 60 people with Type 2 diabetes to consume 1, 3, or 6 grams of cinnamon each day for 40 days, or the equivalent amount of wheat flour, as a placebo. Both the cinnamon and wheat flour were administered in capsule form.
Reporting in the journal Diabetes Care, Anderson and his team found that all cinnamon-takers experienced a drop in blood levels of glucose, fats and cholesterol by up to 30 percent. No change was seen in the people taking placebo capsules.
Anderson explained that cinnamon contains compounds that help make insulin more efficient, improving the hormone's ability to bring glucose to the cells that need it.
As an added bonus, cinnamon contains virtually no calories, Anderson said, allowing diabetics to add zest to their meals without adding to their waistlines.
Cinnamon contains less than 3 calories per gram, "negligible in the total dietary intake," Anderson said.
Previous research has shown that cinnamon appears to help fat cells recognize and respond to insulin. In test tube and in animal studies, the spice increased glucose metabolism by about 20 times.
SOURCE: Diabetes Care, December 2003

I think I shall wait a bit before I venture forth to the park bench, not until there is some sunshine up there. It wasn't too bad up there sitting in the sunshine. As I have said that is a good place to think. I remembered the program I saw on the tube the other night as I lay in bed. It was a re-broadcast of an interview with the former Mayor of New York City, Ed Koch. I had seen his statement in print but not out of his mouth. He said that he is supporting George W. Bush for re-election. To paraphrase him to the best of my recollection, he said that he disagrees with Bush on just about every domestic program he has proposed. However, the Democrats are completely wrong in their idea. If the country is not safe, all the domestic stuff amounts to nothing when we as a nation are in peril. He said their idea that opposition to the war as the way to go is stupid!
Koch said, "not one of them has the stomach to do what Bush has taken on and has accomplished in going after the terrorists."
Of course, there is also that great proponent of moral rectitude, Teddy Kennedy, telling, this all a cooked up scheme for Bush's re-election.
I completely agree with Ed Koch on this one. We are every bit as much in a war as we were during WW2, only now they can and did bring it here to us. The fact that nothing major has happened so far is NO accident. The ACLU not withstanding. There were some tough laws enacted during WW2 also. Yes, keep your eye on the government, but we really do not have much choice. He even spoke well of John Ashcroft . Ha!!!
I would think that every night Al Gore goes to bed, he should be on his knees thanking God, he was NOT elected. I know I do. That really would be the wolves guarding the chicken coop. Geez!!
Anyone, who thinks 911 would not have happened is downright stupid. Sure just sit down and talk reasonably with them. Neville Chamberlain also had peace in our time, bull sh*t. I lived through that also.
I want to go to the "Iron Works" this morning for another crack at using the equipment. I pay for it by the month, so I might just as well avail myself of their facilities.

<Later 12:04 PM > I am back. I met Connie and Bob Reinhardt there. They were finishing their workout on the machines.
On the way home Queen wanted me to stop at Country Harvest for a salad mix. I stopped in at Pattie's office on my way home. She was supportive of the old man's attempt at fitness. I believe that it is getting easier as I attend more frequently. However, a nap will go well for the "old geezer" this afternoon.
From there, it was home.
Please love one another, Mom and Bob [Queen and Bobby]

The human race has one really effective weapon, and that is laughter."
-Mark Twain
The best way to cheer yourself up is to try to cheer somebody else up."
-Mark Twain
A lie can travel halfway around the world while the truth is putting on its shoes.
Mark Twain
Imagination is more important than knowledge...
Albert Einstein