Founded December 17,1912 Ceased Publication Thursday February 1, 1951
Book 1 Volume 12



This is a previous issue re-worked with Nvu





Saturday, February 07, 2004 7:37 AM 34 deg at LVIA and 33.2 in the bus stop




Golly, Saturday has arrived already and a new week will be starting soon. I overslept this morning and Queen had to let the dog out and feed him. Geez!!




On my e-mail this morning is a site I have seen before but it appears that they have improved it a lot. I had to do a bit of editing myself, but the results are good.


It is, http://terraservice.net/

Here is a picture of our area.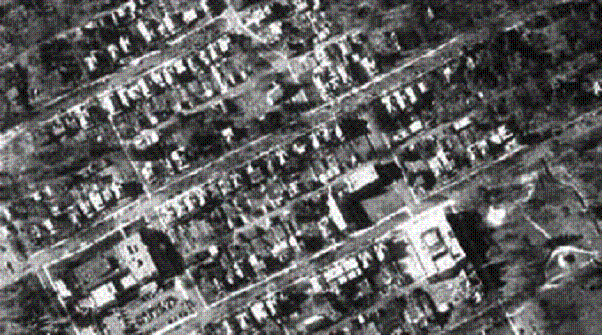 It takes some looking and imagination, but our house and church next door are there.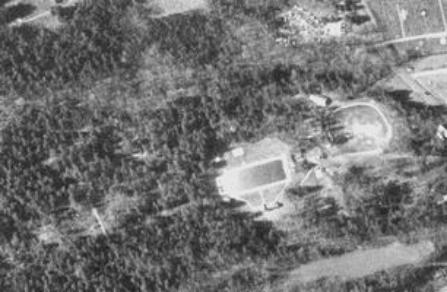 Space view of The Palmerton Memorial Park
This morning my weight is 207 and the blood glucose is 128. Apparently the sausage and bean soup kept the sugar level down last evening. It sure was good stuff. Apparently, beans and my blood sugar go well together. Yesterday I sent to many this recipe that queen made last night. It was excellent she had my permission to make it again soon. Ha!!
SAUSAGE BEAN SOUP
¾ pound bulk Italian sausage [Queen substituted turkey Kielbasa.]
½ cup chopped onion
1 garlic clove, minced
1 can (15-1/2 ounces) butter beans, rinsed and drained
1 can (15 ounces) black beans, rinsed and drained
1 can (14-1/2 ounces) diced tomatoes, undrained
1 can (14-1/2 ounces) beef broth
1 tablespoon minced fresh basil or 1 teaspoon dried basil
2 tablespoons shredded Parmesan cheese
In a large saucepan, cook sausage, onion and garlic until the sausage is browned; drain. Add beans, tomatoes, broth and basil. Cover and simmer for 10 minutes. Sprinkle each serving with Parmesan cheese. Yield: 4-6 servings.
I cleaned off the rest of the slush going up to the garage this morning. I had intended to take Queen to the "Iron Works" this morning but she doesn't feel up to it today. After my recent shoveling, I decided to take it easy today.
This afternoon Queen wanted to go down to Shea's, Spillane's and Rite-Aid. I wanted to get a Valentine card for my sweetheart. While I was in Rite-Aid, I saw the manager and asked her about my refund for the glucose monitor. She asked me if I recalled how much it was. I replied $40. She went to the cash register and paid me on the spot. I was shocked as well as happy. I rarely leave a store with more money than when I entered. Geez!! I wasn't at all sure I would ever see it. I doubt if the store was legally obligated to do it and I told her so and that I was very appreciative of her action.
Tonight for supper Queen had chicken, a half a baked potato each, fresh spinach, cooked carrots, cottage cheese, and an ice-cream bar for dessert.
Tonight Queen is getting quite a workout learning a lot of new stuff with her computer. It is tough doing some of this for the first time. We had to download Adobe reader because she wanted to copy a crochet pattern. First, we had to establish a membership in the site from which she wanted to receive the pattern. We got there but she was rather hard pressed at times. She had to establish a membership, password, and the whole nine yards. She is a smart kid and between us got it all done. Now she is writing a letter. After that, it will be spider solitaire.
These are from Bob Green. I suspect that I shall plagiarize some of them for future use. Ha!!


What would men be without women? Scarce, sir .. mighty scarce.
~Mark Twain
I once had a rose named after me and I was very flattered. But I was not pleased to read the description in the catalogue: "No good in a bed, but fine up against a wall".
~Eleanor Roosevelt
Last week I stated this woman was the ugliest woman I had ever seen. I have since been visited by her sister and now wish to withdraw that statement.
~Mark Twain
The secret of a good sermon is to have a good beginning and a good ending; and have the two as close together as possible.
~George Burns
Santa Claus has the right idea . visit people only once a year.
~Victor Borge
Be careful about reading health books. You may die of a misprint.
~Mark Twain
My wife is a sex object. Every time I ask for sex, she objects.
~Les Dawson
By all means marry. If you get a good wife, you'll become happy; if you get a bad one, you'll become a philosopher. ~Socrates
I was married by a judge. I should have asked for a jury.
~Groucho Marx
My wife has a slight impediment in her speech. Every now and then she stops to breathe.
~Jimmy Durante
The male is a domestic animal which, if treated with firmness and kindness, can be trained to do most things.
~Jilly Cooper
I never hated a man enough to give his diamonds back.
~Zsa Zsa Gabor
Only Irish coffee provides in a single glass all four essential food groups: alcohol, caffeine, sugar, and fat.
~Alex Levine
Don't go around saying the world owes you a living. The world owes you nothing. It was here first.
~Mark Twain
My luck is so bad that if I bought a cemetery, people would stop dying.
~Ed Furgol
Money can't buy you happiness, but it does bring you a more pleasant form of misery.
~Spike Milligan
What's the use of happiness? It can't buy you money.
~Henny Youngman
I am opposed to millionaires, but it would be dangerous to offer me the position.
~Mark Twain
Until I was thirteen, I thought my name was 'shut up.'
~Joe Namath
Youth would be an ideal state if it came a little later in life.
~Herbert Henry Asquith
I don't feel old. I don't feel anything until noon. Then it's time for my nap. ~Bob Hope
A woman drove me to drink ... and I hadn't even the courtesy to thank her. ~W.C. Fields
I never drink water because of the disgusting things that fish do in it. ~W.C. Fields
It takes only one drink to get me drunk. The trouble is, I can't remember if it's the thirteenth or the fourteenth. ~George Burns
We could certainly slow the aging process down if it had to work its way through Congress.
~Unknown
Don't worry about avoiding temptation.. As you grow older, it will avoid you.
~Unknown
Maybe it's true that life begins at fifty. But .everything else starts to wear out, fall out, or spread out.
~Unknown
Doctor to patient: I have good news and bad news. The good news is that you are not a hypochondriac
~Unknown
The cardiologist's diet: If it tastes good ... spit it out.
~Unknown
By the time a man is wise enough to watch his step, he's too old to go anywhere.
~Unknown
It's hard to be nostalgic when you can't remember anything.
~Unknown

Sunday, February 08, 2004 7:40 AM 18 deg at LVIA and 15.7 in the bus stop
It is very blustery and damn cold sitting up on the park bench this morning. However, it is crystal clear without a cloud in the sky. I still love to sit out there in the morning. As I said it is a marvelous place to get your head on straight. It is a great day to be alive. This morning the blood glucose was 137 and the weight 206.
Golly whiz, it has been quite a day. It was such a nice morning. I asked Queen if she wanted to go someplace today. She suggested Wall-Mart. So, off we went. On the way, we stopped at the car wash out on Hazard Road and gave the car a bath. It looks like an automobile now.
As I parked at Wall-Mart, in a good handicapped spot in front of the store, I spotted two National Guard Humvee's parked across form our spot.
That is a very impressive sight. I will bet they could drive right over our little Corsica with no problem
On the way in the store, I stopped by and shook all of their hands they were all nice young men.
After our shopping, I went out to the car while Queen visited the little girls room. Suddenly there was a sinking feeling in the pit of my stomach when I couldn't find the car keys. Yep, I locked them inside in the ignition.
I NEVER do dumb stuff like that. Well I did today. Queen looked in her purse for her set of keys to no avail. She thought she had not moved them when she changed purses some time ago. The National Guard came over to assist.
We got a coat hanger but it was to no dice. No one could maneuver it properly. Queen and I went in the store to be informed that they do not open car doors. I proceeded to get on our cell phone and call AAA. After placing the call I handed my card AAA back to Queen to keep for me.
In about an hour he arrived. The young man had the door open in about a minute. Sheez. When we got home, Queen went to return the AAA card and guess what? She found her set of keys. We both laughed over that. Mr. and Mrs. Duffas!! Geez!!!


Monday, February 09, 2004 7:17 AM 16 deg at LVIA and 12.1 in the bus stop
This morning the blood glucose is 126 and the weight is 207. It is cold this morning. I fed the dog and he was out, but I am awaiting a bit more sunlight before venturing forth.
I was out with my coffee, cushion, and camera for a look-see. It is cold but it is supposed to warm up today. I got a couple of pictures for this Monday morning.
I got a picture of a jet contrail and a woman walking up 3rd St. hill with her child.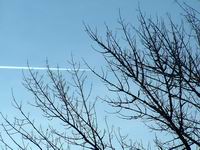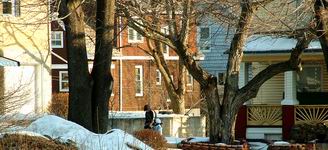 Queen is starting the laundry as well as breakfast. Mr. and Mrs. Dufas plan to go to "The Iron Works" later this morning.




Golly, we were down and back. Queen used the treadmill and it went quite well. Her main complaint is that it goes at a constant speed and it is boring. Hey. I know that too. But when it is too cold for regular walking it is just the thing. Therefore, I got her a ticket for this month.




I sent the following e-mail to a lot of folks with the hope that someone can help:




I am taking the liberty of sending this letter to anyone to whom




I think might be of assistance in this matter.




This afternoon George Ashman stopped by with a request for some help and




advise. Currently the Lehigh Gap Historical Society has in its possession




all the past issues of the Palmerton Press. While they are fragile with age




they are for the most part bound volumes produced by a company in Reading Pa




to whom we sent a copy of each issue as it was published. At the beginning




of the New Year, they would send us, the past years volume for our archives.




They are currently in storage at the Palmerton Library.




The society would like to digitize them and make them available as a




searchable source of information available to the public. In what format I




am not sure. I presume a searchable CD ROM.




George is in contact with companies trying to find the best




possible method of accomplishing this program. So far, nothing has been




economically feasible. Some want to microfilm them and work from that format




We both agree that will not accomplish their goal. One of the options is to




scan them with an optical scanner and then work from that. The reliability




of that method is extremely inaccurate. It would require massive proof




reading before anything would be accomplished. At the same time, the




Society's limited budget must also be considered. We would appreciate any




input anyone can provide. Any information can be sent to me at

elliston@ptd


net and George at

Gashman@ptd.net


I got this from Henry Schwartz,




`The woman arrived At an airport one night With several long hours Before her flight. She hunted for a book In the airport shop, Bought a bag of cookies And found a place to drop. She was engrossed in her book But happened to see, That the man sitting beside her, As bold as could be. Grabbed a cookie or two From the bag in between, Which she tried to ignore To avoid a scene. So she munched the cookies And watched the clock, As the gutsy cookie thief Diminished her stock. She was getting more irritated As the minutes ticked by, Thinking, "If I wasn't so nice, I would blacken his eye." With each cookie she took, He took one too, When only one was left, She wondered what he would do. With a smile on his face, And a nervous laugh, He took the last cookie And broke it in half. He offered her half, As he ate the other, She snatched it from him And thought... ooh, brother! This guy has some nerve And he's also rude, Why he didn't even show Any gratitude! She had never known When she had been so galled, And sighed with relief When her flight was called. She gathered her belongings And headed to the gate, Refusing to look back At the thieving ingrate. She boarded the plane, And sank in her seat, Then she sought her book, Which was almost complete. As she reached in her baggage, She gasped with surprise, There was her bag of cookies, In front of her eyes. If mine are here, She moaned in despair, The others were his, And he tried to share. Too late to apologize, She realized with grief, That she was the rude one, The ingrate, the thief! How many times have we absolutely known that something was a certain way, only to discover later that what we believed to be true...was not? Keep An Open Mind And An Open Heart, Because...... You Just Never Know... Ya might be eating someone else's cookies


Tonight for supper Queen had the rest of the Sausage bean soup. She augmented it a bit to stretch it and it was very good.




I got this from both Tommy Davies and Bob Greenawalt. Hey, I remember these very well as a kid. On the trip to my Grandfathers farm in Columbia County there was a stretch of highway just before you got to the bridge at Berwick where these were always prominently displayed. Ah yes!!!





BURMA SHAVE





For those of you who never saw the Burma Shave signs, here is a




quick lesson in our history of the 1930's and '40's. Before the




Interstate, when everyone drove the old 2 lane roads, Burma Shave




signs would be posted all over the countryside in farmers' fields.




They were small red signs with white letters. Five signs, about 100




feet apart, each containing 1 line of a 4 line couplet......and the




obligatory 5th sign advertising Burma Shave, a popular shaving cream.




DON'T LOOSE YOUR HEAD
TO GAIN A MINUTE
YOU NEED YOUR HEAD
YOUR BRAINS ARE IN IT
*** Burma Shave***
DROVE TOO LONG
DRIVER SNOOZING
WHAT HAPPENED NEXT
IS NOT AMUSING
***Burma Shave***
BROTHER SPEEDER
LET'S REHEARSE
ALL TOGETHER
GOOD MORNING NURSE
***Burma Shave***
CAUTIOUS RIDER
TO HER RECKLESS DEAR
LET'S HAVE LESS BULL
AND MORE STEER
***Burma Shave***
SPEED WAS HIGH
WEATHER WAS NOT
TIRES WERE THIN
X MARKS THE SPOT
***Burma Shave***
THE MIDNIGHT RIDE
OF PAUL FOR BEER
LED TO A WARMER
HEMISPHERE
***Burma Shave***
AROUND THE CURVE
LICKETY-SPLIT
ITS A BEAUTIFUL CAR
WASN'T IT?
***Burma shave***
NO MATTER THE PRICE
NO MATTER HOW NEW
THE BEST SAFETY DEVICE
IN THE CAR IS YOU
*** Burma Shave***
A GUY WHO DRIVES
A CAR WIDE OPEN
IS NOT THINKIN'
HE'S JUST HOPIN'
***Burma Shave***
AT INTERSECTIONS
LOOK EACH WAY
A HARP SOUNDS NICE
BUT ITS HARD TO PLAY
***Burma Shave***
BOTH HANDS ON THE WHEEL
EYES ON THE ROAD
THAT'S THE SKILLFUL
DRIVER'S CODE
***Burma Shave***
THE ONE WHO DRIVES WHEN
HE'S BEEN DRINKING
DEPENDS ON YOU
TO DO HIS THINKING
***Burma Shave***
CAR IN DITCH
DRIVER IN TREE
THE MOON WAS FULL
AND SO WAS HE.
***Burma Shave***
DRUNKEN DRIVERS
HERE'S YOUR CHANCE
TO HOBBLE HOME
IN AN AMBULANCE
***Burma Shave***
And my all time favorite:
PASSING SCHOOL ZONE
TAKE IT SLOW
LET OUR LITTLE
SHAVERS GROW
***Burma Shave***



Tuesday, February 10, 2004 7:18 AM 28deg at LVIA and 27.7 in the bus stop
It was cold but nice this morning. I was out with my coffee and tush cushion to the sight of a beautiful day. This morning the weight was 208 and the blood glucose 131. I am not at all happy about the weight. It has been inching back up. That is a no-no.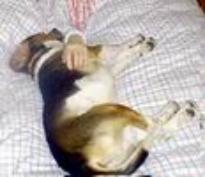 Man talk about the life of Riley this guy sure has it.
I sat out on the front porch this morning before noon and it was 72 deg. out there. The sun is gaining strength even though the outdoor thermometer says 42 degrees. As long as the sun was present, it was very comfortable. Better days are coming.
Queen was working out in the kitchen and called to me come here quick and bring your camera. It was our old friend Mr. squirrel trying to make off with sunflower seeds from the squirrel proof feeder that Judy and Henry Schwartz gave us. He finally quit in frustration.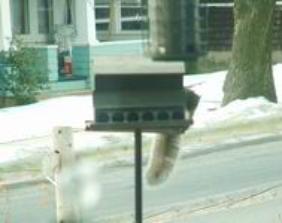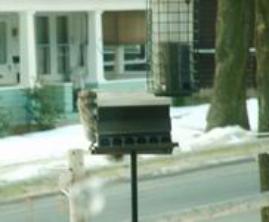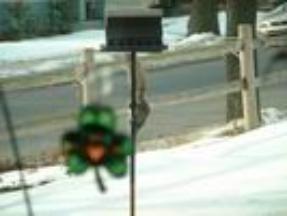 Fred J. Gray squirrel at work
After we missed the mailman I had to go to the Post Office to mail a letter. I stopped at Shea's to get some stuff I need for one of Queen's projects.
Mary and Jim stopped by for a visit this afternoon. It was good to see them. We persuaded them to stay for supper. Queen had chicken in the oven over a bed of stuffing, green beans, carrots an celery, cranberry sauce, and black olives. Then we had an ice cream bar and coffee for dessert. It was an excellent meal, followed by an evening of conversation.

Wednesday, February 11, 2004 7:32 AM 30 deg at LVIA and 29.9 in the bus stop
This morning it is snowing a bit. Butternut has been out, but not I as yet. This morning my blood glucose was 126 and my weight 208.
This morning's e mail had two welcome pictures by Bill Danneberg formerly of Palmerton. Here are his remarks about them,

"I scanned two scanned transparencies - one showing Delaware Avenue in July of 1958, looking west from the park. I believe this may have been taken on a lazy Sunday afternoon, judging from the traffic "congestion."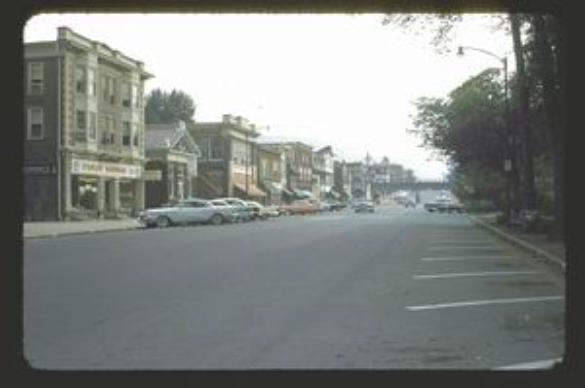 The other shows the West Plant, probably taken on the same day."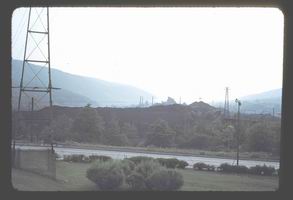 These are most welcome additions. I notice that PP&L is still in the building where Bob's Floral shop in now. Then the Ben Franklin store and I suspect Gerber's store is the next one. After Gerber's I don't recall who was in the store with the white sign with the red lettering on it at the entryway. They are followed by Young's jewelers store, Teter's drugstore, and I suspect Shindel's shop. From there on it gets interesting I am not sure if that is the Grant store or the union hall. Looking up the street, I am also not sure If the great Segals fire had occurred as yet, It looks to me as thought Burt Shipe still had his hardware store with the green awning outside.




I realize it will be difficult for anyone to see too, much from these pictures because I had to reduce them to put them in here, from 6.2 megabytes to 175.8 KB. If anyone would like the uncompressed picture I would be happy to e-mail it to you, but it will be a big one with a phone modem and will take a while to download. I can also send it as a zip file if anyone knows how to open it.





More from Bill

,

"I believe the Delaware Avenue photo would have been taken before the Segal fire. I can recall shooting the Delaware Avenue photo "like it was yesterday". The weather was delightful and I had been riding my bicycle around town with camera slung over my shoulder. And, as I previously indicated, I'm positive the West Plant photo was taken the same day."




This picture must have been taken about where the car wash is now located at the top of Delaware Avenue. That looks like the old State Road below before the new road through the gap was constructed.




I went to the "Iron Works" morning. I deliberately did not go at it too hard this morning. I took about a 2/3 of a mile leisurely 2 mph walk. Then it was on to the stationary machines. Those are the ones make me tired and sometimes sore. Gee, whiz!! Our nice neighbors Connie and Bob Reinhardt were there doing their thing also. Bob is a good man who has a good sense of humor and a good idea of what is important in this world. He told me he is 60, so he too is beginning to feel the effects of aging. I have said before that getting older is always a matter of making concessions. The problem is the concessions become bigger, bigger, and more frequent. Sheez!!!




While I was away, Queen was busy making use of the new space available after her clean up out in the kitchen moving and rearranging things. One can actually see the top of the washer and dryer now. She made a very big improvement. After I got home, I put some the less often used stuff up on the higher reaches for her.




Queen had to go to the hospital for her yearly mammogram. She says it is not pleasant. Tonight for supper we will be dining once again in God's restaurant with spaghetti. Ah!!


You know one of the best things I buy is a subscription to the on line Wall St. Journal. These people may be conservatives like me, but they have their heads on straight. With or without their permission I am using the article I saw in today's paper because I think it is important.



"Eat your Salmon"

Staying out of the sun and quitting smoking are both good ideas. But now some scaremongers want to add salmon to the list of things we all should avoid to reduce our risk of cancer.




Yes, salmon. The heart-healthy fish that's also supposed to make you smarter stands accused of causing cancer. A study published in Science magazine last month says that salmon raised on farms in the U.S. and Europe has higher levels of pollutants than salmon caught in the wild. It recommends eating farmed salmon just once a month.




There are a number of fishy things about this study, starting with the fact that the proven health benefits of eating salmon far outweigh the risk of cancer. In response to the report, the Food and Drug Administration says that "consumers need not alter consumption of farmed or wild salmon at this point in time." Britain's food watchdog agency also rose to salmon's defense, saying the levels of pollutants reported in the study are within internationally recognized safety limits.




The Science study found trace amounts of polychlorinated biphenyls (PCBs) in farm-raised salmon. But PCBs aren't proven human carcinogens. Long-term studies of factory workers exposed to high levels of PCBs show that there is no increase in the incidence of cancer. Moreover, contaminant levels in salmon have gone down 90% in the past 30 years.




But even if PCBs were a danger, they wouldn't pose a threat in the quantities in which they are found in farm-raised salmon. The Science study found the concentration of PCBs to be 1.8% of the level the FDA finds tolerable -- an average of 36.6 parts per billion compared with 2,000 parts per billion in the FDA's guidelines. Put this in perspective: If a person eats eight ounces of farmed salmon every week for 70 years, the PCBs would increase his cancer risk by one in 100,000, the Environmental Protection Agency says.




Avoiding salmon can actually be bad for public health. Salmon is packed with omega-3 fatty acids, which are proven to reduce heart attacks. Studies indicate that the omega-3 in salmon may also be vital to brain development in young children and fetuses, help fight Alzheimer's, and help prevent breast cancer.




The Science study has had one predictable effect. Two environmental groups in California this month announced their intention to sue 50 companies in the U.S., Canada and Europe -- from salmon farms to grocery giants Safeway and Albertsons. The Environmental Working Group and the Center for Environmental Health plan to bring suit under a state law requiring companies to alert customers if their products contain dangerous levels of chemicals known to cause cancer. These groups can't win their battles on the scientific merits in Congress, or even in such friendly bureaucracies as the EPA, so they are increasingly turning to the courts.




Now that salmon has been discovered by greens and trial lawyers, who knows what kind of wild ride we're in for. But one thing is clear: The latest salmon scare isn't about nutrition or food safety.




Updated February 11, 2004




Will Shakespeare was right" The first thing we do, let's kill all the lawyers."





Thursday, February 12, 2004 7:22 AM 23 deg at LVIA and 20.5 in the bus stop
This morning the glucose level was 136 and the weight 208. It is a cloudy day this morning. There is no hint of any sunshine so far today. This morning we plan to do our food shopping. <12:15 PM> We are back. In fact, it was a very easy trip today. Not at all crowded but we were able to secure most of what we wanted. The load was much lighter today. However, a shopping jaunt always tires out the two oldsters.
This evening we will be having some of the fish we got today. We got boneless salmon steaks as well a new fish we never tried before, Tilapia. This is the one we had tonight. I made supper Queen was busy cleaning out the closet at the bottom of the steps. She still doesn't have it the way she wants it though.
I had a small red potato each, cooked carrots, fresh spinach, and a tomato cottage cheese salad. It turned out darn well.
Gee Whiz, talk about feeling old, tonight an obituary caught my eye. It was for a Douglas Haydt, 47, of town. It said he was born and raised in Danielsville. It listed his parents as Leon and June Borger Haydt. June I think was in my High School class. Maybelle[Blose] Gilbert would know I will bet. They were customers of my brother Dick and I when we were doing service work for Hess Brothers out of Allentown. Little Douglas was a small kid running around the house. I could still take you to their house. A small red brick place. They were nice folks. It is funny what memories something will trigger when you read something like this. Geez!



Friday, February 13, 2004 7:20 AM 30 deg at LVIA and 28.4 in the bus stop
Sheez the blood glucose this morning was 150, way to high. That is with the Tilapia fish meal. We had no dessert last evening either. The weight is 208. I am not happy with these readings.
It is a cloudy morning today but it has turned in to a nice day after all. This morning we both went to the "Iron Works" for a session on the equipment.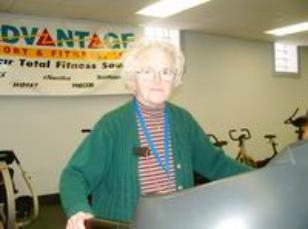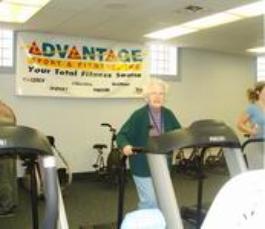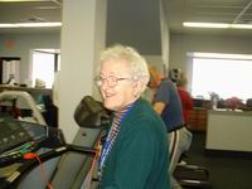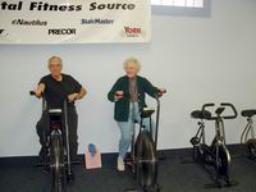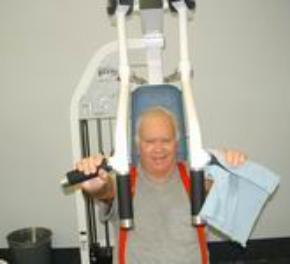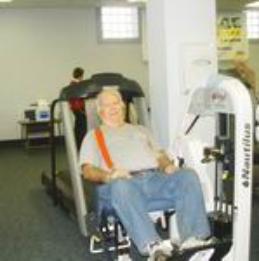 "Not everything that can be counted counts, and not everything that counts can be counted."
Albert Einstein (1879-1955),
By all means marry. If you get a good wife, you'll become happy; if you get a bad one, you'll become a philosopher. ~Socrates [PS I have a GOOD ONE]