Founded December 17,1912 Ceased Publication Thursday February 1, 1951


BOOK 1 Volume 13



This is
a previous issue
re-worked with Nvu



Saturday, February 14, 2004 7:24 AM 25 deg at LVIA and 25.6 in the bus stop
Today is Valentine's Day and it certainly looks as though it will be a beautiful one. The Channel 16 weather girl this morning says sharply colder weather is on the way but so far, no big storms.
This morning the blood glucose was better at 133 and the weight still 208. This is nothing to be happy with, but a tad better.
Mary and Jim Hill came last week to install a new cabinet for Queen in the outer kitchen. We desperately need the storage space. I know, it is the old story if we have more space, we would have more stuff.
I moved many things out of the outer kitchen for Queen and she is preparing things for their arrival. It was necessary to move one of the pot hanging racks that hung from the suspended ceiling which would be in the way had we left it alone. What to do? Ha, we are using the extra heavy-duty plant rail over the west picture window to accommodate some of it. That will mean fewer plants. Geez!!!!
Here is the work crew in action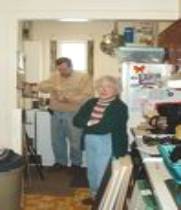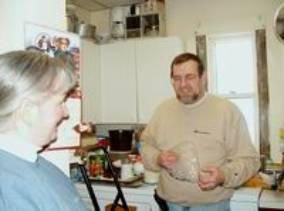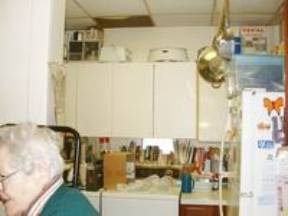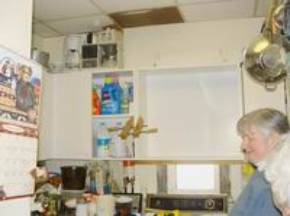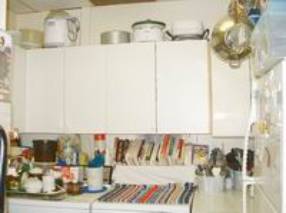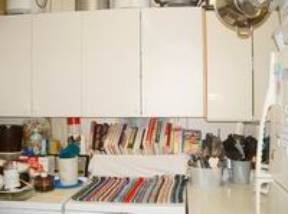 They did the job and gave it to Queen for her birthday present coming up March 8.
After Queen washed the old curtain that had been in the window and sewed it, I re installed it behind the new cabinet. It all looks great now. It is a first rate job.
This morning we want to go up to Lehighton to a few stores. I hope Queen has her car keys. He, He!!

Tonight for dinner, we are eating out. No, not at "The Terrace" as we planned, but at this new eatery downtown. Queen and I got a gift certificate for Christmas, from a very nice lady, with the admonition get" Queen out of the kitchen"!! The place is called "Simply Something" and it is in the location of the old Costenbader Hardware store, next to Judy and Lisa Schwartz's day care center. There will be further reports later.

<6:00 PM> We are back. It was an excellent meal. We both were forced to resort to doggie bags. It was just too much. Queen had a chicken salad sandwich and I a triple-decker turkey sandwich. They had a fruit salad side dish for Queen and a pasta salad side dish for me. There was a special kind of dark potato chip with a good dip. It was dark in color, but not salty nor highly seasoned. They were very crisp and made an excellent addition to the meal. The coffee was the best I have had in quite awhile, better than what I make. She said it was a Columbian coffee. All was all reasonably priced and we were impressed. She cannot serve regular restaurant fare because she is not permitted to have a restaurant type grill on those premises, so she is forced to serve mostly cold sandwiches. However, they are both generous and good. That is a real shame. She seems like a very personable and attractive young lady. We wish her well. Queen said she looked tired. We are sure that she puts in very long hours.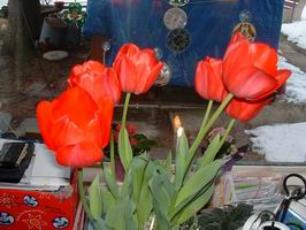 These are the tulips Mary and Jim brought us.
This evening after we got home, Queen looked out the window and noticed the sunset. I ran and got the camera with this result. It was darkening fast and it didn't last long, but it was spectacula
r.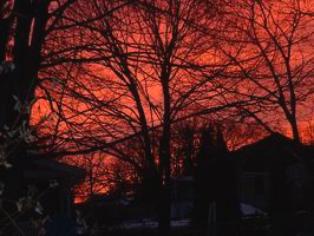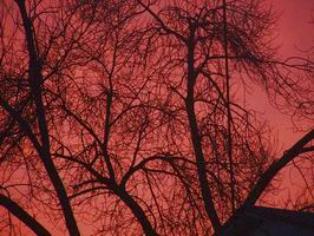 Red at night sailors delight

Sunday, February 15, 2004 7:24 AM 19 deg at LVIA and 20 deg in the bus stop
It is a cold clear morning today. The dog has been out and I shall go out after the coffee is ready. This morning my blood glucose was 136 and weight 208.
As I sat up on the park bench this morning, I am still amazed at the sunrise with
it's regularity and predictability. This phenomenon makes everything else possible in this world. The sun is arriving every day just a bit earlier and a bit farther to the east, as spring approaches. The pictures below were taken this morning a few minutes before I too, was bathed in sunshine at a much earlier 7:45 AM. I still find this fascinating. Oh well perhaps I fascinate easily, but it is wonderful to have the luxury of time to enjoy something as simple as a sunrise and a sunset. Life is short!!!!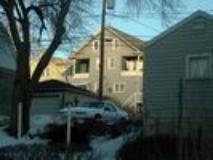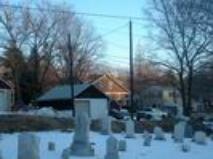 Later this morning, about 11AM, I decided to go for a walk. I went up to 1st , crossed at the hospital and walked on down Columbia Avenue. I saw that Pattie's car was parked on 3rd Street hill. She must have been attending church services. In addition, I noticed that George Ashman's brother was not here today, wrong week I presume.
I was intending to go on our usual walk on down to 5th Street but the wind was just too biting and cold, I decided to cut it short at 4th Street and come on back, The brutal wind was just too uncomfortable to mush along, Discretion being the better part of valor in this case. It is funny those things would not have bothered me not that long ago! Sheez
In the interest of science and health, <Hrmph -cough>I got something new here at my workstation last week. The last time I visited Dr. Nicholson, he reminded me to keep my legs up and stretched out while working at the computer, because of water retention problems in my legs. That is practically impossible with the workstation configured, as it is so, with that in mind I got a wireless keyboard and mouse and set it up. I am writing this with my feet up on a nearby chair and the wireless keyboard on my lap with the mouse at hand, also. I installed the software on all the computers. Now if I use Queen's machine, I will not have to endure that small keyboard and God-awful system they use as a mouse.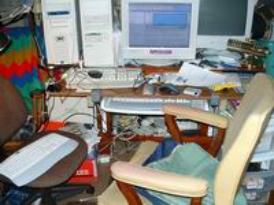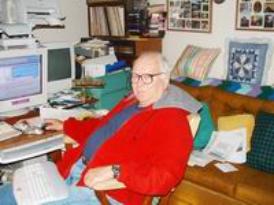 Here I sit with my legs straight out on the small chair before me. It is very comfortable. I think, I am going to like it very much.
Golly, but you should have seen the two stooges work party this afternoon. Queen got one of those vacuum bags into which one puts, blankets, or whatever clothing one wishes to store, attach a vacuum cleaner hose to it and suck out the excess air. We put the bag up on an upper shelf of the closet, filled it with hats, scarves, and gloves that we do not immediately want to use, and then sucked the air out. It took a great big pile of the stuff and compressed it into a compact bag that left enough extra space up there, you wouldn't believe was available. It really does work.
The funny part was watching us do it. I got up on a ladder and put the empty bag in place, and then Queen got up on the ladder and put the stuff into the bag in what order she chose from a box she had in front of the ladder. The box kept falling on the floor and she was looking somewhat shaky and rickety up there. Therefore, I held the box and with the other hand held onto her hooking my hand in the waistband of her slacks. Of course there were a few slightly risqué feels gong on at the same time somewhat to her consternation. Dirty old man, Heh, Heh!!
Tonight for supper Queen made a new winner. Since she has been perusing the food sites on her computer, she found quite a bit of new stuff and printing it out, she has been trying, much to my delight. It was Chicken and Black bean Chili and it was excellent. Here is the recipe.
Chicken and Black Bean Chili
1 to 1 ½ lbs chicken tenderloins cut in ½ inch pieces
1 cup chopped onion
1 can beans-pinto-white-or small red drained [15 oz] [Wash well]
1 can black beans drained [15oz]
1 can stewed tomatoes. Mexican style [15oz] [she used regular diced tomatoes]
2 tablespoons chili powder or seasoning mix [she didn't use this]
In large skillet sprayed with non-stick cooking spray, brown chicken, and onion over medium heat. Stir in remaining ingredients; bring to a boil. Reduce to low heat; simmer for about 20 minuets
Serves 6

Monday, February 16, 2004 7:54 AM 9 deg at LVIA and 5.2 in the bus stop.
It is very cold this morning, I haven't ventured out yet. Butternut took care of matters quickly this morning. My blood glucose was 142 and the weight 208.
I had to take the re-cyclables to the alley and then I took my tush cushion and coffee and sat up on the bench for awhile. It was cold, but there was no wind. Later I plan to go to the "Iron works". Queen is busy with the wash this morning. Fortunately is not the big one with the sheets.
A note!! Last night I sent out recipes for this chicken black bean meal to many folks. I think it wise to warn everyone that the beans should not only be drained, but also RINSED and WASHED. The recipe did not call for it so Queen did not wash them and I had a monumental case of gas and considerable discomfort last night. I never have problems with any of her bean dishes IF she drains and washes them. Bean juice is like dynamite for me!! Bad news, so take heed. It was damn good though. It is funny though; It didn't bother Queen a bit. Sheez!!!
This morning I went to the "Iron Works" and at 11:08 AM. I am back. There were many folks there this morning that I knew. It was a good session. Then I stopped in at the Times News office for a quick visit. They all knew about my being locked out of the car last week. Joel gave me an excellent idea. He keeps a spare key in his wallet. When I left, I went directly to Shea's and had a door and ignition key cut and now. I too, am prepared. Now, if I can only remember my wallet. Ha!!
I came across this old picture of the Bittner House in Slatington. Please note the trolley in the picture. I remember the trolley. The tracks ran down through Schnecksville to Allentown and ended right where you see the trolley. We passed it more than once when Mom drove to Allentown on old RT 309, in the old Packard. If I remember correctly, the building with the spire on top is still there. The photographer must have had his back to the Lehigh Valley Railroad tracks when they took the picture.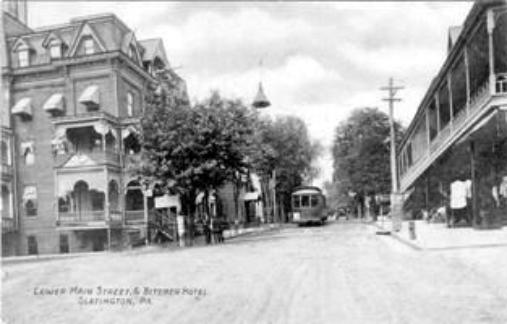 Tonight we dined in God's restaurant for supper. Spaghetti was on the menu. Ah!! It is a never fail meal. Bobby was trying to be a good boy tonight. I took a page out of Queen's book and deliberately didn't eat the entire serving and will be having the balance for a lunch sometime soon. I must work harder at this eating thing. Unfortunately, unlike George Ashman, who eats to live, I live to eat. One would never guess. Sheez!!

Tuesday, February 17, 2004 7:20 AM 18deg at LVIA and12.2 in the bus stop
This morning my blood glucose is 138 and my weight 207. It is a cloudy day this morning. Snow is predicted tonight into tomorrow. However, at this time, the worst of it is to stay to the south of us. At least I hope so.
This morning we went downtown to Country Harvest and over to Rite-Aid. I had to get an anniversary card for my sweetie. Golly, On February 20 it will be 22 years.
They have been absolutely the best 22 years of my fife. Birthday cards can be funny, but not my anniversary card. They are always mushy. I always look for appropriate words that say as close as I can find to what I really think of her.

This afternoon Queen went to get a new perm. I took her down to the hairdressers. I retrieved her about 4 PM. She looks nice. We intended to go to K Mart afterwards, but she always has always has problems with the chemical odors associated with a perm. Today was no exception. She decided to forgo the trip because of the nausea thus caused. She really does look nice.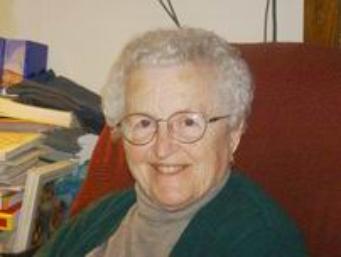 She is feeling better now. We had Banquet potpies, spinach, and a tomato cottage cheese salad for supper. We both had coffee and she had an ice cream bar. She reserved the last bite for me. That was plenty. I am trying to be a good kid. I get along pretty well with the Halo for a while, then the food lover in me gooses me with the pitchfork, Ha!!!

Wednesday, February 18, 20047:28AM 21 deg at LVIA and 19.1 in the bus stop
The dog was out and is waiting on the landing for his boss, Queen. He is absolutely her dog and that is wonderful.
I made the coffee and have been out. At 7:41, I was in full sunshine up on the park bench. The days are getting longer which I love to see. As I sat there, Doctor Nicholson drove up the street in his red Suburban, on his way to the hospital to make his rounds. He was well past me and I heard his beep. He apparently keeps his eye open for me sitting out there, so he must have seen me.
This morning my weight was 206 and the blood glucose 139. I feel pretty darn good this morning. Queen and I both had a good night. This morning I plan to go to the "Iron Works". I will see if I can get Queen to go also.
I got an e-mail from son George this morning. Kathy. Andy and he will be arriving here Friday afternoon. There will be a train show on Saturday, which is their excuse for getting out of Wilmington. I certainly don't blame them one bit. We look forward to seeing them. So far, I don't have any major problems for them to solve with the computer. However, there will be something I know.
This morning Queen got notice from the Palmerton Hospital that her mammogram was normal. That is indeed good news.
This morning Queen and I went to the "Iron Works." We both had a pretty darn good workout. Queen struck up conversations with quite a few folks there. Marylyn Ord wants her recipe for both the sausage soup and the chicken chili. I will print it and take it along next time I go. We also met the Betty and Bob Hartman as well as Alice McKinley. It was nice conversing with them.
Then Queen wanted to go to K Mart where we shopped a bit. On the way, back home, I suggested we get a sandwich at the new eatery, "Simply Something" and split it for lunch
We went in with the intention of getting a chicken salad sandwich like Queen had on Valentine's Day, but when we entered I could smell fresh bacon cooking. That did it. We ordered a take out BLT. Included were a potato salad, tomato slice, and a bag of those excellent blue chips.
See picture below.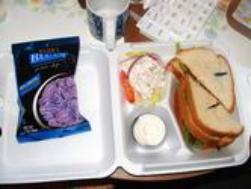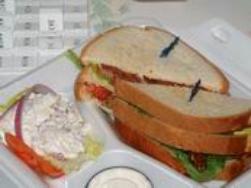 It was big and it was both plenty and delicious
This afternoon after my "nap," I ran the bulldozer down here in the family room and the kitchen. In addition, I watered the plants in the east window, and threw out several that were dead.
Tonight for supper Queen decided to have a new Progresso chicken soup that we recently acquired but had not tried yet. It wasn't cheap, but it was good. Not like Queen or Jean's homemade soups, but it was OK.

Thursday, February 19, 2004 7:19 AM 34 deg at LVIA and 28.4 in the bus stop
Hey, good news on the medical front this morning. The blood glucose was 133, and the weight was 204. Maybe the scales are broken!! Ha!!
Today in Walter Mossberg's computer page in the on line edition of the Wall St Journal is an interesting e-mail account for blocking "Spam." It is
http://about.mailblocks.com/
It looks interesting with a free version as well as two paid versions. It might be worthwhile to look at it more closely.

Also, look at this from Henry Schwartz. It is cute. Watch the bears and move your mouse around them.
http://www.nobodyhere.com/toren.hier

I got this also from Henry Schwartz this morning. It is good stuff!!
1. The best way to get even is to forget...
2. Feed your faith and your doubts will starve to death...
3. God wants spiritual fruit, not religious nuts...
4. Some folks wear their halos much too tight...
5. Some marriages are made in heaven, but they ALL have
to be maintained on earth...
6. Unless you can create the WHOLE universe in 5 days,
perhaps giving "advice" to God, isn't such a good idea!
7. Sorrow looks back, worry looks around, and faith looks up...
8. Standing in the middle of the road is dangerous. You will
get knocked down by the traffic from both ways.
9. Words are windows to the heart.
10. A skeptic is a person who when he sees the handwriting
on the wall, claims it's a forgery.
11. It isn't difficult to make a mountain out of a molehill,
just add a little dirt.
12. A successful marriage isn't finding the right person; it's
being the right person.
13. The mighty oak tree was once a little nut that held its ground.
14. Too many people offer God prayers with claw marks all
over them.
15. The tongue must be heavy, indeed, because so few people
can hold it.
16. To forgive is to set the prisoner free and then discover the
prisoner was you.
17. You have to wonder about humans, they think God is dead
and Elvis is alive!
18. It's all right to sit on your pity pot every now and again.
Just be sure to flush when you are done.
19. You'll notice that a turtle only makes progress when it sticks
out its neck...
20. If the grass is greener on the other side of the fence, you can
bet the water bill is higher.
You are richer today if you have laughed, given, or
forgiven...
This morning we did our shopping. It was not crowded at any of the stores. We got a couple of boxes of strawberries at Aldi this morning along with the usual quantity of regular stuff. Then we went to Wal-Mart and I spoke to the pharmacist about my new heart medicine, Verelan PM. The switchover from Covera has been difficult for me with acute discomfort when I take it just before bedtime. Dr. Nicholson suggested when I change that after a few days, to take it at supper as I did with the old one. They both have the same active ingredient, but the new stuff works in the stomach while Covera, works in the intestine. That is far more comfortable for me. I asked the pharmacist if Covera was available yet and was told no, but it is not de listed yet. I have been unable to find much out about why there is a shortage. The Pfizer web site has been useless for help.She suggested a Prilosec that Queen already takes. I tried one and it did help a lot.
Then we went out to the Farmer's market and over to Giant. We really didn't get too much. Then it was home.
Tonight for supper Queen made a skillet casserole with tuna and I am not sure what else. She had a salad, cottage cheese, and homemade applesauce that she made this afternoon. It was excellent and plenty. No dessert except coffee was needed. I took my blood pressure pill at suppertime in order to forestall later problems.
Here is another winner Queen had last night. It made enough for two meals and it was excellent.
Tuna and pasta Cheddar melt
Preparation and cook time 20 min.
3 cups uncooked corkscrew pasta
1 can Campbell's® Condensed Chicken Broth
1 soup can water
1 can (10 3/4 oz.) Campbell's® Cream of Mushroom OR 98% Fat Free Cream of Mushroom Soup
1 cup milk
1 can (about 6 oz.) tuna, drained
1 cup shredded Cheddar cheese
2 tbsp. Italian-seasoned dry bread crumbs
2 tsp. butter OR margarine, melted
Directions: COOK pasta in broth and water in skillet until just tender. Do not drain. ADD soup, milk and tuna. Top with cheese. Mix bread crumbs and butter. Sprinkle on top. Heat through. Serves 4.

Friday, February 20, 2004 7:30 AM 27 Deg at LVIA and 27.2 in the bus stop
It is a damp, chilly, cloudy day this morning. I was down to George's house to turn up the heat and start the fridge before their arrival.
As I was leaving, two nice young women with a dog hailed me. It was Marline Bollinger and Gail Nonnemaker with her German Shepherd. We conversed quite awhile. They also are recipients of this missive. When I got home, I took my coffee and sat out on the lower park bench. Sure enough, it wasn't long before they came by on their way back to Gail's house. I had my trusty camera and got their pictures.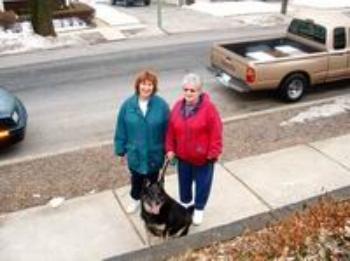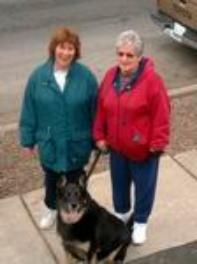 They, too think Queen is quite a remarkable woman. Gail said she told her elderly Mom that her neighbor, Queen, had gotten and was using a laptop computer. They both agree that our trips to the "Iron Works" are good for us both. Not just for the exercise but for the camaraderie that is available there. I heartily agree. Queen and I like people and soon strike up a conversation whenever possible. Too many elderly live inside their heads far too much. That is a poor place to hang out.
This morning my blood glucose was 140 but the weight 205. I am sure the pasta didn't help the blood sugar a bit, but it was very good.
We have both been to the "Iron Works" and are back home. It was a good session for both of us. It wasn't very crowded this morning so treadmills were readily available. However, Queen never did get to use the arm leg machine. I don't recall its name but one sits in it and pushes with both arms and legs. They were all tied up. She used the bike as well as the treadmill. Tonight, we are going to the Terrace Restaurant for our dinner. More later.
We went to eat at the Terrace restaurant. We availed ourselves of the free meal that Queen won last year. Without any fear or hesitation I must say that had to be one of the very best restaurant meals, I have ever had in my life.
Queen had a veal cutlet, cut corn, and green beans. I had a seafood platter consisting of scallops, shrimp, tuna steak, a crab cake, fresh green beans, and French fries. We both visited the salad bar and had a Manhattan each. A cup of coffee was all we could handle for dessert. It was absolutely first class.
Today is our 22nd wedding anniversary. Golly, we have been through a lot together. Perhaps I was not there for her as her husband during the birth of any of her children, but we both went through the illness and death of one. That was hard, damn hard.
We both supply something that the other desperately needs. Her value isn't just as a housekeeper and cook, but a real mate to which we both relate very well. I have no illusions about how great a guy I am, but there are some things that only I can supply. For one thing, on a night when she can't get her breath and is scared, she has someone to hold her, cuddle her, and calm her down. Oh, there are other that things that simply only a loving man can supply. For one thing, we love each other as well as knowing that our kids love us both. I am a firm believer in telling your wife that you love her, it costs nothing, but is of inestimable value to each another. I get as much out of it as she does. Hers is a quiet type of love, not the licking puppy dog as I am, but a quiet reserved love that I know is there and is both deep and sincere. Of course, I appreciate the puppy dog love occasionally, also. Ha!!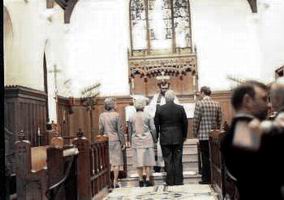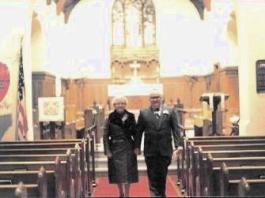 The very best day of my life 22 years ago
Well I had best end this and send it to the proofreader and then it will go on line.
Please try to love one another, Mom and Bob [Queen and Bobby]
It's hard to be nostalgic when you can't remember anything.
~Unknown
The cardiologist's diet: If it tastes good ... spit it out.
~Unknown
Youth would be an ideal state if it came a little later in life.
~Herbert Henry Asquith