Founded December 17,1912 Ceased Publication Thursday February 1, 1951
Book 1 Volume 16
This is a previous issue re-worked with Nvu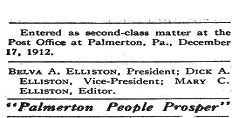 Saturday, March 06, 2004 7:34 AM 54 deg at LVIA and 51.8 in the bus stop
Golly, another week of these things are starting. A week surely goes fast. As I look at the masthead and see that this is the 16th issue of this web page. For the most part, most folks have received this new concept favorably. The pictures really make a difference. Who ever said one picture is worth a thousand words had it right. However, there are still some recipients who can't open the pictures.
It is a rainy, damp, morning here although it is not cold at all as I sat out on the lower park bench this morning with my 8 o'clock coffee.
This morning the blood glucose is 136 and the weight 203. We are going down to get Queen's prescription and then a trip to Wal-Mart is on tap.
It was a rainy busy trip. The stores were crowded but it was really no hassle for us. Aldi had nice strawberries and Queen also wanted fresh spinach. By the time we were headed home, it was beginning to clear off a bit.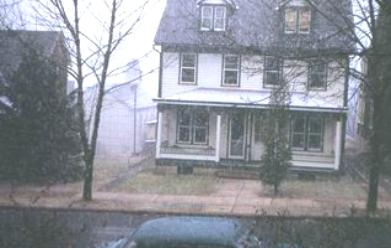 I came upon this old picture showing the old Catholic Church in the background. I think that is the top of my sister Mary's Studebaker in front of our house. She died in 1973 and she had three VW beetles after her Studebakers, so it has to be pretty darn old.
Well, it looks as though Martha Stewart is headed for the slammer. I only followed the story with passing interest without an opinion one-way or the other. However, now you can't miss it. It is as usual. It has become another O. J. Simpson story, with the media giving it a full court press. Last evening as I was in bed before going to sleep, I had one of those cable news programs on and a former Securities and Exchange regulator who made my mind up for me.
Up until then, I always thought that with all the big bucks that change hands there on Wall Street every day, the Enron's and their ilk, this was such a small potatoes enterprise. Going after a woman who built up an ongoing and thriving empire from nothing and who had to claw and fight her way to the top to build a business that many women trust and enjoy, was really nothing more than overkill. It was a waste of taxpayers money, with much bigger fish out there still loose.
This man made me completely change my mind. He said the entire securities business is based on a system of trust. If the trust and integrity of the basic system is compromised, the whole works goes down the tubes. In the kind of world where temptation is so obviously available to folks working at their "counting houses" in their day-to-day jobs, all kinds of privileged information is available that could easily be used by unscrupulous people to make big money.
He said Martha had previous business knowledge of the securities industry and should know the rules. In addition, she had a woman Judge, a jury-representing women her age composed of careful, thoughtful, people. He said she had an ideal trial scene that couldn't have been more favorable to her personally. From what some of the jurors said afterwards, they wanted to find her innocent but they could not do it. He then pointed out that the Government's case must have been very compelling because she was found guilty on all four charges with the most serious charge having been thrown out.
The thing that changed my mind was his statement that it makes no difference why people on Wall Street obey the securities laws, be it conscience, or fear of being caught, just so long as they do it.
This was a strong message that no one can cheat and not live in fear of retribution. He said the word must now be out that, the Government will go after anyone big or small, who violates this trust. This makes sense to me.
Gee whiz, here comes what my Dad used to call a public service ad when we ran the old Palmerton Press newspaper.
"Bob - I have another favor to ask of you. When I read your weekly epistles
and some of the responses from those who receive them, I realize that there
are so many who probably have not had the opportunity to buy our video. So
many of the things they mention are included in the tape. For example: in
the video we interview Clara Kleintop who attended high school in the
Franklin building and she talks about a teacher's strike that took place
when she was there. She also attended the kindergarten when it was at Fourth
and Lehigh. The video has received a Communicator's Award, runs for 61
minutes and is a mere $19.95 plus shipping. Perhaps those who don't belong
to the society would be interested in joining and then they would receive
our quarterly newsletter which has gotten rave reviews and has interesting
items about Palmerton then and now. If anyone is interested in purchasing a
video and/or joining the society, they could contact me and I would be more
than happy to send the necessary info.
Betsy Burnhauser
7796 Bake Oven Road
Germansville, PA 18053
610-767-2711
anteek@enter.net"



We do have a copy and it is interesting.
It is a lovely afternoon. I was out sitting on the park bench enjoying the warm, sunny, balmy, but breezy afternoon.
Tonight for supper was a first of the year. Queen made homemade strawberry shortcake. Man, but it was good. That and a slab of sharp cheese, a cup of coffee and a last bite of her ice-cream bar made for an excellent meal.
http://ds9.ssl.berkeley.edu/viewer/flash/flash.html
This is a site where you can view the sun it looks interesting.

Sunday, March 07, 2004 7:25 AM 43 deg at LVIA and 40.2 in the bus stop
It is a mixed bag sort of day today. Later it is to rain and then turn to snow overnight. Phooey!!
As soon as the coffee is ready, Butternut and I will be heading outdoors. I just got an e-mail from Barbara Shepherd and she says the geese are still flying north over her place in Florida and that I can expect more. <8:14 AM> Golly, she was right. I was sitting on the glider and saw seven gaggles of geese all within a period of 10 minutes. Then it slowed to nothing. They were all flying separately but all headed north, a good sign. The early sun has disappeared but it is still a nice day outside.
Now, it is sunny and beautiful. We would like to go for a walk as soon as Queen's hair dries.
Once again in looking over some old color slides I took many years ago, I found these pictures. I am not even certain they all represent the same event.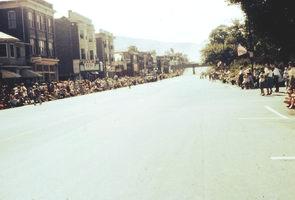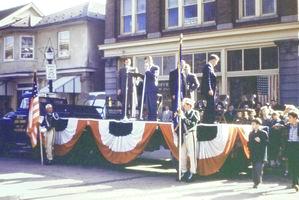 I noticed on the original of this first picture on the left, that the Palm Theater was still there and there is a banner out there informing everyone the Blue Ridge Cable TV was televising this parade. They had their studios in the old Snyder green grocery store at that time.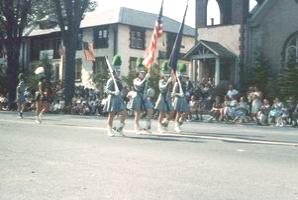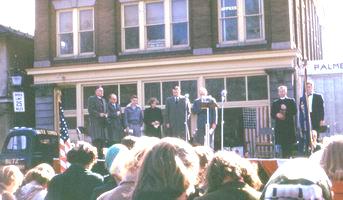 In this one I see Reverend George McKinley on the podium of the Butz flat bed truck with other big wigs. Also, notice the WW2 service plaque to his right.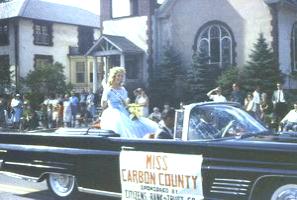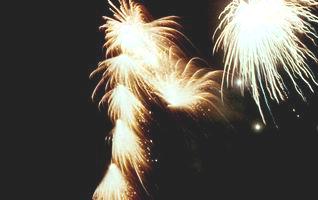 Above left, is Miss Carbon County, the now Nancy Costenbader. The fire works were at the old ballpark. I think there was also an Ox roast. Someplace I have pictures of it.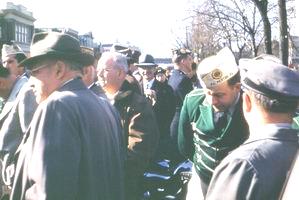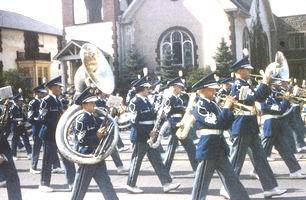 Here are folks at the parade. Ed Harpe can be seen in the background. The band features daughter, Mary, with the saxophone.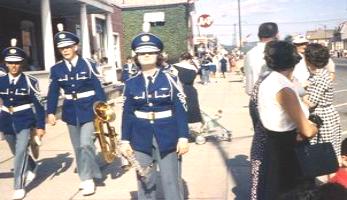 Here she is afterwards. Notice the A&P sign in the distance.
Tomorrow is Queen's birthday and I have to bake a birthday cake this afternoon. It is going to be a Connie cake. That is within my baking abilities.
<Later>. We went for our walk this afternoon after lunch. Golly but many folks were also out walking. We saw at a distance Jean and Bill Bechtoldt, who entered Columbia Avenue ahead of us near 4th Street.
After my rest, I proceeded to mix Queen's cake. It is now baking. Queen is looking for an easy recipe for a frosting to prepare. I am not a pastry chef but a meat and potatoes cook!!
Tonight for supper she is making pork tenderloins, a small red baked potato each, a tomato salad, and a veggie melody. It was excellent. Then we finished icing her cake. Queen, bless her heart, took mercy on me and did all of the icing ingredient measuring and I mixed it and applied it to the cake. It does look good, but I cannot take any credit for the icing.

Monday, March 08, 2004 7:31 AM 39 Deg at LVIA and 38.3 in the bus stop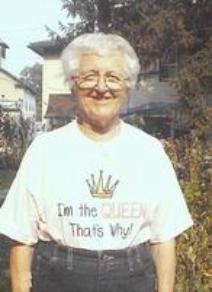 Well, here she is." My Queen." Today is her 87th birthday


I have been awaiting the "Queen" to pull her ears. I caught her coming down the steps and managed the job of ear pulling, all 87 times with plenty to grow. Today is the dreaded sheet day so she doesn't even get a day off. Golly!!
This morning my blood glucose is 142 and my weight is 203. This is a wet damp day so far, but there were predicting three inches of snow by morning. So far, we have been lucky. I see here on the Internet that the winter storm warnings have been canceled. I think I will go to the "Ironworks" this morning for a bit of a workout.<Later> I have been down and back. It was not at all crowded today.
Tonight Queen and I will be going to the Terrace Restaurant. Thanks to the gift of our dinner out, by Mr. Thomas P. Davies. This is a wonderful and appreciated gift.
This afternoon when I came down from a nap, there was a lovely bouquet of flowers from our wonderful neighbors, Jean and Mike Dichysn for Queen.
<Later> 6:06 PM, we are back. Thanks to Mr. Davies, we had a superb meal. We each had an excellent salad bar, a pair of Manhattans each, London broil with onions and mushrooms, potato patties, carrots, and coffee. We were too full for dessert. Queen had to avail herself of a doggie bag for the excess. Earlier at lunch, we had a piece of Queen's birthday cake.
Well, this morning Dr Nicholson's office called to tell me that he wants me to make an appointment with a cardiologist. My EKG seems to have "abnormalities" in it. Apparently, it is on both of them. Therefore, they set up an appointment with Queen's cardiologist, Dr Kolecki, with whom Queen has an appointment next week. So, I shall go then also. We both like him as a doctor; I will do what I have to do.
Really, I am not surprised. My Dad had heart problems. He had a heart attack and was forced into retirement in 1939 and through the sacrifice of my brother, Dick, and his coming back to run the business doing a job he hated and leaving one he loved, my Dad lived another 10 years and died in 1949 at 69 years of age. Hey, in 1939 I was a 13 year old kid.
In those days, the cardiology practice was very limited in what they could do. Now, it is so very much improved so, it may be the apples not falling far from the tree thing may come into play here as well. One can pick their friends, but not their relatives. Ha!!
Our lives changed drastically when we discovered that Queen had congestive heart failure. She does not quit. She won't let me quit either. She is a fighter. I want to be here for her if she needs me. I love that girl with all my heart and soul. She is always there for everyone else. Now, I want to be there for her, if she needs me. Since her diagnosis, we have been really trying to improve not only her health, but my health as well.
One of my biggest problems is my weight and we have both been working hard at it. Readers may notice that my weight and blood glucose is included every day. Part of this is so I can't fudge the numbers later, [what,` who me?] Ha!!
Of course, the diabetes complicates the whole problem. Dr Nicholson said if the blood glucose gets to 170, a course of medication would be instituted. I have a glucose meter with software that permits me to download all my readings, and then I print them out and take them to him on my visits. He will not start any medication without a hospital blood test. These test strips are merely a guide that enables me to monitor how I am doing.
Sometimes Bobby "piggy" wins, sometimes I win. However, I plan to give it my best shot. The motivation is there!!
Tonight I took a piece of Queen's birthday cake to Mike and Jean. Mike said," hey, don't worry about it. If it were really bad, the Doctor would have taken a lot stronger action than that." True enough. Therefore, it is safe to assume that I am not at death's door. In all honesty, now at 77 years of age, I feel the best I have felt in a long time. Somehow, I think Dr Nicholson's change of my blood pressure medicine from Covera HS to Verelan PM, made a big difference. He also gave me samples of Nexium that certainly hasn't hurt either.
I do expect more tests. However there is always the fear of the unknown. Really, at 77, I have had a lot fewer problems than many other men my age. In years, I have already outlived my sister Mary, brother, Dick, and my Dad. However, my Mom lived to 89 and my sister Dot lived to 86, my grandfather Ashelman lived into his 90s. I do have a goal. I am not ungrateful. I am a contented man and I have an easy mind. Thank God, I do not have any demons chasing around inside my head!! Ha!!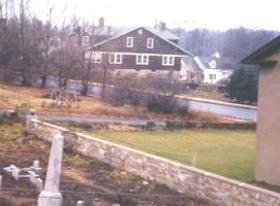 The above picture was taken quite a few years ago. If you notice, Dick King's house was not built yet over on 3rd Street and the wall is still standing around the cemetery.
Tonight, Queen got phone calls tonight from the kids. It is always good to hear from them. Belva and Fritz will be stopping by on Wednesday for supper. We haven't seen them since New Years Eve.

Tuesday, March 09, 2004 7:16 AM 34 deg at LVIA and 32.5 in the bus stop
This morning the blood sugar was, 134 and the weight still 203. It is a cloudy day this morning. I am headed out with the coffee and camera. <7:53 AM> I am back inside. There was nothing worth photographing this morning. I sat on the lower park bench watching the rest of the world get ready to go to work with scattered snowflakes swirling about me.
Here is some stuff from Henry Schwartz. I love em!! I may have used before. They are still good.
"I am a medical student currently doing a rotation in toxicology at the
poison control center. Today, this woman called in very upset because
she caught her little daughter eating ants. I quickly reassured her that
the ants are not harmful and there would be no need to bring her
daughter into the hospital. She calmed down and at the end of the
conversation happened to mention that she gave her daughter some ant
poison to eat in order to kill the ants. I told her that she better
bring her daughter into the Emergency room right away.
Here's your sign, lady. Wear it with pride.
Number Two Idiot of 2003
Early this year, some Boeing employees on the airfield decided to steal
a life raft from one of the 747s. They were successful in getting it out
of the plane and home. Shortly after they took it for a float on the
river, they noticed a Coast Guard helicopter coming towards them. It
turned out that the chopper was homing in on the emergency locator
beacon that activated when the raft was inflated. They are no longer
employed at Boeing.
A man, wanting to rob a downtown Bank of America, walked into the Branch
and wrote "this iz a stikkup. Put all your muny in this bag." While
standing in line, waiting to give his note to the teller, he began to
worry that someone had seen him write the note and might call the police
before he reached the teller's window. So he left the Bank of America
and crossed the street to the Wells Fargo Bank. After waiting a few
minutes in line, he handed his note to the Wells Fargo teller. She read
it and, surmising from his spelling errors that he wasn't the brightest
light in the harbor, told him that she could not accept his stickup note
because it was written on a Bank of America deposit slip and that he
would either have to fill out a Wells Fargo deposit slip or go back to
Bank of America. Looking somewhat defeated, the man said, "OK" and left.
He was arrested a few minutes later, as he was waiting in line back at
Bank of America.
A motorist was unknowingly caught in an automated speed trap that
measured his speed using radar and photographed his car. He later
received in the mail a ticket for $40 and a photo of his car. Instead of
payment, he sent the police department a photograph of $40.
Several days later, he received a letter from the police that contained
another picture, this time of handcuffs. He immediately mailed in his
$40.
A guy walked into a little corner store with a shotgun and demanded all
of the cash from the cash drawer. After the cashier put the cash in a
bag, the robber saw a bottle of Scotch that he wanted behind the counter
on the shelf. He told the cashier to put it in the bag as well, but the
cashier refused and said, "Because I don't believe you are over 21."The
robber said he was, but the clerk still refused to give it to him
because he didn't believe him. At this point, the robber took his
driver's license out of his wallet and gave it to the clerk. The clerk
looked it over and agreed that the man was in fact over 21 and he put
the Scotch in the bag. The robber then ran from the store with his loot.
The cashier promptly called the police and gave the name and address of
the robber that he got off the license. They arrested the robber two
hours later.
This morning Queen and I went for our regular Columbia Avenue walk. It wasn't a gorgeous day but the snowflakes falling were pretty to see. Now at 11:39 AM the sun is out for the first time today.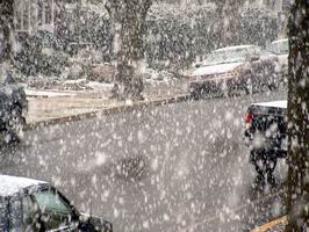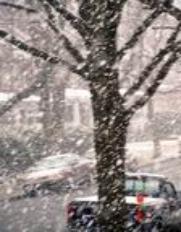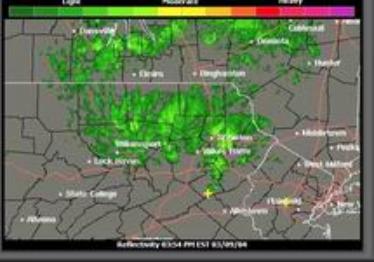 But now at 3:43 PM
It has been doing this off and on all day. This kind of a snow burst is what has been responsible for some of the horrendous accidents on I 80 and I 81 in upper Carbon County for the last few days.
Tonight we dined in God's restaurant with Queen's spaghetti. Absolutely top drawer stuff. I saved some for lunch. I never used to do that. This is to tweak Bobby piggy's nose!! Ha!
Before supper, I was delighted to receive a phone call from an old friend, Dr. David Horn, a now retired professor of Chemistry who is now living in New Freedom, Pa. It was great to be able to speak with him again.
He even spoke of the possibility of going back to work again, but it will be something on his terms. He said that now he has all the time in the world to golf, but physical limitations with a very sore shoulder, preclude his ability to do so.
Right now he is going through what I did, when my Sister Mary, died. His sister is in a Hospice near them dying of brain cancer. Queen and I know the pain of watching a loved one die a bit at a time. I told Queen if that ever happens to me to go out and hire a Mafia hit man. Gee, Whiz but it is hard.
In the course of our conversation, he asked about Dr. David Guyer. His wife Susan, was speaking to someone about doctors during all this running back and forth to the hospice every day, and they told her that they had a doctor, a Dr. David Guyer, in Reading, Pa, who was an anesthesiologist and wanted to know if that could possibly be our Dr David Guyer? I assured him that it was not; our Dr. David is still in North Carolina at the Duke University Hospital. However, he plans to move his cardiology practice back north sometime soon. David Horn thought if he was in Reading, they could visit with him much more readily. We all had some great times together particularly at Squam Lake in N.H.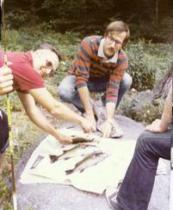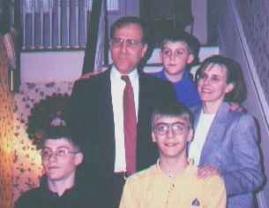 Dave and Dave cleaning fish at Squam lake Dr David Guyer and Family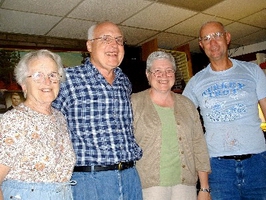 Queen, Dr. David Horn, Susan Horn, and Tommy Davies. Good folks all.

Wednesday, March 10, 2004 7:30 AM 34 deg at LVIA and 33.2 in the bus stop
This morning the blood glucose was142 but the weight was 202. It is still "spritzing" snow today. We will be heading out shortly.
We were out and now back inside. It isn't exactly an inspiring day, weather wise. I saw Lee Bollinger walking down Columbia Ave, but he didn't 't see me.
Queen informs me that she will go with me to the "Ironworks".
That is good. This whole thing started several years ago when Queen sweet-talked me into going to improve my conditioning for the swimming season at the Palmerton Memorial Park. It used to take me several weeks to work up to my swimming shape. The deal was, if I could jump in the pool on the first swim of the new season and swim my 1/3 of a mile[ i.e. 20 laps], without pausing to rest, I would be a believer. Well I tried it and I was able to do it easily. Geez, I have been swimming there for well over 50 years. This is my only real participating sport and I love it. I love the water in general. I do miss my Sunfish sailboat, also. Oh, well.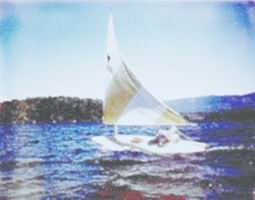 I guess we shall be leaving for the "Ironworks soon". <Later> We are back and had a very good time of it today. It was not crowded and both of us had an excellent session. Queen had no problems accessing all the machines she likes and I had my usual walk on the treadmill and then the upper body stuff to help my swimming.




Queen met a Lucille Sheckler who was in Belva's High school class she will soon be a great grandmother. We settled our debt with them for this month. We told Jason, the man in charge, that when the weather gets warmer we would be putting our memberships on hold. Then there will be more than enough exercise during the spring cleaning up the property and getting ready for the new season.




Then we went out to Sunoco in Aquashicola for gas, oil check, and "spring air "in the tires. We put the car away and will await the arrival of our guests today.




For anyone interested in crossword puzzles try this site,

http://crosswordpuzzles.0catch.com/index.htm

It has tons of crossword puzzles on it.


This afternoon Belva and Fritz stopped by for a visit and dinner. It was great to see them again. It was last New Years since we saw them last. We had a good visit before they had to return home. Fritz is doing quite well after his siege in the hospital.



Thursday, March 11, 2004 7:18 AM 27 deg at LVIA and 24.3 in the bus stop
This morning the blood glucose is 132 and the weight 201. I really feel good this morning. I certainly hope my cardiac problems are not too bad. We shall see next week.
It is a beautiful day this morning. Butternut and I will be heading out shortly.
Here is a site that provides historical pictures on line, http://www.picturehistory.com/
It has some interesting historical old pictures on site.
This morning we plan to do our food shopping.<Later> We had a very smooth uneventful trip this morning. The grazing at Giant was good today. We got a filet of steelhead trout that we will be having for supper tonight.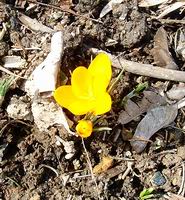 First Crocus in the yard
Queen called me to see the first crocus coming out in the yard under the dogwood tree. Golly, but it is a beautiful day this afternoon!
Great news for my classical music taste. Now my KDFC is back on line streaming audio at,
http://kdfc.com/
They were on but then taken off. This is great news for all folks like me who enjoy good classical music.
Tonight for supper we had a ¾ lb steelhead trout filet. Golly, but it was good. The lady at Giant skinned it and I washed and dried it and put it on a dinner plate. Then I sprinkled lemon juice all over it. Salted it, spread dill weed all over it, sprayed it with low cal spray butter, then thin sliced a half a box of fresh mushrooms over it. I added more spray butter and a dash of salt and a dash more lemon juice. Then I put it in the microwave with a cloth over it and cooked it for 3 minutes. It was perfect. Queen fixed two red potatoes that were microwaved, a serving each of fresh string beans, and then made some of her excellent coleslaw. In addition, we had low fat cottage cheese with it, a cup of fresh coffee, and a small piece of her birthday cake. That made for a superb meal. I saved enough fish for a lunch. As I said before, we eat damn well here. Ha!!

Friday, March 12, 2004 7:16 AM 39 deg at LVIA and 34.8 in the bus stop
This morning my weight is 200 ½ but the blood glucose is 150. No one has ever explained why that happens to me after a fish meal.
The sun is out and it is going to be chilly and windy today with possible snow showers off and on all day. I will be heading outside in a moment.
<7:37 AM Later> I am back inside, It is almost cold enough for a winter jacket, but I did enjoy sitting on the lower park bench. I got a hail from Lee Bollinger who was walking by on his morning constitutional. One could see the clouds scurrying across the sky from west to east at a good clip. It is quite blustery today
Now I am listening to my favorite classical music station KDFC in San Francisco. It is 7:48 AM here and 4:48 am out there.
This morning Queen and I plan to go to the "Ironworks" for a shot at the equipment.
<Later at 11:06 AM> We are back from the "works". We both had a good workout. Queen used the bicycle, the arm and leg machine[ below], and then the treadmill.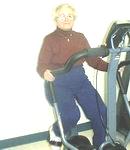 I got my heart rate up on the treadmill, cooled down, and then went on to the upper body stuff. This time I did 100 of the bend over tummy exercises. All this stuff is gradually getting easier for both of us. Queen always finds someone to speak with. I think she enjoys herself as much as I do.
I got this from Barbara Shepherd. I loved it!!
"Stock Market Statistics If you had purchased $1,000.00 of Nortel stock one year ago, it would now be worth $49.00.
With Enron, you
would have $16.50 left of the original $1,000.00.
With WorldCom, you would have less than $5.00 left.
But, if you had purchased $1,000.00 worth of beer one year ago, drank all the beer, then turned in the cans for the aluminum recycling price, you would have $214.00.
Based on the above, current investment advice is to drink heavily and recycle.
It's called the 401-Keg Plan."
It is about time to close this epistle for this week. I must print a copy of it for my stalwart proofreader and then send it on to the net.
Please love one another, Mom and Bob [Queen and Bobby]
The following are two of my very favorite quotations. They say a lot, about what is important in this life.

"Not everything that can be counted counts, and not everything that counts can be counted."
Albert Einstein (1879-1955), sign hanging in Albert Einstein's office at Princeton

"Praise is well, compliment is well, but affection--that is the last and final and most precious reward that any man can win, whether by character or achievement."
Mark Twain 1835 1910