Saturday, March 13,2004 7:09 AM 30 deg at LVIA and 27.5 in the bus stop
It is a blustery windy day this morning I shall brave the elements shortly as soon as my jumpstart for my heart [coffee] is ready. Speaking of which, the weight this morning is 198 ½ and the blood glucose was 140. Either things seem to be improving or the scales are broken again.
Here is what friend, Donna Happy, would call one of my zingers. I got this morning and would like to share it with you all. Har Har!!!
"Senator Ted Kennedy's hearing
You will only understand the full history of the following if you learned through history or were old enough to have watched it on the national news services that a drunken Ted Kennedy drove his car off of a bridge at Chappaquiddick, Massachusetts while on a date with his "lady friend}, Mary Joe Kopechne in the late 60's. He did NOT seek help to rescue her when he surfaced. Instead he made his way to a hotel, and waited until the next morning to report the accident. Ms Kopechne was, needless to say, found dead in Kennedy's car in the bay. Kennedy faced no censure, reprimand, or any kind of legal punishment for this negligent act of manslaughter. The Kennedy money and power extends deeply into all realms of politics and government in that part of the country.
You have got to love the courage of Donald Rumsfeld while recently being questioned by Kennedy about Iraq. Kennedy is attempting to discredit the Bush Administration and improve the chances of a Democrat being elected as President.
----------------------------------------------------
February 05, 2004 Secretary of Defense Donald Rumsfeld tells Kennedy he's "all wet" about the Bush Administration
(2004-02-05) -- Defense Secretary Donald Rumsfeld told Sen. Edward M. Kennedy yesterday that he was "all wet" when the Senator alleged that the Bush administration lied about Iraq's weapons of mass destruction to justify going to war. The verbal clash came during Mr. Rumsfeld's testimony at a Senate Armed Services Committee Hearing probing the state of prewar intelligence.
Sen. Kennedy began his questioning of the Defense Secretary by saying, "Don't you think some members of the Bush administration should be held legally accountable for the lies they told about Iraqi weapons, and the subsequent cover-up?" "First, with all due respect Senator Kennedy, you're all wet!" said Mr. Rumsfeld "The administration has not lied or covered up anything. However, in general, I do believe that when a man commits a crime he should face the bar of justice. He should not be allowed to serve in positions of power in our government, and be hailed as a leader, when the question of his guilt remains unresolved, if you know what I mean."
"I'm sure I do not know what you mean," Kennedy said. "The American people deserve to know why you can't find Saddam's weapons of mass destruction."
"Sometimes things are hard to find, even when you know where they are," said Mr. Rumsfeld. "For example, I've heard of a man who missed a bridge and drove his car into the water, even though he knew where the bridge was. And then sometimes you just keep diving into a problem and despite repeated efforts, you come up empty handed. That doesn't mean that nothing's there. As you know, eventually, the truth comes to light."
Kennedy yielded the remainder of his time and presented no further questions."
I love this one!!
Queen is getting breakfast ready. I don't know what she has on tap for us today. It is darn chilly to be outdoors this morning.
Here are some articles from "The Times news" by Suzy Mahler, Joel Kern and Sharon Minnich, about The Stemler Hardware Store Fire that I found interesting. It so happens that I have some pictures I took at the fire scene as well.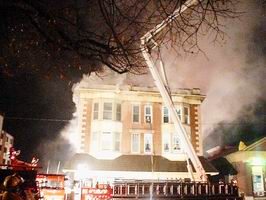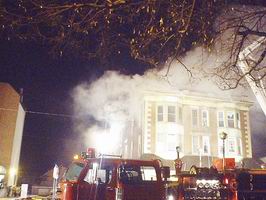 By SUZANNA MAHLER
tnonline.com
At 4:17 p.m. Wednesday, Nov. 28, Palmerton citizens knew from the blaring sirens and emergency vehicles rushing to Delaware Avenue that this was a serious event.
Stemler's Hardware, a Palmerton landmark, was in flames.
After the last embers died out, the building rich with history was scarred, but not dead.
The oldest family-held business in Palmerton will probably be rebuilt, according to Milton Stemler.
Though the fire that started on the third floor changed everything, Donald and Milton Stemler know much of the building's strong history during the 82 years it stood on the main street.
"I've been here almost 53 years," said Donald. "My brother Milton and I have been working at Stemler's since the 1940's."
When Donald was in high school, he helped his father on Saturdays for 25 cents an hour.
"On Christmas Eve myself and another fellow, Raymond Stein, would play Santa Claus and deliver gifts to people at 11 p.m.," Donald said. "Sometimes we wouldn't get home until well after midnight."
Although Milton worked steady in 1949 after graduating Penn State University with a business degree and spending three years in the service, he remembers assisting his father as a boy.
"My brother and I used to help deliver circulars when we were kids," he said.
Their father, the late Leon Stemler, bought the business in 1919 from J. H. Browell, when it was located in the building that now occupies Costenbader's Hardware. Leon renamed it L. A. Stemler.
When Browell owned the store, Arthur Smith managed it. After Browell sold it, Smith worked for Stemler and eventually became a partner when the store relocated to its current location at 348 Delaware Avenue, on Jan. 1, 1924.
Stemler also changed the name to the Stemler Hardware Company after the move.
The building was shared with the Palmerton Post Office, until it moved in 1934.
Appliances, toys, sporting goods and guns were a major part of the business years ago, along with many other things.
"Hardware merchandise has always been big in the store," Milton said. "Of course we also sold all necessities for our heating, plumbing and air conditioning side."
Stemler's Hardware was the first store between Allentown and Hazleton to sell Kelvinator electric refrigerators. This appliance was one of the many that led to the setting up the heating and plumbing department in 1925. That area of the business became an asset to the company and a huge service to the community.
"My father thought it was important to give our customers complete service," Donald said. "He was always very determined to meet all the needs of his customers."
After Smith moved away in the 1950's, Donald and Milton became partners. Leon began to step back from his duties and responsibilities at the store.
"As my father got older he still gave a hand at the store," Donald said. "He also became active in other types of business activities."
Leon passed away in 1964, when he was 72.
"I was more or less in charge of the plumbing and heating and my brother took over the retail store," Milton said. "Don't get me wrong, we didn't restrict ourselves to those specific responsibilities."
The upstairs was remodeled for living and some professionals had their practices there. Years back, before Leon bought the building, Dr. Frank Rosenberry not only lived there, but it was also where he had his office.
The most recent residents were Dr. and Mrs. Robert Mendsen. He, like most, had his office there, as well.
After they left, an addition was put onto the back of the building and the second and third floors were converted into eight apartments.
Three years ago Donald and Milton sold the business to Roger Miller of Kunkletown and Lewis Romanishin of Danielsville.
Although Milton says he has been there so long he doesn't miss it, his wife Jeanne feels differently.
"I miss it," she said. "I used to work in the gift shop and it was a lot of fun."
Some of the employees, such as Albina Engle of Bowmanstown and Clair Seltzer of Parryville, have been working at the store since they graduated from high school.
Seltzer has been an employee about 50 years and is currently retired, but Engle, in her sixties, is still working.
Miller and Romanishin are continuing to provide service, despite the fire. They can be reached at (610) 826-2322.
"As far as we know, the fire started with a candle," Milton said.
"A small mistake like letting a candle burn caused a huge mess for everyone concerned.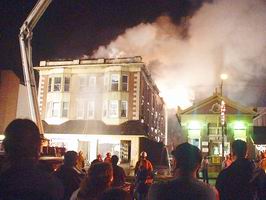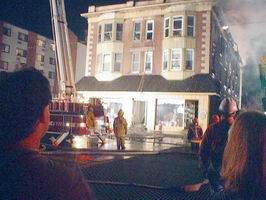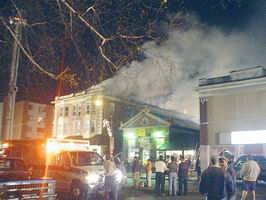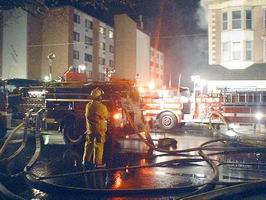 Fire guts Palmerton building
Third-floor apartments gouged by flames, second-floor apartments, first floor businesses damaged by water
By JOEL KERN
jkern[AT]tnonline.com
A fire of as yet undetermined origin ripped through the third floor of a building along Delaware Avenue late yesterday afternoon, destroying the structure, according to Palmerton Fire Department Chief Chris Kegel.
There were no reported injuries resulting from the fire, both among the building's occupants and the firefighters battling the blaze.
Six fire companies ] Palmerton, Lower Towamensing, Bowmanstown, Walnutport, Lehighton, and Lake Harmony Rapid Intervention ] responded to the fire, which started approximately at 4:30 p.m.
Four hours later, firefighters were still on the scene.
"They're all pretty well beat and exhausted but not injured," Kegel said.
Due to the magnitude of the fire, Pennsylvania State Police fire marshals will be called in to investigate the nature of its origins.
Located at 346 and 348 Delaware Avenue, the building is owned by Milton and Jeannie Stemler and contains eight apartments, four on the third floor and four on the second floor, along with Palmerton Plumbing Heating & Hardware and a gift shop on the ground floor. Roger Miller and Lewis Romanishan own the ground floor business.
While the fire was contained to the third-floor of the building, two-thirds of the building's roof collapsed and the first and second floors sustained heavy water damage, according to Kegel.
The neighboring Palmer House mid-rise, which houses approximately 50 people, was evacuated by Palmerton police as a precaution.
Kathie McMillian and her two children, who lived in an apartment on the third-floor of the destroyed building, were at home when the fire started.
"My daughter smelled smoke and she came and told me. I thought she was playing," McMillian said.
But when she heard people running through the building, knocking on doors and telling everyone to get out, McMillian knew her daughter wasn't playing and quickly got her family out.
"I couldn't take anything," McMillian said. "We lost everything. All their clothes are in
there, their Christmas presents."
Fortunately, everyone in the McMillian family is alright.
"It could have been worse," McMillian's husband Michael said. "They got the kids out at least. Everything else can be replaced."
Michael was at work when the fire started but rushed home after Kathie called him to tell him what had happened.
His reaction to the fire?
"It happens," he said, still in shock from the event that destroyed his family's home.
The fire, Kathie said, seemed to have started in a neighboring third-floor apartment, visible from the front of the building at its top left corner.
As she was leaving her apartment, Kathie said she saw black smoke pouring out from around the neighboring apartment's door.
The McMillians, along with 12 other people who lived at the building, were displaced from their homes by the fire.
While many of them had friends and family to turn to, one individual did not. That individual, however, was provided with a place to stay by the American Red Cross of the Greater Lehigh Valley.
The Red Cross also provided vouchers for clothing, food or groceries, shoes and winter coats, along with comfort kits containing toiletry items to the 16 people affected by the fire.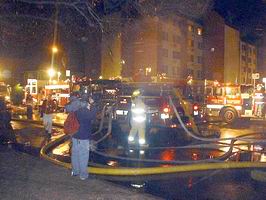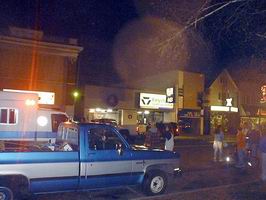 Blaze sparks anxiety. Concerns abound for building residents,

tenants of mid-rise complex
By SHARON MINNICH
sminnich[AT]tnonline.com
After word began to spread of yesterday afternoon's fire in Palmerton, hundreds of people flocked downtown, some to just watch as a Palmerton landmark blazed out of control, but some with reasons much more urgent.
"My daughter Kaitlyn was in the building," said Diane Roberts. Kaitlyn was in one of the second floor apartments with one of her friends.
"My mom called and told me that my dad couldn't get through town," Roberts said. "At that time I didn't know anything else. She came into town and saw that Stemler's building was on fire and began to frantically look for her daughter.
"I walked in the alley, I walked over to the park, but I couldn't find her. The smoke was so thick," she said. "I asked a fireman and he said he thought that everyone was out. I felt a little bit better then, but I was still apprehensive until I finally did see her." She found her daughter standing outside of Citizens National Bank, with her friend's family.
"She didn't sleep last night," Roberts said this morning about her daughter. Her friend also spent the night at the Roberts' home. One of the things the two girls were upset about was the fact that they lost their book bags. When they realized that there was a fire in the building they got out as quickly as they could, taking nothing with them. One of the girls left without any shoes on her feet. Susan Uhnak came down to the fire scene to get her mother, Margaret Bennett, who lives in the Palmer House mid-rise next to the Stemler building. When she got there, Uhnak said her mother was already out of her apartment and downstairs in the front community room. At that point the mid-rise was not yet evacuated.
"My biggest fear wasn't the fire," Uhnak said. "It was the smoke. The smoke was just so bad so quick. My fear was to get them out before it got any worse."
Uhnak wanted to take her mother to her house and also wanted to take as many of the others that would come with her.
"Of course no one really wanted to go," Uhnak said. "That was their home." When they were evacuating, her mother and two of her friends from the mid-rise did go with Uhnak.
"The emergency crews did a wonderful job of getting everyone out," she said. "And they were tending to everyone. Some were having trouble breathing."
With people evacuated from the Stemler building and also the mid-rise, an emergency shelter was set up at the Palmerton Hospital Community Services Center on Franklin Avenue.
"We had 33 people come here," said Marie Burrell, director of the Adult Day Services Center which is housed in that building. "There were eight people from the apartments and 25 from the mid-rise." The rest had left the fire scene with family and friends.
The Red Cross was called in and set up in the building to help the fire victims and those evacuated from the mid-rise.
"Everything was so well-organized," Burrell said. "So many people did so many things."
Jeff and Sandy Frantz, along with Lenore Rutman took on the task of making sure all the elderly people from the mid-rise had their vital medications. Jeff is a maintenance supervisor at the mid-rise and his wife Sandy is a nurse at the Palmerton Hospital.
"They organized a list of all the people's medications and where they kept them in their apartments," Burrell said. "They went down there then and obtained the necessary medications for the people."
Also, ironically, there was a meeting scheduled in the community center last evening.
By later in the evening, the Red Cross had taken care of finding a place to stay for the night for all of those evacuated from the buildings. Approximately 10 people were taken to Mooney's Motel in Franklin Township and the rest of the people had places to go. The meeting was canceled, but there were plenty of refreshments there that were planned to be served at the meeting.
"We were able to serve the refreshments instead to all of the people," Burrell said.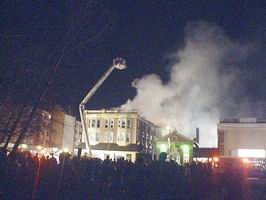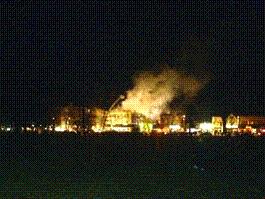 Since this disaster, the building was sold and the new tenants where the store was located are now the "Ironworks," better know as the Palmerton Hospital fitness center which is where Queen and I workout.
We went downtown to enable Queen to do some banking. As we walked down to IGA we passed the store that used to have Dennis's card and flower shop in it. [known to us old timers as Werley's, where Clayton Werley had a similar store with a soda fountain as well.] It has a new tenant in there now. C&C discount grocery store. I don't know anything about it. We just saw it was there the other day. I asked George Ashman as well and he didn't know either. An aside, I remember Clayton had a biplane that he kept and flew out of the Leighton Airport. The airport was where the School is now located near the fairgrounds as I recall, neither exists as of now.


Sunday, March 14, 2004 7:17 AM 19 deg at LVIA and 21.2 in the bus stop
Golly whiz, this morning once again my weight was 198 and my blood sugar 141. Maybe it isn't a fluky thing after all. I hope it is for real. I am trying to eat less. That is the key to it I am sure. I told Queen once again that I currently feel the best I have for long, time. Hey, I felt quite well all along, but somehow or another I really do feel even better. It is going to be interesting what the cardiologist will have to say.
I was out sitting on the upper park bench and saw neighbor Steve Kun, loading his golf cart and clubs into his truck. I called to him and said, "and folks think I am nuts."
He had a match of some kind going on today. I understand he is a pretty a good golfer. Well, it is almost springtime and the sap is running. However, 21 degrees is a bit much. Ha! He laughed.
Golly, last night we had an excellent supper. Queen made one of her recipes she got from the Internet and printed out. She has been finding a lot of new stuff that is low cal and still satisfying to try on line. We had a turkey filet that was breaded with Parmesan cheese -breadcrumb mixture and done in a pan in a bit of olive oil, with onions and mushrooms on top. Then she had some fresh green beans, cauliflower, and freshly made applesauce. Boy, it was delicious. We had the last small piece of her birthday cake and fresh coffee for dessert.


I got this picture from Bob Green who is trying to identify those pictured. It's got me?, but it looks like one of those typical photos done at John Mankos studio.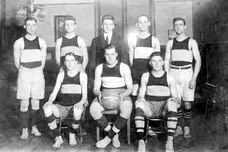 This morning we want to go to K-Mart. I don't know if she wants to go anyplace else or not We shall see.

<Later>we are down and back with a side trip to Redner's in Northampton. We got some salmon, a small beef roast, and a package of low fat ground turkey. All the stuff was on sale.
At K-Mart, I helped to pay for Martha's legal bills by buying another architect's spring-loaded lamp for the opposite side of my work area here. I bought about 4 of the $6 cheapies and since the were all plastic and I broke them all. This new one is like the other and is of all stainless steel construction.
Tonight for supper, Queen made the small roast of beef we got this morning. She also had a pair of small red potatoes nuked in the microwave with broccoli for her and Brussels sprouts for me. We are invited to Bernice Kleintop's house for a dessert this evening.
Golly, but that was nice. She served a glass of wine and pieces of angel food cake that she made with some fresh strawberries as a garnish. She was celebrating three birthdays. They were Queen's, Jeans, coming up on St Patrick's Day, and hers, that was on February 29. We all sat around and had a good time talking.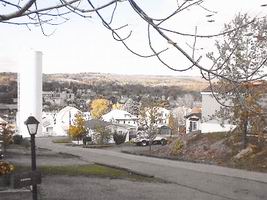 Above is a picture overlooking Palmerton taken from Marshall's hill at the trailer court area.

Monday, March 15, 2004 7:14 AM 41 deg at LVIA and 33.8 in the bus stop
Can you believe this? I have a weather winter storm watch on the computer for tomorrow for 5 to 7 inches of snow!! Sheez!!!
Oh well, the blood glucose was 125 and the weight 199. So not all is bad. I guess that I will go to the "Ironworks" this morning. Tomorrow we go to the cardiologist in the morning, hopefully before the snow.
<Later> I have been down and back. I first stopped at Dr Nicholson's office to drop off his copy of my web page for last week. Nurse Judy said the appointment with the cardiologist is nothing more than a routine precautionary step and not to worry. She also gave me my prescription for Nexium. The trial sample of it from by Dr Nicholson seems to be helping. I dropped it off at Rite-Aid and then went on to the "Ironworks" for a workout. The place was packed. I saw our neighbor Joanne Takas, Betsy Burnhauser, LaRue Smith, and Marylyn Ord there.
Marylyn said that she thinks her trips there to the place have really helped her well-being, both physically and mentally a lot. I know I found that to be true for myself.
From there, I went back to the pharmacy and finally stopped by to see my favorite reporters at the Time News. Joel and Pattie were holding down the fort. Sharon must have been out on assignment.
Pattie is back from her Christmas present. A trip to Florida with her daughter, Andrea. She had a thoroughly good time. It is always a good thing to re-charge the batteries.
Queen was busy all morning with the wash. Today is not the biggie, however, it is always a chore not particularly enjoyed.
5:23 PM
WINTER STORM WARNING IN EFFECT FROM TUES MORNING THROUGH
TUESDAY EVENING FOR 6 TO 9 INCHES OF SNOW.
THE WINTER STORM WATCH IN EFFECT FOR THE AREA HAS BEEN UPGRADED TO A
WINTER STORM WARNING.
Bah Humbug!!

Tonight for supper, we dined once again in God's Restaurant. Queen made her homemade spaghetti. This is an easy meal for her on a washday. If that is what it takes, I would like washday every day. Ha!!
This afternoon I got a very kind e-mail from Susan "Cookie" Greene, Lee Bolliner's sister. Her comments are much appreciated by us both. I showed it to Queen, and we were happy to hear from her.
She asked to be added to the mailing list. Golly, but this has really grown now to 110 souls. Queen and I are happy to share this stuff with so many others. I am particularly gratified to be able to reach out to so many former Palmerton folks. I am sure the pictures help to bring back many memories. If any of you readers have any pictures to share with me ,please feel free to do so. I will peruse them, edit them, and put them in here with proper attribution.
Also, it anyone wishes to pass this on to another former resident or anyone you think might be interested, please do so. If that person enjoys it, I will gladly add them to the mailing list.


Tuesday, March 16, 2004 7:30 AM 34 deg at LVIA and 32.3 in the bus stop
It looks like snow this morning. Anywhere from 4 to 6 inches of the stuff is expected.<Grrr>
Well, at least the medical readings are not too bad. The weight is 199 and the blood sugar
was 126.
I printed out my diabetic information, in case the doctor wants any further information since this morning.We will both be going to the cardiologist. More about that later.
Now at 07:36, I am headed outside with my coffee.
<Later> It is raw and chilly outside this morning. I hope the foul weather holds off until we get our traveling done. No luck it is snowing like Hell now Geez!!
<Later> 11:08 we are back. We waited in the waiting room with Lee Bollinger, who was in for a doctor's appointment.
It went very well. He is very pleased with Queen and her condition. He simply wants her to keep doing what she has been doing. He sees no reason to change a thing. He thinks she is remarkable. Well, so do I.
In my case, he said my EKG was "interesting" what ever that means. He said my condition was reminiscent of a particular syndrome. It is Wolff-Parkinson-White Syndrome.
He said it was like having an extra wire connecting to my ticker that may or may not cause beating, and or rhythm problems. He said that may not the case at this stage of my life, particularly if I have had no overt symptoms. Certainly, they have been at a minimum to my recollection. However, there is no really earlier EKG with which to compare it. We went all over my history and he indicated that I need not take any extra precautions or restrictions but he wants me to have a stress test here at the hospital. After this, he will know better what is going on. The nurse set it up for me and the hospital will call me with the exact time. It will be an early morning thing on an empty stomach. That is no big deal.
We both discussed extensively our exercise programs at the "Ironworks". He told us what out maximum heart rate is, 200 minus our age, but that it is not at all necessary to get it to the maximum and we should do what feels good to us but don't overdo.. He does like our going and doing something.
He approved of my concept of Fritz's premise of more reputations but a lower stress level. He said leave the hard stuff to the kids.
In the course of our conversation I took along a list of all the medications I am taking.

I ask him if he had a home computer and when he said yes, I ask him if he would do me a favor by entering that URL and viewing my web page. No, not out of vanity, but last week I described very well our family's relationships with one another, as well as my family's health history. I think it was far better than trying to describe it to him there. I write better than I speak. In addition, my hearing is nothing to jump for joy about [In one ear, deaf as a post. Geez!!] That is why Queen and I both go together to any important doctors appointment to be sure we got all of the pertinent information correctly.
You know, I find this web page concept very handy for other things. If I want to send a complex letter to someone with graphics in it, I create it in Word and then enter it as a web page and give it a special name. I send the URL to the recipient and only that URL will open it when the web page is pasted in the browser. After I get their reply, I simply remove it from the web. It sure saves a whole lot of trouble and is so easy to do. Well, now it is. Ha!!
This afternoon, this is what we have now, Sheez!
Hey, this stuff gets old damn fast.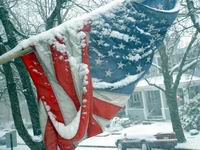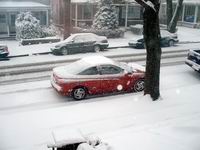 6:07 PM The snow has slowed down to practically nothing now. We must have 3 or 4 inches of the stuff. Our wonderful neighbor Gary Kovacs, has taken it off on this side for all of us geezers, widows, and orphans with his snow blower. It is very much appreciated.
Since Queen was tired and busy, we had some Progresso soup for supper. It can't hold a candle to Queen's stuff. It was adequate but just barely.


Wednesday, March 17, 2004 7:07 AM 30 deg at LVIA and 27.9 kin the bus stop
This snowy morning my blood glucose is 128 and the weight 202.Sheez!. It is still snowing lightly. After breakfast, I plan to get our snow blower out and finish the cleaning job. Now at 8:34 AM the sun is coming out. The stuff will melt darn fast in this kind of weather. I finished the job. Then I took the garbage to the alley for tomorrow's pickup.
We went to Jean and Mike's house to deliver her birthday presents. They served coffee and a chocolate cake that Mike got his Mom for her birthday. Queen also baked her a "Connie cake".
Golly but Mike sure looks so much better since he lost all that weight. He was to the Doctors the other day and the doctor was very pleased with his results. Right now Mike is on vacation, but has bronchitis and is feeling lousy. That is no fun coughing ones guts out at night. However, he can be very proud of his accomplishment in the weight department. He said his doctor said, perhaps he, the doctor, should go on it as well. Gee, whiz!!
This is a poor day on the news front. We didn't go anywhere today. We stayed here on the patch all day except for our trip to Jean and Mike's house.
Tonight for supper we finished the last half of that turkey breast we had the other evening. Queen had fresh spinach,a small baked red potato each, cauliflower, and homemade applesauce. She cooked onion and mushroom and put it on top of the turkey. It was a wonderful meal. Then we had coffee and I had a last bite of her ice cream bar for dessert. It was a first class meal. Hey, I could kiss both the cook as well as the waitress!
I got an e-mail from George Ashman who said the Miller Bloodmobile was canceled yesterday because of fears for the staff's safety getting back home. It is postponed until this Saturday, March 20, from 9:30 AM to 1:30 PM.

Thursday, March 18, 2004 7:55 AM 28 deg at LVIA and 27.2 in the bus stop
This morning the blood glucose was143 and the weight 195. This morning we plan to do our weekly food shopping. We have a winter storm watch for tonight for 3 to 5 inches of the damn stuff. Oh well, it doesn't last long these days. Saturday is the first day of spring. Ha!!
Here is our new mantle of snow on this Thursday morning.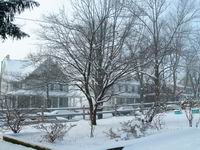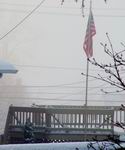 We did our shopping. The stores were not at all crowded. The selections were quite good. After Aldis, it was on to Wal-Mart, Giant, and then home to Country Harvest. We made it back before noon.
We stopped by for a minute at the TN office where Sharon warned us of more snow tomorrow. Sheez!! She thinks her snow shovel man was put away too soon and he is angry and wants to nail us one more time.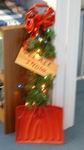 The sadistic Snowman
The hospital called to establish the date and time for my stress test. Today, she sent me all the information.
I must be there at 7:30 am. She said it will probably last until about 10:30 in the morning. They will inject some radioactive liquid in my arm and I will use the treadmill. Then, I must lay quietly flat on a table for 35 minutes to be scanned. She told me not to worry I won't glow in the dark. Ha!! It sounds to me as though it is the same test Queen had. Now, I don't have to go to Bethlehem for it. It is a whole lot easier walking a block to get there, than all that city traffic hassle. Now, they must now have the facilities here to do it in Palmerton. I also will be scanned for blockages. Who knows?
Last year Queen had to go to Bethlehem for her stress test. From the letter, it sounds as though our cardiologist, Dr Kolecki, will be here for the test. That is good. He is a good man. When Dr Nicholson recommended him for Queen as her cardiologist, he told us that he wouldn't send her to anyone he would not go to himself. That was enough for us. Hey, I will do what I have to do. I certainly am no different than anyone else. Concerned, yes, Scared? Hell yes, but somehow I am very much at peace with my decision. It is amazing what love can do. I don't want to sound like some preacher or someone with a great and noble purpose, but my girl is very important to me, and now I must do my part. She certainly is doing all she can to help us both. Sometimes I moralize and preach too much!! Sorry!!
Supper is over. Queen had a chicken meat pie each, fresh spinach, fresh green beans, low fat cottage cheese, and grape tomatoes. Then we had coffee and I had a couple of final bites of her ice cream bar. It was an excellent meal.

Friday, March 19, 2004 7:23 AM 34 deg at LVIA and 32.7 in the bus stop
This morning my blood glucose was 137 and the weight 202. Well, this is what I saw this morning when Butternut and I went outside.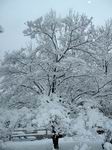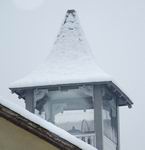 For a moment the snow shut down the Satellite dish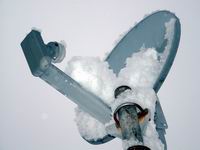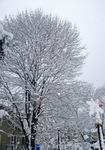 Now, it has about stopped. I saw neighbor Mike outside here shoveling both his and our sidewalks. He is a good man. I certainly thank him for his kindness.
I decided to go to the Iron Works this morning. Now I am back. Today there probably were not more than five or six people there. Several new folks were joining the group that I noticed while I was on the treadmill. I didn't go at it too hard but I had a good exercise session nonetheless. Jean Bechdolt was there and she asked about Queen, as well as did Jason, the manager. Then I went up to Dr Nicholson's office and got my copy of my blood test and EKG. I scanned them and put them here on the computer in our medical file.
Queen is running the plow here today. She cleaned the upstairs this morning and now she is vacuuming the downstairs. Well, I had best close this and copy it for my proofreader.
Please Love one another, Mom and Bob [Queen and Bobby]
Few things are harder to put up with than the annoyance of a good example.
Mark Twain (1835-1910)
It's not the size of the dog in the fight, it's the size of the fight in the dog.
Mark Twain (1835-1910)
The first half of life consists of the capacity to enjoy without the chance; the last half consists of the chance without the capacity.
Mark Twain (1835-1910) h
To succeed in life, you need two things: ignorance and confidence.
Mark Twain (1835-1910)
Why shouldn't truth be stranger tan fiction? Fiction, after all, has to make sense.
Mark Twain (1835-1910)