Tonight for supper Queen had the last of her good beef potpie that she made last week. She had broccoli and I had Brussels sprouts. Or, as Tommy' calls them little balls of s***. I call them BOS for short.

Monday, March 22, 2004 7:31 AM 23 deg at LVIA and 22.7 in the bus stop
This morning the weight was 201 and the blood glucose is 138.I was out with my coffee and Butternut and it is downright cold. I sat there on the lower park bench and retreated to the warm house after about ½ a cup. The wind is biting.
Apparently I must eat a large plate of crow' I got this from Bob Green and I didn't check it either. Sorry Mr. Kennedy, my apologies.

OOPS!!! - I GOOFED!!! - SORRY!!!
The Kennedy - Rumsfeld thing is false - an urban legend. I normally check out such stuff before sending it to anyone. This time, I took the word of what I had considered a "reliable source" and it let me down. If you care to verify my goof-up, you can check out the link below:

Urban Legends Reference Pages: (All Wet)

Note the article at the beginning of these weeks web page on Bush, as far as I could find, is true!!!

Queen has not arrived down here yet, however Today will be a busy one for her once again with a big wash.
Soon I shall be going to the Ironworks for my shot at the equipment. <10:24 AM> I have been down and am now back at the fort. It went very well. I saw the Reinhardt's there but did not get to speak with them.
I got the picture below from Steve Jensen and he is wondering if anyone thinks this could be a portrait of Indian Trail Park.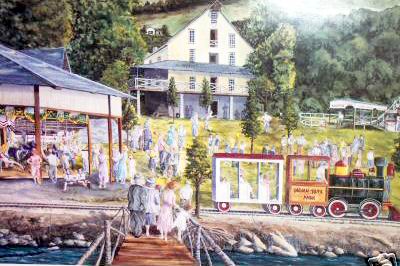 There is much there that is reminiscent of it. It did have a small train as well as well as a small roller coaster and a merry-go-round as all are shown in the painting. The bridge and the stream throw me off; I don't recall any stream at that location. We often went there when I was a small kid and had to park across the road. Send any comments please either to me at Elliston@ptd.net or Steve Jensen at, sjensen7@mail.ptd.net

I got this from Queen's cousin, Bob Greenawalt, in Rochester, NY:
Our birth date describes who we are, what we are good at, and what our
inborn abilities are. It also points to what we have to learn and the
challenges we are facing. Once you have discovered your Birth Number,
forward this email to the rest of your friends, including the one who sent
this to you. Put your "number" in the "Subject" line and pass it on! Have
fun!
To figure out your Birth Number, add all the numbers in the birth date
together, like in the example, until there is only one digit. A Birth
Number does not prevent you from being anything you want to be; it will
just color your choice differently and give you a little insight.
Example: March 20, 1950
3 + 20 + 1950 = 1973
1 + 9 + 7 + 3 = 20
2 + 0 = 2
2 is the Birth Number to read for the birth date in the example.
#1 THE ORIGINATOR
#2 THE PEACEMAKER
#3 THE LIFE OF THE PARTY
#4 THE CONSERVATIVE
#5 THE NONCONFORMIST
#6 THE ROMANTIC
#7 THE INTELLECTUAL
#8 THE BIG SHOT
#9 THE PERFORMER
# 1 - THE ORIGINATOR are originals. Coming up with new ideas and
executing them is natural. Having things their own way is another trait
that gets them as being stubborn and arrogant. 1's are extremely honest
and do well to learn some diplomacy skills. They like to take the
initiative and are often leaders or bosses, as they like to be the best. Being
self-employed is definite! ly helpful for them. Lesson to learn: Others'
ideas might ; be just as good or better and to stay open minded.
Famous #1's: Tom Hanks, Robert Redford, Hulk Hogan, Carol Burnett, Wynona Judd,
Nancy Reagan, Raquel Welch
#2 - THE PEACEMAKER are the born diplomats. They are aware of others'
needs and moods and often think of others before themselves. Naturally
analytical and very intuitive they don't like to be alone. Friendship
and companionship is very important and can lead them to be successful in
life but on the other hand they'd rather be alone than in an uncomfortable
relationship. Being naturally shy they should learn to boost their
self-esteem and express themselves freely and seize the moment and not
put things off.
Famous #2's: President Bill Clinton, Madonna, Whoopi Goldberg,
Thomas Edison, Wolfgang , Amadeus Mozart
# 3 - THE LIFE OF THE PARTY are idealists. They are very creative,
social, charming, romantic, and easygoing. They start many things, but
don't always see them through. They like others to be happy and go to great
lengths to achieve it. They are very popular and idealistic. They should
learn to see the world from a more realistic point of view.
Famous #3's: Alan Alda, Ann Landers, Bill Cosby, Melanie Griffith, Salvador Dali,
Jodi Foster
# 4 - THE CONSERVATIVE are sensible and traditional. They like order and
routine. They only act when they fully understand what they are expected
to do. They like getting their hands dirty and working hard. They are
attracted to the outdoors and feel an affinity with nature. They are
prepared to wait and can be stubborn and persistent. They should learn
to be more flexible and to be nice to themselves.
Famous #4's: Neil Diamond, Margaret Thatcher, Arnold Schwarzenegger, Tina Turner,
Paul Hogan, Oprah Winfrey
# 5 - THE NONCONFORMIST are the explorers. Their natural curiosity, risk
taking, and enthusiasm often land them in hot water. They need diversity,
and don't like to be stuck in a rut. The whole world is their school and
they see a learning possibility in every situation. The questions never
stop. They are well advised to look before they take action and make sure
they have all the facts before jumping to conclusions.
Famous #5's: Abraham Lincoln, Charlotte Bronte, Jessica Walter, Vincent Van Gogh,
Bette Midler, Helen Keller and Mark Hamil.
# 6 - THE ROMANTIC are idealistic and need to feel useful to be happy. A
strong family connection is important to them. Their actions influence
their decisions. They have a strong urge to take care of others and to
help. They ! are very loyal and make great teachers. They like art or
music. They make loyal friends who take the friendship seriously. 6's
should learn to differentiate between what they can change and what they cannot.
Famous #6's: Albert Einstein, Jane Seymour, John Denver, Meryl Streep,
Christopher Columbus, Goldie Hawn
# 7 - THE INTELLECTUAL are the searchers. Always probing for hidden
information, they find it difficult to accept things at face value. Emotions
don't sway their decisions. Questioning everything in life, they don't like to be
questioned themselves. They're never off to a fast start,and their motto is slow and
steady wins the race. They come across as philosophers and being very knowledgeable
and sometimes as loners. They are technically inclined and make great
researchers uncovering information. They like secrets. They live in their own world and
should learn what is acceptable and what not in the world at large.
Famous #7's: William Shakespeare, Lucille Ball, Michael Jackson, Joan Baez,
Princess Diana
# 8 - THE BIG SHOT are the problem solvers. They are professional, blunt
and to the point, have good judgment and are decisive. They have grand
plans and like to live the good life. They take charge of people. They
view people objectively. They let you know in no uncertain terms that they
are the boss. They should learn to exude their decisions on their own needs
rather than on what others want.
Famous #8's: Edgar Cayce, Barbara Streisand, George Harrison, Jane Fonda,
[Groan] Pablo Picasso, Aretha Franklin, Nostrodamus
#9 - THE PERFORMER are natural entertainers. They are very caring and
generous, giving away their last dollar to help. With their charm, they
have no problem making friends and nobody is a stranger to them. They
have so many different personalities that people around them have a hard
time understanding them. They are like chameleons, ever changing and blending
in. They have tremendous luck, but also can suffer from extremes in
fortune and mood. To be successful, they need to build a loving foundation.
Famous #9's: Albert Schweitzer, Shirley McLaine, Harrison Ford, Jimmy Carter,
Elvis Presley
A Face With Freckles is Like a Night With Stars!
Geez, I am an 8.
Tonight being washday we dined once again in God's restaurant with Queen's Super OTW [out of this world] spaghetti. Being a good boy, I saved some of mine for lunch tomorrow. That is something I never used to do. My halo keeps slipping down and choking me, Ha!!

Tuesday, March 23, 2004 7:17 AM 16 deg at LVIA and 15.3 in the bus stop
This morning the weight is 201 and the blood glucose 135.It is a clear cold morning today. It is gradually to warm to the 60s by this weekend.
This morning ,in going through my e mail, I came upon a site those of you who do not have a good digital photograph enhancement program might be able to use when you care to send digital photographs to others via e mail. An unreduced picture that you might like to send might be of such enormous size that it would seem to take forever for you to upload and forever for the poor soul at the other end, to down load. Well, here is a free program that you can use to reduce digital photographs to a much more useful size that will load much faster.
http://bluefive.pair.com/pixresizer.htm
There is one cravat. It is sent to you as a zip file and not all of you may have zip facilities on their currently configured computers. Good zip programs are free. I asked Google for a listing of "free zip programs" and got many pages. The above program looks very good. It seems quite versatile in what it can do.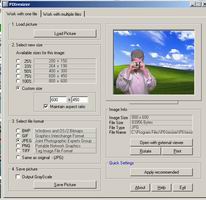 We just got back from the appointment Queen had with Dr Terry Robbins, the dermatologist, in the Riverside professional complex this morning at Laury's station. The doctor took several blemishes off her face and took a biopsy of the one Queen was questioning. She goes back in April for a checkup or the surgical removal of it. It all went quite well. The Doctor told her this probably happened long ago when she was a kid and used to sit foolishly for long periods sitting in the sun, as kids do. The doctor said the sun is not always your friend. She told Queen that the sun's ray damages are cumulative and not to be taken lightly. During the summer, at the pool, we always try to find a shady spot. Besides Queen becomes ill if she is exposed too long to the hot sun's rays. In addition, the doctor froze off several other small blemishes.
I was sitting out on the lower park bench a short time ago and it was delightful. It is still a bit cool, but the sun is warm and so wonderful to be able to sit there and commune with my little world. Soon we will be availing ourselves of the use of the enclosed front porch, now that the sun now providing a lot of warmth these days. Hey, life is short.
Our good neighbor, Mike, was down with a container of his Mom's chicken soup. Man, that is good stuff. He said his doctor's report was excellent. In fact, top notch. All his readings way way down. Now he must be careful not to get his blood sugar too low. We are very happy for him. Is wonderful to see him have such good results. He has worked hard at it.
Gee whiz, we certainly had a wonderful supper tonight. Queen baked us each a small breaded piece of chicken breast in the oven, a small baked red potato each, fresh green beans, cauliflower and a dash of applesauce as well as low fat cottage cheese, with a cup of coffee for dessert. It was wonderful. Hey I feel sorry for the rest of you fellows out there, I have the best cook in the world living right here with me. Anything else is second best. <Grin>

Wednesday, March 24, 2004 7:15 AM 27 Deg at LVIA and 25.2 in the bus stop

This morning the weight is 201 and the blood glucose 138. It looks like a great looking day, today. It is chilly but as soon as the coffee is ready we shall find out.
I went up to the glider with my coffee. It was quite comfortable even with the temperature in the high20s.
An early morning jet plane this morning.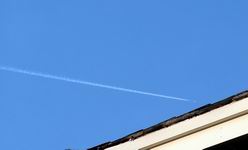 We might both go to the Ironworks this morning. I am not sure yet.

I opened my today's Wall St Journal on lime and saw this article on losing jobs to overseas countries. I am reproducing it here, By WALTER B. WRISTON .
For better or for worse, we all live in Marshall McLuhan's "global village" and Chicken Little runs through our living room on every hourly newscast. This does not mean that there are not real problems in the world. There are. What is relatively new is that today one politician can command coast-to-coast attention by repeating some assertion over and over -- a power not given to an absolute monarch a few years ago.
But in a world where the war on terrorism is the central problem of our time, it is ironic to hear some politicians and the mainstream media whipping up a perception that we have a major problem of exporting a lot of jobs to faraway places and receiving nothing but increased unemployment in return. This situation, we're told, is the dark side of globalization. Some commentators have gone so far as to suggest that American CEOs whose companies outsource jobs should be censured or fired. This lament would make more sense if it came from countries around the world that are outsourcing their jobs to the U.S. in huge numbers.
The balamce of jobs we import from abroad greatly exceeds the jobs we export abroad. Every time a foreign company decides to build a plant or opens an office in the U.S., Americans are put to work to man these facilities. Examples abound. Honda increased its U.S. manufacturing last year by 15%. And it is not only manufacturing that is attracted to our shores, but also intellectual capital. Novartis is moving its huge world-wide research and development operation from Switzerland to Massachusetts. Texas is the beneficiary of a $500 million investment from Samsung to build a new semiconductor plant. In some cases -- described in this paper recently as "the second wave of Nafta" -- Mexico is now able to invest abroad, and that investment is creating "thousands of jobs" for U.S. workers. Many countries with ample capital have poured a steady stream of job-creating investment into the U.S.
The Organization for International Investment keeps track of the number of jobs that are outsourced by other countries to the U.S. While we are exporting some jobs to other countries, the greatest beneficiary of outsourcing is the U.S. itself. We are importing many more jobs than we export. Indeed foreign companies of all kinds from all over the world are attracted to our stable political environment, our relatively low corporate tax rate and the huge growth in productivity by American workers. Many foreign companies trying to compete in the global market carry the cost of the residual socialism found in some European countries, and they look to the U.S. as a far more salubrious business climate.
The latest figures show that as German and Japanese auto makers, foreign drug companies and banks outsource to the U.S., some 6.4 million American jobs were created in 2001, up from 4.9 million in 1991. Contrary to the political static, some 34% of these imported jobs are in the manufacturing sector of our economy. These foreign companies operating in the U.S. are creating more jobs for Americans than homegrown U.S. companies. In the heartland, where the drumbeat against "exporting jobs" is the loudest, data shows that Ohio has imported 242,000 jobs; Indiana has attracted 163,000; and in Michigan some 244,000 jobs, about 6% of the workforce, are imported. And the list goes on. Sometimes the loudest laments originate from the states that have imported the most jobs.
In addition to creating jobs for Americans, many of the U.S.-based foreign companies also export products. Indeed, these exports now constitute about 22% of all American exports. At a time when some worry about our trade balance, this is not an insignificant achievement. Because of globalization, which is currently under attack in some quarters, it should be noted that in addition to the annual payroll of $350 billion flowing to American workers, American investors benefit by owning 20% of the common stock of the largest of these foreign companies. These job-creating foreign investments in the U.S. are "win-win" situations for all concerned."
Mr. Wriston, former chairman & CEO of Citicorp/Citibank, is a trustee of the Manhattan Institute.


Except for places like the Journal one does not see this information in the regular press and certainly not In the electronic media.

You know as I read the above article I can readily see how politicians in an area where folks lost their jobs, i.e., Horse head industries, Bethlehem Steel, Western Electric; big businesses which may now not even exist anymore are seeing the real pain of workers whose jobs simply no longer are there. The temptation is strong to condemn and demagogue the whole thing. However, the overall picture is something else.

I recall last year Queen and I were walking back, Columbia Ave, and we spoke to a woman carrying a head mannequin with a wig on it. Knowing us, we stopped to make some small talk with her. She laughed and said she lost her job with what used to be Western Electric and now was re-training herself to become a beautician. She was attending a beautician's school in Allentown to learn her new trade. She seemed to be very pleasant, and had a very outgoing demeanor, and she should do well at that job. This is what happens and always will happen.

My old field, television service and repair, is virtually non-existent today. It is now back with the buggy whip business. We have three barely operating color television sets upstairs that are soon to be thrown out. I have a damn good idea what is wrong with them. One has a bad integrated circuit and the other a leaky bypass capacitor from the symptoms. The third one has a weak picture tube. Except for the picture tube, the parts would be cheap, but it is no longer practical to pay someone to repair them. Nobody repairs them except as a hobby. One could not afford the labor to do it today and no small independent service man as I was could afford to carry the parts for all the brands of sets.

I got Queen a new 19" color set when her old one went south for less than $200. To put it in perspective, I remember one of the first RCA color sets, the CTC1, in 1955 cost over $1000. Today, that would cost $6988.81 in 2004 dollars. I went out and got a far superior one for less than $200. It would be much more in today's currency and with inflation. To put it still another way the $200 color TV I got for Queen in 1955 dollars, would have cost 28.62. This is using the Federal Reserve banks conversion site. The rate we charged for a service call in 1960 was $18.75 that translates into $118.64 in 2004 dollars. Nobody would pay that kind of money today!!!! When I was in Wal-Mart one could buy an E machine computer for a bit over$400

See http://minneapolisfed.org/research/data/us/calc/ Sheez!! The same thing is true for computers. They are getting cheaper and better all the time. Sometimes the price of progress is very painful and very personal.

Thursday, March 25, 2004 7:22 AM 45.4 deg at LVIA and 44.4 in the bus stop
Today the blood glucose was 136 and the weight was 202. Last evenings meal of a small piece of round steak, thin sliced potatoes baked in the oven and mixed veggies did not adversely affect my numbers today.
It was rather comfortable sitting out on the lower park bench this morning. I was lost in my thoughts as I drank my first cup of coffee before I noticed it was beginning to rain. Therefore I adjourned to the house.
As we were getting ready to leave for our shopping trip, we received a welcome phone call from David Williams, Fritz's brother. It was good to speak with him. Queen and I both spoke with him. Over the years, he too, has been a friend indeed.
We did our shopping this morning, The selections were quite good and the crowds small. The weather has been threatening all day with a spritz or two on occasions.
A panoramic view of our house from Bob Reinhardt's back deck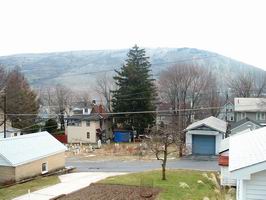 We got a good buy on strawberries and I was able to sweet talk Queen into making strawberry shortcake for supper. It was excellent.
I have been in communication with Prolog about my ongoing problem inserting my information on my web site. Tomorrow the Wilmington Ellistons, my experts, are expected to arrive for a quick stay here this weekend. Thank God!!! I am stumped. I still think it may be something I am doing wrong!!

Friday, March 26, 2004 7:12 AM 43 deg t LVIA and 42.4 in the bus stop
Hey, this morning at least the weight was 198 while the blood sugar was 141. Not too bad. I must go down to Lafayette Avenue, turn up the heat, and get the fridge operating.
It was quite comfortable sitting outside this morning. I am down and back from that job.
Now this one from Norm Eckhart I love.
BEWARE OF THE SPOON!!
A timeless lesson on how consultants can make a difference for an organization.I took some friends out to a new restaurant, and noticed that the waiter who took our order carried a spoon in his shirt pocket. It seemed a little strange, but I ignored it. However, when the busboy brought out water and utensils, I noticed he also had a spoon in his shirt pocket, then looked around the room and saw that all the staff had spoons in their pockets.
When the waiter came back to serve our soup I asked, "Why the spoon?"
"Well," he explained, "the restaurant's owners hired Anderson Consulting, experts in efficiency, in order to revamp all our processes. After several months of statistical analysis, they concluded that customers drop their spoons 73.84 percent more often than any other utensil. This represents a drop frequency of approximately 3 spoons per table per hour. If our personnel is prepared to deal with that contingency, we can reduce the number of trips back to the kitchen and save 15 man-hours per shift."
As luck would have it I dropped my spoon and he was able to replace it with his spare spoon. "I'll get another spoon the next time I go to the kitchen instead of making an extra trip to get it right now." I was rather impressed.
The waiter served our main course and I continued to look around. I then noticed that there was a very thin string hanging out of the waiter's fly. Looking around, I noticed that all the waiters had the same string hanging from their flies.
My curiosity got the better of me and before he walked off, I asked the waiter, "Excuse me, but can you tell me why you have that string right there?"
"Oh, certainly!" he answered, lowering his voice. "Not everyone is as observant as you. That consulting firm I mentioned also found out that we can save time in the restroom."
"How so?"
"See," he continued,"by tying this string to the tip of you know what, we can pull it out over the urinal without touching it and that way eliminate the need to wash the hands, shortening the time spent in the restroom by 76.39 percent."
"Okay, that makes sense, but . . if the string helps you get it out, how do you put it back in?"
"Well," he whispered, lowering his voice even further, "I don't know about the others, but I use the spoon."

Well, it is over to the proofreader who currently is doing stuff that is more important, baking coffee bars. <Grin>
Please love one another Mom and Bob [Queen and Bobby]
When buying and selling are controlled by legislation, the first things to be bought and sold are legislators.
P. J. O'Rourke

The mystery of government is not how Washington works but how to make it stop.
P. J. O'Rourke

Not everything that can be counted counts, and not everything that counts can be counted."
Albert Einstein (1879-1955), sign hanging in Albert Einstein's office at Princeton
Few things are harder to put up with than the annoyance of a good example.
Mark Twain (1835-1910)