Gee whiz, this morning Queen accidentally paid me a great compliment. Before we left for the Ironworks, she said those trousers you are wearing look baggy on you. Since these are my summer paints, I replied Hey; they fitted snugly the last time I wore them. Ha!!
By this time I am sure my readers are well aware of my political leanings. I do have my opinions and since this is my forum, I express them freely. The following article I got from Queen's cousin Bob Greenawalt, another completely unbiased person as myself. <Cough, Harrumph, and chortle> my theory is that there is always the delete button. Ha!!
"Worst president in history?
The following appeared in the Durham, NC local paper as a letter to the
editor. Please forward to all on your list as this will put things in
perspective:)
Liberals claim President Bush shouldn't have started this war.
They complain about his prosecution of it. One liberal recently claimed Bush
was the worst president in U.S. history. Let's clear up one point: President
Bush didn't start the war on terror. Try to remember, it was started by
terrorists BEFORE 9/11.
Let's look at the worst president and mismanagement claims.
FDR led us into World War II. Germany never attacked us: Japan did. From
1941-1945, 450,000 lives were lost, an average of 112,500 per year.
Truman finished that war and started one in Korea. North Korea never attacked
us. From 1950-1953, 55,000 lives were lost, an average of
18,333 er year.
John F. Kennedy started the Vietnam conflict in 1962. Vietnam never attacked
us. Johnson turned Vietnam into a quagmire. From 1965-1975,
58,000 lives were lost, an average of 5,800 per year. Clinton went to war in
Bosnia without UN or French consent. Bosnia never attacked us.
He was offered Osama bin Laden's head on a platter three times by Sudan and did nothing.
Osama has attacked us on multiple occasions. Over 2,900 lives lost on 9/11. In the two years since terrorists attacked us,
President Bush has liberated two countries, rushed the Taliban, crippled al-Qaida, put nuclear inspectors in Libya, Iran and North Korea withoutfiring a shot, captured terrorist who slaughtered 300,000 of his own people.
We lost 600 soldiers, n average of 300 a year. Bush did all this abroad while not allowing another terrorist attack at home. Worst president in history? Come on!
The Democrats are complaining about how long the war is taking, but... It
took less time to take Iraq than it took Janet Reno to take the Branch
Davidian compound. That was a 51-day operation.
We've been looking for evidence of chemical weapons in Iraq for less time than it took Hillary Clinton to find the Rose Law Firm billing records. It took less time for the 3rd Infantry Division and the Marines to destroy the Medina Republican Guard than it took Teddy Kennedy to call the police after his Oldsmobile sank at Chappaquiddick. It took less time to take Iraq than it took to count the votes in Florida!!!!
Our military is GREAT!



Thursday, April 08, 2004 7:22 AM 34 deg at LVIA and 33.8 in the bus stop
It looks like a good day ahead. I shall be heading outside to check for myself. This morning the weight was 201 and the blood glucose 147.
Golly, I was sitting outside on the park bench nostalgically thinking about our small world and us. Oh in these days there is much to worry about, but there is also much to be thankful for.
We sit here in our own little world shielded from some pretty horrible stuff, but I think back to how it must have been when my Grandfather, my Dad's Father, came to this country. I don't know when, but my Dad was born in1880. Grandpa certainly didn't arrive at Ellis Island with any family because he was a sailor in the British navy. When his ship docked in some port here in this country Grandpa must have liked what he saw and went "over the hill". I assume the British naval authorities have stopped looking for him. I do owe him a debt of gratitude. Had he not departed the British navy, I would not be here.
It may have been somewhere about the time of the Civil war. Things were tough then as well. Hard times are nothing new. Every generation has them, but somehow we muddle on.
I am sure any geezer of my age recalls the entire hullabaloo over Pearl Harbor. Everyone in authority knew something was coming. No one suspected Pearl Harbor would be the target. Nevertheless, talk about previous knowledge, an army radar man that Sunday was familiarizing himself with his new equipment and saw the formation of Japanese aircraft approaching Pearl Harbor.
I was watching Dr Rice's testimony under oath of the 911 hearing committee. I do think she acquitted herself very well. Admittedly, I am prejudiced but at least, I admit it. All the innuendo and mean spirited stuff is to me utterly appalling. It was moving and touching to see those folks in the audience who were either survivors or relatives of survivor of 911 with their photographs of loved ones. However, I wonder how someone like Ray Carazo would feel about leaving his arm on the tarmac at Hickam Field at Pearl Harbor. In those days, there were inquiries also but nothing like the vituperation, we hear today. Some of those Democrats should hold their heads in shame!! This country is at war.
There was no television then and communications was primitive as compared to today, but the similarity is astounding. Funny, no one mentions that I believe there was a Democratic sitting president then. Golly whiz!!
This morning Queen and her friend were out cleaning out the flowerbeds. She said she found a big long earthworm in her cleaning. She said it was a big one. That is a good sign. Things are finally getting better in Palmerton, if that is the case.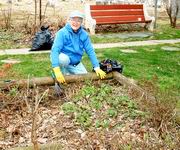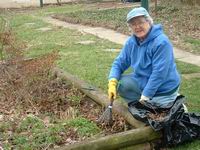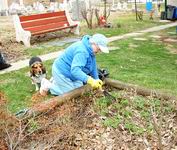 Queen and Butternut at work
I attempted to replace the valve in the spigot on the outside hose connection. Nothing is simple anymore. Previously I just got a new spigot, unscrewed the old one from the pipe and put it on. No more. I couldn't just buy the spigot alone even at Shea's. That stuff now comes all assembled pipe and all. I was unable to take off the old one without doing irreparable damage to other parts so I reluctantly called the plumber. <Sigh>
Then I put up the clothesline that was knocked down last fall when the tree men were here to fell the big pine tree. After a fashion, I got that done. The place is beginning to look better.
Here is some more Henny Penny stuff the sky is falling.
http://online.wsj.com/article/0,,SB108138451608177487,00.html
Tonight for supper we had a pizza and beer. It may not have been the best choice in the world for us, but it sure was good.

Friday, April 09, 2004 7:28 AM 43 deg at LVIA and 38.3 in the bus stop
Well, I sure paid a price for the pizza and beer last night. My blood glucose was 165 but the weight still was 202. Sheez!!
This morning instead of going to the ironworks, Queen and I went for one of our regular walks. Up to first, across and down nearly to Fifth Street and home. Someone was taking down a tree near Fifth Street, so we cut across and back. Golly, it was so much better than that stupid treadmill. It was our first in quite a while. It was a lovely time to go for a nice walk with a beautiful girl.
These are some of Queen's windflowers that just emerged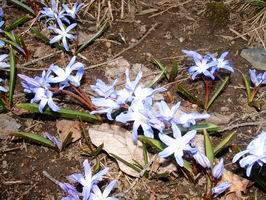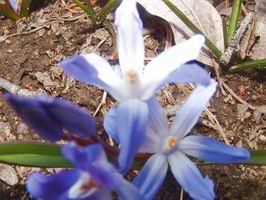 It is a lovely morning. Therefore, I sat out on the bench with Butternut, the camera, and cup of reheated coffee. There is always something going on if you bother to look for it.
This just came from Sharon. It says it all.
Subject: A Keeper I grew up in the fifties with practical parents. A mother, God love her, who washed aluminum foil after She cooked in it, then reused it. She was the original recycle queen, before they had a Name for it... A father who was happier getting old shoes fixed than buying new ones. Their marriage was good, their dreams focused. Their best friends lived barely a wave away. I can see them now, Dad in trousers, tee shirt and a hat and Mom in a house dress, lawn mower in one hand, dish-towel in the other. It was the time for fixing things. A curtain rod the kitchen radio, screen door, the oven door, the hem in a dress. Things we keep. It was a way of life, and sometimes it made me crazy. All that re-fixing, eating, renewing, I wanted just once to be wasteful. Waste meant affluence. Throwing things away meant you knew there'd always be more. But then my mother died, and on that clear summer's night, in the warmth of the hospital room, I was struck with the pain of learning that sometimes there isn't any more. Sometimes, what we care about most gets all used up and goes away...never to return. So...while we have it...it's best we love it.....and care for it... and fix it when it's broken.....and heal it when it's sick. This is true.....for marriage.....and old cars..... and children with bad report cards.....and dogs with bad hips.....and aging parents.....and grandparents. We keep them because they are worth it, because we are worth it. Some things we keep. Like a best friend that moved away, or a classmate we grew up with. There are just some things that make life important, like people we know who are special.....and so, we keep them close! Good friends are like stars....You don't always see them, but you know they are always there. keep them close!
This is so very true. My Mom also saved aluminum foil and much else. We aren't quite that bad yet but Queen and I are savers, and pack rats.
Well, it is time to send this to the proofreader.
Please love one another, Mom and Bob [Queen and Bobby]
"The most important thing I have learned over the years is the difference
between taking one's work seriously and taking one's self seriously. The
first is imperative, and the second disastrous. "
- Margot Fonteyn