This is a close up of a pansy blossom outside our kitchen door.
We sat up in the tent this evening and had a small dish of ice cream and our coffee. There is usually a breeze up there. It started to rain and not wishing to get soaked, we headed back to the front porch.
My arms are tired tonight. I have been swimming at PMPA for well over 50 years. Lee Bollinger told me he remembers me taking swimming lessons from Tootsie Steinmetz (nee Olivia) while he was a lifeguard up there so that goes back quite a long while, probably in the 1950s. Here is his reply.
"Hi Bob,

The year was 1952. Lifeguards were Steve Honzo, Bob Blank, Bob Mendsen,
Dave Haslam, and Dave's sister, but I can't recall her name, and myself.
Norm Kresge was part time lifeguard, ticket collector and groundskeeper.
Paul Ziegenfus was a refreshment stand employee. The office GIRLS were
Betty Jones and Helen Stefko. Arleigh Leikel was head of maintenance and
Bill Wilhelm's boss or so he thought.

Lee"
I checked with Lee and I must have
learned to swim at 26 years of age.

Tuesday, May 25, 2004 7:20 AM 61 deg at LVIA and 63.5 in the bus stop
The glucose level was 158 but the weight stayed at 202 this morning. I am using a new bottle of test strips.
We went for a walk this morning. We met Marlene and Lee Bollinger as we walked. It was a great day for a walk. The humidity is down and it is very comfortable walking.
Earlier I sat up on the park bench. It was comfortable there. As I say it is a great place to sit and think.
Once again, I am writing my comments on the world's events. One must realize we are at war. Not everyone does. Assessing blame has taken place since man walked this earth. I think it more important to look at the kind of war in which we find ourselves. I believe until the western world realizes what is actually taking place, not much good will be accomplished. It is more than just good vs. evil or all caused by the wicked greedy Americans, as many would have us think.
What those in Europe and the west don't realize is that if we, as the strongest, are defeated, they are next because they, too, are a free society.
The follow up real question is, what is the best way to beat off this challenge? What do we do next? Obviously cutting and running does not solve the problem. It will return even worse. I think we can expect a Spanish style attack here in this country just before the election for the same reason. It worked in Spain. However, I think they underestimate us Americans. We are a different breed. Yes, we are made up of an amalgam of virtually every culture on earth. We are not Germans, French or any other racial entity. We are Americans. This is truly the "melting pot" at its best. This has been proven repeatedly. Once we recognize that we actually are Americans, we behave far differently from our original roots. Americans are in fact, a different breed of animal.
A free society, American or European, is a complete anathema to the Moslem world. Thus, their clerics have made it a "Holy War".
To me, it boils down to the fact that the mid east Moslem cultures fear us because they fear their culture is threatened by the Americanization and emancipation of their women. They do not want them subjected to western ways. A free woman's life in their society would force the men to lose control of their social structure of complete domination. Thus they have every reason to fight it tooth and nail. There have been Moslem women who were exceptions to this, but I suspect they are token and allowed to happen. They are rare. Were they to win, you can bet all American women would wear those unshapely Burkas damn fast!!
I watched the President's speech the other evening and I think his overall plan is a coherent one, however, it is in a state of flux as circumstances change I think he has an overall plan. I certainly have not heard anything better from Mr. Kerry!!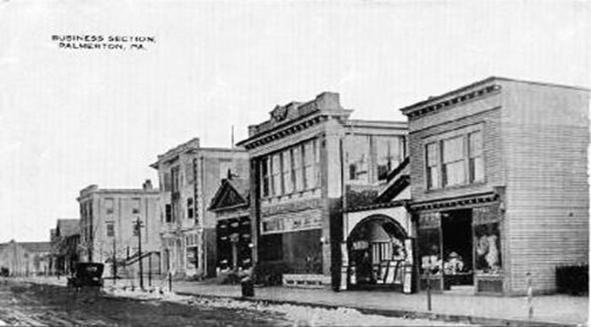 Here is an old picture of town

This morning we went up to Big Lots for a look around. Then this afternoon I called the pool and Larry was there doing paper work. Come on ahead so I went up for a swim. Jean Stemler was there also. I stopped between laps and spoke with her for a time. We both love that place. She is very active in lots of sports but she said she loves swimming best of all. Amen!! I told her that I am trying to become more aware of my surroundings and am trying to look at the innate beauty that is all about us. On the surface up there it all looks the same. Nothing has changed. Oh, but things have changed. The trees have grown taller and the general area has many different features that are not readily apparent, if we but look.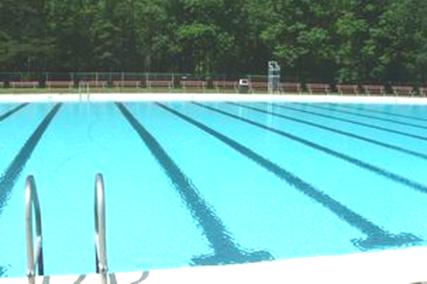 It is crystal clear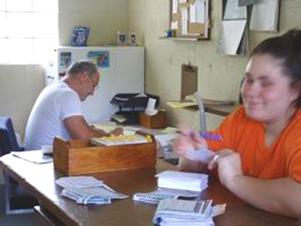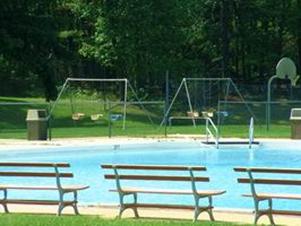 The never-ending paper work

All is in readiness.
I decided to go at it a bit harder today in my swimming. I swam my 5 laps and then rested. After that I went up to 10. After a short rest I swam six more. I am gradually improving. I found that the first four laps my arms were like lead weight, then
when I got past the first four laps things began to loosen up a bit and it was beginning to get easier as I went along. The arms are not sore tonight. The problem never was in the strength department but with endurance. The old geezer runs out of steam. The old boiler does not get back up to full throttle until the next day. However, I do know the more I do, the more I can accomplish!!!
Here is a site where you are able to view the public papers of all the presidents of the United States of America.
http://www.archives.gov/federal-register/publications/presidential-papers.html

Wednesday, May 26, 2004 7:18 AM 61 deg at LVIA and 60.6 in the bus stop
The blood glucose level is 150 the weight 202. It looks like it could pour any moment outside. Butternut was out but not I. As soon as the coffee is ready we will both go out.
Golly I had to take an umbrella to go up to the tent. He wanted back inside. Smart dog.It was great sitting up there with the rain falling on the roof. Since it hadn't start to blow and rain hard, I was able to enjoy my 8 O'clock coffee. All of these are some of life's little bonuses that many ignore or take for granted. Hey it is later than you think!!! Try sitting five feet from a graveyard for some perspective on life!!
As I sat up there I can see that the grass will need mowing again soon. I realize that the mowing is very much a necessity but it really is the little touches that Queen does is that
makes the place look nice.
From trimming the dead blossoms the removal of old growth on plants and shrubs to her picking up of Butternuts recycled dog food are really the touches that gives the place the appearance that someone lives here who really cares.
I really feel good this morning after yesterday's swimming exercise. Gradually my endurance will improve with time. The only way to achieve it is to do it. However not too much too soon is a good motto. I have found that 20 laps every day will be plenty for the old man. Other "old men" swim up there but there aren't many. At 77 years I don't have to prove a damn thing to anyone. I do it because I love swimming and the water in general. The fact that it is good for me is a pleasant bonus.
This afternoon at 1:30PM I go back to the audiologist in Lehighton for another adjustment of my hearing aid. I do have a few issues I hope she can resolve.
We stopped down at the The Times News this morning on the way home from Queen's visit to Rite-Aid for a prescription. We saw Pattie and the girls, Linda and Sharon as well. Joel was out.
This afternoon we went to Lehighton to Beltone for the hearing aide adjustment. She really helped one problem. She said that I had a lot of wax in that ear up against the eardrum and it needs to be cleaned out. I go to Dr. Nicholson's this Friday to see the nurses. I shall ask if they can remove it. I must say that my hearing is noticeably improved thank God!!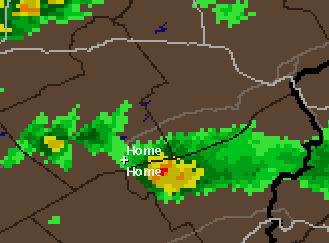 We are having a thunderstorm as of now. 8:00 PM
Queen is making out our shopping list for tomorrow.

Thursday, May 27, 2004 7:18 AM 61 deg at LVIA and 660.6 in the bus stop.
The blood glucose was 142 and the weight 202. It is very wet outside this morning. I took the garbage to the alley just in time.
We went for our morning walk first thing. It must have rained quite a bit over night. I haven't installed my rain gauge yet so I don't know how much we got here.
We will be leaving shortly for our weekly food-shopping trip.

<Later> We were back home by 11 am. It was not crowded at all for our trip. We stayed out of Walmart. That is why we are home sooner.
Later this afternoon I decided to cut the grass. Queen was cleaning up the yard as well as watering the plants. George Ashman was over in the graveyard cutting weeds using the electric weed whacker and generally cleaning up the place. As usual with me it was work awhile loaf awhile. It certainly looks better now. Tomorrow after I get back from the Dr's office, I want to use the weed whacker on our place. We are beginning to get poison ivy coming up all over the place. I learned my lesson and I am not going to pull it out or cut it by hand but I found that if I keep it whacked, I am able to stay ahead of it.
Tonight for supper we had a filet of salmon, a baked potato each, green beans, tomatoes, cottage cheese, and a cup of 8 O'clock coffee and some of her peach cobbler with a dollop of ice cream on it. That we consumed on the front porch. Then we went up to the glider for a wonderful hour of conversation and just rocking and holding hands. Hey it doesn't get any better than this.

Now this really is on the mark. It is an editorial in the Wall Street Journal. It addresses a serious flaw in our society today and is right on the mark!!!