Founded December 17,1912 Ceased Publication Thursday February 1, 1951

Book 1 Volume 31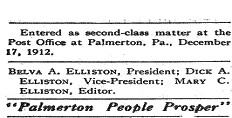 Our Butternut
This is copy of Volume 31 re-worked with Nvu
At this time I want to acknowledge the deep debt of gratitude to all those who have supported me in this endeavor. My wife Queen is my mainstay and greatly augments my efforts. I realize that I sometimes must drive her nuts with my ravings and antics. Her support has been my backbone.
My son George, grandsons; Andy and Jason have been instrumental in making these things appear at all. They all suffer an old fool well, my thanks to them all. I also deeply appreciate the responses from my readers. I regret that some still have problems opening the pictures. The responses from readers have been wonderful. I appreciate you all. Bob




Saturday, June 19, 2004 7:15 AM and it is 70 Deg at LVIA and 70.1 in the bus stop.




It looks like a great weekend weather wise coming up. Last night Fritz called to inquire about a potential visit and swim today. It sounded great to us. We promptly invited Tommy for dinner. He is going to Portland, Pa today to dig for Indian artifacts with his friend Don Kline, the noted archaeologist.




This morning the blood glucose was 129 and the weight 200. We went for our walk this morning. It was the first in three days. The humidity precluded that for the last few mornings. It was wonderful to be able to get out. The hot humid weather makes Queen a virtual prisoner in our house with the air conditioner in full time use.




Queen wants to go to Super-Fresh this morning to look for the strawberries they will be having on sale.




It was beautiful up in the tent this morning. This has been a marvelous growing season. The flowers that we planted up near the "tent"[park bench area] are really beginning to do what we planned for them. They look great from up there

.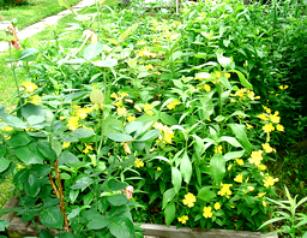 I really don't know what these yellow flowers may be, but they are growing in profusion this year.
I sat up there in the tent this morning with my first cup of morning coffee contemplating life. I remembered one of my early lessons in "obscene profits". Back in the late 1950's my bother Dick and I were out at the cottage that used to be Dr. Rosenberry's summer retreat at Fernbrook servicing a TV. After his death it had been sold to a man from Philadelphia who ran a metal products company. He and his "friends" came up here weekends. We were out there repairing the television set. One of his cronies noticed the cigar in my uniform pocket and was obviously dying for a smoke. He offered to buy it from me for $5.00. My God it was a Philly cigar that I paid a nickel for in the first place. Had he phrased it differently I would have given it to him. Of course I sold it to him!! I learned a valuable lesson as another part of human nature.

We just got back from Super Fresh with our strawberries and a small turkey breast that Queen is planning to have tomorrow for dinner. Sharon Minnich was there also shopping for a Father's Day dinner. The store was busy with shoppers.
After lunch I went up to the park bench with my cinnamon tea. Queen later joined me and we just were able to sit, rock, and talk. Life is indeed good.

Today is the big car cruise downtown, except that the cruise part of it was canceled due to behavior problems of some unruly entrants. The town is inundated with cars of all descriptions. It is a big thing with car lovers. Me, I could care less. I have my own foibles.

This afternoon after 3 PM, Belva and Fritz arrived and we all went to the pool. The water was 76 degrees and the swimming was superb. Queen and I water walked and it was like old times walking with her there.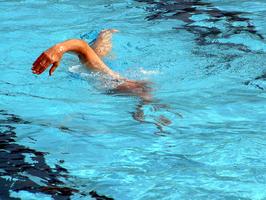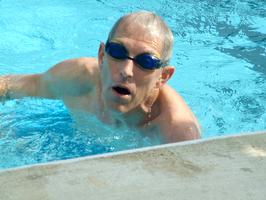 Fritz's broken arm swim style is unmistakable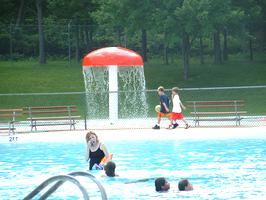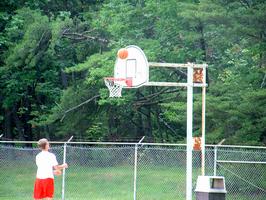 The mushroom and basketball court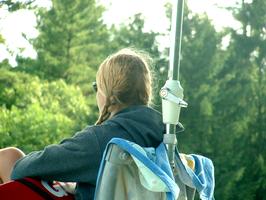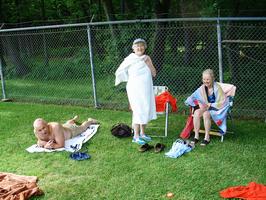 Our lifeguard Tommy, Queen and Belva

When we got there George Ashman was talking with Doc Cyr. We all joined in and had a great conversation. I went for a swim and was followed a bit later by Fritz. George and Howard left. I saw Tommy arrive as I was swimming my laps.

Then we all had dinner in the bus stop and were able to converse with dessert on the front porch. Queen and I really enjoy these times. This is family and all enter in the conversation. Tommy was here also, Hey he is practically family anyway, whether he likes it or not!



Sunday, June 20, 20047:21 am, 54 deg at LVIA and 54.3 in the bus stop
I is a beautiful Father's Day this morning. But the best part was the families get together yesterday. Father's day is fine but it all hinges on family.
The blood glucose this morning was 127. I am a lucky man and I know it. I enjoyed my coffee at the park bench and Queen took her shower.
Now at 11:24 AM we are back from our walk and will be going to Walmart soon for a few items.
We were able to accomplish our objective and were back in about an hour and a half.
About 3 PM I went to the pool for my swim. George was there. He was shortly followed by Doc Cyr. Tommy came and we all sat around and had a great time. Doc and George solved all the borough's problems as well as Doc supplying George with a few "suggestions" for the "enrichment" of his life and reducing his wealth all at the same time. Doc is always so understanding in looking out for George's well being!! Ha!
Tommy was over for supper part of which he supplied and then we all sat on the porch and had our dessert and talked.

Monday, June 21, 2004 64 deg at LVIA and 50.9 in the bus stop
It is a sunny cool comfortable day today. This morning the blood glucose was 112 and the weight 202.

This morning up on the park bench I could hear the beeps of heavy equipment's back up warning signals. The men arrived in force to start up at the Duris lot. The company is from Syracuse, N.Y. Now I suspect they do not drive down here every morning. I do not know who
owns
the lot . Some of the men had white uniforms and looked like environmental protection suits. Who knows working here in this dangerous "Superfund" site must require extreme measures to protect the workers! Golly how I survived 77 years right here is beyond me. Sheez!!! By mid morning in full sun the suits disappeared. Ha!!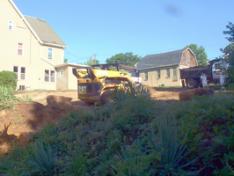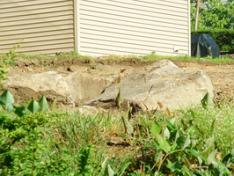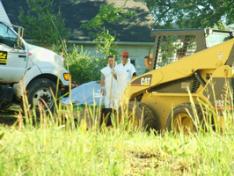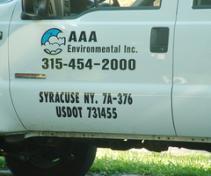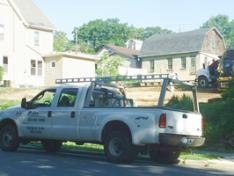 We went for our walk and I took these pictures. Later I went for my swim. It was marvelous.

I got this from Russ Howell in Texas. I am not a big golf fan, but I do occasionally watch it and like anything else, it is difficult to do well.
The following is not intended to offend fans of tennis, basketball, football or baseball. It is, rather, an attempt to put everything in its proper perspective...
Ever wonder why golf is growing in popularity and why people who don't even play go to tournaments or watch it on TV? The following truisms may shed some light:
Golf is an honorable game, with the overwhelming majority of players being honorable people who don't need referees.
Golfers don't have some of their players in jail every week.
Golfers don't kick dirt on, or throw bottles at, other people.
Professional golfers are paid in direct proportion to how well they play.
Golfers don't get per diem and two seats on a charter flight when they travel between tournaments.
Golfers don't hold out for more money, or demand new contracts, because of another player's deal.
Professional golfers don't demand that the taxpayers pay for the courses on which they play.
When golfers make a mistake, nobody is there to cover for them or back them.
The PGA raises more money for charity in 1 year than the NFL does in 2.
You can watch the best golfers in the world up close, at any tournament, including the majors, all day every day for $25 or $30. The cost for even a nosebleed seat at the Super Bowl costs around $300 or more, unless you buy it from scalpers, in which case it's $1,000+.
You can bring a picnic lunch to the tournament golf course, watch the best in the world, and not spend a small fortune on food and drink. Try that at one of the taxpayer funded baseball or football stadiums. If you bring a soft drink into a ballpark, they'll give you two options -- get rid of it or leave.
In golf you cannot fail 70% of the time and make $9 million a season, like the best baseball hitters (300 batting average) do.
Golf doesn't change its rules to attract fans.
Golfers have to adapt to an entirely new playing area each week.
Golfers keep their clothes on while they are being interviewed.
Golf doesn't have free agency.
In their prime, Palmer, Norman, and other stars, would shake your hand and say they were happy to meet you. In his prime, Jose Canseco wore T-shirts that read "Leave Me Alone."
You can hear birds chirping on the golf course during a tournament.
At a golf tournament, (unlike at taxpayer-funded sports stadiums and arenas) you won't hear a steady stream of four letter words and nasty name-calling while you're hoping that no one spills beer on you.
Tiger hits a golf ball over twice as far as Barry Bonds hits a baseball.
Golf courses don't ruin the neighborhood.
And Finally: Here's a little slice of golf history that you might enjoy:
Why do golf courses have 18 holes - not 20, or 10, or an even dozen?
During a discussion among the club's membership board at St. Andrews in 1858, a senior member pointed out that it takes exactly 18 shots to polish off a fifth of Scotch. By limiting himself to only one shot of Scotch per hole, the Scot figured a round of golf was finished when the Scotch ran out. Now you know.
Bottoms up!
This article certainly makes a lot of sense to me. Watching someone like Tiger Woods play is a real treat. I would never last at the game. My fuse is too short. Hell I can get angry at home without going out on a golf course and making a complete A-- of myself.
I went for my afternoon swim about 3:15 PM. I didn't see George Ashman there at all. Romaine Beige was just finishing her laps so I availed myself on the lane she just vacated. I swam 10 laps and rested before finishing the second ten laps. By the time I was finished George had arrived. We chatted for a time and then he had to leave for a meeting tonight. He got a case of Poison Ivy while pulling weeds at the Walnutport Canal Associations clean up last Saturday. I will not pull it out anymore but I will use the gas powered weed whacker and keep it in bounds.

We got a pair of solar powered lamps to place at the steps leading up to the house. I put them in the ground but they were too low with all the foliage. Today I rigged an extension on their shaft holding them upright. It seems to be satisfactory now.

Today being washday we dined in God's restaurant this evening. Wonderful!!!!

Here is a site one may find very interesting. It is a site where one can obtain information about all the museums of the world. It is an excellent site.
http://www.museumstuff.com/

Tuesday, June 22, 2004 7:22 AM 68 deg at LVIA and 66.7 in the bus stop
The weight this morning is 202 and the blood glucose is 126. With these new test strips, it is consistently lower.
Due to the increasing humidity we only went for a short walk this morning. Now it is raining. I suspect the entire day will be showery. We noticed in the course of our walk that the people up at the Duris lot were cutting away an opening from the street for a driveway.
They removed the sidewalk in whole blocks and stored them to be reused, as needed.
This was not the gang that was there yesterday but a man with a blue backhoe who had worked often there in the past.

We went downtown this morning and went into IGA for a few items. We stopped for a moment at the TN for a quick "hello". All were busy as beavers there.

George was out on the church bank with the electric weed whacker. He was driven in by the earlier rain but now is back finishing up the job. I called the pool this afternoon and as I suspected it was closed.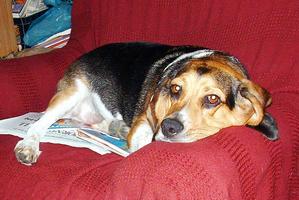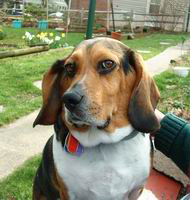 Now he has it made!! It is nice of Fred to let us live here. Ha!!

Tonight we had our supper out in the bus stop in the rain. As usual it was first class.
After we ate we sat up in the "tent" with our coffee and shared dessert. During dinner Butternut is under the picnic table watching in case something happens to fall his way. While we are up in the tent he lies under the bench we moved over from the east side of the house. This sheltered him during the light rain we were having. Now Queen is washing the dishes and my turn will come soon to dry them.

Earlier I got an e-mail from my Delaware experts concerning the progress of the other computer. They are good at keeping me informed as to the progress of the repairs. They found a ton of obsolete files and useless stuff that they removed. It will come back a much leaner machine. Oh it won't take me long to fill it up again. <Sigh>
Now the sun is out and it looks beautiful.



Wednesday, June 23, 2004 7:11 AM 64 deg at LVIA and 64 deg in the bus stop.
This morning the blood glucose is 114 and the weight 201. It is a cloudy morning today. It is still rather humid but better weather is predicted as the day wears on.
I saw Lee Bollinger on his walk while I sat drinking my 8 O'clock coffee up in the "tent" this morning.

The men with the backhoe are up in the "Duris" lot working at cutting a driveway and foundation for the new house being constructed.


This morning I noticed the Gloriosa Daises are blooming now. They are just beautifu
l.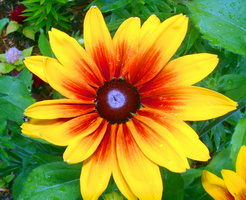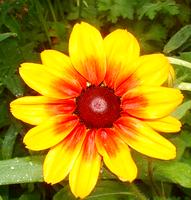 There are several varieties of Gloriosa Daises in our flowerbeds
We went for our walk this morning and in the course of our travels we met Frank Johannes who lives next door to the new construction site. Now it is clear what is going on. Apparently an environmental test and remediation is being done in the area. If a property is "contaminated," a special environmental company must clean it up before work can be completed and certified as clean. This property was considered "contaminated" in the front but not in the back thus the men in the space suits for the last few days Geez!!

Here I am, a medical marvel, having been born and raised in the house we live in now and have lived here all my life and still alive at 77 years of age. <Grin>
This living in a Superfund site is a double-edged sword. I know Tommy has spoken about people who he has delivered furniture to who swear they would never live here in this polluted environment. I suspect they are surprised he actually seems normal in appearance. No extra arm or two heads. Ha!! I strongly suspect someone is making a pile of money out of this clean up stuff.
Golly when I closed my doors of my television service and repair business in the 1980's I had customers then who were dying to live here in this area who were coming from New York City. I recall a man who ran a small butcher shop in the Bronx who bought a cottage on Kingswood Lake up near Kresgeville, Pa. That lake was about the size of a postage stamp and he thought it was truly paradise. He was a nice old man and I liked him.
I met and served a lot of very nice people in my business. I really do miss the contact with people. One can become quite a student of human nature that way. For one thing when you are in their homes and working behind the TV you almost become a piece of furniture as far as they are concerned. This is the best way to view people as they really are. Some put on "airs" but most were themselves, warts and all. It was a great experience.
However some of the New Yorkers I dealt with seemed to represent some of the worst features of city life. They seemed to import a lot of city problems. Those folks can think Palmerton is Death Valley for all I care.

This was a great morning to work outside. Queen was busy trimming dead blossoms as well as her general area clean up. She cleaned off the new potting table and now thanks to her one can actually see and use it. She organized and put other equipment into boxes and piles. It looks 100% better now.

I went down to Shea's and got some bug powder to put on the tomato plants. I saw Tommy Ziegenfus, a retired telephone lineman, there and we spoke. Some of the tomato plants were developing curled leaves. I applied that stuff and then cut the grass. As usual I took several breaks. At times I was able to sweet-talk Queen into sitting with me. We both took rest breaks. After this I fed the tomato plants for the week.

This afternoon I went to the pool and had an excellent swim. There was a goodly crowd there today. Larry was installing the signal flags used in swim meets. Those will be forthcoming soon. When I got there George was not there so I parked myself on the near side of the pool and swam my laps. George arrived while I was swimming and I went over to talk with him after my swim. He still has his Poison Ivy but it seems better. There were lots of regulars there swimming while I was there.

Tonight we had dinner in the bus stop and then had coffee and dessert up in the "tent". We sat there for well over an hour. We were just drinking in the beauty and having an excellent conversation. Honestly since we got the tent I have spoken with her more than I have in a long time. We both love it!!!



Thursday, June 24, 2004 7:09 AM 59 Deg at LVIA and 60.2 in the bus stop
The blood glucose was 121 and the weight 202. It is a bit hazy this morning but otherwise seems OK. We plan to do our shopping this morning.
I sat in the tent for my first cup of coffee and then Queen reminded me about taking the trash up to the alley. After that we went for our morning walk.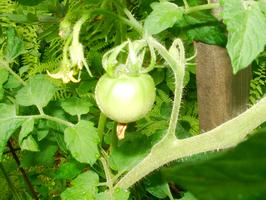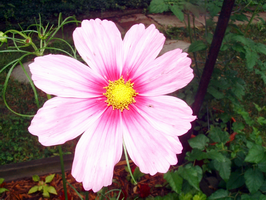 There is one of my first tomatoes as well as a Cosmo bloom
It was great just being able to walk together. It was very comfortable walking. Once again we met Frank Johannes as he was walking. He asked if we went to the festivities at the fitness center yesterday. I forgot all about it. They were having a first year party with refreshments. Now that the pool is open that is my first love. I do feel better since I have been swimming regularly. It is going better and better. I have to put some more capital back in what I call the exercise bank. I draw down on it all winter.

Apparently these environmental people are all over town cleaning spots deemed by the government as dangerous. Imagine that!

We are back from our shopping trip well before noon. We got an early start and kept out of Walmart.

I went for my swim this afternoon and it was an excellent swim. It is getting easier as time wears on. George was there but had to leave for an early evening meeting. On the way home I saw that they were removing the ground at what I refer to as the Clayton McFarland property at 3rd Street and Princeton Avenue.


Here is the scene at the Duris lot.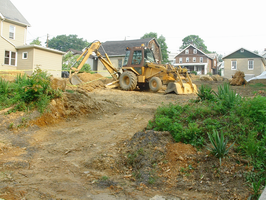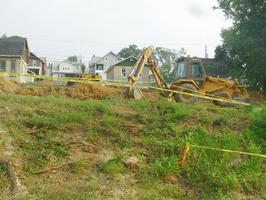 When I got back Queen was busy still going through old financial records and eliminating really old stuff. So I made the supper. Afterwards we had dessert and coffee up in the" tent" until about 7PM.
I came across some old pictures this evening I shall share with you all.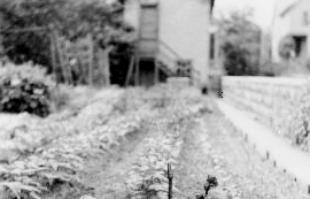 This is a picture of how my Dad's garden grew back in the 1940's

Friday, June 25, 2004am 7:22 63 deg at LVIA and 66.2 in the bus stop
Today the blood glucose is 132 and the weight 202. It looks like there will thundershowers today.
We went for our walk this morning. We met Frank Johannes once again on his return home.
Before breakfast and after our walk I raked over the part of the garden in the upper end of the property where I attempted to plant lettuce. I pulled it all out and planted grass seed watered it and covered it with burlap, watered it again and am now officially out of the "in ground" garden business. All my stuff is now planted in containers. That has been a study in frustration.

For some time I have been told about Dr. Cyr's latest construction project. It will be an entrance way into the property of Michael Carty. His home can partially be seen as one goes up Sand Quarry Road, next to Dr. Nicholson's place on Columbia Avenue. Access is gained by going all the way up 5th Street to the top and take a right turn and follow it out. There is a complex of several lovely new homes there. It is obvious that this is not exactly the low rent district of Palmerton.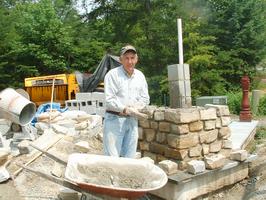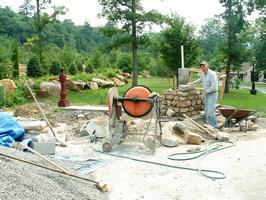 Howard is doing a first class job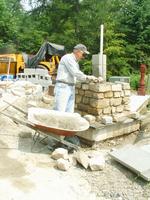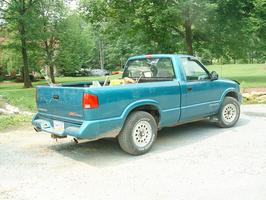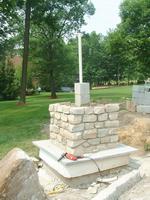 The left side His truck The right side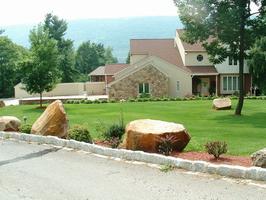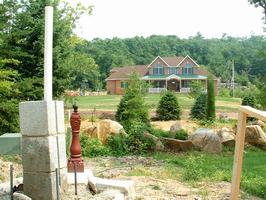 The Carty Home The Christman Home

Well it is time to end this weeks page and send it to the proofreader.
Please Love one another, Mom and Bob [Queen and Bobby]
"Actually, a government bureau is the nearest thing to eternal life
we'll ever see on this earth!"
"I have wondered at times what the Ten Commandments would have looked
like if Moses had run them through the U.S. Congress."
Ronald Reagan