Founded December 17, 1912 Ceased Publication Thursday February 1, 1951
Book 1 Volume 34
Original Volume 34 republished using KompoZer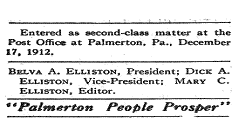 Our Butternut
At this time I want to acknowledge the deep debt of gratitude to all those who have supported me in this endeavor. My wife, Queen is my inspiration and greatly augments my efforts. I realize that I sometimes must drive her nuts with my ravings and antics. Her support has been a lifesaver.
My son George, grandsons; Andy and Jason have been instrumental in making these things appear at all. They all suffer an old fool well, my thanks to them all. I also deeply appreciate the responses from my readers who seem to enjoy the pictures. I regret that some still have problems opening the pictures. At least these pages don't have to stand on their literary merit alone. Ha!!

Saturday, July 10, 2004 7:28 AM 59 Deg at LVIA and 59.2 outside
Here
a new week is
beginning for these epistles. It looks like a nice day today. My blood glucose was 121 and the weight 201. Golly but what I time we have had. Yesterday just before we went to dinner at George's house Queen discovered the refrigerator was defrosting and everything in the freezer part was beginning to get soft. This meant a lot of scurrying about moving things to the fridge and freezer in the basement. George took some of the perishables and put them in their fridge down on Lafayette Ave.
This meant an emergency trip to the store for ice for the cooler chests as well the present refrigerator to use as a cooler. This morning the man came with the bad news. The compressor is shot. The good news is that it is under warranty. We should have it next Thursday. <Sigh>
<11:17 AM> I am back from my swim. The water was wonderful. Fritz was there as well as several other swimmers. I saw Betty Steigerwalt up there. She too has had her health problems but she is still plugging along. She told me our old friend Helen Wisocky has great problems walking now and is afraid she will fall if she tries to walk down to the pool. That is a real shame. She is a wonderful person and she loves that place so much.
Fritz was here for lunch. I had to go down to Lafayette Avenue to get the cold meats for lunch. Later George and Kathy stopped by on there way back to Delaware.
I went back to the pool for a quick dip and to take a few pictures. I tried something new. This camera is capable of taking video. So I took a few shots of some of these same kids in action. It would be nice if there were a way to display some of my better efforts on these pages. We shall see.
Then I returned to help with supper.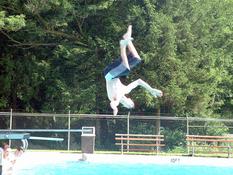 `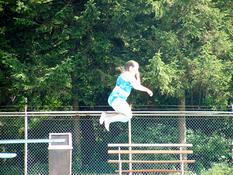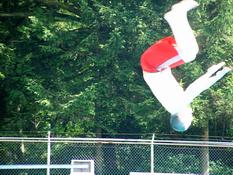 The kids are having a ball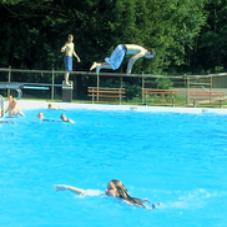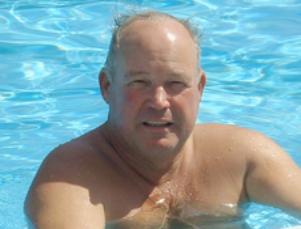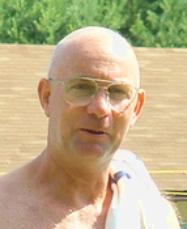 Keith Billig and Tommy at the pool today
Tonight we invite that near famous Indian artifact archaeologist or scavenger Thomas P. Davies to dinner. Afterwards we had a great time sitting on the front porch talking. Queen and I always enjoy the fine company.

Sunday, July 11, 2004 7:10 AM 64 deg at LVIA and 61.5 in the bus stop
It is a sunny warm day this morning. It is neither too hot nor uncomfortable as yet. The blood glucose was 145 and the weight 200.
This morning Queen wants to go to Walmart. <11:37> We are back. It was a hot trip coming back because the sun heated the inside of the car. By the time the air conditioning became effective we were in Bowmanstown. The store was not too crowded.
I saw our neighbor Dee Miller there. She had to quit her job to take care of an aging relative. She says she misses it a lot. Hey you do what you have to do!!!

Boy, Oh boy, now I really understand the old tale of not missing the water until the well runs dry. We really miss a fully functional refrigerator-freezer in the kitchen. As of now we have a glorified Maytag icebox. This morning on the way home from our shopping trip I had to stop at IGA for another large bag of ice. Oh it keeps the produce cool and other non-critical items but things like luncheon meat and other perishables must be retrieved from the basement fridge.
I remember as a kid we had a Frigidare refrigerator with the compressor in the basement. It used ammonia as the refrigerant. One day it sprang a leak. Whew!! we evacuated the house fast! But we also kept the old icebox we had on the east side back porch. Mom used it in a pinch. I well recall as a kid chasing after the iceman who came by every day with big chunks of ice. We kids would beg for a sliver of cold ice. He would take a large chunk to a customer's house using large ice tongs. We were not beneath using his ice pick and help ourselves. Sometimes, he would shaft us by taking the ice pick with him. Boy on a hot summer day that was great stuff.

Monday, July 12, 2004 7:15 AM 70 deg at LVIA and 67.8 in the bus stop

It is raining heavily with a strong thundershower this morning. It is probably just as well that Queen isn't up yet because I am sure she would have questioned my sanity by my taking an umbrella and my trusty cup of 8 O'clock coffee up to the tent, in the pouring rain. Man it was raining pitchforks and hammer handles. Yes I got wet but it was worth it. I loved it! Hey sometimes things in life that are free are worth it even if they are nuts I still do them. I wanted to listen to the rain on the tent. I went up there in spite of the rain and it was well worth the discomfort.


This morning the blood glucose is 128 and the weight 201.

<4:00 PM> What a day this has been!!!!
This morning my blank checks arrived and I had to pay some bills. One of which is for my cable internet. That one is absolutely essential to me. Ha!!


Then we went to Super-Fresh for 8 O'clock coffee that was on sale. Upon returning I discovered that I had forgotten to get more ice so I had to get the car out again and it was down to IGA for ice. Then also stopping at George's place to retrieve the rest of our food from their fridge. I shut it off unplugged it and let it set with the doors ajar.


Since it was pouring rain about as hard as it could I figured an umbrella to be virtually useless to me. So I wore my big yellow poncho like slicker. That enabled me to move about in the rain with both arms full of stuff. It was hot and sweaty. By this time my feet were about as wet as they could get! Nonetheless going into George's house in a pouring rain I caught the heel of my shoe on the screen door and on the poncho as well and promptly walked right out of one of the shoes! By now I had the feeling that things were not going too well. When I got home I told Queen and she asked me if I swore? I said no not very much. I think I referred to the "parentage" of the sneaker; but by now I had reached a level of frustration that not even swearing helped. After a temper outburst she often asks me "did that help"?
My inevitable answer is always your damn right!! I got everything home and Queen and I found a place for it all.


Queen in addition to putting up with my ravings was doing a big wash. Yes today is the dreaded sheet day so the beds had to be made also. We are both dead tired. It was almost supper time before she finished the last of the wash.


This morning I also I called the bathroom people to find out when we are scheduled for that job. Instead of a couple of weeks as the man said it might be at the end of July or early August. <Sigh>
I see that Ada Webb died. She had a massive stroke last week. She was 96. The "pollution" finally got her. Golly she was cut down in her prime!!
Tonight for supper due to the problems of the day instead of spaghetti, Queen had a tuna noodle casserole. Boy it was good!
Tuesday, July 13, 2004 7:14 64 deg at LVIA and 64.2 in the bus stop.
There are times that I really miss this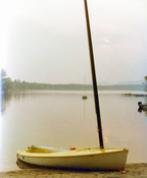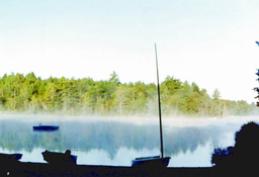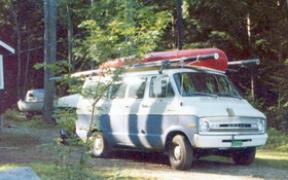 My Flying Fish Mist in early morning on Sturtevant bay The truck fully loaded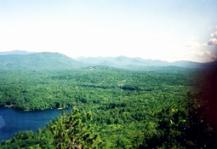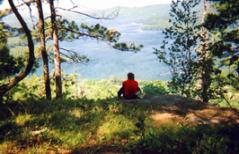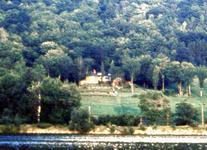 Squam Lake from Red Hill Nancy on Red Hill overlooking Squam Cotton Farm on Bean Road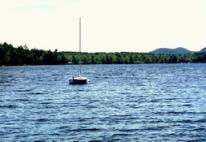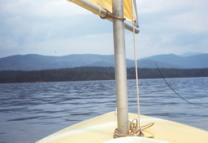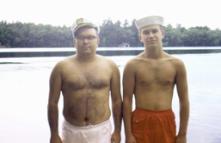 Boat moored in Sturtevant Bay The Sunfish at Kent Island Bobby and George [many moons ago
]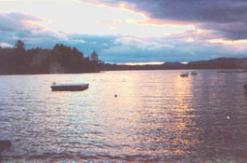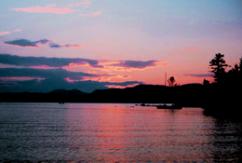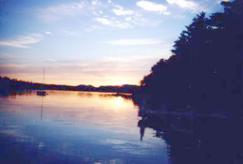 Sturtevant Bay at sunset
Tommy and I would pack up and leave after he got off work at the Zinc Company at 5 PM. We left about 5:30 or 6 PM and got up to the lake about 3 AM. That was quite a trip.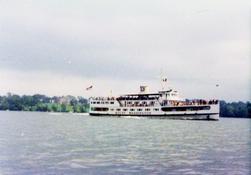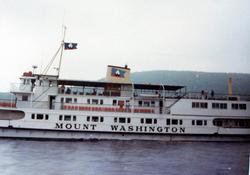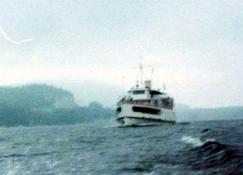 The MV Mount Washington on Lake Winnipesaukee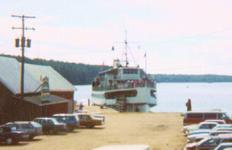 Docking at pier in Center Harbor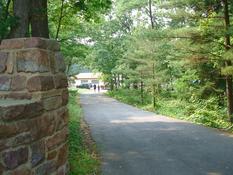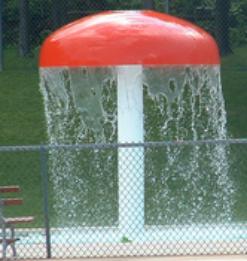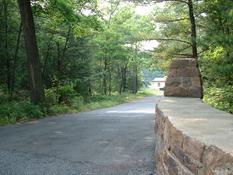 But then I still have this!


I went for a swim this afternoon about 3:30. Since I didn't have a swim yesterday it went very well today. A day's of rest helped in the steam department.
After I got home from the pool I had to go back to IGA and get some more ice. Queen called the store and the compressor had came in but he still won't be able to do it until Thursday. <Sigh>

Wednesday, July 14, 20047:16 AM 64 deg at LVIA and 65.4 in the bus stop
.
This morning the blood glucose is 122 and the weight is 201. It looks like a cloudy day this morning.
We went for our walk about 8AM. It looks like rain and it is prominently displayed on the radar of approaching storms.
At Queen's prompting we took the garbage to the alley early and then I got the car out. I probably will have to get more ice today sometime.
I went downtown to get more ice and stopped in at Sharon's office and left a bunch of recipes plus a large Zucchini. Then I put the car back in the garage. It looks like it could pour at anytime. A swim is in serious doubt today. A flood watch has been issued for this area. However, it is lunchtime now.

This afternoon I checked my cable modem speed and found it was 2434.2kbps
.
That in not too shabby a speed. The test is at
http://reviews.cnet.com/7004-7254_7-0.html
Supper is over and it was excellent. We had some of Mike's corn from the corn barn. It was very sweet and tender. I don't recall having any better at anytime.

I got this from Bob Green: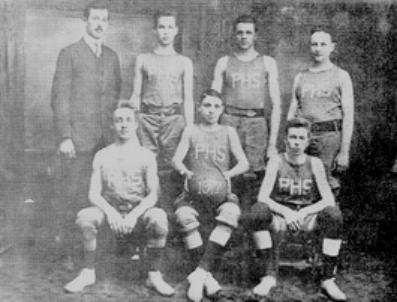 Queen is at her computer and I am busy with this thing. Supposedly the weather forecast is for cloudy weather tomorrow morning. If that is the case we will be going blueberry picking once again this Thursday. We shall see. Later in the morning the repairman will be here for the fridge.

Thursday, July 15, 2004 8:44 AM 64 Deg at LVIA and 65.9 in the bus stop
.
I am late posting today because we went blueberry picking this morning. We were out there before 7 AM and were the first ones to arrive. It was like old home week. We met a lot of friends and readers of this web page at the same time.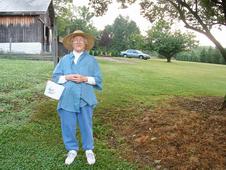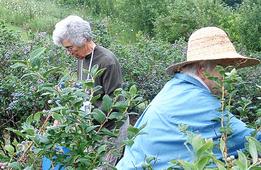 Queen with my oversize shirt Jean Bectholt and Queen picking berries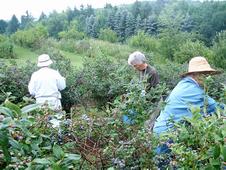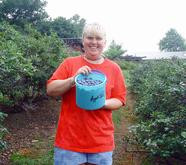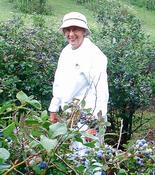 Reverend Doris Bray Jean Bectholt and Queen Sharon Minnich Reverend Doris Bray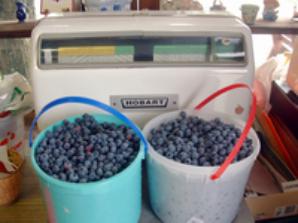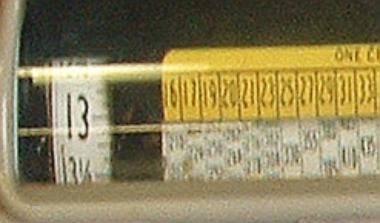 The final count was about 13 1/4 pounds for $10.75. We packed away 9 quarts.
At 9:30 on the button the refrigerator repairman arrived. Boy we were sure glad to see him! I hope it won't be necessary to be the iceman anymore!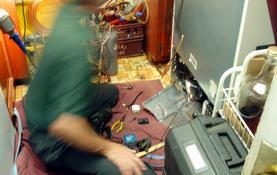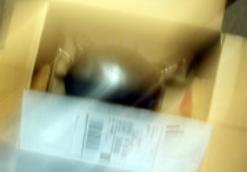 The serviceman hard at work The new compressor


<11:47 AM> The man just left and we now have a Maytag refrigerator and not a Maytag icebox. What a relief! Now I must bring up the stuff from the freezer and fridge in the basement after Queen cleans out the one upstairs. Then too the berries are now dry and we are packing them in boxes for storage downstairs. We are both going to be tired tonight.
We got a nice note from daughter Belva this morning. She too writes a nice newsy letter. It is always nice to hear from any of the kids.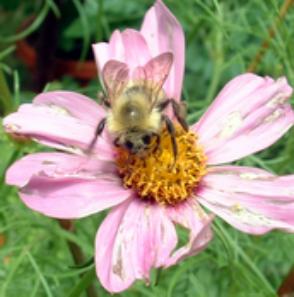 A bee on the Cosmos
The tornado yesterday in the Harrisburg area is big news today. We are relieved to hear this good news about our Granddaughter and family from Fritz tonight. We realized she lived in that general area but not exactly their location.
"Bob and Ruth,
Just a word to let you know that Ken and Julie and the girls are fine.
They live in Campbelltown just south of Palmyra, where the tornado hit
yesterday. They called us from a restaurant were they were having
supper, because the road to their house was blocked off, and I suspect
they stayed with Ken's folks last night. We still haven't heard whether
they suffered any damage, but we know that the worst damage - 30 houses
destroyed - was in a development about a mile away. I had been in
Baltimore videotaping children's stories, and I heard about it on my car
radio on the back; so, I was relieved to hear from Julie soon after I
got home.
Fritz"
I went to the pool this afternoon but did not swim. George Ashman was there and we sat and talked for a bit. It was chilly with a cool wind and when it started to spritz we both packed it in.
Tonight I made the supper. We are both tired so I made a quickie Mac and Cheese, breaded fish fillet each and stewed tomatoes. Then we had ice cream and coffee for dessert. Both of us are pooped. We sat up in the tent after supper and had our dessert but soon went inside.
Tomorrow instead of shopping Queen wants to finish bringing up the stuff from the fridge that is still downstairs. However this is enough for two old geezers today!!




Friday, July 16, 2004 7:11 AM 64 deg at LVIA and 62 deg in the bus stop
Today the blood glucose was 102 and the weight 201. I forgot this yesterday. It is cloudy here. I suspect showers are figured in the weather report today.
I was up on the park bench this morning enjoying my morning cup of 8 O'clock coffee. It is peaceful and very comforting to be able to just sit there and contemplate the coming day.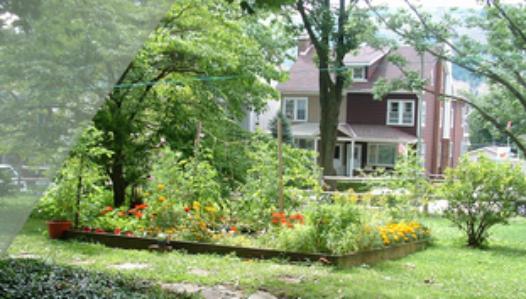 The view of our flower garden from inside the "park bench" tent.


It is wonderful to have a place of serenity and peace in which to simply sit and think a bit and get your head on straight.
We were both dead tired last night. After a good night's rest we both feel better. After Queen got up we went for our walk. We haven't walked like that for several days.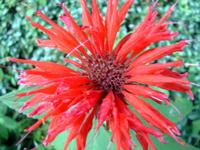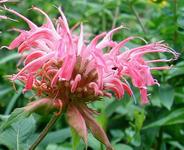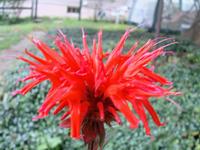 Queen wanted me to get some pictures of the bee balm. They are really lovely this year.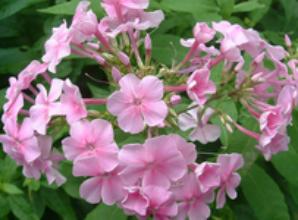 This morning Queen wanted to go downtown and we stopped at Shea's. While Queen was in Spillaine's store I waited in the car. A Ford van pulled in next to me and a young man and his small daughter got out and went in Spillaine's. As they entered the store I was struck by the expression on her face when she looked up at her Daddy with those big trusting eves that said, "Daddy you are the best Daddy in the world and I trust you completely". That was wonderful to see. There is a lot of beauty in this world if you just observe.


It is time to send this to the proofreader and then place it on line.

Please, love one another, Mom and Bob [Queen and Bobby]

"Praise is well, compliment is well, but affection - that is the last and final and most precious reward that any man can win, whether by character or achievement."
-

Mark Twain Quotation



"He has all the virtues I dislike and none of the vices I admire."


-Winston Churchill



"Some cause happiness wherever they go; others whenever they go."
-Oscar Wilde