This is a previous issue that has been re-worked with Nvu


Founded December 17,1912 Ceased Publication Thursday February 1, 1951


Book 1 Volume 37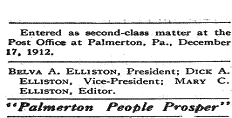 Our Butternut


The masthead appearing above is not an accident nor is it meant to be a gimmick. My dad, George R. Elliston was the editor, founder, owner and publisher of the Palmerton Press. I am trying in my own way to keep that banner visible to the world.
Below is the actual lead slug that was the masthead of the Palmerton Press in it's days of operation.



It now resides with son George R. Elliston 2nd

.
At this time I want to acknowledge the deep debt of gratitude to all those who have supported me in this endeavor. My wife, Queen is my inspiration and greatly augments my efforts. I realize that I sometimes must drive her nuts with my ravings and antics. However, her support has been a lifesaver.
My son George, grandsons; Andy, and Jason, have been instrumental in making these things appear at all. They supplied the technical expertise to put it on line.
Thank God, my mentors all suffer an old fool well, my thanks to them all. I also deeply appreciate the responses from my readers who seem to enjoy our view of life, dull as it may be, as well as the pictures of our town and home.. I regret that some still have problems opening the pictures. At least these pages don't have to stand on their literary merit alone. Ha!! Thank God!




Saturday, July 31, 2004, 7:18 AM 75 deg at LVIA and 73.5 in the bus stop.


It is another Saturday morning. It looks as though it may have rained last night. I shall have to check it out with Butternut when the 8 O'clock coffee is ready.
This morning my blood glucose was 130 and the weight 198. I am glad this it is so far so good in that department.

In the Bobby eat crow department here is my latest gaffe. The young lady below is our superb dental technician, DOREEN Johnson, not Darlene!! Gee Whiz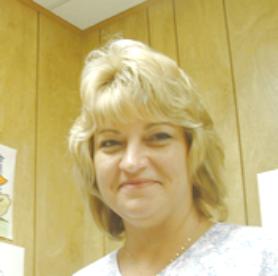 Then also I got this e-mail from Bob Green who filled me in on the details of the picture that the Historical society is raffling.



"Bob, I'm wondering if you realize a little background of that 1914 painting of the Palmerton Park.The original was a post card... I might have sent you a scan of it... (here it is again.) She really did a great job on the watercolor rendition. I've got a raffle ticket for it and hoping for a win! Bob Green"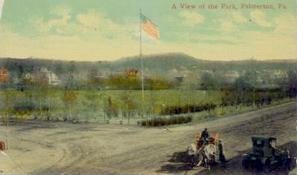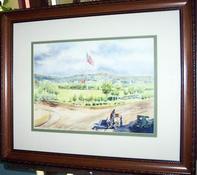 The original scene and the framed picture
his Vet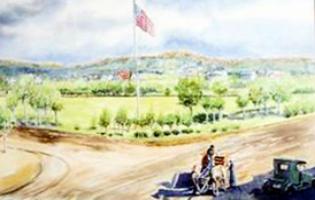 A close up of the finished picture.





We are busy this morning cleaning up the place. We got an e-mail from George and Kathy that we can expect them for a week visit this week here in paradise. That is good. Besides I have a lot of questions to ask him. Ha!!

After I ran the vacuum this morning Tommy and I went to PMPA for our Saturday morning swims. As usual it was wonderful. The lanes were well filled today. Marci Rehrig arrived as we were about to leave. The folks who really love the water always come out on Saturday mornings.

Meanwhile at the former Duris lot things have reached the point where I expect a very big crane and a house to appear on the site one of these days soon.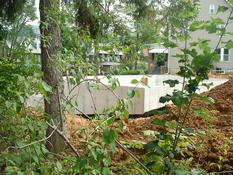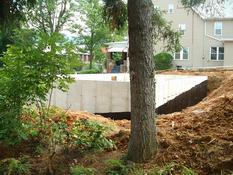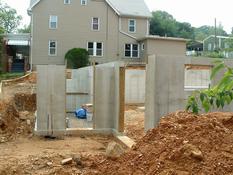 I see that the foundation is poured and ready to go





This evening Grandson David Elliston [Jack's son], and his friend Sara, visited us on their way to their vacation to South Carolina. It was good to see them again. We hadn't seen them since last year.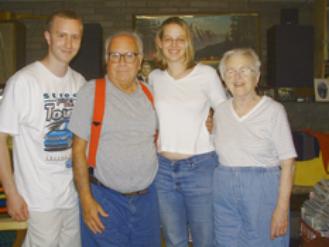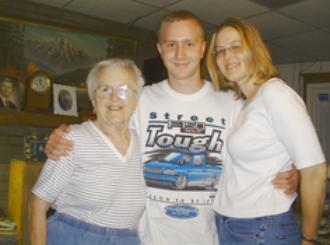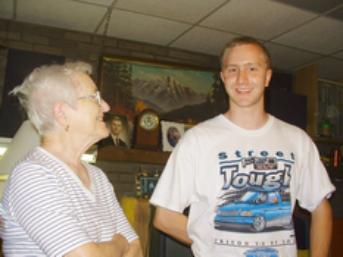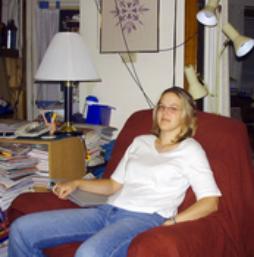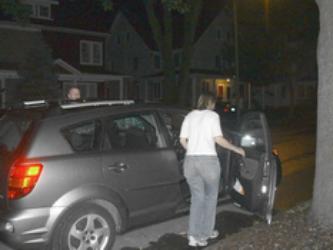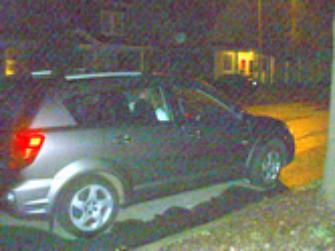 Sunday, August 01, 2004, 7:18 AM 73 deg at LVIA and 71.2 in the bus stop


It is raining hard now. I want to go up to the bus stop when it isn't raining too hard.

<Later> It really was nice sitting up there with the gentle rain tapping on the roof of the tent. There is something soothing about the sound. Now I wouldn't want to sit there all day but it was a very soothing comforting experience. However it is much more comfortable sitting here in front of the computer. This morning the blood glucose was 122 and the weight 197.

It was nice to see the kids last evening. We are both sorry they missed our dinner, but with our other guests there was no way we could have prolonged supper without an insurrection. Ha!!

David showed us photographs of his pet project, the restoration on a vintage Ford Mustang. It is obvious from the photos that he has put a lot of loving work into the job. Not only replacing the engine with a larger new Ford V8 but also converting the shift system from automatic to a three speed stick shift. The pictures are very impressive. His father would be very proud of him. If they send me some of the photos I will put them in here!!

When they left here they were on their way to get on I-95. I had David speak with George for directions on the phone to see the best way to get there from here. They decided to get a bite to eat in Allentown. We are sorry about that.

This afternoon I want to see if I can't get a swim. The weather may be tricky but I will keep my eye on the radar.

I was able to get my swim, get home and I am helping Queen with supper. The water was wonderful. Keith Billig was swimming next to me. We had a good conversation at my 10-lap rest period.

This evening George and Kathy were here for supper along with Mr. T. Pierce Davies. Queen had a slice of ham nuked in the microwave, fresh green beans, and something new to us. It was garlic and herb instant mashed potatoes that we got at George's instigation at Aldi's. It was very good and a whole lot easier than mashing potatoes. Queen was afraid we had made too many of them. Tommy said not to worry. They all disappeared. Tommy supplied dessert in the form of Rita's Water Ice. It was an excellent meal.

Now at 10:25 PM it is lightning outdoors. I suspect we will be having a storm soon.






Monday, August 02, 2004 7:09 AM 72 deg at LVIA and 69.3 in the bus stop.


The blood glucose this morning is 129 and the weight is 198. It looks like it will be a a clear morning.

There was no storm last night. By the time I took Butternut out at bedtime it had stopped flashing.
Queen and I will be going to "Jittery Joints" this morning.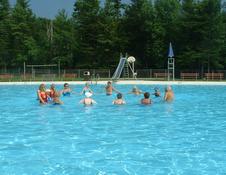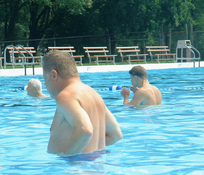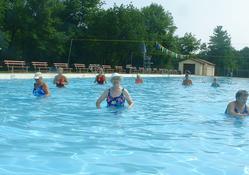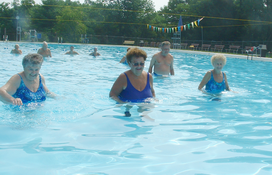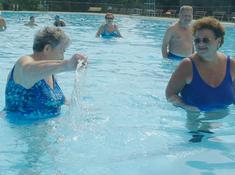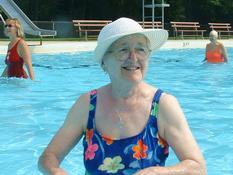 We both went to the pool this morning. The water was marvelous while Queen and the rest "Jittered" I swam my laps. The laps were great.



This is from Russ Howell in Texas




Ramblings of a Retired Mind -




I was thinking about how a status symbol of today is those cell phones that everyone has clipped on. I can't afford one. So, I'm wearing my garage door opener.




You know, I spent a fortune on deodorant before I realized that people didn't like me anyway.




I was thinking that women should put pictures of missing husbands on beer cans!




I was thinking about old age and decided that it is 'when you still have something on the ball, but you are just too tired to bounce it'.




I thought about making a fitness movie, for folks my age, and call it "Pumping Rust."




I have gotten that dreaded furniture disease. That's when your chest is falling into your drawers!




I know, when people see a cat's litter box, they always say, "Oh, have you got a cat?" Just once I want to say, "No, it's for company!"




Employment application blanks always ask 'who is to be notified in case of an emergency.' I think you should write, "A Good Doctor!"




Why do they put pictures of criminals up in the Post Office? What are we supposed to do -- write to these men? Why don't they just put their pictures on the postage stamps so the mailmen could look for them while they deliver the mail? Now there's a better idea/




I was thinking about how people seem to read the Bible a whole lot more as they get older. Then, it dawned on me, they were cramming for their finals. As for me, I'm just hoping God grades on the curve.



This afternoon Queen and I went downtown. She had to stop at the Post Office and I also stopped at the bank. It is an interesting thing about my new debit card. They actually want you to put money in there to continue to use it! Imagine that!

After that it was on to Rite Aide, IGA and the Telephone Company. Needless to say at the beginning of the month bills arrived today!! After I got back I went back to the pool for a quick dip and a chance to cool off. George Ashman was there also.

I got an e mail from Barbara Shepherd today and she writes of her earlier experiences in town and speaking with Betty Nartatil, who later became Betty Steigerwalt. I quote:



"When Betty spoke of the early hours at the nursing home, I was reminded of my days at Moravian, at then the Woman's college. Our housemother lowered a wide iron bar each night at curfew. We had to be in bed as freshmen at 10 p.m. Our dean came around with a flashlight and shone it on every freshman's pillow. My roommate that year went right to sleep, but when I judged that the dean had left, I jumped out of bed and went out to the central hall to join the other girls who were beyond their freshman year.




What was ironic was that for weekend dances at Lehigh we were allowed 2:30 a.m. permission slips. I was never allowed to stay out that late at home, but the Lehigh dances were from 10 to 2. And we did not have a mother who provided good stuff to eat in the evenings when we were hungry. We were allowed to go to the nurse who would give us milk and crackers. I was there almost every night.




A few issues back you showed a picture of Dr. Marjorie Batchelor in her open yellow car, which she used to exercise her dogs. Did you know that Dr. Roger sold that once and she went right out and bought it back? She was an amazing woman. She talked to all of the girls in high school in the auditorium while another doctor spoke to the boys in the gym. That was the famous lecture for lack of any other title, on the birds and the bees. I do remember that Dr. Marjorie stressed that all girls should wear girdles, and when she visited and spoke at Moravian, I was embarrassed when she smacked my bottom and asked, in front of the entire dining room, "are you wearing your pantie girdle?" Years later I remember Dr. Jane Goplerud saying, "don't wear a girdle unless you really have to; it is better for muscle tone to go without." I was already on Dr. Jane's side on that one, but I do remember Dr. Marjorie fondly, and she told us what was thought to be protection for a young woman's morals at the time. There are so many stories about her, all wonderful. She is a town legend.




Anyway, I want to thank you for the connection through you, to the delightful sight of Betty after all these years. She is a class act! Mr. Gordos and I went the same route at Lehigh, getting our Master's degrees in Education. Of course, he did it first. It would have been fun to see him in class, for I was in my 40's when I went back. I think I told you that my son, Shep, had him as a counselor for all of seven weeks before we went back overseas. He told Shep that he remembered me, and I winced, for I was a chatty girl he sent out to the hall for talking in class. He never told my son about that. He was a class act too!"



I wrote back to her, "Dr Marjorie was indeed quite a gal. Long before I married Queen,she was my brother Dick's wife. While my bother Dick and I were in business,we had our shop in their basement at 232 Columbia Ave. Queen was out on the front roof taking the snow off the flat front porch roof when she went by. She stopped her car and went over to Queen where she was on the roof and said "Does your family know you are out here? You get off that roof and inside the house." Queen said "the snow or ice could fall off here and hurt someone." She said "put up a no trespassing sign up and get inside. I don't want to see you up here at the hospital!"

Yes I too remember the birds and bees assembly, except for me it was Dr. Prutzman. I think he was admonishing us to stay away from "bad girls and loose woman" Ha!! I am glad I followed his advice. <Grin>

Yes indeed Eddie Gordos was a favorite of mine too. I think he was in my sister Dot's High School class. He was indeed a good man. I sent him all of my letters while he was in the retirement home until his death. He was appreciative.






Tuesday, August 03, 2004 7:10 AM 72 /deg at LVIA and 69.9 in the bus stop


The glucose level is 133 and the weight 197. It looks like a steamy hot day on hand this morning. I shall be going out with Butternut and my coffee and also attempt to cut the grass before it gets too hot.

I got out about 7:30 and started with cutting the grass. I was done just about 8:20 AM with rests and coffee. Then we had breakfast.

Now I am getting ready to go to PMPA for a morning swim. Queen says it is too muggy for her to attempt it. She had a great time yesterday but today is looking worse in the heat and humidity department. When one has congestive heat failure breathing becomes very difficult in this weather. She greatly enjoys the folks and the exercise but it just isn't worth it.

Yesterday I took pictures. However I also took about 1 minute of video with that camera. The high point was the circle they form with the grand, "Hurrah". Unfortunately I don't have any easy way to display it on line.
On my swim today a photographer from the Allentown Morning Call was there taking pictures of the group in action.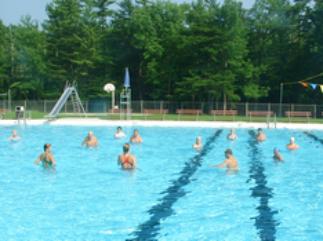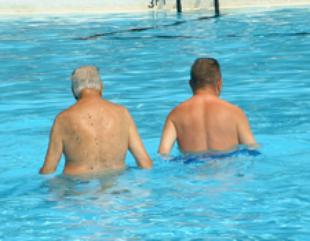 The group along with Howard Witham and Harry Brown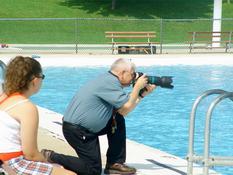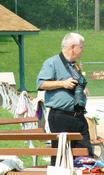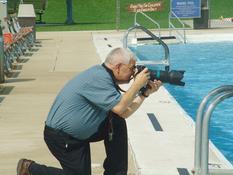 The Morning Call photographer. I do not know him at all.





I spoke with Helen Wisocky a bit when I arrived and she asked about Queen. She understands Queen's problems very well.

This afternoon I went back to get wet and cool off. George was there and we sat and talked most of the time.

Queen had steak sandwiches, corn on the cob and a fresh tomato out of our garden. The homegrown ones certainly do taste good. I have to get my daily quota of zinc, lead and other good stuff!

This evening Kathy and George stopped by for a quick visit. He has been installing new windows down on their Lafayette Avenue home. He too got Carbon County's "Black Hole Tax" as well as school tax from Wilmington, Delaware. These are higher here.






Wednesday, August 04, 2004 7:16 AM 70 deg at LVIA and 67.8 in the bus stop


The blood glucose is 121 and the weight 196. It feels as though it is going to be a hot one today with high humidity. Since this is Wednesda, there is no "Jittery Joints" class today. Thus no morning swim! <Sigh>

Shortly after I came downstairs I was greeted by a lot of flashing lights. That is a problem living here in a high crime area! Ha!! The police had stopped a lady for some reason. I haven't a clue as to the reason.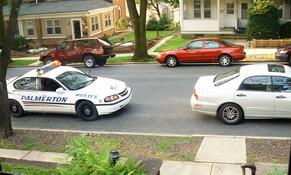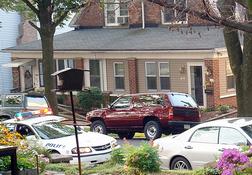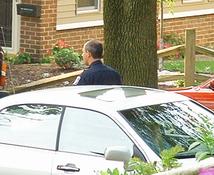 This morning we were out picking dead blossoms from plants and also picking tomatoes. Things have done very well this summer. The small grape tomatoes have been excellent this year.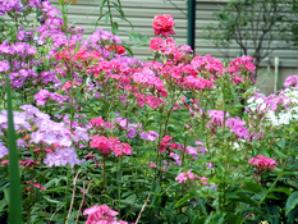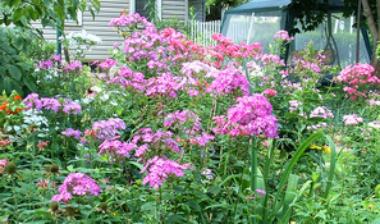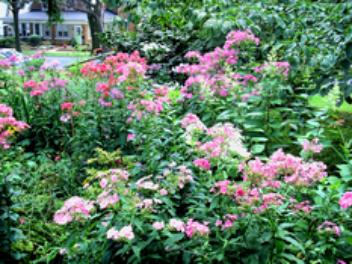 The phlox has never been better than this year.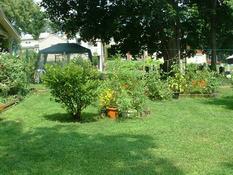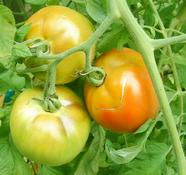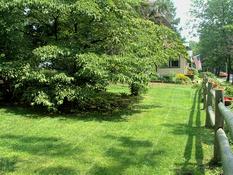 This is a general view of the yard and some of the large tomatoes still on the vines.

After lunch Queen and I sat up in the "tent" [park bench] for a time. There was a bit of a breeze sitting there but it is hot outside. Fortunately we went for our abbreviated walk this morning early. Later I want to head for the pool. Those laps have aided me tremendously in general health and well being. Ah if only it was possible all year long!

I went up for my swim about 3:15PM and it wasn't at all refreshing at an 82-degree water temperature. It was like sitting in the bathtub plus the traffic was bad. The best part of the swim was the shower afterward with 52-degree water. Now that was refreshing. Oh well I can't do it here in January. Tonight for supper Queen had Mac and cheese, stewed tomatoes, kielbasa, and cantaloupe with a dollop of ice cream. We were sitting there enjoying the view of the job the Burnhauser clan did cutting both the churchyard as well as the cemetery grass, when we heard a loud crash and the telephone and cable wires down to our house shook like mad. We ran out into the cemetery to see this mess. Someone hit the power pole for the streetlight over at Tommy's house. It also fed power to Timmy DeSousa's house.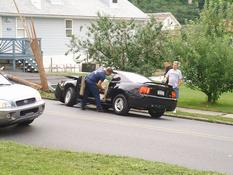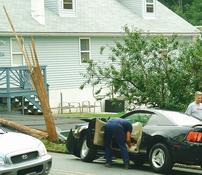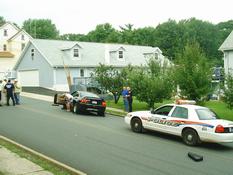 Apparently no one was injured but they hit it hard enough to snap the pole as well as deploy the airbags.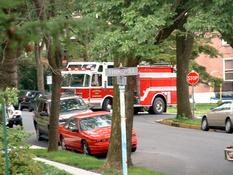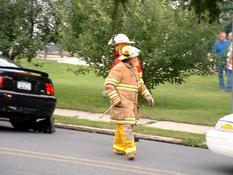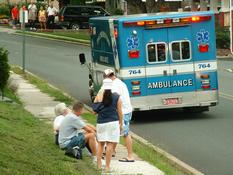 This of course attracted quite a bit of attention to our neighborhood again today
.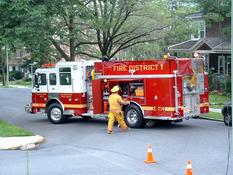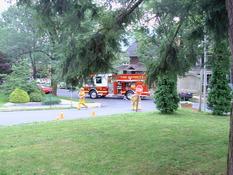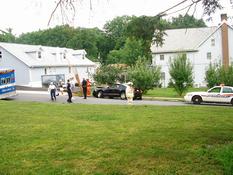 I don't know, this neighborhood is rapidly becoming a high crime area


I got this from neighbor Mike. It has a lot of truth to it.
Life of a Senior Citizen
I'm the life of the party...even when it lasts till 8 p.m.
I'm very good at opening child-proof caps with a hammer.
I'm usually interested in going home before I get to where I'm going.
I'm good on a trip for at least an hour without my aspirin, beano, &
antacid.
I'm awake many hours before my body allows me to get up.
I'm smiling all the time because I can't hear a word you are saying.
I'm aware that other people's grandchildren are not as bright as mine.
I'm so cared for: Long term care, Eye care, Private care, Dental care...
I'm not grouchy, I just don't like traffic, waiting, crowds, children,
politicians.
I'm sure everything I can't find is in a secure place.
I'm wrinkled, saggy and bumpy and that's just my left leg.
I'm realizing that aging is not for sissies.
I'm anti-everything now: Anti-fat, Anti-smoke, Anti-noise,
Anti-inflammatory
I'm going to reveal what goes on behind closed doors... Absolutely
nothing!
I'm sure they are making adults much younger these days.
I'm in the initial stage of my golden years: SS, CD's, IRA's, AARP. . .
I'm wondering... If you're only as old as you feel, how could I be alive
at 150?
I'm supporting all movements now... by eating bran, prunes and raisins.
I'm a walking storeroom of facts... I've just lost the storeroom.




Thursday, August 05, 2004 7:21 AM 66 deg at LVIA and 64.7 in the bus stop


It is cloudy this morning but it is not raining so far. I see they have canceled the flood watch for this area.

Although it is cloudy I wonder if there will be a "Jittery Joints" program. The weight this morning is 197 and the glucose level is 121.

This morning about 1:30 AM on a "trip to visit Aunt Louise" I saw a lot of light outside my east bedroom window. PPL was there replacing the pole from yesterday's accident. I suspect Timmy DeSousa was without power. But now all is well. Well I had to try for a picture but conditions were poor to say the least. What you see below is 80% imagination.


.


This is supposed to show the large boom on the PPl truck!!





Queen isn't going to class this morning but I will try for a swim. Afterwards we shall do our shopping.

Ha! That was called off and we did our shopping instead. It was not too crowded this morning and the stock was ample. We were home before noon.

At noon I had to go to pay the "Black Hole Tax"[school tax] at the Neighborhood House. I also went to Dr. Nicholson's office and got a new prescription for the diabetic test strips which I had to take to Rite-Aid and have filled. So all my little trips have been done.

Tuesday the Morning Call had pictures in it of Howard Witham and Harry Brown, Gretchen Laviolette, and Jody Arner. Here they are as shown from the paper.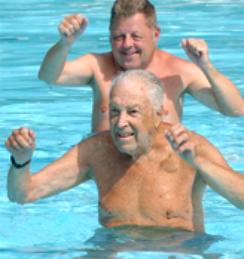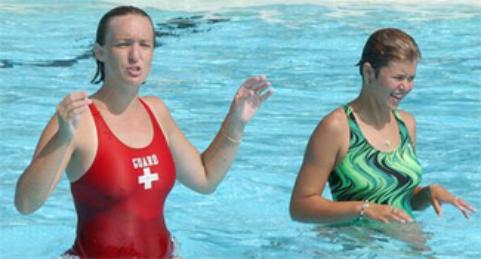 It is an excellent photograph.



This afternoon I went to the pool for my swim. Boy what a difference a day makes. It was practically deserted. Howard Witham and George Ashman and a few kids were about the crowd. The air was chilly but the water was warm as toast.

Tonight for supper Queen had the rest of the Landis steaks made into steak sandwiches and an ear of corn each. We were too full for anything except coffee.

George and Kathy ate out tonight and stopped by for a moment. They went to the Terrace Restaurant for dinner.






Friday, August 06, 2004 7:13 AM 51deg at LVIA and 53.6 in the bus stop


It is quite cool sitting up on the park bench this morning. I saw Marlene and Lee Bollinger walking on their constitutional and we exchanged pleasantries. This morning my blood glucose was 117 and the weight 195.

Queen is forgoing the class this morning. I guess I will go for my swim because we are invited out for dinner this evening and I don't want to rush things too much later today.

I went for my swim. As I entered I saw two maintenance young men in bathing suits cleaning the scum gutters and edges of the pool hard at work. I asked if the posted water temperature was accurate and they responded that the water was fine. I was the second one there.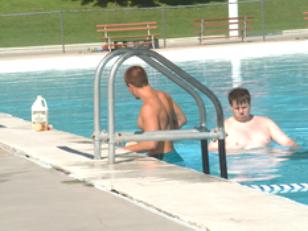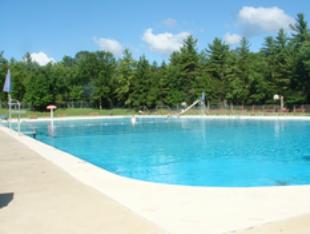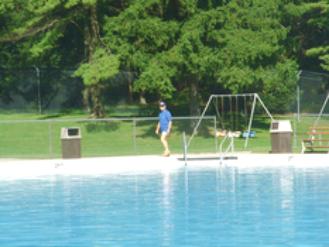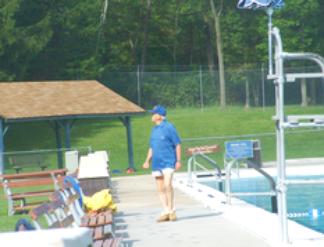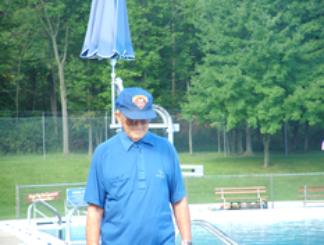 Jerry Freeby was walking laps around the perimeter of the pool.



After the rest arrived Gretchen took the temperature of the water and it was indeed 76 degrees. However she did cut short the class due to the cold prevailing wind. When you were wet it was mighty cold. However you dried out fast. The laps went just fine.

I love this one:



"

Did you check for blood pressure?"
Witness: "No."
Lawyer: "Did you check for breathing?"
Witness: "No."
Lawyer: "So, then it is possible that the patient was alive when you began the autopsy?"
Witness: "No."
Lawyer: "How can you be so sure, Doctor?"
Witness: "Because his brain was sitting on my desk in a jar."
Lawyer: "But could the patient have still been alive nevertheless?"
Witness: "Yes, it is possible that he could have been alive and practicing law somewhere."

It is about time to bring this to an end. I am sending it to my proofreader and censor, Queen.
Please, Love one another, Mom and Bob [Queen and Bobby]



Love is blind -- marriage is the eye-opener.




-- Pauline Thomason





When the going gets weird, the weird turn pro.




-- Hunter S. Thompson





Men have become the tools of their tools.




-- Henry David Thoreau





Have you ever noticed? Anybody going slower than you is an idiot, and anyone going faster than you is a maniac.




-- George Carlin





A cement mixer collided with a prison van on the Kingston Pass. Motorists are asked to be on the lookout for 16 hardened criminals.




-- Ronnie Corbett





They think they can make fuel from horse manure.... Now, I don't know if your car will be able to get 30 miles to the gallon, but it's sure gonna put a stop to siphoning.




-- Billie Holliday