GREAT PUNS
A backward poet writes inverse.
A man's home is his castle, in a manor of speaking.
Dijon vu -- the same mustard as before.
Practice safe eating - always use condiments.
Shotgun wedding: A case of wife or death.

A man needs a mistress just to break the monogamy.
A hangover is the wrath of grapes.

Sea captains don't like crew cuts.

When two egotists meet, it's an I for an I.
A bicycle can't stand on its own because it is two tired.
What's the definition of a will? It's a dead giveaway.
A chicken crossing the road is poultry in motion.
If you don't pay your exorcist, you get repossessed.
When a clock is hungry, it goes back four seconds.
The man who fell into the upholstery machine is fully recovered.
A grenade thrown into a kitchen in France would result in Linoleum Blownapart.

You feel stuck with your debt if you can't budge it.

Local Area Network in Australia: the LAN down under.
Every calendar's days are numbered.

A lot of money is tainted; it taint yours and it taint mine.

A boiled egg in the morning is hard to beat.

He had a photographic memory that was never developed.

Those who get too big for their britches will be exposed in the end.
Once you've seen one shopping center, you've seen a mall.

Those who jump off a Paris bridge are in Seine.

When an actress saw her first strands of gray hair, she thought she'd dye.
Bakers trade bread recipes on a knead-to-know basis.

Santa's helpers are subordinate clauses.

Acupuncture is a jab well done.
Corduroy pillows are making headlines.
Tonight we are dining in God's restaurant with Queen's homemade spaghetti. As usual it was superb.
This is from Tommy:
While walking down the street one day a US senator is tragically hit by a truck and dies.

His soul arrives in heaven and is met by St. Peter at the entrance.

"Welcome to heaven," says St. Peter. "Before you settle in, it seems there is a problem. We seldom see a high official around these parts, you see, so we're not sure what to do with you."

"No problem, just let me in," says the man.

"Well, I'd like to, but I have orders from higher up. What we'll do is have you spend one day in hell and one in heaven. Then you can choose where to spend eternity."

"Really, I've made up my mind. I want to be in heaven," says the senator.

"I'm sorry but we have our rules." And with that, St. Peter escorts him to the elevator and he goes down, down, down to hell. The doors open and he finds himself in the middle of a green golf course. In the distance is a clubhouse and standing in front of it are all his friends and other politicians who had worked with him. Everyone is very happy and in evening dress. They run to greet him, shake his hand, and reminisce about the good times they had while getting rich at expense of the people. They play a friendly game of golf and then dine on lobster, caviar and champagne. Also present is the devil, who really is a very friendly guy and who has a good time dancing and telling jokes. They are having such a great time that before he realizes it, it is time to go. Everyone gives him a hearty farewell and waves while the elevator rises...

The elevator goes up, up, up and the door reopens on heaven where St. Peter is waiting for him. "Now it's time to visit heaven." So, 24 hours pass with the Senator joining a group of contented souls moving from cloud to cloud, playing the harp and singing. They have a good time and, before he realizes it, the 24 hours have gone by and St. Peter returns.

"Well, then, you've spent a day in hell and another in heaven. Now choose your eternity."

The senator reflects for a minute, then answers: "Well, I would never have said it before, I mean heaven has been delightful, but I think I would be better off in hell."

So St. Peter escorts him to the elevator and he goes down, down, down to hell. Now the doors of the elevator open and he's in the middle of a barren land covered with waste and garbage. He sees all his friends, dressed in rags, picking up the trash and putting it in black bags as more trash falls from above. The devil comes over to him and puts his arm around his shoulder.

"I don't understand," stammers the senator. "Yesterday I was here and there was a golf course and clubhouse, and we ate lobster and caviar, drank champagne, and danced and had a great time. Now all there is a wasteland full of garbage and my friends look miserable. What happened?"

The devil looks at him, smiles and says, "Yesterday we were campaigning...... Today you voted!"

Tuesday, August 10, 2004 7:12 AM 63 deg at LVIA and 60.6 in the bus stop
It is a great morning here today. Up in the "Park bench" tent it is very comfortable sitting there with my 8 O'clock coffee watching the world go by.
This morning the blood glucose is 128 and the weight 198.
I hope to go to the pool this morning while the Jittery Joints are still in action. Friday is the last day for it. This morning Queen and I went for a shortened walk. One can feel the humidity returning. As we walked up Columbia Avenue to 1st Street we saw a big PPL flat bed trailer with a big crane attached dropping off a pole at the "Duris" lot site.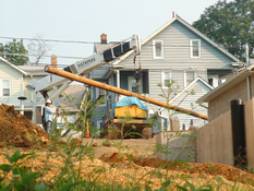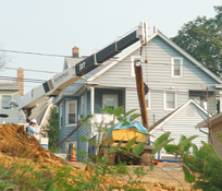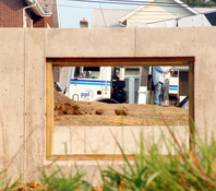 As we continued and were returning home we saw Gail Nonamaker, her dog and Shirley Neff coming up the street. As they neared our place they caught up with us. Of course I had to take their pictures.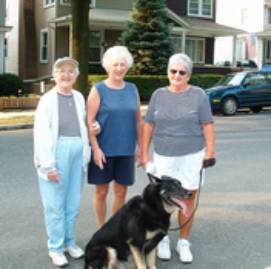 After our walk and breakfast I went to the pool for my 20 laps. The attendance today was not too great. However it was quite comfortable swimming.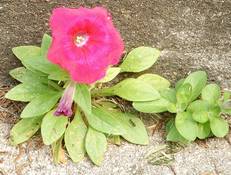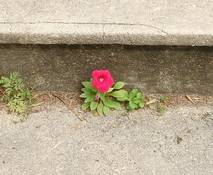 Low and behold as I was coming up the steps after my swim, I saw this forlorn volunteer wave petunia.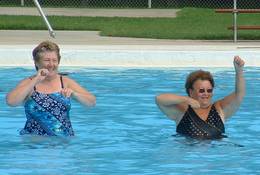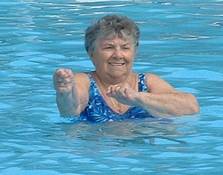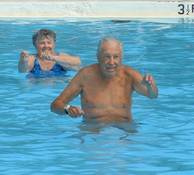 They have a very spirited class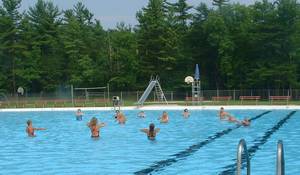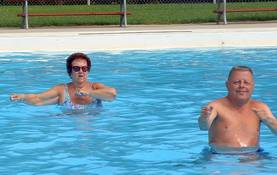 This morning after my swim we went downtown to the store. We stopped in at the Times News office for a quick visit. Joel was out but Linda, Sharon and Pattie were there. We conversed with all of them. Everyone is so nice.
Today I got e-mail from Dave Engler regarding the chain link bridge that was used to cross the Lehigh River years ago. It was quite a feat as I recall. I remember my Mom driving the old Packard over it to go to Allentown. If it was torn down in 1933 I was seven years old. I also remember the river dredges, canal boats and the mules.
http://www.structurae.net/en/structures/ftype/index.cfm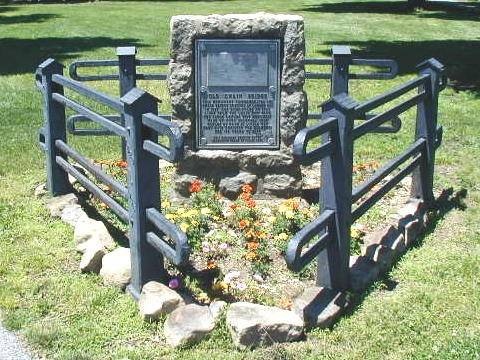 Tonight for supper, Queen had cooked carrots, cottage cheese, the last of the Kielbasa, and I made succotash and we finished with fresh coffee and a shared ice cream bar.



Wednesday, August 11, 2004 7:06 AM 72 deg at LVIA and 71.6 in the bus stop.
This morning my glucose level is 128 and the weight is 195.
It is a warm muggy morning today. I didn't see a soul while sitting with my coffee up in the "park bench tent" this morning.
We went for a short walk. Also we shortened it this morning because of the oppressive humidity. I took this picture at 1st Street and Columbia Avenues. I saw that the Village At Palmerton assisted living center is open for business and it looks quite attractive. It must have a tremendous view through the gap.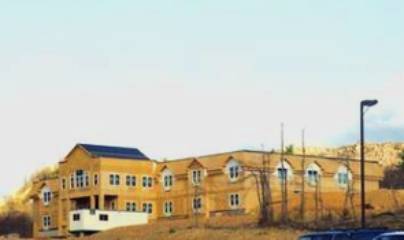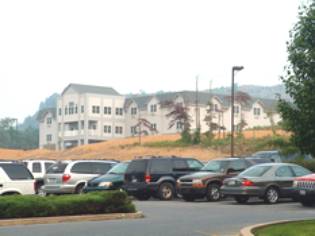 During Construction Now
We only walked a short distance past George Ashman's house crossed over to Charles Street and came back home. It is not good weather for walking. This morning we saw Sharon Minnich who passed us as we were walking.
Queen wanted to go to Spillane's store this morning to avail herself of some of the bargains they had in their special advertisement. I got some more candles for our "dinner hour" and some stick cinnamon to make my mandatory green tea at least palatable.
We stopped in at the T.N. to leave off some recipes for Sharon Then we made a quick trip to IGA and home. It is trying to rain a bit. It might as well because it is sticky enough!
After viewing the day so far I think I had best get my swim in at 12 noon. The weather looks as though it is going to pot fast.
About 11:45 I called the pool and asked about swimming. Larry said they planned to open but it was thundering and he could not promise when anyone could enter. I figured I can sit up there and enjoy the scenery as well as sit here. After about a half an hour wait I got my laps in. There wasn't another swimmer in the pool when I left. Now at 4:00 PM the sun is out and presumably they are open.
Tonight for supper we had salmon with mushrooms, 1/2 a yam each, corn on the cob, green beans, cottage cheese, and a sliced tomato from our garden. Then we had coffee and ice cream for dessert. We had our dessert up in the tent tonight. Then we just sat and talked together for over an hour. Queen is a good conversationalist and it is a joy to be with her.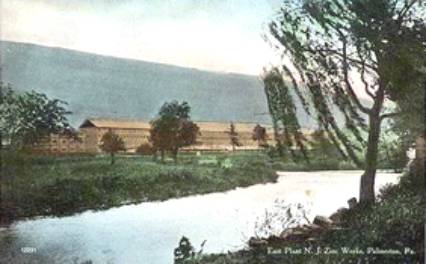 I came upon this old postcard of the NJZ East plant

Thursday, August 12, 2004 7:10 AM 72 deg at LVIA and 70.3 in the bus stop
Rain heavy at times is predicted for the next few days! I am wondering about "Jittery joints" this morning. I hope I can swim my laps. This morning the blood glucose is 126 and the weight 194.
While sitting up in the tent with my coffee I decided this was as good a time as any to cut the grass. I got finished and had breakfast. I didn't have time to use the weed whacker on the edges and long stuff.
Then a bit later I went up to the pool for my swim while the rest exercised. Man it looked as though it could pour at any moment. After I returned Queen and I went downtown to the stores and we decided to finish our shopping after lunch.
Just before we left we had a Hell of a crack of thunder. Queen disconnected the TVs and I shutdown the computer system even though it was running fine. I completely disconnected it. Upon my return I reconnected everything and immediately got a crack and a puff of smoke from the computer that my experts had just repaired. Smoke is not a good sign coming from the power supply. So, I am back to no reserve help. <Sigh>
We went to Aldi's as well as Giant. It was raining quite hard so I was able to back into the little portico area of Aldi's and open the trunk and load it all inside with no problem. Then it was over to Giant where we were fortunate enough to get a parking spot close to the door. The rain had stopped when we came out.
Tonight for supper Queen had a new version of her turkey burgers. She uses celery and celery leaves as well as onion in them. They were very good. She also had stewed potatoes, green beans, cottage cheese, and corn on the cob. We had coffee and she had an ice cream bar and I had a few cookies.


Friday, August 13, 2004 7:54 AM 70 deg at LVIA and 69.4 in the bus stop
Sheez. It must have really rained last night. This morning we went for a short walk and there is debris everywhere. On the way I yelled into Tommy's open front door to ask what happened. He said about 3:30AM it rained about as hard as it could rain. Columbia Avenue was like a river. Fortunately I took my camera and have just a bit of the mess but I bet it was a lot worse downtown.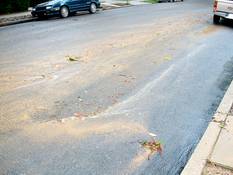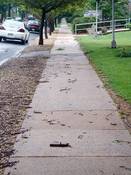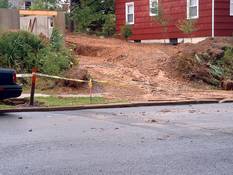 Looking up Columbia from our house

Walking down past the hospital

The mess from construction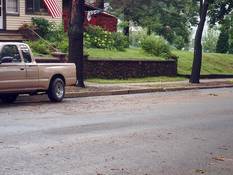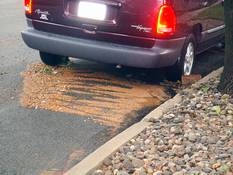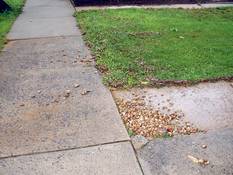 Mud, pebbles and stones even a brick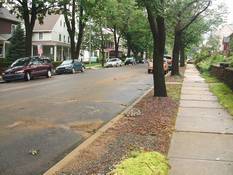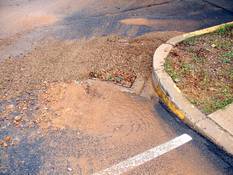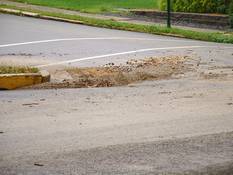 It is simply a mess
Then on our way we met Marlene and Lee Bollinger on their walk. Marlene was not enjoying the humidity any more than we were.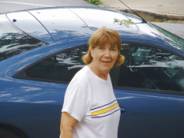 I went down town and it wasn't too bad. There was a lot of debris over the grate at Bob's Flower Shop. In general things looked pretty good. I stopped at the park and took some pictures of the rushing water there.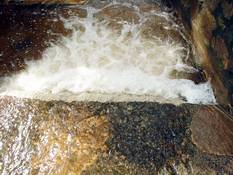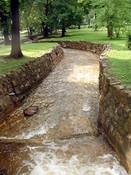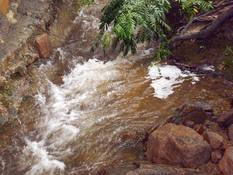 Apparently Queen and I slept through the whole thing. Later we went to Walmart and the Farmer's Market. I got some more lima beans and some string beans
Queen suggested that I take some more pictures of Doc Cyr's work site at Harvard Court before he is completely finished.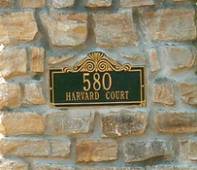 Below are pictures I used earlier and now the job as it appears on August 10, 2004.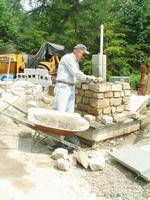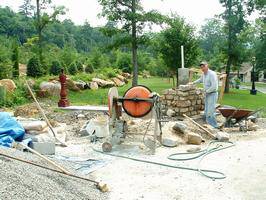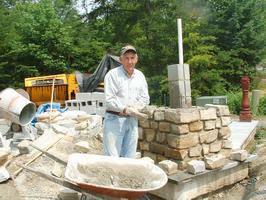 Pictures taken earlier in the project.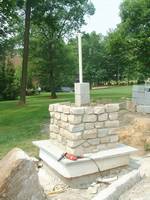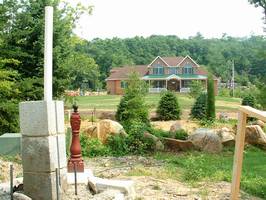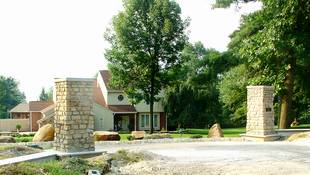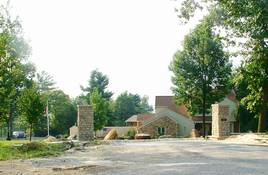 Here it is as of today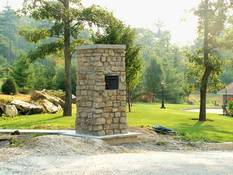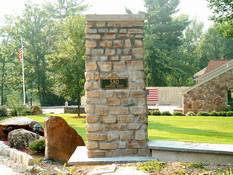 It is time to send this to my sterling proofreader, Queen. Then God willing I will put it on line!!
Please love one another, Mom and Bob [Queen and Bobby]