Queen went up for a nap and I went to the pool. We had a long hard day today. I had absolutely no steam having first arisen at 2:30 AM. Going back to bed at 4 AM. The swim was just what I needed although they were a mighty slow 20 laps.



Thursday, August 19, 2004 7:01 AM72 Deg at LVIA and 70.7 in the bus stop

Oh what a beautiful morning! The weather stinks but we both had a good night's sleep last night. We were both up as often as usual but the artificial saliva saved the day for Queen. Each time I got up I hoped I would not see a light in her room. I didn't see a thing. Doc Cyr was right with the dry mouth under control the rest falls into place. Thank God!
It is very humid this morning. We went for an abbreviated walk this morning but
not very far. Queen wants to start putting things back into the bathroom this morning. That man did a magnificent job. The room was as clean as a whistle. He even fixed some stuff that had nothing to do with the tub. He refastened the door leading to the closet and cleaned ALL the tiles around the room. Queen wants to write a letter of appreciation to them soon. Now all we need is a shower curtain installed. He would have done it if we had one.


Bernie Shea has ordered

a curved rod that I will have to install. It should be here Friday. I hope I don't smell too bad before then Ha!!!
I would like to see if Queen will cut my hair before noon. Then I would like to go for my swim. The weather does seem to not bode well for the rest of the day.
She did cut my hair before noon. I went up before I had any lunch. I was the only person in the pool. I had three lifeguards during my swim. The swim was smooth as glass. No rest was needed today at10 laps. It really went well today. As I was walking over to our car I met Gail Nonamaker who was just arriving for the afternoon. I told her the weather didn't sound promising so I went early.

<Later> The bad weather held off all afternoon after all. However I am glad I went early. The first swimmer in the pool has a really wonderful swim with no waves or ripples other than what I create. Swimming through the water being the first to cut the water with your chin, is a great feeling. It reminds me of many a morning swim on Squam Lake in New Hampshire with the dead calm water and breaking one's way with one's chin. Swimming with Fritz out to Kent Island and later swimming with Tommy in Sturtevant Bay. One of us would operate his canoe and the other one swim. Then we changed places coming back. That water was crystal clear and of reservoir quality. One could readily drink it. A swim in those days was usually a mile long and had to be swum in one shot. You have no business starting a swim of that distance if you are not in some kind of shape. That is what got me started in lap swimming.
Ah those were happy days I surely do love the water. Golly, no one would ever guess.
I just got this from Queen's cousin Bob Greenawalt in Rochester, NY.
:
Subject: Apples and Grapes
Women are like apples on trees. The best ones are at the top of the tree.
Most men don't want to reach for the good ones because they are afraid of falling and getting hurt.
Instead, they just get the rotten apples from the ground that aren't as good, but easy.
So the apples at the top think something is wrong with them, when in reality, they're amazing.
They just have to wait for the right man to come along, the one who's brave enough to climb all the way to the top of the tree.
Share this with women who are good apples, even those who have already been picked.

Men are like a fine wine. They start out as grapes, and it's up to women to stomp the crap out of them until they turn into something acceptable to have dinner with.
I am very fortunate I got one of the apples from the top of the tree. However she is still trying to stomp some more of the crap out of me and turn me into a better vintage. However sometimes she gets vinegar. Ha!!

Friday, August 20, 2004 7:09 AM 66 deg at LVIA and 67.4 in the bus stop

This morning the weight is 194 and the blood glucose is 134.

It is a foggy morning today. I got an e mail from son George with the gentle admonition to the effect that "He who treats himself has a fool for a doctor" <Harrumph!!>His point is well taken!!
Now here is an interesting site. It doesn't do anything important but it is interesting. Trace the places a dollar bill has been used. http://www.wheresgeorge.com/


This morning we plan on doing our shopping before it gets too uncomfortable outdoors.
We were back just before noon. It is hot and humid but we didn't experience any problems. On the way back I went into Shea's and got the curved shower rod Bernie ordered for me.
I got this from Henry Schwartz:

Who Says Cops Don't Have A Sense Of Humor?
"Relax, the handcuffs are tight because they're new. They'll stretch out after you wear them awhile."

"Take your hands off the car and I'll make your birth certificate a worthless document."

"If you run, you'll only go to jail tired."

"Can you run faster than 1,200 feet per second? In case you didn't know, that is the speed of a 9 mm bullet fired from my gun."
"So you don't know how fast you were going. I guess that means I can write anything I want on the ticket, huh?"
"Yes, sir, you can talk to the shift supervisor, but I don't think it will help. Oh, did I mention that I am the shift supervisor?"
"Warning! You want a warning? O.K., I'm warning you not to do that again or I'll give you another ticket."
"The answer to this last question will determine whether you are drunk or not. Was Mickey Mouse a cat or a dog?"
"Yeah, we have a quota. Two more tickets and my wife gets a toaster oven."
"In God we trust, all others we run through NCIC."
"No, sir, we don't have quotas anymore. We used to have quotas but now we're allowed to write as many tickets as we want."
"I'm glad to hear the Chief of Police is a good personal friend of yours. At least you know someone who can post your bail."
"You didn't think we give pretty women tickets? You're right, we don't. Sign here."
Tommy came over tonight and he installed the shower curtain rod with a bit of my help. We think it is a first class job and are very happy with the result. Queen is writing a thank you note to the company.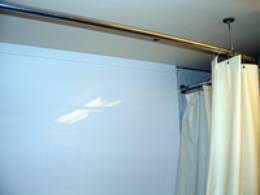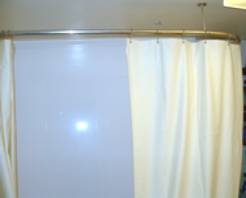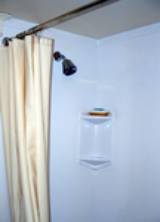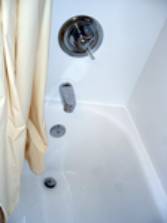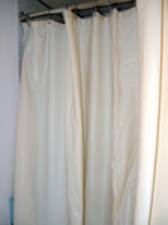 It is Friday and about time to close this for the week and send it to my expert proofreader and censor, Queen.

Please, love one another, Mom and Bob [Queen and Bobby]