.
We want to go to Lehighton this morning.
<11:00AM> We were up and back. Queen wanted a few things as did I.

After we got back from Lehighton, I called the pool to see if they were open for a swim. They were in the process of distributing the prizes folks won in the Chinese auction. Larry said come ahead. So in spite of the chilly air temperature of 66 degrees and no sunshine I swam my full 20 laps. The water was still in the 70's and I was quite comfortable. Queen thought I was nuts. So what else is new?


Well, this is new!!
I just saw this on the Drudge report!!
KERRY POLL RANK LOWER THAN DUKAKIS, JESSE JACKSON, MARTHA STEWART, PUTIN
Tue Sep 14 2004 12:06:00 ET
In last week's WASHINGTONPOSTWABCNEWS Poll, John F. Kerry was viewed favorably by 36 percent of registered voters, down 18 points over the past six months.
But just how low Kerry's standing has fallen cannot be appreciated fully without comparing his standing with that of other household names in GALLUP polls over the years, the POST's Dana Milbank reported on Tuesday.
Kerry finds himself in a dead heat with Martha Stewart and Joseph McCarthy, and behind Herbert Hoover -- although he narrowly beats O.J. Simpson.
Michael Jordan: 83 (2000)
Tony Blair: 76 (2003)
Pope John Paul II: 73 (2003)
Democratic Party: 54 (2004)
John Ashcroft: 49 (2003)
Michael Dukakis: 47 (1988)
Prince Charles: 45 (2003)Herbert Hoover: 43 (1944)
Jesse Jackson: 38 (2003)
Vladimir Putin: 38 (2003)
John Kerry: 36 (2004)
Martha Stewart: 36 (2004)
Joseph McCarthy: 35 (1954)
END
Tonight for supper Queen had chicken tenders, noodles, and cauliflower, left over lima beans, cottage cheese and a big fresh tomato. Then a cup of coffee was plenty for me.

Wednesday, September 15, 2004 7:19 AM 57 deg at LVIA and 56.1 in the bus stop
This morning the blood glucose is 118 and my weight 195.It looks like a very nice day this morning but it is not supposed to last.
As I sat up in the park bench tent, I was chagrined to notice that the sun peaking through the maple tree is now showing me it's early morning rays just over our front porch roof. From that vantage point it is about 35 degrees further south than the beginning of summer. <Sigh>
Butternut got Queen up early so we had an early breakfast. Now at 8:35 AM we shall be going for our walk shortly.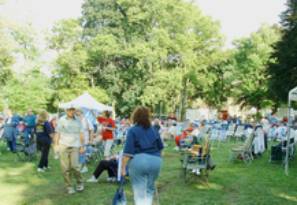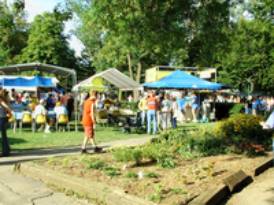 It certainly appeared to us as though folks were having a great time.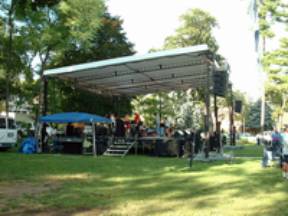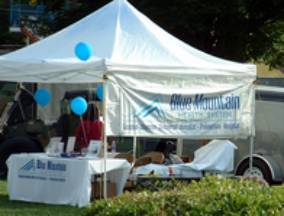 I said I would intersperse pictures from the festival all through this web page and here are some of them.

There is was a lot of work that goes into the planning and execution of those plans that make it work at all. Suzy Arner and Jane Straup, two of the festival's prime movers, can be justly proud of their efforts. It's success is no fluke. A lot of planning and hard work was necessary for the whole thing to succeed. Suzy was quoted as saying that many of the charitable organizations that participate in it depend upon the festival for their prime income for the year. Apparently they are able to meet their goals though their business that they do here.

At 9:14 AM we are back from our walk. It went harder this morning. Here is an interesting site for those of you who like words and what one can do with them.

http://www.wordsmith.org/anagram/index.html

We will be heading downtown as soon as the mailman arrives. We were down and got some produce at the new grocery this morning. Then we stopped at IGA and the TN office and saw the folks there for a moment.

When we got home I called PMPA to see if I could get my swim. I got the go ahead from Larry and went up about 11 am. They are still awaiting winners of the Chinese auction to pick up their prizes. I noticed that at the entrance to the pool just off 3rd Street they put a large sign directing folks in the right direction to find the pool office.

I saw in the paper that Suzy is being honored by the Chamber of Commerce for her community service work. This is a direct quote from Joel Kern's article in today's Times News.

"Palmerton CC downtown improvement plans updated
By JOEL KERN

Yesterday was an eventful day for the Palmerton Area Chamber of Commerce.
During the chamber's monthly luncheon meeting,
which was held at the Parkside Inn, those members in attendance were provided with both an update on the streetscape
improvement project proposed for Delaware Avenue and an advance glimpse of the chamber's choice for the 2004 business leader and citizen of the year


Chamber president Peter Kern informed those members in attendance at yesterday's meeting that the chamber's choice for business leader of the year is Raymond Tuthill
and that Susan Arner was the chamber's choice for citizen of the year

.
"This year we have two people who are equally well-known in the community and who have earned this award through many years of service in the Palmerton area," Kern said.

Tuthill is the owner of Blue Mountain Ski Area and a current member of the Palmerton Area School District's Board of Directors. Arner has chaired the Palmerton Community Festival
committee for the past 10 years and has coordinated the borough's annual Halloween parade for the past 13 years.


"Ray Tuthill clearly reflects the true spirit and the mission of the Palmerton Area Chamber of Commerce," Kern said.
"Sue has benefited the community through her personal example."


The two will be officially honored on Oct. 20 at the chamber's annual dinner meeting.

The meeting will be held at the Blue Ridge Country Club, 2230 Fireline Road, and will begin with a social hour at 6 p.m.
Dinner will be served at 7 p.m., followed by a ceremony honoring Tuthill and Arner."


I saw her as I was leaving the pool after my swim and congratulated her with a big hug. She deserves the award very much. People like her need to be honored because the satisfaction of a job well done, far exceeds any financial remuneration.

Today had to be one of the best swims of the year for me. The swim was smooth as it could possibly be and so enjoyable. The sun was out and I could lie in the sun and take the chill off of me afterwards as I gazed up at the blue-sky and puffy clouds. It doesn't get much better than that!
I certainly thank the good lord for permitting me this great luxury. I suspect one has to be an avid swimmer to fully understand my feelings but I know there are several of my readers who feel much as I do about swimming at PMPA.
Now this is from Sharon Minnich. She is a gal with her head on straight!!
"A house becomes a home when you can write 'I love you' on the furniture."
.
I can't tell you how many countless hours that I have spent CLEANING! .....I used to spend at least 8 hours every weekend making sure things were just perfect -- "in case someone came over." T
hen I.realized one day that no-one came over; they were all out living life and having fun!
Now, when people visit, I find no need to explain the "condition" of my home.
They are more interested in hearing about the things I've been doing while I was away living life and having fun.
If you haven't figured this out yet, please heed this advice.
Life is short. Enjoy it!
Dust if you must, but wouldn't it be better to paint a picture or write a letter, bake a cake or

plant a seed, ponder the difference between want and need?
Dust if you must, but there's not much time,
with rivers to swim and Mountains to climb, music to hear and books to read, friends to cherish and life to lead.

Dust if you must, but the world's out there with the sun in your eyes, the wind in your hair, a flutter of snow, a shower of rain.
This day will not come around again.

Dust if you must, but bear in mind, old age will come and it's not kind.
And when you go -- and go you must -- you, yourself will make more dust!


Share this with all the wonderful people in your life!
I JUST DID.

It's not what you gather, but what you scatter that tells what kind of life you have live

My favorite slogan has always been - You may touch the dust, but please don't write in it
.

Tonight for supper Queen had a two small steaks that we got
on sale
this morning at IGA.

In addition she had stewed potatoes with onion, fresh green beans, a tomato from our garden, cottage cheese and sherbet/ice cream for dessert. A cup of coffee up in the tent finished the meal. It was excellent.
I just got this from Russ Howell in Texas.
Subject: This is a Test
This is based on U.S. and Canadian information so use both sides of your

brain.
There are 27 questions about things we see every day or have known about

all our lives. How many can you get right? These simple questions are

harder than you think-- it just shows you how little we pay attention to

the commonplace things of life. Put your thinking caps on. No cheating!

No looking around! No getting out of your chair! No using anything on or

in your desk or computer!
Write down your answers and check answers (on the bottom) after

completing all the questions.


1. On a standard traffic light, is the green on the top or bottom?

2. How many states are there? (Don't laugh, some people don't know)

3. In which hand is the Statue of Liberty's torch?

4. What six colors are on the classic Campbell's soup label?

5. What two numbers on the telephone dial don't have letters by them?

6. When you walk does your left arm swing with your right or left leg?

7. How many matches are in a standard pack?

8. On the United States flag is the top stripe red or white?

9. What is the lowest number on the FM dial?

10. Which way does water go down the drain, counter or clockwise?

11. Which way does a "no smoking" sign's slash run?

12. How many channels on a VHF TV dial?

13. On which side of a women's blouse are the buttons?

14. Which way do fans rotate?

15. What is on the back of a Canadian dime?

16. How many sides does a stop sign have?

17. Do books have even-numbered pages on the right or left side?

18. How many lug nuts are on a standard car wheel?

19. How many sides are there on a standard pencil?

20. Sleepy, Happy, Sneezy, Grumpy, Dopey, Doc. Who's missing?

21. How many hot dog buns are in a standard package?

22. On which playing card is the card maker's trademark?

23. On which side of a Venetian blind is the cord that adjusts the opening between the slats?

24. On the back of a Canadian $1 coin, what is in the center?

25. There are 12 buttons on a touch tone phone. What 2 symbols bear no digits?

26. How many curves are there in the standard paper clip?

27. Does a merry-go-round turn counter or clockwise?


**********************************************************

Don't look at answers below until you complete all the questions.


1. Bottom

2. 50 (please tell me you got this one!)

3. Right

4. Blue, red, white, yellow, black, &gold

5. 1, 0

6. Right

7. 20

8. Red

9. 88

10. Clockwise (north of the equator)

11. Towards bottom right

12. 12 (no #1)

13. Left

14. Clockwise as you look at it

15. The Bluenose

16. 8

17. Left

18. 5

19. 6

20. Bashful

21. 8

22. Ace of spades

23. Left

24. Loon

25. *, #

26. 3

27. Counter

(The average number right is 7!)
This evening Queen is going to make her Miller bloodmobile calls and I shall have to dry the dishes.
She finished that and reported back to George Ashman her results.
One of her regular callers are the Herb Henrys. They always have a great time when she calls. They are nice folks.


Thursday, September 16, 2004 7:14 AM 66 deg at LVIA and 66 deg in the bus stop.
This morning the glucose level is 123 and my weight 196. It must have rained last light because everything is wet outside this morning. Although things were dry up in the tent as I sat with my coffee.
This morning we plan to do our shopping before the weather goes to pot. The weather folks are still undecided how much of the remnants of Ivan we will receive. I have not given up hope for another swim.
Our shopping trip went well. It wasn't crowded and the stores well stocked. I had to mail a package at the Post Office and then it was on to Aldi's, Giant, back to Spillane's, Country Harvest, and last I went in to Rite-Aid to get my prescription that Queen called in the other day. I was told that the computerized system that does that job was down and I would have to call the store direct. So it will be Saturday until I can get it. Sheez!!
The park is pretty well cleaned out with only a few display places still there.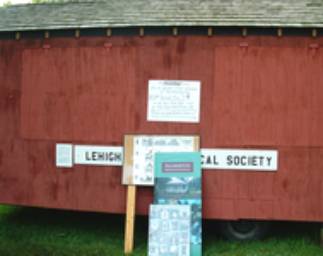 The Historical Societies Covered Bridge was still there without the signs!
After we got home I called PMPA and went for my 20 lap swim. I suspect that Larry thinks I am nuts. I do know that Queen already does. It went very well. No rest needed. The water wasn't too cold however the lack of sunshine made it a less than a sterling day for a swim.


As I left Suzy was still there also.

I explained to them that these swims are for me like money in the health bank. They are my favorite form of exercise and I realize that they are coming to an end. Believe me I will need it this winter. She smiled but still I think she thought I was crazy. Our neighbor Mike brought over some more of his excellent corn and he too, inferred that I should be institutionalized! Hell they couldn't afford to feed me! Ha!
Tonight for supper we had an ear of his corn each, a few "Freedom Fries", Queen's cole slaw, boneless salmon steaks, fresh tomatoes low fat cottage cheese and as a special request Queen made some brownies with raisins in them. They were excellent but did not contain enough raisins!! Hey they are good but she said next time make them yourself. I intend to do so!!


Friday, September 17, 2004 7:01 AM 55 deg at LVIA and 63.5 in the bus stop
It looks like we are in for the rain from Ivan. It has been raining off and on for a good part of the morning. This morning the blood glucose was 124 and the weight 195. Both are staying in the good range I am sure because I am still swimming my 1/3 of a mile every day. I suspect that will be stopping very soon. I wish I could find a good alternative to swimming. The damn "Ironworks" is nothing but plain hard work and no fun at all. Yesterday to add insult to injury a brochure came in the mail from Endless Pools!! Sheez!!!
This morning I go to Dr. Nicholson's office for my nurse check up. Then I think I shall go to the Miller bloodmobile and give them a pint of good stuff. Besides I get a free Cholesterol screening as well as a liver function test result.
<9:52 AM> I just got back from the Dr's office and the report was good even if I did gain a fraction of a pound. <sigh> I showed Nurse Judy my blood glucose and weight chart. I have on it what we eat at night. She was pleased with it and said she thinks she would like to eat here also!!
Soon I will leave for the bloodmobile. I have to go to the bank as well as County Harvest.
<12:22 PM> I am back from the Miller Bloodmobile. It went very well. A young lady by the name of Stacy drew the blood and another young lady named Jean finished the process. Perma Snyder and Shirley Neff were assisting the nurses drawing the blood. Shirley was right there when the nurse needed something.
Jean Bechtoldt and Marylyn Ord were busy at the canteen and everyone was very nice and helpful to all of us donors. I had an egg salad sandwich, a ham salad sandwich, some cookies. pretzels and a coke. I guess you could say I had my lunch there! Ha!!
We must sit there for 10 minutes before we are allowed to leave. The man sitting across from me at the canteen is the man who drove the truck when the new house near us was delivered the other week. I didn't realize that it was him but he seemed happy to hear the compliment that whoever it was who drove the truck was damn good!!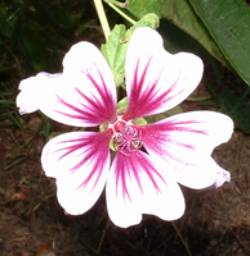 This was seen growing in the park flowerbed

Well it is Friday afternoon and it is about time to print this and send it to the proofreader, spellchecker, and general all around good kid Queen.
Please love one another, Mom and Bob [Queen and Bobby]

Everything is funny," said Will Rogers, "as long as it is happening to someone else

Imagination is more important than knowledge...
Albert Einstein

Love is blind -- marriage is the eye-opener.
Pauline Thomason

Men have become the tools of their tools.
Henry David Thoreau