I see that a few stands are still there at the park; it has changed a lot since last Sunday.
I just got this from Henry Schwartz:



We must stop this immediately!





Have you ever noticed that when you're of a certain age, everything seems uphill from where you are? Stairs are steeper. Groceries are heavier. And, everything is farther away. Yesterday I walked to the corner and I was dumbfounded to discover how long our street had become!





And, you know, people are less considerate now, especially the young ones. They speak in whispers all the time! If you ask them to speak up they just keep repeating themselves, endlessly mouthing the same silent message until they're red in the face! What do they think I am, a lip reader?





I also think they are much younger than I was at the same age. On the other hand, people my own age are so much older than I am. I ran into an old friend the other day and she has aged so much that she didn't even recognize me.





I got to thinking about the poor dear while I was combing my hair this morning, and in doing so, I glanced at my own reflection........Well, REALLY NOW -- even mirrors are not made the way they used to be!





Another thing, everyone drives so fast today! You're risking life and limb if you just happen to pull onto the freeway in front of them.. All I can say is, their brakes must wear out awfully fast, the way I see them screech and swerve in my rear view mirror.





Clothing manufacturers are less civilized these days . Why else would they suddenly start labeling a size 10 or 12 dress as 18 or 20? Do they think no one notices that these things no longer fit around the waist, hips, thighs, and bosom?





The people who make bathroom scales are pulling the same prank, but in reverse. Do they think I actually "believe" the number I see on that dial? HA! I would never let myself weigh that much! Just who do these people think they're fooling?!





I'd like to call up someone in authority to report what's going on -- but the telephone company is in on the conspiracy too: they've printed the phone books in such small type that no one could ever find a number in there!





All I can do is pass along this warning: Maturity is under attack! Unless something drastic happens, pretty soon "everyone" will have to suffer these awful indignities.





PLEASE PASS THIS ON TO EVERYONE YOU KNOW AS SOON AS POSSIBLE SO WE CAN GET THIS CONSPIRACY STOPPED!



PS: I am sending this to you in a larger font size, because something has caused fonts to be smaller than they once were too!


A whole lot of people had a very difficult time from Ivan. We were very lucky in this one.
Since today was washday we dined in God's restaurant tonight with Queen's spaghetti. As usual it was top notch. I have been trying to be a good boy and I saved half of mine for a lunch later.
I got this from Queen's cousin Bob Greenawalt:
Brain Cramps
Question: If you could live forever, would you and why? Answer: "I would not live forever, because we should not live forever, because if we were supposed to live forever, then we would live forever, but we cannot live forever, which is why I would not live forever,"
--Miss Alabama in the 1994 Miss USA contest.
"Whenever I watch TV and see those poor starving kids all over the world, I can't help but cry. I mean I'd love to be skinny like that, but not with all those flies and death and stuff." --Mariah Carey
"Smoking kills. If you're killed, you've lost a very important part of your life," --Brooke Shields, during an interview to become Spokesperson for federal anti-smoking campaign.
"I've never had major knee surgery on any other part of my body,"--Winston Bennett, University of Kentucky basketball forward.
"Outside of the killings, Washington has one of the lowest crime rates in the country," --Mayor Marion Barry, Washington, DC.
"I'm not going to have some reporters pawing through our papers. We are the president." --Hillary Clinton commenting on the release of subpoenaed documents.
"That lowdown scoundrel deserves to be kicked to death by a jackass, and I'm just the one to do it," --A congressional candidate in Texas.
"Half this game is ninety percent mental." --Philadelphia Phillies manager, Danny Ozark
"It isn't pollution that's harming the environment. It's the impurities in our air and water that are doing it." --Al Gore, Vice President (DUH !)
"I love California. I practically grew up in Phoenix." --Dan Quayle
"We've got to pause and ask ourselves: How much clean air do we need?"--Lee Iacocca
"The word 'genius" isn't applicable in football. A genius is a guy like Norman Einstein." --Joe Theisman, NFL football quarterback &sports analyst.
"We don't necessarily discriminate. We simply exclude certain types of people."
--Colonel Gerald Wellman, ROTC Instrutor.
"If we don't succeed, we run the risk of failure." --Bill Clinton, President
"We are ready for an unforeseen event that may or may not occur."
--Al Gore, VP (damn he's smart)
"Traditionally, most of Australia's imports come from overseas."
--Keppel Enderbery
"Your food stamps will be stopped effective March 1992 because we received notice that you passed away. May God bless you. You may reapply if there is a change in your circumstances."
--Department of Social Services, Greenville, South Carolina
"If somebody has a bad heart, they can plug this jack in at night as they go to bed and it will monitor their heart throughout the night. And the next morning, when they wake up dead, there'll be a record." --Mark S. Fowler, FCC Chairman


Tuesday, September 21, 2004 7:06 AM 52 deg at LVIA and 42 deg in the bus stop

This morning I sat up on the glider with my morning cup of coffee. It was 7:25 before the sun appeared over the porch roof. Tomorrow is the first day of fall. <Phooey>
I took my medical readings this morning and my glucose level was 119 and my weight 195.

After Queen got up we went for a walk. This time we walked up to First Street, crossed the street and then all the way east to Fifth Street and back home. That is easily a mile. Since the swimming has stopped I must maintain my exercise. I had the bonus of having Queen walk with me.

George Ashman called this morning to tell me his "Expert", Brenda Wentz, was there to help him with his computer and possibly enabling him to receive the pictures in my web page. I went down and gave him a program of mine that helped a whole lot. He couldn't receive them all but Brenda and I both suspect that his free Juno program causes much of his problem. I almost have him convinced to get the low cost Prolog program. She was able to open my web page and after she saw it she asked to be placed on my mailing list. I am glad to have her. She is very knowledgeable on the subject of computers. I can use all the knowledge sources I can find. Ha!!

This afternoon we decided to take Butternut on his afternoon walk. We have been regularly walking him and he attempts to keep all the trees moisture levels up. Ha!! Butternut seems to enjoy it a lot. He is getting better on a leash.
I just got these from Bob Green. I think they are great!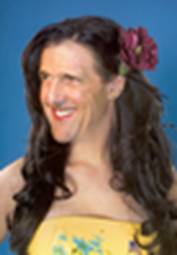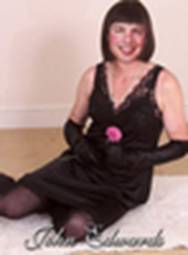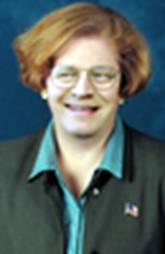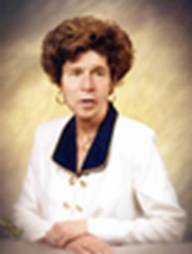 Golly as we were nearing the park run on Columbia Avenue a Chrysler Cruiser pulled over to the curb. It was George Gilbert. It was good to see him again. He is looking well. It is always nice to speak with a reader of these pages. His input is welcome.

Tonight for supper Queen had a chicken thigh each, an ear of Mike's corn, a small baked potato [nuked in the microwave], fresh string beans, tomatoes, and cottage cheese. I had some raisin brownies and a cup of coffee. We eat damn well here.


Wednesday, September 22, 2004 7:14 AM 54 deg at LVIA and 48.5 in the bus stop


I must take the car out to Blue Ridge Service center shortly.

<8:08 AM> I am back. As I drove out toward Aquashicola I could see furniture and all kinds of other water soaked refuse sitting for the garbage men to pick up. The man who brought me home said it was a lake out there during the storm's aftermath. The loose propane tanks at Lynn Hearn's floated away. It was a real mess. He said the water was up to the flower boxes at the "Subway" store at 6th and Delaware Avenues. They could see the water pouring down the storm drains. Had they been blocked with leaves there really would have been a much worse problem.
I got this from Sharon forwarded by Joel

Kern
:
1. WILL THE REAL DUMMY PLEASE STAND UP? AT&T fired President John Walter after nine months, saying he lacked intellectual leadership. He received a $26 million severance package. Perhaps it's not Walter who's lacking intelligence.
2. WITH A LITTLE HELP FROM OUR FRIENDS: Police in Oakland, CA spent two hours attempting to subdue a gunman who had barricaded himself inside his home. After firing ten tear gas canisters, officers discovered that the man was standing beside them in the police line, shouting, "Please come out and give yourself up."
3. WHAT WAS PLAN B??? An Illinois man, pretending to have a gun, kidnapped a motorist and forced him to drive to two different automated teller machines, wherein the kidnapper proceeded to withdraw money from his own bank accounts.
4. THE GETAWAY! A man walked into a Topeka, Kansas Kwik Stop and asked for all the money in the cash drawer. Apparently, the take was too small, so he tied up the store clerk and worked the counter himself for three hours until police showed up and grabbed him.
5. DID I SAY THAT??? Police in Los Angeles had good luck with a robbery suspect who just couldn't control himself during a lineup. When detectives asked each man in the lineup to repeat the words: "Give me all your money or I'll shoot", the man shouted, "that's not what I said!".
6. ARE WE COMMUNICATING??? A man spoke frantically into the phone: "My wife is pregnant and her contractions are only two minutes apart". "Is this her first child?" the doctor asked. "No!" the man shouted, "This is her husband!"
7. NOT THE SHARPEST TOOL IN THE SHED! In Modesto, CA, Steven Richard King was arrested for trying to hold up a Bank of America branch without a weapon. King used a thumb and a finger to simulate a gun. Unfortunately, he failed to keep his hand in his pocket. (hellooooooo)!
8. THE GRAND FINALE!!! Last summer, down on Lake Isabella, located in the high desert, an hour east of Bakersfield, CA, some folks, new to boating, were having a problem. No matter how hard they tried, they couldn't get their brand new 22 foot boat going. It was very sluggish in almost every maneuver, no matter how much power they applied. After about an hour of trying to make it go, they putted into a nearby marina, thinking someone there may be able to tell them what was wrong. A thorough topside check revealed everything in perfect working condition. The engine ran fine, the out-drive went up and down, and the propeller was the correct size and pitch. So, one of the marina guys jumped in the water to check underneath. He came up choking on water, he was laughing so hard. NOW REMEMBER...THIS IS TRUE. Under the boat, still strapped securely in place, was the trailer!
This morning the blood glucose is 119 and the weight 195.
I just received this picture from Bob Green.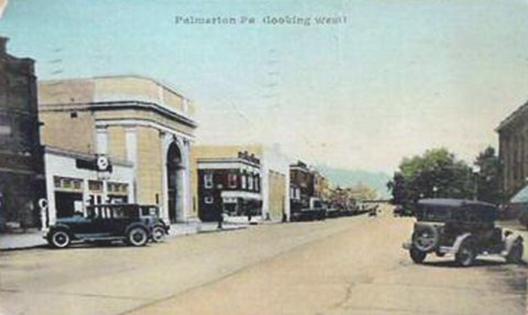 I notice the Stemler Motor Company Buick dealership on the left and the weigh yourself scale outside at Hawk's Sweet Shop. Across the street is an awning. I wonder if that isn't a part of the building that held Diehl's Bakery. The picture looks as though it was taken in the 1920's or early 1930s.
We just got back from our 1 mile walk. It was a grand morning to be walking with my best girl.
The blood glucose was 121 and the weight 194.

I got my blood report from the Miller Blood center regarding my cholesterol level and liver function. The cholesterol level is 166 and the liver function enzyme test is 30. The last time the cholesterol level was just a tickle below 200. I strongly suspect the Fiber One in my diet has made a substantial 30 point improvement.
I see that Jim

Burhauser

and his pal Max were out here cutting the grass in the cemetery and the societies property in general. It looks good as it always does after he cuts it.


I told him about my
cholesterol level. He said he has a hereditary problem with it. He said Dr Nicholson has him on a medication now for it. I suggested that he discuss it with the doctor to see if the fiber would help him. Dr Nicholson has told me often that all drugs have side effects and my theory is if one can lower it naturally it might be worth a talk with the doctor. One thing about the bran regime one can't just start taking the stuff. One must

slowly work their way into it. I found that out. I started using it because of my "blueberry" problems last summer and it worked. However as son Jack used to say "I'm me and you are you." Everyone is different!!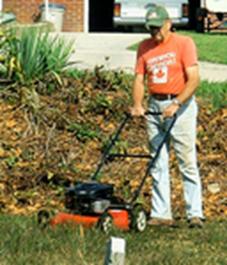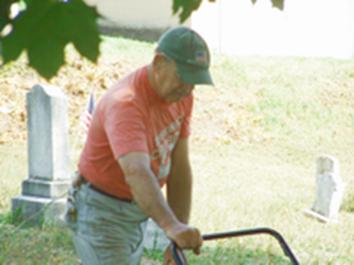 Jim's Collie dog Max is his faithful friend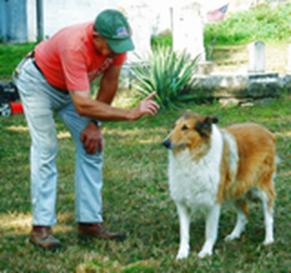 All Jim had to say was "Where is the bunny?"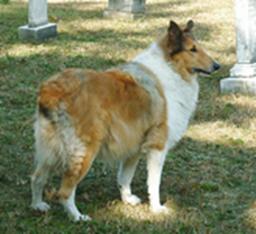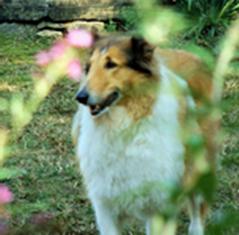 Queen is busy out in the kitchen while I work on this thing. I think it is about time to bring this to an end for this week.