Founded December 17,1912 Ceased Publication Thursday February1, 1951
Book 1 Volume 46

Our Butternut
The masthead appearing above and below is not an accident nor is it meant to be a gimmick. My dad, George R. Elliston was the owner, founder, editor, and publisher of the Palmerton Press. I am trying in my own way to keep that banner visible.
First and foremost this thing makes absolutely no attempt to be a real newspaper. For that one must read the Times News at http://www.tnonline.com/news/ . I write this for my own enjoyment. I hope others will enjoy it also.
Below is the actual lead slug masthead of the Palmerton Press in its days of operation. It now resides with son George R. Elliston 2nd.

Here it is shown reversed for all to read.

At this time, I want to acknowledge the deep debt of gratitude to all those who have supported me in this endeavor. My wife, Queen is my inspiration and greatly augments my efforts. I realize that I sometimes must drive her nuts with my ravings and antics. Sometimes the blue smoke emitting from my ears is not pretty. However, her love, support, and help have been indispensable. She is my proofreader and censor.
My son George, grandsons; Andy, and Jason, have been instrumental in making these things appear at all. They supply the technical expertise to put and keep it on line. I can type the words, but they keep the press running! Ha!

I am particularly interested in reaching not only current Palmertonians, but also former Palmerton residents, who may still find the old town a source of comfort and the remembrances of happy days.
Don't expect much in the way of earth shattering events to appear here. This is how Queen and I live. Oh, an occasional "Bobby's" ranting opinion will appear. This is run as an autocracy not a democracy. Hey, there is always the delete key.
However at least these pages don't have to stand on their literary merits alone, Thank God!!

Thank God my mentors all suffer a now 78-year-old fool well. I wish to express my thanks to everyone.
I also deeply appreciate the responses from my readers who seem to enjoy our view of life as well as the pictures of our town and home. Grandson Andy says this is basically a letter with pictures. Actually it is more of a diary with pictures.

Saturday, October 02, 2004 7:42 AM 57.5 deg. at Slatington High School 50.4 in bus stop
I found a new weather location that is even closer to Palmerton. It is at the Slatington Elementary School and it is on the Weather bug site at http://weatherbug.com/ I used to use this site all the time when the Lehighton school was on line, but it became unreliable. It looks fine now. We shall see.
I don't know if any of you considered this but you can set this, or any other weather site up for yourself in either your local location or in any other town or city. We are able to keep informed about the weather at the locations of all of our loved ones!!! It is easy to do!! The nice thing about this one is that it isn't from the National Weather Service but a set up by local schools with local readings.
We went for our walk this morning. I didn't take my camera but there must have been 5 or 6 yard sales on Columbia Avenue taking place.
It looks cloudy and thundershowers are predicted for today starting about noon.
I am so grateful for son George's intervention fixing my last week's website problems. He went so far as to put the issue that had the problem of no pictures on his site.
I notice that Comcast permits 25 MB of space.
The Personal Web Page feature allows any Comcast High-Speed Internet Service member to create and publish a 25MB Web page per E-mail account, accessible via the Internet.
Hey come on Prolog!!!
This morning my blood glucose was 121 and my weight 195. Last evening for Queen asked me to prepare turkey stroganoff. It turned out very well.
Last week when George was here for security reasons we disabled the active X feature in XP. I discovered that it stopped some of the desirable things I needed so I went back and changed the settings from disabled to ask permission. Many of those functions I don't use but for those I do use it is now available. It is a nuisance to continually have to answer the request for you want to-----. But I guess the extra security is needed these days. I figure it is worth the trouble to still have what I want. It doesn't take long to see what is desirable and what isn't and act accordingly.
We went to Walmart this morning to do some shopping. The place was crowded with people out on their day off. I found a pair of overalls that I am going to try. I won't need the suspenders now.
Last Friday on the way home from the dedication of the Palmerton Press microfilms at the library we went up to the Carty residence, in Harvard Court, where Dr. Howard Cyr had built that marvelous entrance way and I took a picture of the lamps at night, His work is outstanding.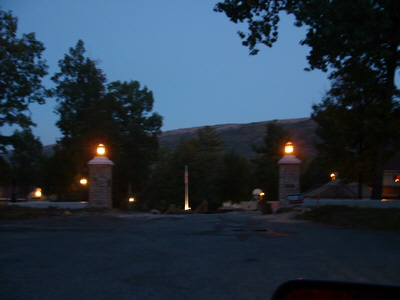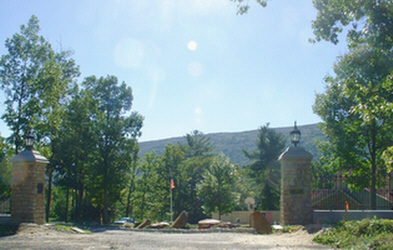 These are pictures of the finished job during the day as well as at dusk.
Tonight for supper we had a piece of the salmon we got yesterday at Giant. Along with it we had the last two ears of neighbor Mike's superb fresh corn. It must have been two weeks old but it was still fresh and sweet. Then we also had a potato, sliced tomato, cottage cheese, and ice cream. It was an excellent meal.

Sunday, October 03, 2004 7:16 AM 48 deg at Slatington and 46.4 in the bus stop.
It looks like a nice day today. The sun isn't up yet but I will be heading out as soon as the coffee is ready. The blood glucose is 130 and the weight 195.
Well, I was up in the tent this morning and much to my chagrin the sun this morning instead of coming up over my front porch roof is now arriving over Tommy's chimney across the street. It is later and a few degrees further south. <Sigh> None the less it is a beautiful day.
We went for our walk this morning. I took along the camera. I wanted to get a picture of the vacant lot down near Dr. Nicholson's house on Columbia Avenue next to Sand Quarry Road. It has recently been "timbered". I presume someone may be going to build a new house there.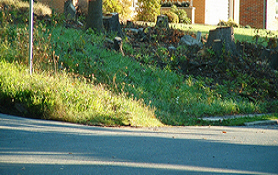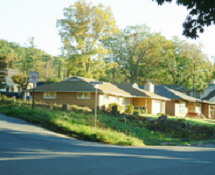 Some of the lot can be seen.

This morning before Queen and I started our walk I decided it was time to finally turn on the heat here in Paradise. The place was chilly this morning. By the time we returned a bit over a half an hour later one could definitely notice the difference. Now I shall have to call Timmy DeSousa to top off the oil tanks and clean the furnace. It is time!!

I just got this from my friend Matt. There are pictures of the Volcano at Mt. St. Helens that will refresh them selves every five minutes. One can readily access the site themselves.

http://www.fs.fed.us/gpnf/volcanocams/msh/

This afternoon about 3:30 we took Butternut for his afternoon walk. He is doing much better on his leash. After he takes care of pressing matters and sniffs at a lot of trees, he is ready to walk back home following obediently behind us. Maybe there is hope after all. We only walk from the 200 block to 4th Street and back.

Tonight I made the supper. I had a Tyson rotisserie chicken, stove top stuffing, a sliced tomato, cottage cheese and fresh green beans. It was very easy to make and it was delicious.

For the money those chickens are damn good and worth the slight extra cost for the convenience. The whole works took less than half an hour. Queen and I were wishing they had a prepared chicken about oven stuffer size. Now that would be nice. We were too full for dessert. Coffee was enough!!

The Tyson chicken we got at Aldi's and the exact same thing was for sale at Giant for over a $1.50 more. This certainly meets the criteria of that famous connoisseur of value Mr. Alfred P Davies, Tommy's Dad, who said that it had met the unbeatable combination of being both "cheap and good"!!

Monday, October 04, 2004 7:16 AM 38.7 at Slatington E.S. and 41.9 in the bus stop
This morning the blood glucose is119 and the weight 195.It looks like it is going to be a nice day today even though the sun is not over the mountain yet. I am heading out with my 8 O'clock coffee and the dog.
There was heavy dew last night and there is defiantly a chill in the air this morning. I am going to have to do something with whatever plants we plan to winter over today. Frost is expected tonight so action is needed.
We got back from our walk and now Queen is preparing our oatmeal breakfast. She always uses old-fashioned oats cooked in a double boiler with milk. She adds raisins, banana, frozen blueberries or whatever fruit is in season, and some walnuts. Then either a piece of whole-wheat toast or an Aldi English muffin and a glass of orange juice and coffee finish a very satisfying breakfast.
I have been out washing, de-bugging and trimming the plants we plan to bring in for the winter. I also planted the strawberry plant that was growing in its pot along with the three hardy pansies that Queen got yesterday.
This afternoon after lunch Queen planted all 60 of her spring bulbs she just purchased. I tried to dig a few of the holes for her but then I took my nap. Not her she stayed at it. She got done about 3:30 this afternoon. Then she took her rest while I am working at this.
Since there is a call for possible frost tonight I brought down some covers from the garage for the tomatoes. I will put the plants I cleaned in the bus stop overnight.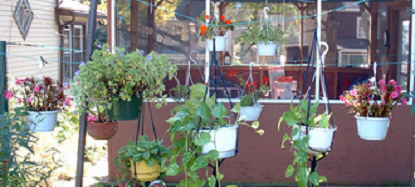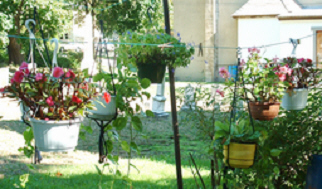 This morning Queen when went to the bank she saw Dr. Howard Cyr. He told us to go over to the band stand at the park and take a look at his latest project.
He has built and installed an all-new walkway made with pavers at the band stand. It is magnificent. If that man had gone into the masonry business when he wanted to do so he would be renowned for his work and no doubt would be a very successful contractor. Selfishly I am glad he remained a dentist because he has helped so many others with his chosen work. I would far rather chew with his work than walk on it. Ha!!
I am glad that he is finally able to realize his ambitions but he too is in his 70s and that is a though time to start hard physical labor. It is damn hard work. Thank God my newfound hobby is a lot easier on the back. My mind is something else!! Every morning I am down on my knees looking for my marbles! <Grin>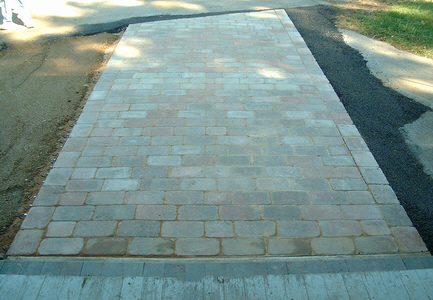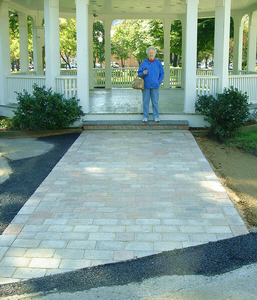 Tonight once again we dined in God's restaurant with Queen's spaghetti. Today was washday but this time Queen broke it up into two days. She did the sheets yesterday and today wasn't nearly as bad. However she more than made up for it by working outside this afternoon.
This afternoon the oilman stopped by and dropped off 402 gallons of prepaid heating oil. Now we should be set for most of the winter. The woman at the office said that they had a long list for furnace cleaning. The furnace seems wok but it is good to have it checked.

Tuesday, October 05, 2004 7:22 AM 43.5 at Slatington ES and 42.9 in the bus stop
This morning the blood glucose was 118 and the weight 194. It looks like a nice but chilly, morning. The heat feels good here in the house this morning, especially in the bathroom. A reading of 80 is far nicer than the 60s as it would be without having turned on the heat.
This morning we went for our walk. It was chilly but not bad at all. As usual, I took my camera.
Earlier I was up on the glider with my coffee watching the day begin. I get sunshine there at 20 minutes of eight.
Last evening I was speaking with my brother in-law, Walter Guyer and the subject of our hearing aids arose. He tells me exactly the same thing. When we both must be without them, there is the sense of really deeply profound hearing loss; in fact I would call it deafness. We both need them in both ears. <Sigh> I realize that this is a favorite rant of mine, but I really have finally gotten used to using them but the dependence on them is real and unappreciated one bit!! I must reluctantly agree that bad as they are, they are better than being without them. <Groan>
This morning we went to Lehighton and I stopped at Radio Shack and availed myself of their sale on hearing aid batteries, buy one get one free. So now I am in good shape battery wise.
Queen got my birthday present another pair of overalls and some shorts. I made the very pleasant discovery that my older present size 44 shorts tend to fall down, if the elastic is slightly stretched. So, she got me 42s. <Grin>. They are a great improvement and are no longer at half-mast. Many a day I was glad I wans't a Scotsman wearing kilts, ha!!!
Then after lunch, I brought in the plants that spent last night in the bus stop. I had to move the stuff that was previously in front of the air conditioner, put it back in its place and assume that it will not be needed anymore this year.
Hopefully the Safer soap will eliminate the bugs!! It looks like winter in here now!!
I got this in my e-mail and I find it very interesting. I didn't realize it but that would be a good source of PHS information. I suspect that the Palmerton Printing Company probably printed most if not all of the "Mirrors". All of their past records are gone. A lot of history was put on the dump when we were forced out of business back in the 1950s.
From: Mep Moyer
Subject: Re: The Palmerton Press
Hi Bob:
Has anyone researched the PHS archives for a 1932 yearbook? Most of them are in the library at the high school. That is where I found the dedication booklet for the high school at 3rd & Lafayette. I don't think that the 1932 team was one of the better ones. The 1929-31 teams were very good including George Konsko and Mike Samok. The 1929 team had Harold Miller at center.
His family owned the hotel that was located where Spillane's presently located. He became General Manager of the Bethlehem plant of Bethlehem Steel Corporation. I had met him at a management meeting after my father-in-law died and asked him if he had a team picture. He indicated that he did not and would appreciate having one. Since I worked in the printing department at Bethlehem Steel it was not a problem to provide him with a copy from my father-in-law's scrapbook.
Mel (Mep) Moyer
Now that is interesting with another ex-printer on the mailing list. I suspect Bethlehem Steel's print shop was a bit better financed and configured than we!! Now, both of us are down the flue. Ha!!

Wednesday, October 06, 2004 7:22 AM 32 deg at Slatington ES and 32.9 in the bus stop
The Glucose level is 134 and the weight 194. It was downright chilly up on the "park bench" this morning. As soon as Queen makes her appearance we will be going for our walk.
<8:32 AM> We are back from our walk. It is a bit nippy out there but not uncomfortable. It does feel good to come back to a nice warm house.
I got this from Charlotte Rehrig. I have seen it before, but it sure bears repeating
Will Rogers, who died in a plane crash with Wylie Post in 1935, was probably the greatest
political sage this country has ever known. Enjoy the following:
1. Never slap a man who's chewing tobacco.
2. Never kick a cow chip on a hot day.
3. There are 2 theories to arguing with a woman...neither works.
4. Never miss a good chance to shut up.
5. Always drink upstream from the herd.
6. If you find yourself in a hole, stop digging.
7. The quickest way to double your money is to fold it and put it back in your pocket.
8. There are three kinds of men: The ones that learn by reading. The few who learn by
observation. The rest of them have to pee on the electric fence and find out for themselves.
9. Good judgment comes from experience, and a lot of that comes from bad judgment.
10. If you're riding' ahead of the herd, take a look back every now and then to make sure it's
still there.
11. Lettin' the cat outta the bag is a whole lot easier'n puttin' it back.
12. After eating an entire bull, a mountain lion felt so good he started roaring. He kept it up
until a hunter came along and shot him. The moral:
When you're full of bull, keep your mouth shut.
ABOUT GROWING OLDER...
First ~ Eventually you will reach a point when you stop lying about your age and start bragging
about it.
Second ~ The older we get, the fewer things seem worth waiting in line for.
Third ~ Some people try to turn back their odometers. Not me, I want people to know "why" I look
this way. I've traveled a long way and some of the roads weren't paved.
Fourth ~ When you are dissatisfied and would like to go back to youth, think of Algebra.
Fifth ~ You know you are getting old when everything either dries up or leaks.
Sixth ~ I don't know how I got over the hill without getting to the top.
Seventh ~ One of the many things no one tells you about aging is that it is such a nice change
from being young.
Eighth ~ One must wait until evening to see how splendid the day has been.
Ninth ~ Being young is beautiful, but being old is comfortable.
Tenth ~ Long ago when men cursed and beat the ground with sticks, it was called witchcraft. Today
it's called golf.
And finally ~ If you don't learn to laugh at trouble, you won't have anything to laugh at when you
are old.
We took Butternut for his walk this afternoon and he seems to enjoy it a lot. It was a great afternoon to be outside but as we both said a walk goes a lot harder as the day wears on and the steam in the boiler gets lower. Golly!!
Earlier this morning we had to go to Rite-Aid. I stopped at the "Werley" grocery to pick up some Lancaster County tomatoes and a couple of bananas. The man said these were the last of the season. On the way we stopped at my favorite Tailor shop Margaret Shinsec's establishment to have her shorten the overalls that we just got. We noticed that there was heavy equipment working down at the "timbered" lot here next to Dr. Nicholson's house. I forgot to ask her who it was that was working there.

Thursday, October 07, 2004 7:15 AM 40.6 at Slatington ES and 39.9 in the bus stop
This morning the blood glucose is 109 and the weight 195. The sun isn't up yet here but it looks like it will be a nice day. I am off to the park bench with my coffee!!
Here is s picture I just got today from Bob Green of Strohl's Inn. He sure gets some good stuff.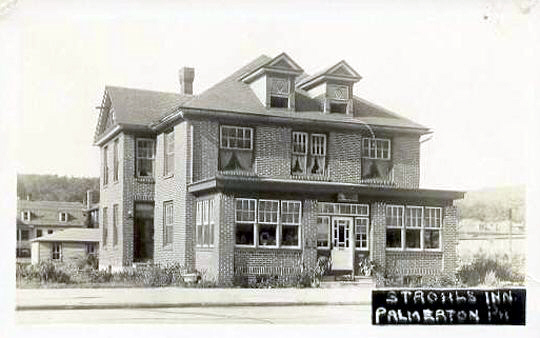 We went for our walk this morning and I took along the camera. I got some more pictures of the construction down at Sand Quarry road, of what, I don't know.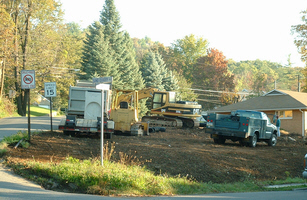 I did notice that one of the trucks there is that of the George Schmidt Construction Company. They are commercial type building contractor. Such as the Franklin Building belonging to the hospital at 2nd and Franklin Avenues.
This morning about 10:30 am we went grocery shopping. It was our usual trip to Aldi's, Giant, and Country Harvest. In Giant I met Verdell Felter and his wife, Norma, who I hadn't seen since the festival. They sold homemade dolls and things like that. I asked him if he recovered from their stint there and he said, "yes that Festival is a good one". He wishes they could make that kind of money everywhere they set up.
In Country Harvest Queen spoke with Mrs. Irene Dunbar, the former F.N.B. bank teller. She apparently has a bad back problem with rheumatoid arthritis. Verdell has his own serious problems also. Golly everyone has something!!
More and more I am convinced that one's mindset has a tremendous part in our health. Not only for losing weight but also for having good health in general.
Motivation in losing weight is everything if one wishes for any kind of success. I suspect mine is unique. It isn't enough for the Doctor to tell me if you don't change your ways you are going to die. Oh I know to once again quote that famous philosopher, Alfred P. Davies, "Nobody is getting out of this one, alive!!" but I intend to go kicking and yelling!!
I know in my case it is because I have come to realize that if my Queen needs help and support with her congestive heart failure,I have to be here to provide it or she must go into a "home". Neither of us wants that. I suspect for both of us it is mostly that we want to be here for one another. She would do no less for me so we both work at it. It isn't all luck!! The kids have been very supportive. I don't write this with any attempt at any moral high ground but very selfishly I want my Queen and I to be together as long as possible and I must do my part!!
Doing things like this silly web page or as George Ashman calls it, my "Blog", help to give me something to do that I love to do and keeps my mind active such as it is!! I suspect the words above might have something to do with son George's wonderful help with this thing for this old geezer. It is deeply appreciated by both of us. Now Queen is out in the kitchen making my birthday cake. Thank God we wont try for 78 candles It would take a flamethrower to light them and the fire department standing by. <Grin>
Tonight for supper Queen had bacon, lettuce, and tomato sandwiches. That is sure good stuff. I am married to the best cook in the world. Tomorrow though we will eat out at the Terrace Restaurant for my birthday!!
I got this from Dave Engler. I love it. The hearing aid one fits me perfectly! Just ask my wife!
Three old guys are out walking.
First one says, "Windy, isn't it?"
Second one says, "No, its Thursday!"
Third one says, "So am I. Let's go get a beer."
A man was telling his neighbor, "I just bought a new hearing aid. It cost me four thousand dollars, but it's state of the art. It's perfect."
"Really," answered the neighbor. "What kind is it?"
"Twelve thirty."
A little old man shuffled slowly into an ice cream parlor and pulled himself slowly, painfully, up onto a stool. After catching his breath he ordered a banana split. The waitress asked kindly, "Crushed nuts?" " No," he replied, "arthritis."

Friday, October 08, 2004 7:16 AM 45.7 at Slatington ES and 45.4 in the bus stop
"One of the many things no one tells you about aging is that it is such a nice change from being young." [Will Rogers]
My God here I am now 78 years old and still alive. When I was a kid I thought no one lived that long.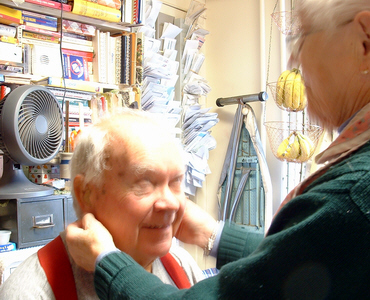 I used the self-timer and got a picture of Queen pulling my ears with my eyes closed all 78 times!!

This morning the blood glucose is 109 and the weight 194.

Here is another technical site one may find interesting. It is at, http://forums.techguy.org/
It has some good stuff on it.

We went for our walk this morning. It is kind of fogy and misty today. It isn't cold but sort of damp. I took the camera along but didn't see anything worth photographing.

We took a few minutes off this morning from Queen's running the plow upstairs and did go down town this morning but really did not see anyone on the street as we often do. My turn will come this afternoon when she gets down the stair steps with the vacuum cleaner. Maybe she could show me how that complicated piece of the Devil's equipment works then I will vacuum the downstairs!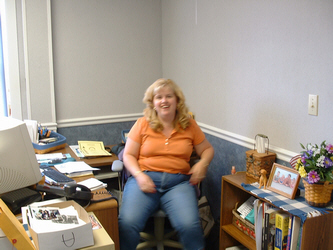 I had to pay the phone bill this morning at the same time we stopped in at the T.N. for Queen to drop off some stuff for Sharon and there she was holding down the fort by herself. All the others were out. It has warmed up quite a bit now. It is still too early for any good fall scenes locally.
David Williams, Fritz's brother, called me this morning to wish me a Happy Birthday. It is always nice to speak with him.
This morning nurse Judy, from Dr Nicholson's office, called to inform us that they will not be able to get ANY flu vaccine this year due to the shortage. Queen immediately called Dr. Kolecki's office and received the same results. I guess we are just going to have to try to stay healthy on our own!!
This evening we availed ourselves of George Ashman's gift certificate at the Terrace Restaurant and celebrated my birthday there. We both had Manhattans. Queen had LondonBroil with veggies and I had the seafood platter much like what I had previously. I can't speak for Queen but mine was superb. We were too full for dessert. Queen has a birthday cake in the fridge in the basement but we are too full.
With that it is time to end this and send it to the proofreader.
Please love one another, Mom and Bob [Queen and Bobby]
These are a few of the Quotes from Will Rogers seen above. They are just too good to just be forgotten!!
When you are dissatisfied and would like to go back to youth, think of Algebra.
I don't know how I got over the hill without getting to the top.
One of the many things no one tells you about aging is that it is such a nice change
from being young.
One must wait until evening to see how splendid the day has been.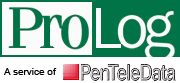 ---