Founded December 17,1912

Ceased Publication Thursday February 1, 1951
Book 1 Volume 47

Our Butternut
The masthead appearing above and below is not an accident nor is it meant to be a gimmick. My dad, George R. Elliston was the owner, founder, editor, and publisher of the Palmerton Press. I am trying in my own way to keep that banner visible.
First and foremost this thing makes absolutely no attempt to be a real newspaper. For that one must read the Times News at http://www.tnonline.com/news/ . I write this for my own enjoyment. I hope others will enjoy it also.
Below is the actual lead slug masthead of the Palmerton Press in its days of operation. It now resides with son George R. Elliston 2nd.

Here it is shown reversed to read

At this time, I want to acknowledge the deep debt of gratitude to all those who have supported me in this endeavor. My wife, Queen is my inspiration and greatly augments my efforts. She is my proofreader and censor and the one that attempts to keep me on the straight and narrow! Ha
I realize that I sometimes must drive her nuts with my ravings and antics. Sometimes the blue smoke emitting from my ears is not pretty. However, her love, support, and help have been indispensable.
I am particularly interested in reaching not only current Palmertonians, but also former Palmerton residents, who may still find the old town a source of comfort and the remembrances of happy days.
My son George, grandsons, Andy, and Jason, have been instrumental in making these things appear at all. They supply the technical expertise to put and keep it on line. I can type the words, but they keep the press running! Ha!
Don't expect much in the way of earth shattering events to appear here. This is how Queen and I live. Oh, an occasional "Bobby's" ranting opinion will appear. This is run as an autocracy not a democracy. Hey, there is always the delete key.
At least, with the addition of pictures, these pages don't have to stand on their literary merits alone, Thank God!!
I also thank God my mentors all suffer a now 78-year-old fool well. I wish to express my thanks to everyone.
I also deeply appreciate the responses from my readers who seem to enjoy our view of life as well as the pictures of our town and home. Grandson Andy says this is basically a letter with pictures. Actually it is more of a diary with pictures.

Saturday, October 09, 2004 7:19 AM 47.1 at Slatington ES and 49.4 in the bus stop
Well another Saturday is here I have been up to the park bench and after Queen came downstairs we went for our walk. It is a sort of cloudy murky day so far but it is not cold.
This morning my blood glucose was 118 but my weight was an unbelievable 190 pounds. I remember the feeling of great joy when I reached 200 lbs,now I hope this is a new threshold. Oh I know it won't stay at that point but it seems to be at least heading in the right direction in spite of last night's Birthday pigout at the Terrace Restaurant.
That fish platter was delicious. I don't usually have French fries but on an occasion like that it is readily and happily indulged. The meal consisted of filets of flounder and haddock, scallops, shrimp, and a delicious crab cake and I really enjoyed it. I was hard pressed to finish it but piggy did!! Perhaps the "Manhattan" helped. Ordinarily I am a wino not a "haard" liquor man.
Queen is running the plow in here today. We are expecting Mary, Jim and Lillian this afternoon. I ran the vacuum cleaner down here yesterday. Now after her efforts one can actually see the top on the couch and if need be sit on it! ! Ha!
I must say some times we really do "get into it" verbally. Oh nothing bad but woman and men certainly look at these things differently.
I realize a clean neat house is important to most women. Not just Queen. Oh she isn't clean crazy but when someone is coming she wants the place to look nice. There is nothing wrong with that. However,I am sure she looks at me here at the computer thinking why doesn't he get off his fat arse and help me clean this place. Can't he see I am busy? I shouldn't have to ask he should see I am working hard and could use help!!
Hey I am perfectly willing to help her but she has to ask. Often I am lost in thought and seemingly appearing to be doing nothing. Most men, me included, are willing to help their wives if they are asked, but not many volunteer to do it by themselves unless it is under circumstances that are very obvious. Oh I suppose it is a man thing. I do know this line of reasoning will not go over with her one bit!! Ha!!
" There are two theories to arguing with a woman...neither works" Will Rogers!!.
What I am doing at the computer I realize is certainly not of any world-shaking importance, but for me this web page it is important and I take it seriously.
As the late Vice President of the Unites States, John Nance Garner, said when speaking of the importance of the Vice Presidency, "It isn't worth a pitcher of warm spit" However sometimes I am on a train of thought that gets far too easily derailed. Then it is gone!!
I realize that I do take it far too seriously. Just ask son George. I admit that. It may look like I am not doing much! <Sigh>
Oh really there are no hard feelings but sometimes we both get a bit testy and harsh words sometimes do happen. However neither of us harbors grudges. We did not marry one another to have someone to fight with. I swear there are plenty of couples that do. We never got to bed mad at each other, never!!
This morning I was out doing the exciting job of cleaning up recycled dog food in the yard!! I must have collected four pounds or more.
I was also sitting up in the "tent" after lunch drinking my cinnamon tea. Of course I am wearing my new overalls. I like them. A farmer I am not, but they are comfortable and I don't need a belt nor need I worry about those stupid suspender straps sliding down.
Golly but times like this is one of the things that can make life a very happy place. I am well aware that many in this world are not able nor willing to take the time to try to enjoy what is going on around them, but I try. It is little things like quiet times up there with my Queen or by myself that make life worth living. Happiness is really mostly the small stuff in life!! As Will Rogers said,

"If you don't learn to laugh at trouble, you won't have anything to laugh at when you are old.

Hey at 78 I am not out to conquer new worlds. But, I must say that I would like to improve my computer skills. Oh nothing world shaking but better able to take care of myself.
I realize the biggest skill I need is a better control of my" always in a hurry" thing. It has been a bugaboo for me all my life. <Sigh>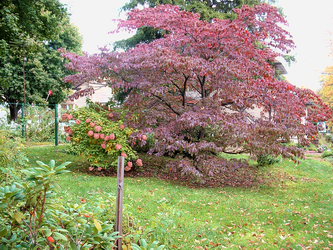 Tonight we had Mary and Jim Hill as well as Lillian Rau here for an afternoon visit and meal. They even brought the meal. We had a beef roast cooked in a bag, baked potatoes, green beans, cranberries, sliced tomatoes and a piece of my chocolate birthday cake. It was superb.
Queen made the cake at my request. It was a "Connie Cake" that Queen made into a two-tier cake. Queen doubled the recipe and then made a chocolate peanut butter frosting. Man piggy didn't loose any weight tonight.
My Delaware experts are still trying to extricate me from my mess here with this web page. I realize many of you wonder what I am talking about because most of you may have very little problem opening and viewing all the contents. However there are problems for some.
Son George suggests to me that since the MS Word program I am using is preventing many others to view the photographs he reformats the copy that I send to him there in Delaware.
The program he to uses to" salvage" my page and make it readable to all caused him to suggest that I try to use a font that is not too unique nor of a non standard color. Apparently the program he uses is forced to pick a font over which he has very little control. This may reduce the problem of the over sized type fonts that are the result of his conversion program. It may turn out to be a plain vanilla type of page without some of the effects I liked to use before.
I am also going to try to use fewer pictures, but the ones I do use will be of better resolution and quality. I am going to go from a size of 150 pixels to a now 250 pixels and it certainly should help the quality. I was stretching them to get more but they don't look very sharp at all. It was the making a silk purse out of a sow's ear. <Grin>
Pictures use up storage space damn fast so I must watch. I notice that my Prolog web space has crept up to 16.58MB. Gee!, but I wish I could get more space without going commercial!!
Hey these changes are the least I can do to help make it work. I suspect that I shall have to send my copy to him and have him convert the page and he will put it on my web site at least until we can work out a permanent cure. This may mean a later arrival of the page, Please bear with me. I don't know what I am doing either!! Ha
I got an e-mail from Anne Keiser who has been receiving these pages for quite a while, but now is finally seeing the pictures for the first time. That alone is worth the trouble!!
Hi Bob, HAPPY BIRTHDAY & MANY MORE !!!
Happy to say that I can now see the pictures and it makes me soooo glad!
Thanks to your grandson !!
Golly, that Dr. Cyr is such a talented man. You can tell him that I said that..
God Bless, Anne/KO3M
Well Howard shall find out because he gets these epistles also!!
I am starting a folder of homes I see in our area that are decorated for Halloween. I plan to put some of them in these pages as the season progresses. Most of them are seen in the course of our walks.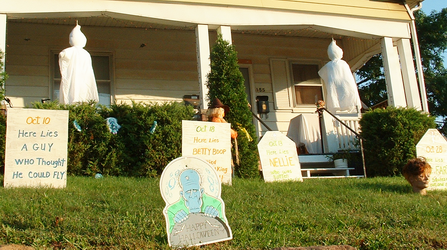 This to me this used to be the "Handwerk" house on the corner of 2nd and Columbia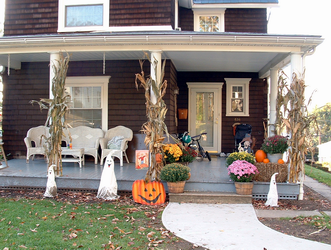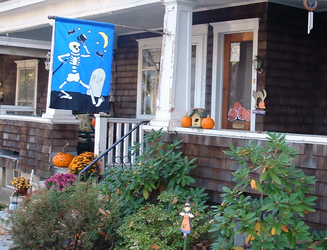 The former Danneburg residence on Columbia and the former Hostetter house also on Columbia Avenue

Sunday, October 10, 2004 7:21 AM 49.6 at Slatington E.S. and 51.4 in the bus stop
This morning the weight was 190 <Grin> and the blood glucose was 131. It looks like a nice day this morning. I am going to take my 8 O'clock coffee and head out for the park bench. Now I get sunshine up there at 7:50 <Sheez>.
We went for our walk and didn't meet a soul. It was nice walking and I took some pictures as usual but the time isn't quite right for maximum color yet. The sun was exactly at the right angle but the colors just aren't there yet.
This morning Queen and I planted the Daffodil bulbs we gave Jean and Mike the other week. Since the old man has his leg in a cast we thought it best if we planted them. I dug the holes with the "claw" and trowel and Queen planted and watered them. She put in all 30 of them five to a hole. They should look nice next spring.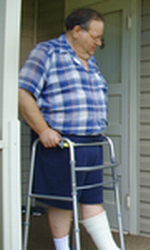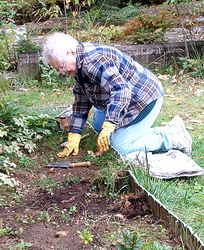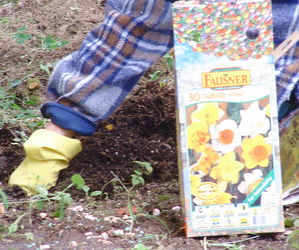 I do have some news about the new construction at Sand Quarry Road and Columbia from George Ashman,
Bob,
I was told, a couple of weeks ago, that a retired dentist from Lansford had finally been able to buy that lot, and will have a house built on it. Don't know his name. When some people retire and move south, they don't move as far south as others. George
This afternoon we took Butternut for his walk. As usual it was a walk and tree-watering project. He attended to practically all of them on this side of the street.
Tonight for supper Queen had Chicken tenders, stuffing, green beans, tomatoes, cottage cheese, and birthday cake for dessert, it was excellent!!!! In case anybody missed it before here is Connie Reinhardt's recipe for "I hate to bake cake!!"
Connie cake from Ruth Elliston
Here is Connie Reinhart Chocolate cake recipe. It is superb. She was right it is so EASY to make. It turned out just great. Here it is; "I Hate to bake" Cake"
Dry Wet
1 1/2 C sifted flour 5 T. oil
3 TBS. Cocoa 1 T vinegar
1 tea Baking soda 1 tea. vanilla
1 Cup Sugar 1 Cup cold Water
1/2 tea. salt
Put all dry ingredients in a big sifter and sift together into mixing bowl
Add wet ingredients. Mix with whisk until blended. Pour into 8" square pan [ Grease] Bake at 350Deg.

for about 25 min.
Serve in pan
Queen's recipe for her super duper Chocolate icing for an 8" cake
¼ C. Hershey's cocoa
C confectioner's sugar
3 T butter [or half shortening and butter]
2T milk or water
½ t vanilla
Combine or cream butter 1/2 cup of cocoa mixture in a small bowel
Add remaining cocoa mixture alternately with milk
For a glossy icing add 1 T corn syrup (I used just ½ T syrup)
Believe me I have made them and if I can do it anyone can do it!!

Here is a site for the National Geographic magazine. The pictures of the Grand Canyon are great. Take a look at: http://www.nationalgeographic.com/grandcanyon/

Monday, October 11, 2004 7:20 AM 46.1 at Slatington E.S. and 48.2 in the bus stop
This morning the blood glucose is128, but the weight is 194 <Sigh> It is cloudy this morning with quite a breeze blowing. As soon as the coffee is ready I shall take the recyclables to the alley and visit the park bench.
This is from Monday's Wall St Journal October 11, 2004;
Remember the classic 1970s comic routine from Steve Martin? You can make a million dollars and pay no taxes. First, find a million dollars. Then when the IRS comes knocking on your door demanding to know why you didn't pay your taxes, you just simply tell them you forgot. And then you say: "Well excuse me."
Well, John Kerry has his own version. It goes like this. You can make a billion dollars and pay almost no taxes. First, marry a billionaire. Second, hire a gaggle of tax accountants and lawyers to bring your tax rate down to about half what many middle-income families pay. Except for John Kerry, this is no gag; it's reality. According to the Kerrys' own tax records, and they have not released all of them, the couple had a combined income of $6.8 million in income last year and paid $725,000 in income taxes. That means their effective tax rate was a whopping 12.8%. And it was all (presumably) done legally.
Now don't get me wrong: I'm not against people paying a 12.8% tax rate. Far from it. I just believe that all Americans -- even those who can't afford to hire tax attorneys to set up complicated trusts and find legal ways to stash income in other tax-sheltered investments like municipal bonds -- should have a shot at that kind of non-confiscatory tax rate.
THAT'S RICH
Who's Not Paying Their Fair Share?
2003 EFFECTIVE TAX RATE
George and Laura Bush 30.4%
Typical Middle Class Families

20%
John and Teresa Kerry 12.8%
Source: Club for Growth
This morning we went for our mile walk. It was breezy with the wind out of the east, but it wasn't uncomfortable walking.
I have seen this one before but it sure is true,
At age 4 success is . . not peeing in your pants.
At age 12 success is . . . having friends.
At age 16 success is . . . having a drivers license.
At age 35 success is . . . having money.
At age 50 success is . . . having money.
At age 70 success is . . . having a drivers license.
At age 75 success is . . . having friends.
At age 80 success is. . not peeing in your pants.
There is a whole lot of truth to these.
<12:11 PM> I just finished cutting the grass hopefully for the last time this year. I had been keeping the mower low on gasoline on purpose and you guessed it. I ran out of gas when I was nearly done. Now there is too much in the tank.
This morning I took last week's epistle to Dr. Nicholson's office and at the same time ask about potential flu shots. Nurse Judy said there was virtually no chance they would receive any at all. Nurse Linda suggested calling the Hospital and asked them about shots for the elderly. Queen called and got an answering machine. We shall see. Of course there was no mail delivery today.
We went down town and Queen picked up both of our prescriptions. Then we took Butternut for his afternoon walk. Now Queen is preparing her washday specialty, Spaghetti! Ah!!!
Golly but that was good stuff. I saved half of it for a later lunch. After I nuke it in the microwave it is just as good as the first time. That will probably be for lunch on Wednesday.

Tuesday, October 12, 2004 7:31 AM 42.7 at Slatington E.S and 44.4 in the bus stop
I went out with my coffee and noticed now that it is 7 minutes of eight before I am in full sunshine up on the park bench "tent". Also the sun is now appearing over the Hudonich's house. <Sigh>Oh how I miss the swimming season. <Double sigh>
The blood sugar this morning was 133 and the weight 191.Well I have concluded that I must be doing something right. Here are some of my previous records! My blood sugars never were really bad even from the hospital, but boy the cholesterol readings and weight have certainly improved a lot! My present reading of 166 looks mighty good to me. I do really feel well for an old geezer!!
Jan 8, 2002
Blood Sugar from Hospital test 179
12/8 4:45pm 119 222wt
12/8/89
Blood Sugar-------------------------138
Cholesterol--------------------------256
Triglycerides------------------------108
2/11/88
Blood sugar----------------------------110
Cholesterol- ----------------------------226
Triglycerides---------------------------100
7/18/89
Blood Sugar----------------------------149
Cholesterol-----------------------------246
LDL------------------------------------------185
HDL-------------------------------------------37
Oct.19 1999 Blood test results
Glucose [ sugar] 127
Cholesterol 220
This morning we went for our usual walk. As usual, I took the camera. Queen spotted a mushroom the likes of which neither of us ever saw before. Here it is. The leaves on Columbia are starting to turn yellow making for a nice fall scene.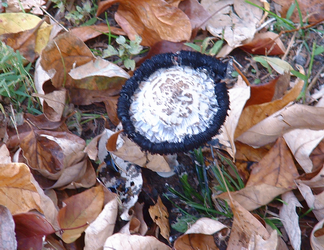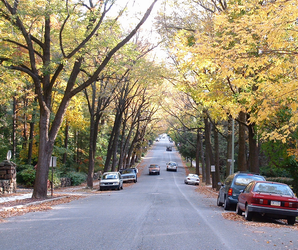 This morning we went to the Post Office and the bank. Queen had to return some shoes and I had to cash my birthday checks loot!! I do have some plans for using it.
This afternoon we took Butternut for his walk. He really seems to enjoy them a lot. I suspect his nights are better because of the renewed exercise. Of course I think it help us also. Since we no longer keep him in his crate overnight but is free to roam the kitchen he has been good. The thing is don't leave anything about that he might get into especially the wastebasket he loves wastebaskets!
Tonight for supper Queen made homemade vegetable soup. She used all kinds of good stuff in it including our own frozen lima beans, frozen tomatoes, and fresh string beans plus the usual celery, carrots, onion, and potatoes. Previously we had gotten two small beef roasts and cut them into chunks and froze them. It was a first of the season. Once the weather gets cold I want to get a ham hock, make ham, and bean soup, then we can store it in our outdoor fridge, the bus stop!
I got the picture below from Bob Green. The quality is not the best, but it sure looks old and authentic.

Panoramic view of the park, back when. Look at the beautiful mountains!

Wednesday, October 13, 2004 7:16 AM 40.3 at Slatington E.S and 39.2 in the bus stop
This morning the blood glucose is 140 and the weight 192. I can't figure out the higher blood sugar. All we had last night was vegetable soup!!
I was up in the "tent" this morning and saw Marlene and Lee Bollinger on their morning walk. We exchanged hearty waves.
We went for our walk this morning and it was a lovely day to be out. Now Queen is preparing breakfast.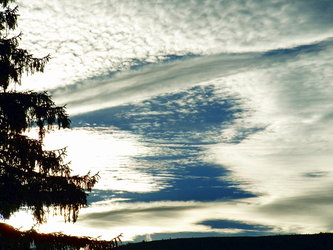 The sky was beautiful this morning!
This is a site for finding all kinds of stuff. It is worth a look! http://www.virtualgumshoe.com/
Well the old man learned a lesson from last year. I just disconnected the hose drained it coiled it up and put it away. Last year I forgot it and it turned into a frozen snake that I couldn't do a thing with except that I managed to twist off the handle on the faucet in the bitter cold. Ha!!
Gee whiz the old geezer solved a problem that had plagued me since yesterday. I downloaded 5 XP fixes from Microsoft but discovered that I could not access the camera with the USB's port. It didn't recognize that the camera was even there. A while ago sitting up at the park bench and I had the "flash of genius" to try a different USB port. I have regular USB as well as USB2 I switched to the other one and all is well. <Dummy>I discovered I have a bad hub!!
I also removed a lot of the unneeded things up at the tent, the small table, the bug spray, insect candles, as well as the candle lamps. I took them all down and put in the bus stop. It won't be long before the tent has to come down for winter. <GRRR>
This afternoon Jim Burnhauser was cutting the grass on the Society's property. He to said he thought it would be for the last lime this year. He shut down his pool on Labor Day
After lunch Queen and I sat up in the "tent" just quietly talking and sitting close to each other. We do have to be careful for propriety because Gail says she can see us there from her kitchen window. So we held the heavy stuff to a minimum. <Guffaw> Hey for a pair of oldsters it is damn nice just to sit with your best girl and hold hands!!
Later this afternoon we took Butternut for his afternoon walk. He loves it and seems much better for it.
We found out we will be getting flu shots after all The hospital called back, confirmed our ages and we must qualify. 87 and 78. I guess made the cut! Ha!!
This is from tonight's Times News
COMMUNITY STORY - Oct. 13, 2004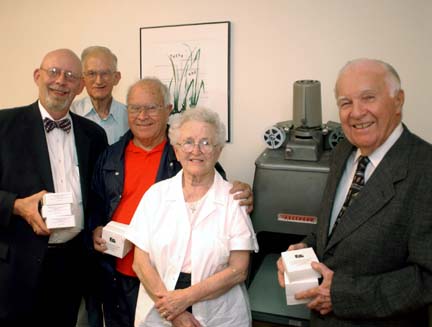 Former Palmerton Newspaper now saved on microfilm
Judge Richard Webb, George Ashman, publications committee chair of the Lehigh Gap Historical Society, Bob Elliston, Ruth Elliston, and Bill Bechdolt of the Horsehead Community Development Fund gather at the Palmerton Library to commemorate the preservation of the Palmerton Press. The remaining Issues of the Palmerton Press were preserved by converting them to microfilm at a cost of $4,700. Donations made the process possible.
With the help of several philanthropic groups and individuals, the Lehigh Gap Historical Society has managed to preserve yet another piece of Palmerton's history.
This time it was a newspaper that the society saved - the Palmerton Press.
The Palmerton Press was a weekly newspaper that was published in the borough from 1912 to 1951, according to George Ashman, publications committee chair of the Lehigh Gap Historical Society.
It was wholly owned, operated and published by George Richard Elliston.
Elliston was asked to come to Palmerton to begin a weekly newspaper and a borough printing facility by the New Jersey Zinc Company.
Elliston accepted the invitation and, for nearly 40 years, published the Palmerton Press.
His son, Palmerton resident Bob Elliston, was in attendance at the donation ceremony that was held at the Palmerton Library to commemorate the preservation of the Palmerton Press.
"I had no idea this was going to happen," he said. "But I'm delighted that it did."
While earlier issues of the paper had been lost, the Palmerton Library had bound copies of the issues from late 1923 through the final issue in 1951.
The bound copies were a result of the George Richard Elliston's foresight.
According to Ashman, Elliston sent a year's worth of issues of the Palmerton Press to a binder in Reading, annually, for preservation.
"We have the Elliston's to thank for preserving this," he said.
Because newsprint has a limited lifetime, however, the historical society sought to preserve the existing issues of the Palmerton Press either electronically or on microfilm.
"Newsprint does not last indefinitely," Ashman said. "That information, once lost, cannot be retrieved."
While much of what's contained within the volumes of the Palmerton Press may seem of little importance to many, a number of important events were chronicled within its annals, he said, citing obituaries as a prime example.
According to Ashman, electronically preserving the remaining issues on compact disc proved too costly for the historical society, and, as a result, the issues were transferred to microfilm instead.
"We're using microfilm, perhaps as an intermediary phase," he said.
While less prohibitive than electronic preservation, the microfilming of the remaining issues of the Palmerton Press carried a price tag of approximately $4,700, according to Ashman.
To cover the cost, the society turned to the Horsehead Community Development Fund (HCDF), which provided $2,000 for the microfilming.
The remaining $2,700 was paid through a number of private donations, including a donation of $2,000 from Richard and Janet Webb of Palmerton.
"We're doing this in honor of the Elliston family," Richard said about why he and his wife were making the donation.
Jack Sterling of Jim Thorpe donated a microfilm viewer to the society, which is currently housed at the Palmerton Library, along with the microfilm.
---
This making of the Palmerton Press a tangible part of Palmerton's history means a great deal to all of our family. As the remaining sibling of the founder, I have come more and more to appreciate what my family had to do in order to make a living.
My Father was recruited to come here from Lancaster Pa where he was a Foreman at one of Lancaster's large printing businesses. He came here and was backed financially by NJZ. However he was liable for paying off all of the bank loans. Yes they co-signed with him on his loan but it was my Dad who would loose everything and go up the flue if he failed. At no time was he an actual employee of NJZ.
My Father helped a lot of people in ways not many know about during his days in business. Much of his largess in now coming back to me in ways he never would have imagined.
He helped train many a competitor. He backed financially several folks that I know of in the starting of their own businesses.
It pleased us greatly that Bill Bechtoldt undoubtedly an important former employee of the original New Jersey Zinc Company and now a spokesman for their survivor Horsehead Industries. It was NJZ that was instrumental in bringing him here in the first place. Their appreciation of the history of the event is much appreciated.
To Richard Webb whose family and ours have had a long and valued relationship, we are deeply affected by Judge Web's statement of doing this not only for us, but also for his late High School classmate our son [Jack] John Edward Elliston. We miss Jack a lot!! Now one needs a viable way to view the microfilm .Ha!!
I just got this from Barbara Shepherd;
Grandma's Apron
The principal use of Grandma's apron was to protect the dress underneath, but along with that, it served as a holder for removing hot pans from the oven. It was wonderful for drying children's tears, and on occasion was even used for cleaning out dirty ears. From the chicken coop the apron was used for carrying eggs, fussy chicks, and sometimes half-hatched eggs to be finished in the warming oven.
When company came those aprons were ideal hiding places for shy kids.
And, when the weather was cold, grandma wrapped it around her arms.
Those big old aprons wiped many a perspiring brow when bent over the hot wood stove. Chips and kindling wood were brought into the kitchen in that apron. From the garden, it carried all sorts of vegetables. After he peas had been shelled it carried out the hulls. In the fall the apron was used to bring in apples that had fallen from the trees. When unexpected company drove up the road, it was surprising how much furniture that old apron could dust in a matter of seconds. When dinner was ready, Grandma walked out onto the porch, waved her apron, and the men knew it was time to come in from the fields to dinner. It will be a long time before someone invents something that will replace that "old-time apron" that served so many purposes. Send this to those who would know, and love the story about Grandma's aprons.
REMEMBER THIS!
Grandma used to set her hot baked apple pies on the window sill to cool.
Her granddaughters set theirs on the windowsill to thaw.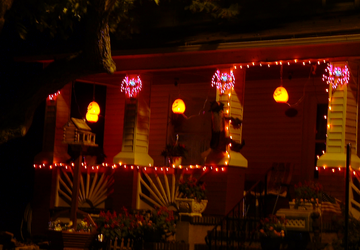 Our neighbor the Schnell's house on 3rd Street

Thursday, October 14, 2004 7:24 AM 48.6 at Slatington E.S and 49.8 in the bus stop
Today is a rainy day I suspect we shall forgo the walk this morning. I went to the "Tent" this morning with a cup of coffee, but it is rather damp there. I took the garbage up to the alley and got the car out. I got rather wet doing it. We plan to do our shopping this morning in the rain.

<9:12 AM> We are leaving now.

<11:30 AM> We are back and have everything put away.
I just got this from Sharon,
READ THIS VERY SLOWLY...... IT'S PRETTY PROFOUND.
Too many people put off something that brings them joy just because they haven't thought about it, don't have it on their schedule, didn't know it was coming or are too rigid to depart from their routine. I got to thinking one day about all those women on the Titanic who passed up dessert at dinner that fateful night in an effort to cut back. From then on, I've tried to be a little more flexible. How many women out there will eat at home because their husband didn't suggest going out to dinner until after something had been thawed? Does the word "refrigeration" mean nothing to you? How often have your kids dropped in to talk and sat in silence while you watched 'Jeopardy' on television? I cannot count the times I called my sister and said, "How about going to lunch in a half hour?" She would gas up and stammer, "I can't. I have clothes on the line. My hair is dirty. I wish I had known yesterday, I had a late breakfast, It looks like rain." And my personal favorite: "It's Monday." ...She died a few years ago. We never did have lunch together. Because Americans cram so much into their lives, we tend to schedule our headaches.. We live on a sparse diet of promises we make to ourselves when all the conditions are perfect! We'll go back and visit the grandparents when we get Stevie toilet-trained. We'll entertain when we replace the living-room carpet. We'll go on a second honeymoon when we get two more kids out of college. Life has a way of accelerating as we get older. The days get shorter, and the list of promises to ourselves gets longer. One morning, we awaken, and all we have to show for our lives is a litany of "I'm going to," "I plan on," and "Someday, when things are settled down a bit." When anyone calls my 'seize the moment' friend, she is open to adventure and available for trips. She keeps an open mind on new ideas. Her enthusiasm for life is contagious. You talk with her for five minutes, and you're ready to trade your bad feet for a pair of Rollerblades and skip an elevator for a bungee cord. My lips have not touched ice cream in 10 years. I love ice cream. It's just that I might as well apply it directly to my stomach with a spatula and eliminate the digestive process. The other day, I stopped the car and bought a triple-Decker. If my car had hit an iceberg on the way home, I w ould have died happy. Now...go on and have a nice day. Do something you WANT to......not something on your SHOULD DO list. If you were going to die soon and had only one phone call you could make, who would you call and what would you say? And why are you waiting? Make sure you read this to the end; you will understand why I sent this to you. Have you ever watched kids playing on a merry go round or listened to the rain lapping on the ground? Ever followed a butterfly's erratic flight or gazed at the sun into the fading night? Do you run through each day on the fly? When you ask "How are you?" Do you hear the reply? When the day is done, do you lie in your bed with the next hundred chores running through your head? Ever told your child, "We'll do it tomorrow." And in your haste, not see his sorrow? Ever lost touch? Let a good friendship die? Just call to say "Hi"? When you worry and hurry through your day, it is like an unopened gift...Thrown away.. Life is not a race. Take it slower. Hear the music before the song is over. It's National Friendship Week. Show your friends how much you care. Send this to everyone you consider a FRIEND. If it comes back to you, then you'll know you have a circle of friends. > To those I have sent this to... I cherish our friendship. "Life may not be the party we hoped for ... but while we are here we might as well dance!
There is not much really new today around here. We took Butternut for his walk this afternoon. I had too mail a letter at the mailbox so we went up to First Street, crossed the street and back home.
We passed the new house three doors up from that and us are coming along very well. Sets of precast concrete steps have been added to the front and a lawn is being started. Some of it must be seeded with straw for mulch over it and other areas seem to be being prepared for seeding. Someone is working in the basement as well.
As were approaching the hospital on the opposite side of the street two nurses were leaving. One of them saw Butternut and thought he was so nice. Her first dog was a beagle. He loved the attention.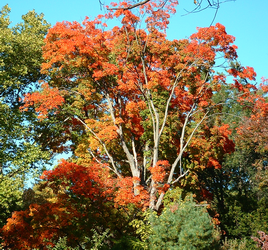 This is one of the trees in our area
Tonight for supper we had the salmon we got up at Giant, a baked potato each, Queen's coleslaw, onion rings tomatoes, cottage cheese and ice cream for dessert. It was an excellent meal.

Friday, October 15, 2004 7:11 AM 52.1 at Slatington E.S and 53.2 in the bus stop
It looks like a cloudy, wet day, today. We went for out walk this morning. It wasn't raining but it was gray and damp. Earlier as I sat up in the "tent" I saw and waved to The Bollinger's as they were on their morning walk.
This morning the weight was 195 and the blood sugar was 130.This morning I want to try to get this page out a bit earlier.
As a finale here are some more "scary places" we see on our walks.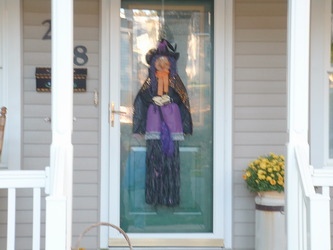 Both of these are on Columbia Avenue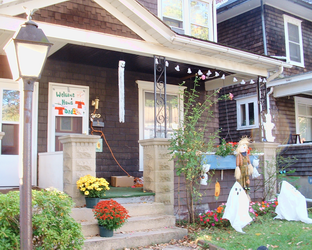 I am trying a new system this week and I need some time to try it out, therefore I am bringing this to an early end.
Please love one another, Mom and Bob [Queen and Bobby]
Will Rogers:

"There are two theories to arguing with a woman...neither works."
"Never miss a good chance to shut up"
"Being young is beautiful, but being old is comfortable."
There are three kinds of men: The ones that learn by reading. The few who learn by observation. The rest of them have to pee on the electric fence and find out for themselves.