My blood glucose this morning was 129 and my weight was 194. This afternoon we have our appointments with the cardiologist, Dr Richard Kolecki. Apparently he has moved his office digs from the Manzella offices up Delaware Avenue, to the Sportelli complex..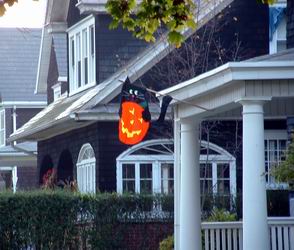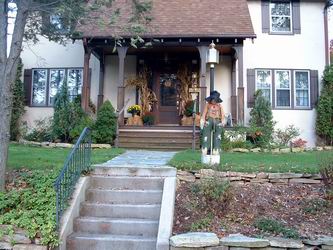 There are a lot of Halloween scenes to be seen and photographed.
I saw that our neighbors, the Rodrigues, who have two little boys, have an inflatable pumpkin outdoors.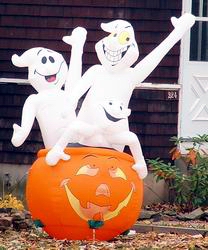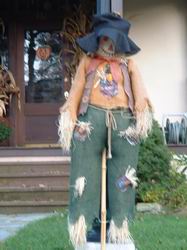 I just got these from Henry Schwartz!!
Does a clean house indicate that there is a broken computer in it?
Why is it that no matter what color of bubble bath you use the bubbles are always white?
Is there ever a day when mattresses are NOT on sale?
Why do people constantly return to the refrigerator with the hopes that something new to eat will have materialized?
On electric toasters, why do they engrave the message 'one slice'?
How many pieces of bread do they think people are really gonna try to stuff in that slot?
Why do people keep running over a string a dozen times with their vacuum cleaner, then reach down, pick it up, examine it, then put it down to give their vacuum one more chance?
Why is it that no plastic garbage bag will open from the end you first try?
How do those dead bugs get into closed light fixtures?
Why do we wash BATH towels? Aren't we clean when we use them? If not then what was the purpose of the bath?
Considering all the lint you get in your dryer, if you kept drying your clothes would they eventually just disappear?

When we are in the supermarket and someone rams our ankle with a shopping cart then apologizes for doing so, why do we say' Its all right'? It isn't all right, so why don't we say, 'That hurt, you stupid idiot'?

Why is it that when you're walking up the stairs and you get to the top you always think there's still one more step?

Why is it that whenever you attempt to catch something that's falling off the table you always manage to knock something else over?

Is it true that the only difference between a yard sale and a trash pickup is how close to the road the stuff is placed?
In winter, why do we try to keep the house as warm as it was in summer when we complained about the heat?
Why do women always ask questions that have no right answers?
Why do old men wear their pants higher than younger men?
This
morning the car insurance bill arrived. So, before I forgot it, it wrote a check and we mailed it at the Post Office. Fortunately when we stopped at IGA for bananas, as we often do, we stopped at the Times News office and fell into the midst of a celebration that was taking place. There was a balloon at Linda Kohler's computer and cake was served. She had achieved full time status. At the same time, Sharon was promoted to an editorship. Sharon, of course, baked a cake!!
It certainly has been our experience that when we are in that office, the atmosphere is very congenial. In fact they are all very good friends. It is a feeling of mutual
respect that we all share. They are all very professional.

I got this great Beagle shot from Henry Schwartz.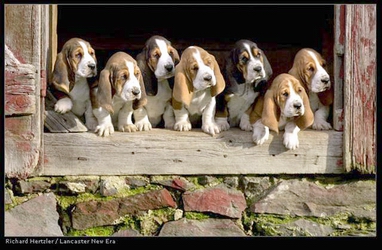 I have to admit they are definitely are not rocket scientists, but for loving, they can't be beat!
I see the Historical Society had new cellar doors installed this afternoon. Bob Brozisia was busy out there most of the afternoon. It is a first class job.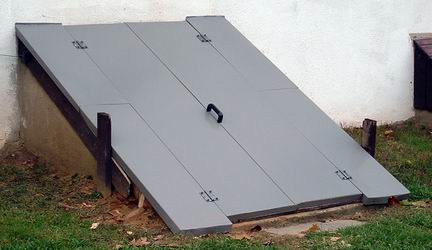 This is the Society's new cellar door
This afternoon our trip to the cardiologist went very well.
Since this is the beginning of the 6th year of Queen's congestive heart failure, I told the doctor that she passed another milestone in her favor. I told the doctor that the average lifespan of a patient may be 5 years but that average included the poor soul that drops dead in the Doctor;'s office and the patient who may live15 years. He laughed.
He explained the results of my stress test in detail to both of us. Apparently I am not at death's door. Ha!! He said the abnormal EKG was probably a condition I was born with and if it hasn't caused me any problems by now in all likelihood it will not now. The "scarring" that worried me was probably an indication of a benign problem.The blood pressure was good and I lost 6 pounds since I saw him. He was happy with my numbers. Needless to say I am greatly relieved.
Dr. Kolecki says heredity is definitely on Queen's side!! He said we both were amazing.Queen is fine and he won't change anything. If it isn't busted, don't fix it. He is happy with both of us. We will sleep better tonight!!
For supper this evening, Queen had Landis chip steak sandwiches and sliced tomatoes. Queen was looking for something quick as well as easy It was an excellent meal. Tonight we have to go the the Palmerton Memorial Park's annual meeting at 7 pm. They have to be sure enough members are present to have an official yearly annual meeting. George Ashman is looking for "warm bodies" to provide a legal Quorum.
We are down and back.The annual PMPA meeting was interesting. As anyone might suspect revenues were down this year due to the cool rainy weather. Don Browne, one of their financial Gurus, suggested a new rate structure designed to keep the weather out of their financial equation as much as possible.
As with every thing else expenses have gone up, < i.e. my car insurance bill today was a good example, it went UP> so, a rate increase will be necessary. Don would soften that with a hefty discount offered for the early purchase for season tickets, perhaps up to a 20% savings. That would make it attractive to join early.
At the annual meeting, all members are allowed to vote, so the proposal passed. They were discussing the lousy attendance and they all laughed when I told them I would be there even if Hell froze over!!
These pictures were taken last week-end by a guest photographer, son George, when he was out with his camera.They are gorgeous !
!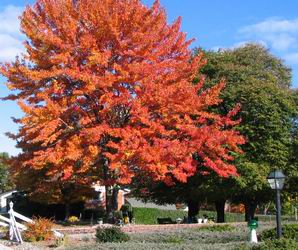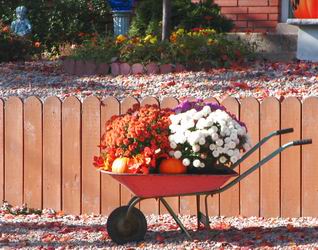 T
he tree on the left is at 7th and Columbia. The other one is a wheelbarrow planter he saw down near their place on Princeton Avenue.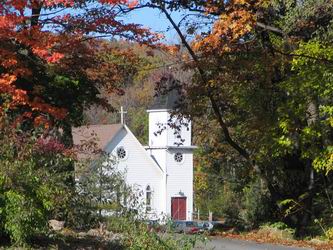 This is a picture of the church at the end of Columbia Avenue

Wednesday, October 27, 2004 7:30 AM 43 deg at Slatington E.S. and 41.9 in the bus stop
There was a beautiful sky this morning in the east. I have some pictures of it I put in below.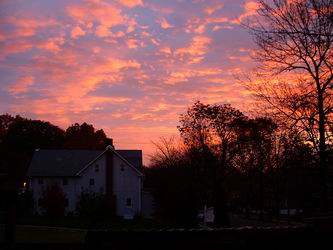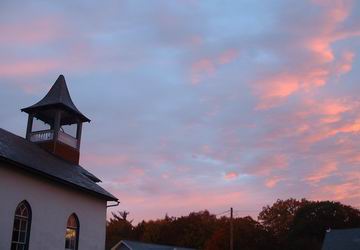 Gradually I am starting to get the hang of working with this new software.


This morning we went for our walk. As usual, the walk goes up to 1st Street across and down to 5th Street and back. It takes us at least 20 minutes to walk it but it is good to be able to do it and we know we need the exercise. Both Drs.Kolecki,and Nicholson want us to keep active. We both know that neither of us alone would be nearly as dutiful in doing it.


I just got this from Henry Schwartz. I love it!
David received a parrot for his birthday.
This parrot was fully grown with a bad attitude and worse vocabulary. Every other word was an expletive (curse word). Those that weren't expletives were, to say the least rude.
David tried hard to change the bird's attitude and was constantly saying polite words, playing soft music, anything he could think of to try and set a good example.
Nothing worked.
He yelled at the bird and the bird got worse. He shook the bird and the bird got more angry and more rude. Finally, in a moment of desperation, David put the parrot in the freezer.
For a few moments he heard the bird squawking, kicking, and screaming, then suddenly there was quiet. David was frightened that he might have hurt the bird and quickly opened the freezer door.
The parrot calmly stepped out onto David's extended arm and said: "I'm sorry that I might have offended you with my language and action and I ask your forgiveness. I will endeavor to correct my behavior."
David was astonished at the bird's change in attitude and was about to ask what had made such a dramatic change when the parrot continued:
"May I ask what the chicken did?"




I

am very appreciative for so much of this good stuff my friends send me !!





This morning when I came down for breakfast Queen showed me that we finely caught our pesky mouse. Sometimes, we would not see any "evidence for a week or more, but then an occasional "visit"could be detected. Son George theorized it lived behind the washer and dryer and didn't come out often. Well Queen used Belva's bait, congealed bacon fat on the trap. That got him. He was passing up peanut butter as well as sharp cheese.



I had been asked by George Ashman to speak with a young lady who works at Spillane's store about photographing an antique milk bottle she had in her possession. This morning she brought it to work with her and I went and took some pictures. I must say they are in no league with Joel Kern's photography. Joel is an ace photographer with the "Times News". I have been impressed with some of his work. It sure helps when one knows what they are doing.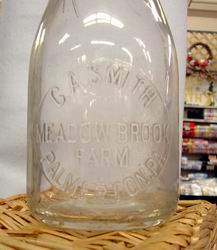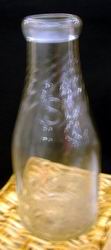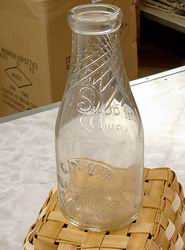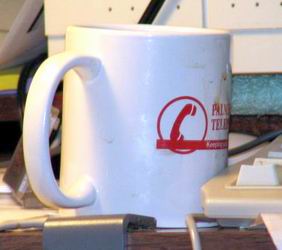 After I got home we started a second onslaught at the leaves. Queen used the electric blower and I the gas blower. Many of them were up at the end of the property from the last session. It wasn't bad corralling the others in the yard. Then I took Queen's advise and placed a tarp on the swale at the end of the property and blew and raked most of them onto that. Then I went down below and pulled the tarp down to the street. Then we raked and blew them into the gutter for tomorrow's pick up. We worked at it hard and really gave it a good shot for over an hour.
Then I told Queen that is it. My boiler is rapidly losing stream. She wanted to do more but I said no. When I quit we both will stop!! This is just the second installment. The big maple tree in the cemetery is just starting to turn yellow.<Gee >

One thing we both have come to learn. If we don't go for our walks and do any hard physical labor in the morning, we won't be able to do it later! As she tells me, "just be glad we can do what we can do". She has the most wonderful positive attitude!!!!
This evening some of the trick or treat kids were out. Here are a few of them.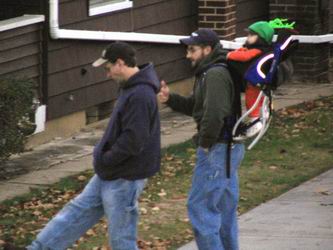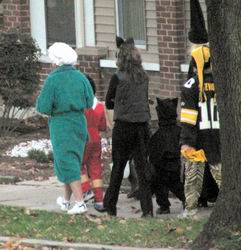 Wednesday, October 28, 2004 7:20 AM 39.1 deg at Slatington E.S. and 41.0 in the bus stop
It looks like a nice day on hand this morning. I sat on a plastic chair up at the glider area. It was cool but not cold.I want to arrange some different method of sitting in that area. We went for our walk, of course with my camera, and here are a few of those pictures.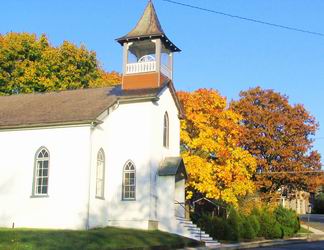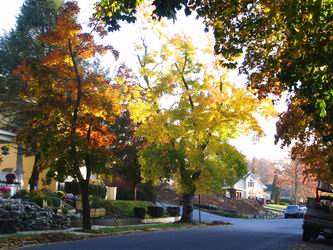 The other day we went for our morning walk and saw Frank Johannes and he told us our neighbor in this house

will be the retired Postman George Grohotolski. He sold his house at 7th and Columbia and moved elsewhere in town. Then according to Frank they moved to Schnecksville, Pa. Frank said he missed Palmerton so is he will be moving into this house. At least, that is the latest rumor!!
We did our shopping this morning and it wasn't at all crowded. We got some salmon at Giant and some other stuff on sale. Then back to town to Country Harvest and finally IGA. We got home about 12:30.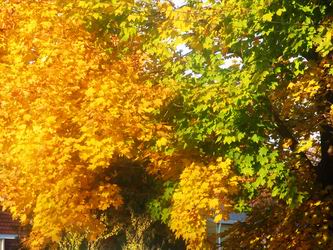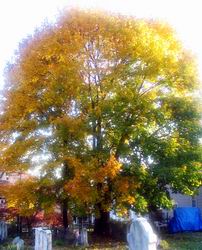 These are the maples in the cemetery.
This afternoon we took Butternut for his afternoon walk down Columbia Avenue to 4th street and back. He seems much improved in his obedience with his walking. On the way down he sniffs and pees on every tree he sees. But on the way back for the most part he follows along beside me at my heel.

In the neighborhood many of the trees have already lost their leaves. Now the maple trees are beginning to turn mostly yellows. They are just beautiful although they are not quite at their peak.

Tonight for supper Queen had a skillet tuna casserole. That is always a hit here. Along with some sliced tomatoes and cottage cheese it was superb. She saved half of it for another meal. Coffee and cookies finished the meal.



Friday, October 29, 2004 7:32 AM 44.5 at Slatington E.S. and 46.2 in the bus stop


I went up to the "park bench" this morning. I have to sit on a plastic garden chair until I come up with a better method. One of the reasons I like that place so much is that a whole lot of ideas come to me from that vantage point. It was nice sitting under the maple tree. It is starting to turn yellow but is virtually still in full leaf. Life is full of beauty if we but look for it.



This morning my blood glucose is 138 and my weight 195. I feel excellent this morning. We went for our walk this morning and although it is not a sunny day it was quite comfortable walking with my Queen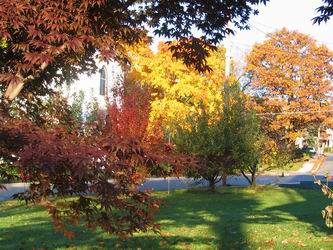 As you all know by now I have my own opinion about the forthcoming election. The dynamics of this one have taken on a whole new definition of nasty.
All of a sudden Mr. Kerry can clearly see that the president is negligent and derelict in not guarding many tons of explosives that Saddam had stashed over the years and are now suddenly declared missing. As one follows the story it is beginning to look like The New York Times and CBS news are attempting another "Dan Rather" on the president, using information months old, reported long ago and its veracity questioned even by the Times farther down in the story. Their headlines not withstanding..
60 minutes was going to do a "Gotcha" story on Sunday night also. What a coincidence!! Has anyone bothered to wonder why the networks of CNN, ABC, and CBS are being beaten so badly by the new kid on the block, Fox? Viewers have consistently been silently voting with their channel knobs. Those other networks consider themselves the only people who know the truth. They know what is best for us, at least, as they see it. If that is so, why are there so few viewers of their stuff? Some of the Nielson polls say that on many news programs, Fox outperformed all the others combined?
It is apparent that In the quiet of one's own living room, folks obviously don't believe them. Nielson ratings mean big bucks to those people. It is their lifeblood. Somehow, the other networks stories are simply not believed. It is not simply media bias but outright chicanery. As with the Rather episode with manufactured evidence, nothing is beneath them. All Mr.Kerry seems to be able to do is to tell us how bad George W is doing and that he can do it better.
HOW? Nothing concrete is offered just platitudes and fluffery which is all B.S. It appears now that his assertion concerning the missing munitions is a last desperate attempt to demean the President!! Mr. Kerry is about as hollow as a cheap chocolate Easter egg!! To quote Mr Chaney's remark at a Washington, Pa. rally."No matter how much lipstick you put on a pig, it is still a pig!!"

Well it is time to end this week's page.
Please love one another, Mom and Bob [Queen and Bobby]