Our Butternut
Book 1 Volume 52

Founded December 17,1912 Ceased Publication Thursday February 1, 1951


My dad, George R. Elliston was the owner, founder, editor, and publisher of the Palmerton Press. I am trying in my own way to keep that banner visible.
First and foremost this thing makes absolutely no attempt to be a real newspaper. For that one must read the Times News at http://www.tnonline.com/news/ . I write this for my own enjoyment. I hope others will enjoy it also.
Below is the actual lead slug masthead of the Palmerton Press in it's days of operation.


It now resides with son George R. Elliston 2nd. Here it is shown reversed to read.

At this time, I want to acknowledge the deep debt of gratitude to all those who have supported me in this endeavor. My wife, Queen is my inspiration and greatly augments my efforts. She is my proofreader and censor and the one that attempts to keep me on the straight and narrow! Ha! I realize that I sometimes drive her nuts with my ravings and antics. Sometimes the blue smoke emitting from my ears is not pretty. However her love, support, and help have been indispensable. She surely has a way of cheering me up when I get too discouraged.
I am particularly interested in reaching not only current Palmertonians, but also former Palmerton residents, who may still find t
he old town a source of comfort and the remembrances of happy days.
My son George, grandsons, Andy, and Jason, have been instrumental in making these things appear at all. They supply the technical expertise to put and keep it on line. I can type the words, but they keep the press running!
Don't expect much in the way of earth shattering events to appear here. This is how Queen and I live. Oh, an occasional "Bobby's" rant will appear. This is run as an autocracy not a democracy. Hey, there is always the delete key.
At least, with the addition of pictures, these pages don't have to stand on their literary merits alone. I also thank God for my mentors. They all suffer a now 78-year-old fool well. I wish to express my thanks to everyone. I, also, deeply appreciate the responses from my readers who seem to enjoy our view of life, as well as the pictures of our town and home.
Grandson Andy says this is basically a letter with pictures. Actually it is more of a diary with pictures.
There is one thing I very much want to acknowledge. That is the excellent input from you readers that permit me to put this thing out and on line every week. I very much appreciate the articles and pictures you readers send me. Keep it up.

November 13,2004, 7:18 am 33.1 at Slatington E.S. and 34.3 in the bus stop

It is a chilly morning for the start of a new week's web page. So far everything seems to have gone very well with the transition of this epistle to a domain driven web page from my old personal Prolog web account. All the information for these web pages has been removed from my personal web page and everything is now on the Palmerton Press site.
8:15AM > We just got back from our walk. We saw the Clarence Haydts this morning at the beginning of our walk. It certainly is a nice day today.
I got a whole bunch of pictures that Bob Green sent me. How would you like this lighthouse keeper's job? I sure wouldn't be standing on the "front porch" as he is doing.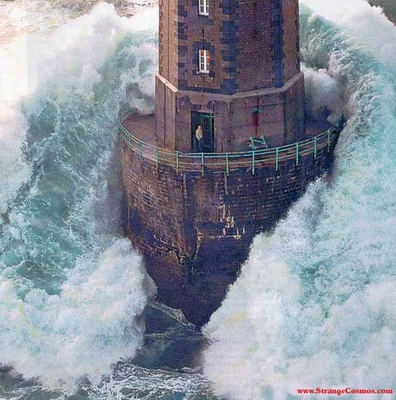 Last evening son George,and family were here for supper. Queen and I made a Crockpot meal. It turned into one of the best we made in quite awhile.

This morning we decided to get a new toaster. We have three old ones that do not work. So we came home with a Black and Decker four slice toaster for less than 20 dollars. Before we left we perused the Internet and found one can be had for practically whatever you want to pay. From over $300 to ridiculously low prices. Up in the store they had a two slice toaster for $6.95. One may very well get what one pays for but it is going to be a very cold day in July before I pay $300 for a professional toaster. There were more expensive ones than the one that we got but all it had were more bells and whistles. Therefore we joined the throw away society with this one !!


I

saw in today's Times News the article by Joel Kern that our garbage pick up is increasing in price along with limitations on what we will be able to put out as well as the quantity. It had to come!!

I got this from Steve Jensen. I always wondered about whatever happened to all of those leaves the super sucker picked up. I think he found their last repose.
"If anyone has been wondering what happens to all those leaves sucked up by that Texas-sized vacuum cleaner on wheels that's been making the rounds lately, I believe I found Palmerton's leaf graveyard. It's in the lot below the alley south of Lehigh Avenue between 4th and 5th streets."
/Steve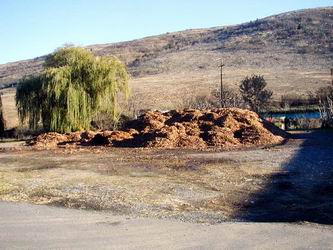 Once again George, Kathy and Andy came for supper. Queen had an oven meal of stuffing and chicken, lima beans, cottage cheese, tomatoes, and applesauce completed our meal. We had the last of yesterdays evenings dessert, a white cake with chocolate icing. Coffee finished the superb meal.

George and Andy went to the Allentown train show. George downloaded the pictures he took. I think they are of exceptional content and quality.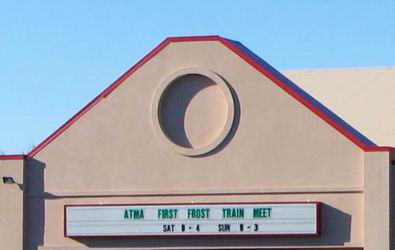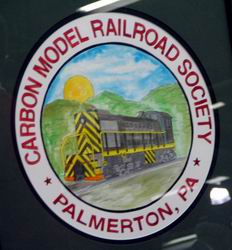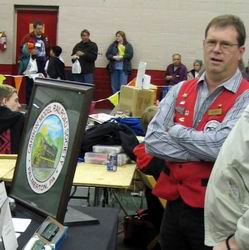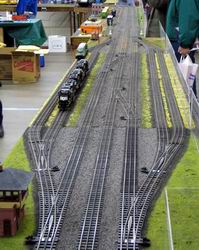 The Carbon County Model Railroad society Gary Mack some of the layouts
When I looked at his pictures I was also interested in the layouts and equipment depicted. However for me the best shots were those of the kids.


Little guys like this one with his head glued to
the Plexiglass looked just like I must have so long ago.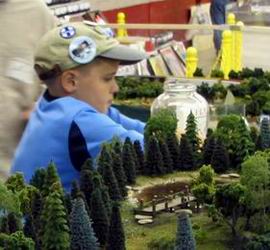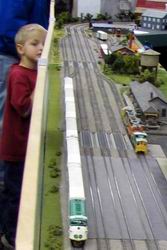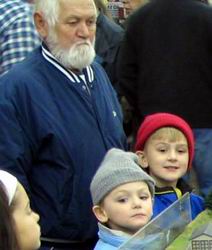 This is what they were viewing.
That might be Grandpa in the background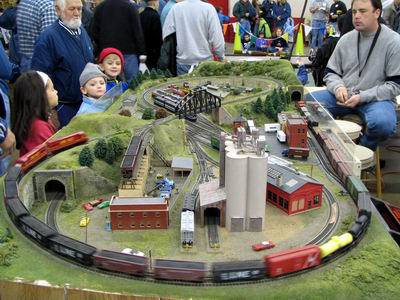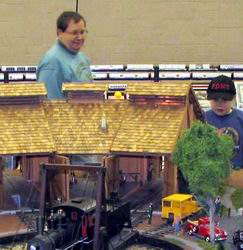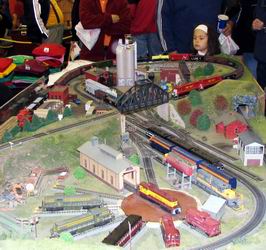 There were little girls and boys as well as "big" little boys. The look on the man's face says it all.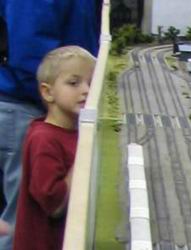 They start them young there!!

This one is my favorite it very well could have been me!



The pictures above bring back a lot of memories to me. I bet I looked just like any of the kids above when my Mother, and Aunt took me to Allentown to see the Lionel Electric trains at Hess Bothers. That had to be well over 70 years ago. I watched Lionel's Flying Yankee Streamliner come down the tracks blowing its whistle. I bet my eyes were just like these kids, big as saucers!! The wonderful picture of just being a little boy in complete awe is just wonderful!! The innocence of very young kids is
wonderful. I know I
am still a little kid at heart.. George caught it perfectly!


Sunday, November 14, 2004 7:05 AM 27.8 at Slatington E.S and 26.8 in the bus stop


It is a clear cold day this morning. I am not sure if it isn't too cold for an early walk. The blood glucose this morning was 127 and the weight 196. Queen and I are still paying the price for all that outside work. We both overdid it. I was explaining what we did to Dr Nicholson on Friday. He understands but it is difficult to tell when we have crossed that line. Oh afterwards we know. I explained my problems and how I tried to alleviate them but the next day after a bad night I was out doing more. Well it caught up with me. Nothing serious but I am now taking it much easier. When I overdo it manifests itself far differently than it does with Queen!!

In this morning 's E-mail is a posting from George Ashman regarding the article in last week's web page concerning the Service Star Press.
"Bob - As far as I know, there was no connection between the Service Star Press and the McKinleys' Star Press of a few years earlier. There is a bound volume of the Service Star Press in the Palmerton Library, in case you are interested, and may have been printed by the Palmerton Press. It was produced just to keep local people in contact with those in military service. Tom and Bob McKinley published the Star Press while they were in high school. After Tom graduated, Bob continued for a while with Andy Hishta. Very few copies survive. It was mimeographed, and if you remember that "technology", once you made a typo, it was almost impossible to correct. So there were some funny typos published. It dealt almost exclusively with local social events - bridge clubs, etc One reason I remember it is that I advertised in it. At the time, I raised money for Christmas presents, etc., by selling magazine subscriptions. The Saturday Evening Post was something like a dollar a year, and 5 cents a (weekly) copy. George"
This is a site from Stanford University explaining how things work. It is well worth a look :
http://manufacturing.stanford.edu/
I was out and took a few pictures of the now late arriving sun.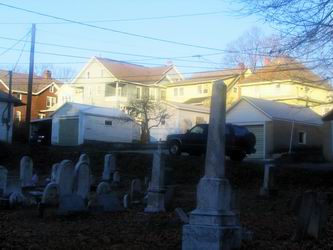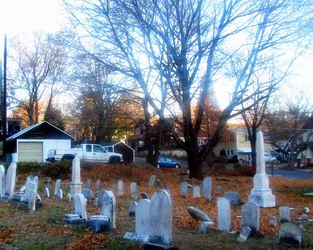 Queen and I went for our walk this morning. After we got home I sweet talked her into cutting my hair. I must say it surely looks better. Queen used the new Remington electric hair cutting instrument we just got. At son George's instigation I threw out two old pair of dull hair cutters.

I just got this from Bob Green I quote it in full.


From: Bob Green
Date: 11/14/04 12:07:13
To: Undisclosed-Recipient:,
Subject: Palmerton Grays -- an interesting touch of history!
Just found this gem on ebay! (see attached)
"...a unique photo of the 1928-1929 Palmerton Grays football club, who were Lehigh Valley Champions for 1928-1929. A total of 23 autographs are on the reverse of the photo. The photo was done by the J. Mankos Studio of Palmerton, PA. The photo is in very good plus condition. The total size of the photo and cabinet is 10 1/2" x 13".
This piece really should be in a museum in Palmerton, PA, and we hope someone in the area is the ultimate high bidder."
Complete with autographs of the likes of: Joe Matuska, Oscar Arnold, Steve Sauci, Howard Reber, Donald Constantine, Steve Delich, Dan Renshaw, Frank Nagy, Frank Johannes!
I'm not aware if the Historical Society bids on items like this... (?)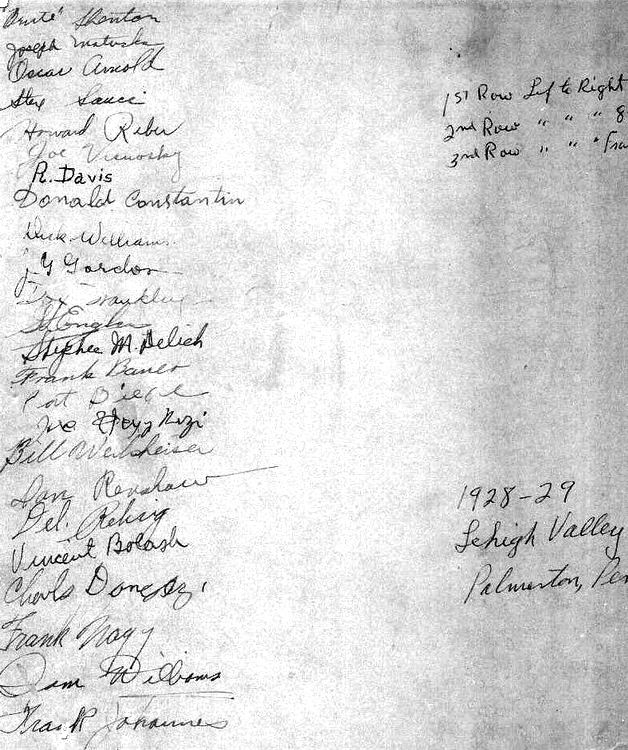 Were it not for good material for these letters that I receive from folks like Bob Green and so many others, I would have a Hell of a time filling this thing up with anything interesting.

We just got the "got there" phone call from the Delaware Ellistons. They stopped by here before 2PM on their way back home. It was great to see them again. They will be back for the Thanksgiving holidays for a more extended stay. Were it not for the train show in Allentown I doubt if we would have seen them. George and Andy go to a lot of them. I guess the one in Baltimore is the biggest one here on the East Coast that they attend regularly,

Tonight for supper Queen had cubed steaks, "freedom fries", green beans, tomatoes, and cottage cheese. Then we had coffee and some cookies for dessert.


Monday, November 15, 2004 7:02 AM 37.6 at Slatington E.S and 30.4 in the bus stop
It is a cold morning. I saw Marlene and Lee Bollinger as I went out on the porch for the morning paper. They are off to an early start. Queen was up early because of Butternut. He wanted to go out so she decided she might as well get up. I followed shortly. Today is a big wash day for her. It is "the dreaded sheet day".

We are back from our walk. It wasn't windy at all so one didn't feel the cold nearly as much. As we walked down Columbia Avenue, we were passed by the Clarence Haydts on their morning constitutional walk. Both Tommy and George Ashman were up as we passed. We were very early this morning.

I was out in the yard when I saw this big truck with a crane unloading a pre-cast pair of steps for the new modular house next to Bernice Kleintop's house.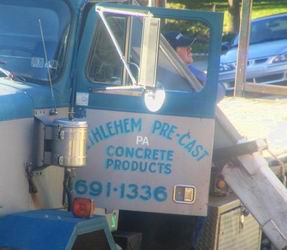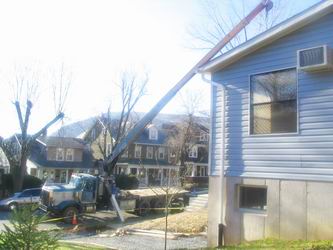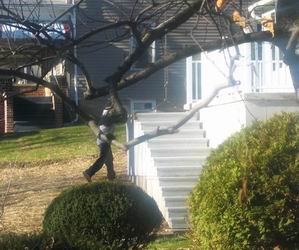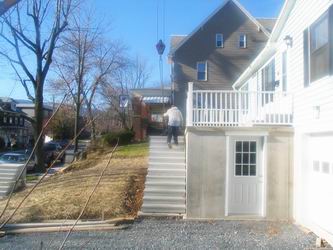 Now this is the way to put in new steps up at a new house.
I got this from Barbara Shepherd it is good.
WHAT IS A GRANDPARENT?
(taken from papers written by a class of 8-year-olds)
Grandparents are a lady and a man who have no little children of her own. They like other people's.
A grandfather is a man grandmother.
Grandparents don't have to do anything except be there when we come to see them. They are so old they shouldn't play hard or run. It is good if they drive us to the store and have lots of quarters for us.
When they take us for walks, they slow down past things like pretty leaves and caterpillars.
They show us and talk to us about the color of the flowers and also Why we shouldn't step on "cracks."
They don't say, "Hurry up."
Usually grandmothers are fat, but not too fat to tie your shoes.
They wear glasses and funny underwear.
They can take their teeth and gums out.
Grandparents don't have to be smart.
They have to answer questions like "why isn't God married?" and "How come dogs chase cats?".
When they read to us, they don't skip. They don't mind if we ask for the same ory over again.
Everybody should try to have a grandmother, especially if you don't have television, because they are the only grown ups who like to spend time with us.
They know we should have snack-time before bedtime and they say prayers with us every time, and kiss us even when we've acted bad.
A 6 YEAR OLD WAS ASKED WHERE HIS GRANDMA LIVED. ''OH,'' HE SAID, ''SHE LIVES AT THE AIRPORT, AND WHEN WE WANT HER WE JUST GO GET HER. THEN WHEN WE'RE DONE HAVING HER VISIT, WE TAKE HER BACK TO THE AIRPORT.''

In tonight's Times News there was a letter to the editor that I thought very fitting. It concerned a good man who really loved music, Jack DeSousa. He had many other jobs in his lifetime but his great love was always music. I thought it worthy of including in this weeks page. The Palmerton Band just won't be the same without him!!
Dear Editor:
Al Recker, writer for the Whitehall/Coplay Press wrote the "The Sun Shines on Coplay Community Days" and it certainly "shone" on John "Jack" DeSousa that day.
Jack played his tuba with my band, the Dixieland Five on Saturday, Aug. 28.
As it turned out, that was to be the last "job" that Jack played with The Dixieland Five.
Jack rarely called his playing his tuba a "gig," with him it was always playing a "job," and he lived to play "jobs."
Steve DeSousa, Jack's youngest son, played trombone that day alongside his dad, and they were both in rare form, thoroughly enjoying the two hour "job."
On Monday, Oct. 4, Steve visited with his dad in the hospital. When he asked his dad how he felt, "I feel good enough to play a job!" Jack replied.
Jack went to be with the Lord at 11:50 p.m. on Friday, Oct. 8.
"Jack" we love you and miss you!
The Dixieland Five, Burt Swayze, Walter A. Erney, Russ Braun and Ken Clauser, leader.
Jack DeSousa lived at 241 Franklin Ave., Palmerton.
Ken Clauser
1421 Springhouse Road Allentown
Well one good thing about wash day is that it means that God's restaurant is open for business. Queen made her usual spaghetti meal. That with a bit of ice cream and coffee made for a marvelous dinner. As I have been doing I saved about half of mine for a Wednesday lunch.



Tuesday, November 16, 2004 7:15 AM 36.2 at Slatington E.S. and 32.7 in the bus stop
It is a chilly day today. My blood glucose was 133 and my weight 196. As soon as I have had a cup of coffee we shall be heading for our morning walk.

<8:11> We are back. It was a nice day for a walk. We met Clarence Heydt on his walk and waved at Judge Webb on his way to work in Jim Thorpe.

Sunrise at "The Village" The building is just bathed in the first sun while we were still in the shadows.

We also saw a beautiful plant on our walk. We suspect it is a member of the cabbage family. I don't know what it was but in the morning sun it was beautiful. This is one advantage of carrying the camera as we walk. There usually is something of interest to photograph.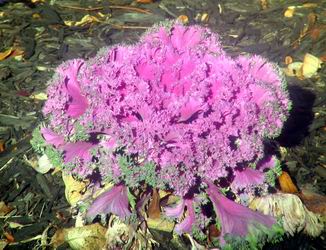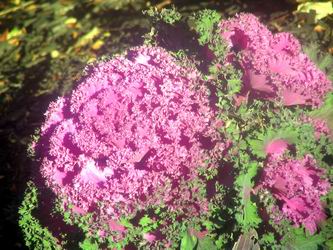 This morning we decided to return the toaster we got last week. We were not happy with it. The electronic sensor turned out toast it wanted not what we wanted so back it went. Queen had no problem at all. However she couldn't leave without a sweat shirt that she has been looking for a long time.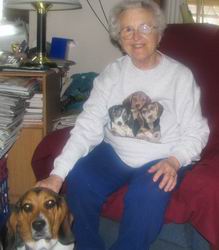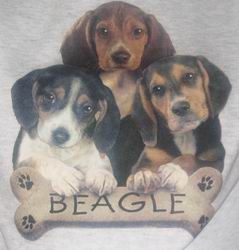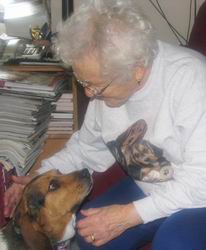 Tonight for supper we had am unexpected treat. Mr T. Pierce Davies called this afternoon and asked us if we wanted a nice big fat pheasant? He brought it over cleaned and ready to soak in salt water. Then Queen and I had it for dinner tonight. Some stuffing, green beans, tomato, cranberry sauce, and cottage cheese made a wonderful meal. I couldn't tell it from chicken or any other poultry. It was excellent.

I got these from Henry Schwartz the morning
:
Sent: Tuesday, November 16, 2004 1:11 PM
A couple goes on vacation to a fishing resort in northern Minnesota.
The husband likes to fish at the crack of dawn. The wife likes to read.
One morning the husband returns after several hours of fishing and decides to take a nap. Although not familiar with the lake, the wife decides to take the boat out. She motors out a short distance, anchors, and continues to read her book.
Along comes a game warden in his boat. He pulls up alongside the woman and says, "Good morning Ma'am. What are you doing?"
"Reading a book," she replies, (thinking, "Isn't that obvious?")
"You're in a restricted fishing area," he informs her. I'm sorry officer, but I'm not fishing, I'm reading."
Yes, but you have all the equipment. For all I know you could start at any moment. I'll have to take you in and write you up."
If you do that, I'll have to charge you with sexual assault," says the woman.
"But I haven't even touched you," says the game warden. "That's true, but you have all the equipment. For all I know you could start at any moment."
"Have a nice day ma'am", and he left.
MORAL: Never argue with a woman who reads. It's likely she can also think.

Subject: advice
1. People who live in glass houses should make love in the basement.
2. Never read the fine print. There ain't no way you're going to like it.
3. If you let a smile be your umbrella, then most likely your butt will get soaking wet.
4. The only two things we do with greater frequency in middle age are urinate and attend funerals.
5. The trouble with bucket seats is that not everybody has the same size bucket.
6. To err is human, to forgive - highly unlikely.
7. Do you realize that in about 40 years, we'll have thousands of old ladies running around with tattoos?
8. Money can't buy happiness -- but somehow it's more comfortable to cry in a Porsche than in a Hyundai.
9. Drinking makes some husbands see double and feel single.
10. Living in a nudist colony takes the fun out of Halloween.
11. After a certain age, if you don't wake up aching in every joint, you are probably dead.
*************************************
Sent: Monday, November 15, 2004 2:52 PM
Subject: visiting nun Lost on a rainy night, a nun stumbles across a monastery and requests shelter there. Fortunately, she's just in time for dinner and was treated to the best fish and chips she had ever tasted. After dinner, she went into the kitchen to thank the chefs. She was met by two of the Brothers. The first one says, "Hello, I am Brother Michael, and this is Brother Charles." "I'm very pleased to meet you," replies the nun. "I just wanted to thank you for a wonderful dinner. The fish and chips were the best I've ever had. Out of curiosity, who cooked what?" Brother Charles replied, "Well, I'm the fish friar." She turned to the other Brother and said, "Then you must be....?" "Yes, I'm afraid so..... I am the chip monk."


Wednesday, November 17, 2004 7:06 AM 32.1 at Slatington E.S. and 30.1 in the bus stop
It looks like a clear day this morning. We plan to go for a walk shortly.The blood glucose is 132 and the weight 195.


We had our walk early today. I got some pictures overlooking the town that are interesting.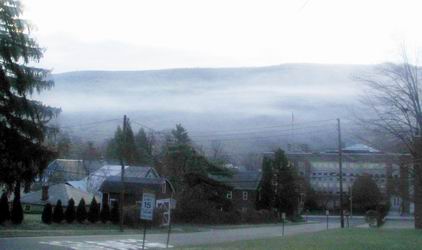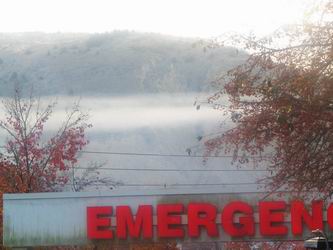 I was perusing the Internet and came across this one. It shows the demolition of buildings and various structures that you can witness.
http://www.implosionworld.com/
It looks darn interesting.


This morning Queen was down at the street level cutting off the overgrown shoots from the hosta and other excess growth
while I was out giving the yard one last shot with the leaves
. We both gave it a good try and while it isn't perfect it certainly looks better.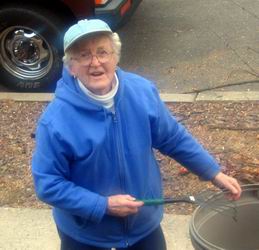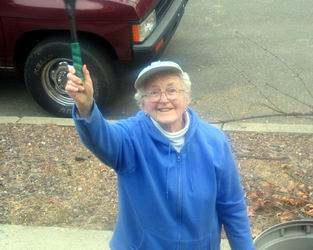 That Queen is something else. She was back at it after our rest. She got them out in the gutter. She says she was told that tomorrow will be the last pick up.
I just discovered that the old AVG ani-virus is no longer going to be supported. But the new FREE one is available here at
http://www.avg.com/us-en/homepage
It is a good one and seems faster and better than the older one.


Thursday, November 18, 2004 7:18 AM 44.4 at Slatington E.S. and 44.4 in the bus stop
As we went for our walks this morning we noticed that there were workers up at the new house preparing the front walk area for new paving of some kind. Then as we got further up the street near the hospital the borough worker was raking leaves for what probably will be the last time this year. We spoke with the man, Donald Heiney, and he said he thought this probably would be the last. He was doing a very good thorough job. He was a very congenial and a likable person. He is also a good worker.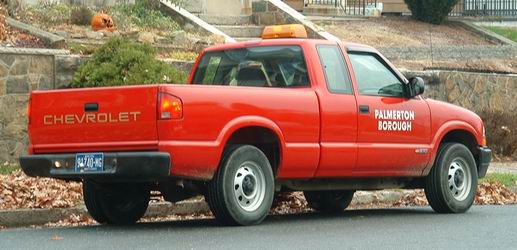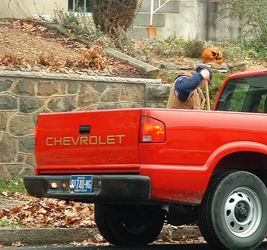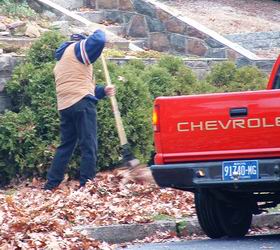 Then as we passed down the south side of Columbia Avenue we met the Clarence Heydts on their morning walk. They soon outpaced us. However we were all out for a good purpose.

Later this morning we did our shopping. The stores were crowded. Aldi was well stocked as was Giant. However the parking at Giant was as usual a chore. We finished at IGA but not before stopping in for a moment to see our favorite reporters. They were all busy as beavers in spite of the noon hour.

Tonight for supper we had the boneless salmon we got at Giant this morning. We also has a baked red potato each, Queen's coleslaw, tomatoes, cottage cheese, coffee and ice cream for dessert. It was a very good meal.

Friday, November 19, 2004 7:01 AM 53.6 at Slatington E.S and 50.9 in the bus stop
Once again it is a cloudy dull looking day this morning. It is still quite warm. We will soon be heading for our morning walk.

<7:57> We are back from our full walk. We were passed my Gail Nonnemaker and Shirley Neff as they walked. We used to walk a lot farther than now but at least we still try to do something.


On our walk this morning Queen pointed out the last vestiges of Halloween with this decaying pumpkin. It has still retained most of its shape but is on the way out.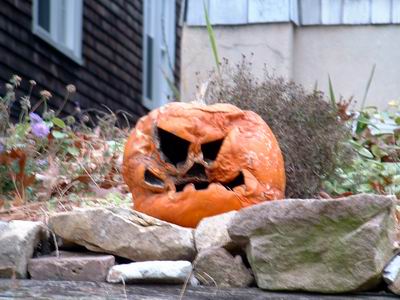 I see that Google has released a new toolbar called Google Scholar. Many scholars will find this interesting:
"Google released a new search site Wednesday called Google Scholar that
lets you search "specifically for scholarly literature, including
peer-reviewed papers, theses, books, preprints, abstracts and technical reports from all broad areas of research."
You can find Google Scholar at
http://scholar.google.com/

Google Scholar supports most of Google's regular query modifiers [for more information about Google query modifiers, check out my free Google 201 PDF handout at
http://tinyurl.com/4hhn9
].
Google Scholar also introduces a new query modifier: author:authorname
How do you use the new author: query modifier?
Well, here are three examples of it in work:
author:stack "The effect of country music on suicide"
author:Balasubramaniam "Coordination Modes in the Multisegmental Dynamics of Hula Hooping"
author:crispen "Social stress in pregnant squirrel monkeys"
Google Scholar is brand new and is still in beta. In other words, the folks at Google are still working out the bugs and the database is kind of small. But from what little I have seen so far, I'm impressed."


For more information about Google Scholar, check out

http://scholar.google.com/scholar/about.html
From Friday's Wall St Journal:
Troops in Fallujah Are the Best Since World War II
By Daniel Henninger
November 19, 2004;
The amazing, perhaps historic, battle of Fallujah has come and gone, and the biggest soldier story to come out of it is the alleged Marine shooting. There must have been hundreds of acts of bravery and valor in Fallujah. Where will history record their stories?
Maybe it's just a function of an age in which TV fears that attention spans die faster than caddis flies, and surfing the Web means ingesting information like a participant in a hot dog eating contest. By contrast, Michael Ware of Time magazine has a terrific account this week of one platoon led by Staff Sergeant David Bellavia ("We're not going to die!"), fighting its way through the snipers and booby traps of Fallujah: "A young sergeant went down, shrapnel or a bullet fragment lodging in his cheek. After checking himself, he went back to returning fire."
Amid mostly glimpses this week of telegenic bullet flight paths and soldiers backed against walls, I wanted more stories like this. More information about who these guys are and what they were doing and how they were doing it. The commanders in Iraq praise them profusely, and by now maybe that's all these young U.S. soldiers need -- praise from peers. But the American people, many of them, have been desperate for some vehicle that would let them actively lend support to the troops, or their families back in the States. The Bush administration, for reasons that are not clear, has never created such an instrument. Had they done it, a force would have existed to rebalance the hyperventilated Abu Ghraib story. The White House seems to have concluded that the American people would support a big, tough war almost literally as an act of faith. And they did, but just barely.
Neglect of the homefront almost cost George Bush the election. The election's one, ironic nod to the nature of the troops in Iraq was the controversy over the draft. Michael Moore traveled to 60 college campuses saying Mr. Bush's opposition to restarting the draft was an "absolute lie." Shortly after, a senior saluted the jolly Hollywood misanthrope and wrote a column for Newsweek denouncing the draft. "We have no concept of a lottery," she wrote, "that determines who lives and who dies." But not to worry, dear. The military brass, to the last man and woman, doesn't want you. Not ever. The draft ended in 1973. What has happened to the all-volunteer military in the three decades since ensures that no draft will return this side of Armageddon. Post-Vietnam, the military raised the performance bar -- for acquired skill sets, new-recruit intelligence and not least, self-discipline. The thing one noticed most when watching the embedded reporters' interviews last year on the way into Iraq was the self-composed confidence reflected throughout the ranks. And this in young men just out of high school or college. It was no accident.
Consider drugs. In 1980, the percentage of illicit drug use in the whole military was nearly 28%. Two years later, mandatory and random testing -- under threat of dismissal -- sent the number straight down, to nearly 3% in 1998. Today recruits take the Armed Forces Qualification Test. It measures arithmetic reasoning, mathematics knowledge, word skills and paragraph comprehension. The current benchmark is the performance levels of recruits who served in Operation Desert Storm in 1990. The military requires that recruits meet what it calls "rigorous moral character standards."
After his August report on Abu Ghraib and U.S. military detention practices, former Defense Secretary Jim Schlesinger told a writer for this page: "The behavior of our troops is so much better than it was in World War II." And more. Unit cohesion, mutual trust in battle, personal integrity and esprit all are at the highest levels in the nation's history, right now, in Iraq. Indeed, the U.S. armed services may be the one truly functional major institution in American life. Some fear the creation in the U.S. of a military caste, disassociated from the rest of society, or worry about the loss of civic virtue. The bridge across, I suspect, is narrower than many suspect.
A 2002 Harvard Institute of Politics survey of college students found that if their number came up in a new draft, 25% would eagerly serve and 28% would serve with reservations. The draft itself is quite irrelevant today. But contrary to the last election's confusing signals about the attitudes of the young, most of them, it seems, are willing to "do something" to protect their country, if asked. It is their elders' job to find a way to ask. The military writer Andrew Bacevich has summed up our current situation nicely: "To the question 'Who will serve?' the nation's answer has now become: 'Those who want to serve."
At a ceremony on Nov. 13 at Camp Taji, Iraq -- with Fallujah raging elsewhere -- Army Maj. Gen. Pete Chiarelli presented 19 Purple Hearts for wounds in the battle of Najaf, the big battle before Fallujah. Gen. Chiarelli remarked that George Washington created the Purple Heart in 1782, for what Gen. Washington himself described as "unusual gallantry . . . extraordinary fidelity and essential service." Essential service. After 20 months of it in Iraq and two hard weeks of it in Fallujah, "service" -- an old idea in a world too busy to take much notice -- is a word worthy of at least some contemplation. Send comments to
henninger@wsj.com
This morning I thought I saw a familiar green truck up at Bernice Kleintop's garage. Sure enough, Howard Cyr was there installing a railing for her near her back steps. No these are not pictures of a close up of the head of a housefly. It is indeed Howard hard at work.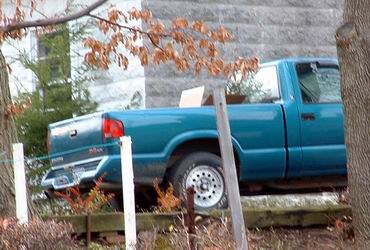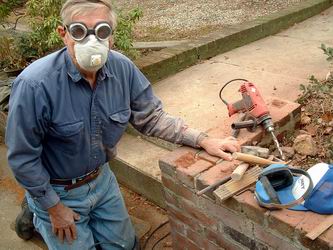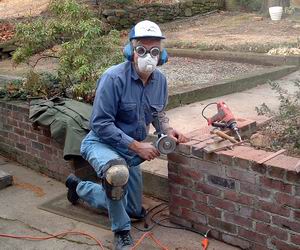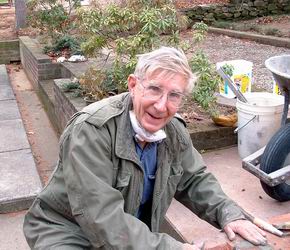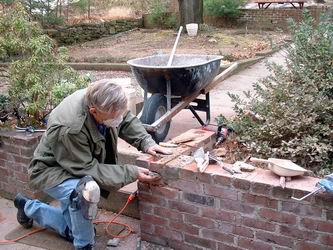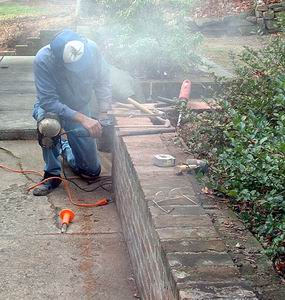 It is time to bring this to an end. Queen and I proofread it and it is ready to publish.
Please Love one another,
Mom and Bob. [Queen and Bobby]


Imagination is more important than knowledge...
Albert Einstein
The human race has one really effective weapon, and that is laughter."
-Mark Twain
The best way to cheer yourself up is to try to cheer somebody else up."
-Mark Twain
A lie can travel halfway around the world while the truth is putting on its shoes.
Mark Twain
A man cannot be comfortable without his own approval.
Mark Twain
Clothes make the man. Naked people have little or no influence on society.
Mark Twain
Courage is resistance to fear, mastery of fear - not absence of fear.
Mark Twain